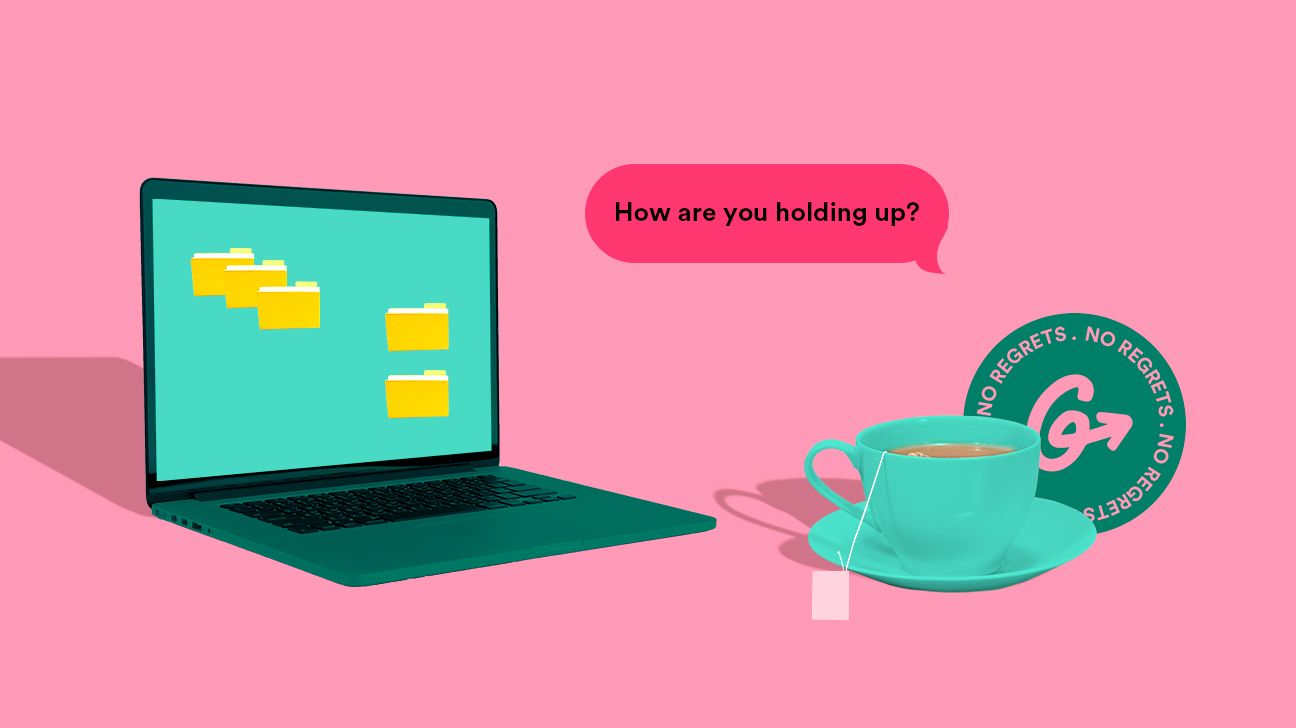 We include products we think are useful for our readers. If you buy through links on this page, we may earn a small commission. Here's our process.
Greatist only shows you brands and products that we stand behind.
Our team thoroughly researches and evaluates the recommendations we make on our site. To establish that the product manufacturers addressed safety and efficacy standards, we:
Evaluate ingredients and composition: Do they have the potential to cause harm?
Fact-check all health claims: Do they align with the current body of scientific evidence?
Assess the brand: Does it operate with integrity and adhere to industry best practices?
We do the research so you can find trusted products for your health and wellness.
I still can't get over the fact that 2 months ago the position we find ourselves in would have been unthinkable.
A few days into physical distancing, I made a choice. After 48 hours of skulking around, getting caught down the social media "scroll hole" and future-tripping about how COVID-19 is going to end, I knew I had to change something…
My focus.
There's not much, if anything, we can control "out there." But we have so much power in the small corner of the world that we touch — within our homes, within our families, and, most importantly, within our minds.
Here are three things you have complete control over — even when the future feels uncertain.
How are you spending this time? Think about it for a sec. There will never be a time in your life with fewer distractions and #NoFOMO. It's not "Should I work on my side hustle or go to the party?" There are no parties. Or vacations. Or even coffee dates. We're all in this same weird position.
No one's missing out on anything. The great news is, this allows you to FOCUS fully on whatever you put in front of you. What might that be for you? Reading? Writing? Organizing?
I'm spending this time batching 6 months of YouTube content so that once we're able to get out and hug each other again, I won't have to stay indoors to do it. I'm secretly pleased this gives me a chance to rock my Rent the Runway clothes too. I find that dressing up a bit gives me a boost! So does putting on makeup, even though no one but my dog and husband sees it. Because I still see it!
I'm also learning Spanish for 20 to 30 minutes daily via my Duolingo app. Why not? It's free! And I'll impress my friends with it later… because later will come.
I like to think, "I'm not stuck at home, I'm safe at home."
If you're healthy right now, you're in a wonderful, fortunate position. Think about how incredible the human body is. While we will find a vaccine, right now the human body is the only vaccine. Only the intelligence of our cells can eradicate it.
You also don't HAVE to make the most of this time with productivity. If you need a break, take it. But can this forced regroup also come with some gratitude? It's a serious time in the world right now. Can this give rise to an attitude of gratitude for your body, your family and friends, and even the chance to reset a little?
My gratitude for the people I love in my life has me reaching out to them constantly. I'm enjoying regular FaceTime pinot grigios with my besties. And in the last couple of weeks, I've been connected with people I haven't spoken to in years. A simple "How are you right now?" text goes a long way. No matter how long you've been out of touch. Try it!
Physical (aka social) distancing doesn't mean emotional distancing. And loneliness is a big cause of stress. An attitude of connection can be a healthy one. It benefits you and everyone else.
Hey, just 'cause the news cycle and social media are active 24/7 doesn't mean you have to be.
You want to be informed and responsible, yes. But you don't need to be glued to the news. That doesn't help anyone. Research has shown that stress can suppress the immune system, which makes us more susceptible to any illness.
So why not dial down the outer world noise each day and take some "joy breaks"? Limit your news intake and social media scrolling to an hour each day — that's still a lot! Go for a walk, if that's allowed in your area. Enjoy your coffee or tea in the mornings on the sofa or on your patio with some classical music playing. Eliminating is as helpful as adding. In a "go, go, go" world, I'm even enjoying the boredom I experience in some moments.
So don't forget to focus on what will matter in the long term. Practice some appreciation amid the anxiety. Stay connected in a healthy way. And no matter what, be kind and responsible toward others too.
Susie Moore is Greatist's life coach columnist. Preorder her new book, STOP CHECKING YOUR LIKES, here!