We include products we think are useful for our readers. If you buy through links on this page, we may earn a small commission. Here's our process.
Greatist only shows you brands and products that we stand behind.
Our team thoroughly researches and evaluates the recommendations we make on our site. To establish that the product manufacturers addressed safety and efficacy standards, we:
Evaluate ingredients and composition: Do they have the potential to cause harm?
Fact-check all health claims: Do they align with the current body of scientific evidence?
Assess the brand: Does it operate with integrity and adhere to industry best practices?
We do the research so you can find trusted products for your health and wellness.
Your shoulders ache and you're winded from exertion, but you've got a strong adrenaline buzz. You've just finished fighting. Not against an opponent, but against yourself — or at least your previous punch score, that is. This is what it might feel like to train via FightCamp.
What exactly is FightCamp? Don't let the name fool you. It's not a camp (or club) where you go to fight, but rather a smart fitness system that brings boxing and kickboxing training home.
After seeing a lot of elaborate home fitness options make their mark of late, we decided to give FightCamp a closer look to see what kind of punch it packs. Here's our review.
In terms of providing an enjoyable and effective at-home cardio workout, FightCamp delivers as well as, if not better than, any other comparably-priced cardio machine. It also provides decent strength training. Though it may not be for those looking for a simpler setup. And if you're really looking to get swole, you'll likely need to pair this work out with a weights regimen.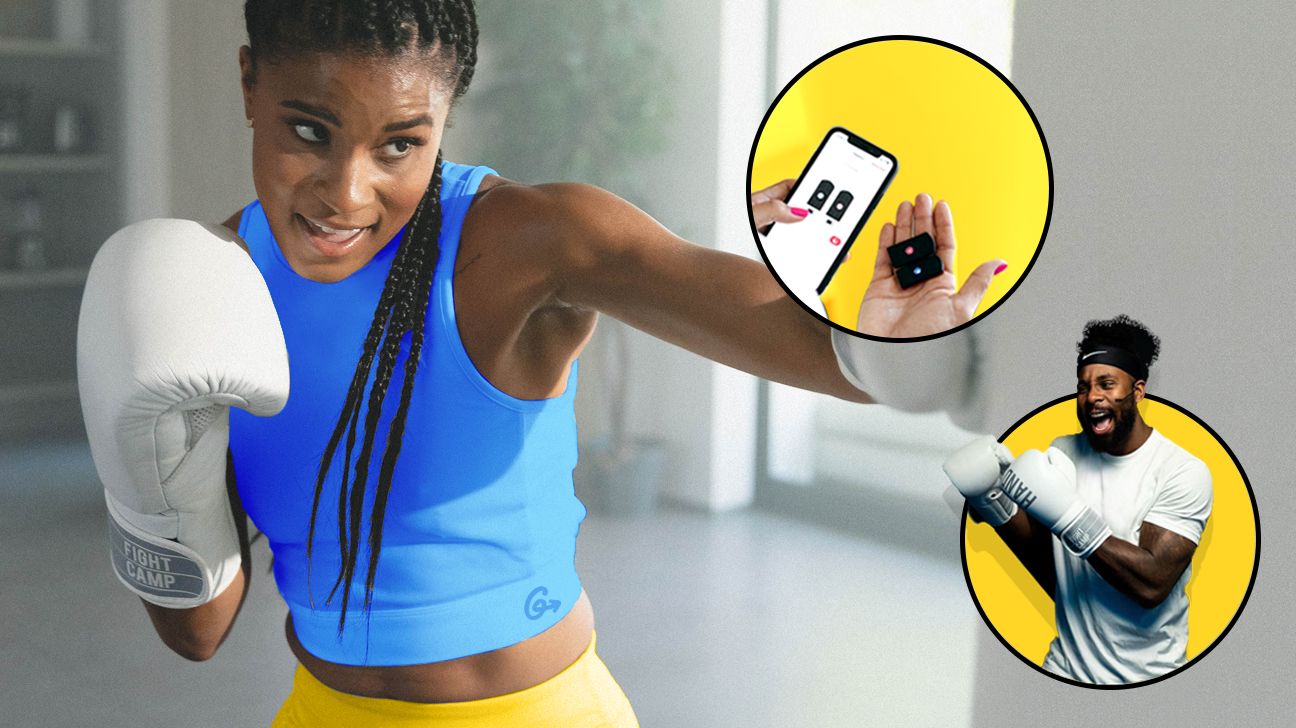 Here's some of the key info about FightCamp.
Cost and setup
FightCamp is offered in two packages: $1,219 for the "Personal" package or $1,349 for FightCamp "Tribe."
The Personal package includes a free-standing punching bag, boxing gloves, a heavy workout mat, hand wraps, and punch trackers to… um… track your punches via the FightCamp app.
The Tribe package tacks on an additional pair of gloves and hand wraps along with a small set of gloves for kids who want to join in. From there, you pay a $39/month membership that provides access to an ever-growing library of training materials.
The setup is fast and easy, taking no more than a few minutes to assemble the bag and fill up its base with either water or sand (more on the water vs. sand question below).
Product features
Once you've linked your account to the app — a process that takes just a few seconds — it provides you with a substantial array of training videos that bring you along according to your preferred difficulty levels and skillset.
Standout features:
everything you need to start training: gloves, wraps, bag
punch trackers for measuring progress
heavy floor mat for protecting flooring
bag ring for reducing movement
constantly expanding library of training videos
rates your performance against your past scores and those of other users
A few numbers to keep in mind:
Bag base dimensions: 30″L x 24″W x 24″H
Assembled bag height: 67″
Workout mat: 47 lbs. and dimension of 24″L x 24″W x 4″H
Punch trackers are charged by plugging them into an included USB charger. And by mirroring your phone screen to your television you can follow training videos a lot easier.
Company policies
FightCamp isn't cheap, but they do offer a zero-down, $51/month or $56/month financing plan (depending on which package you buy). You also get free shipping.
The company has a 30-day money-back guarantee, so if you're not happy with the system you've got a month to tap out. You do have to shoulder the return shipping charges, however.
The equipment is backed by a 1-year warranty covering production defects, which does not include normal wear or misuse.
Here are some high-level pluses and minuses that come with opting for this system.
top-notch home boxing/kickboxing training and conditioning workouts
quality equipment
punch trackers really "punch up" the fun level
constantly expanding video library
great for beginners
provides competition with your previous scores and other users
app can be a little tricky to navigate
stronger punchers might experience some unwanted bag movement
not cheap
app is currently only available for iOS
Most expert and amateur users of FightCamp agree that the equipment is durable and offers a sleek design that looks great in the living space. The training videos themselves are widely praised for their effective programming and genuine, enthusiastic trainers.
While a few reviewers say the initial setup can be somewhat challenging, we had a different experience when we tried it. We had the whole thing assembled in less than an hour.
Some users expressed that the app can be somewhat confusing to navigate. We agree on that point. It's not terrible, but it's a little quirky. Once your gloves are on, for example, it becomes impossible to navigate the app (unless you're okay with using your nose). And you can only turn off the punch trackers via the app — the controls to which are somewhat buried and can be difficult to find. Once you get into the routine of using it, however, these inconveniences could become insignificant, and the app layout will likely continue to streamline over time.
Other user reports found that the bag moved out of place when hit with stronger punches. We encountered this issue as well. A person coming in with an average weight of 170 pounds and an average bench press of 245 pounds caused the bag to shift out of place a couple of times. But we filled our FightCamp base with water, so we can't say for sure if the same thing would happen if there's sand in the base, which is what the company itself recommends.
Overall, however, reviewers say that FightCamp delivers solid training and conditioning.
Is FightCamp the right home workout system for you? Here are the key considerations:
Your training goals
The goal behind getting any home fitness system (especially one of significant cost) should be to get your own personal fitness goals met. If you're aiming for an active at-home cardio workout, FightCamp delivers. Any reservations you might have about the overall practicality of the system should be met with some thorough and well-explained boxing workouts. It's challenging in a good way.
And if you're looking to make your first forays into boxing, the training seems pretty legit. The app guides you through a variety of training programs, each segment of which trains you in a different aspect of boxing or kickboxing under the direction of one of several experienced boxing pros. Beginner tutorials, for example, look at fundamentals like throwing jabs, crosses, and hooks, as well as footwork. All the while, you're engaging in a series of workouts designed to improve your overall fitness.
Your budget
FightCamp isn't the priciest home workout system, but it certainly isn't the cheapest, either. The monthly membership fee also adds up. So, if you see yourself as a more casual user of the system, you might want to look elsewhere.
If you're looking to get in great workouts at home on a continual basis, however, it strikes us as a good investment — as it delivers an effective combination of cardio and muscle training.
Your living space
While FightCamp doesn't demand a lot of space, the bag can be somewhat difficult to move around, and the punching can get loud.
Keep that in mind if you're living in a circumstance where you'd need to move it around often or you have neighbors who are bothered by noise.
Boxing-based workouts aren't for everyone, but boxing is certainly among the more popular cardio and strength workout methods. And in our opinion, FightCamp is a solid contender for an enhanced at-home sweat sesh.
As far as the boxing training itself, FightCamp does a good job of bringing the ring home. Outside of hiring an actual trainer to come to your house, there really isn't anything else that compares.