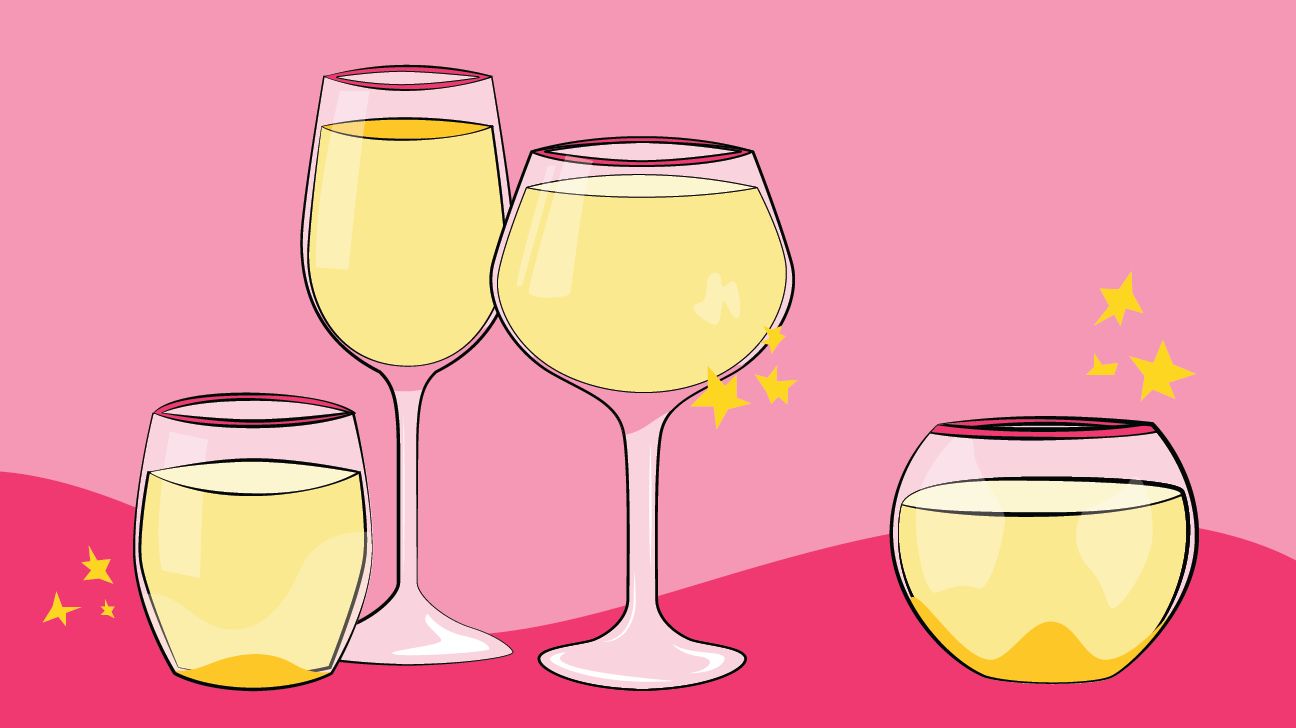 Even if you wander through the wine shop with an open mind, it's all too easy to walk out toting a bottle (or three) of your go-to white… again.
Sure, you like the idea of trying something new, but the sea of unfamiliar labels and grape names (Gewürz-a-what?) is intimidating when you don't know what to look for. Especially with white wine, the risk of choosing something too sweet/dry/oaky/fruity for your taste is high.
Arming yourself with a little knowledge goes a long way! If you want to branch out from your "I'll have the house white" comfort zone but aren't sure where to start, here's your basic guide to white wine — a roundup of both widely enjoyed and lesser-known varietals, the four major categories they fall into, and what foods to pair them with.
Sometimes you're not in the mood for a BIG wine but still want to feel a little weight on your palate. These whites really show up and have the oomph to stand up to rich, flavorful dishes like lobster with butter sauce, risotto, hard cheeses, and chicken divan.
Chardonnay
It's the world's most popular white wine as well as one of the most varying, with taste profiles that run the gamut depending on the growing regions and aging process.
French chardonnay tends to feature citrus and flinty flavors, and California chardonnay is often aged in oak barrels (aka malolactic fermentation), which creates a buttery flavor and creamy texture.
Viognier
A southern France original, this full-bodied white is perfect for those who like chardonnay but want to try something a bit less acidic. Viognier boasts very fragrant floral notes, so it's simultaneously full-bodied and creamy.
Pro tip: It's pronounced "vee-oh-nyay."
Trebbiano
Trebbiano Toscano is a grape variety planted all over Italy and France (where it's called ungi blanc).
Its high acidity (that puckery sensation) makes it especially food-friendly, since that tang balances out the fat and salty flavors in many cuisines. It's also used as a base in brandy and balsamic vinegar production.
Simply put, when you're enjoying a wine — tasting it, smelling it, swirling it around in your mouth — its profile is how you put this experience into words.
What flavors does the wine have? What are the aromas? How heavy or light does it feel in your mouth? Articulating these notes is especially helpful when deciding on food pairings.
So fresh and so clean. With little residual sugar, these light-bodied and dry whites are refreshing and gluggable. Foodwise, they play really nicely with lighter dishes like grilled salmon, oysters, light pasta sauces, lemon basil chicken, and other white meats.
Pinot grigio (pinot gris)
Ah, easy-drinking, people-pleasing pinot gris (that's the grape; pinot grigio is Italy's version of the wine). This white is known and loved for its zesty acidity and fruit flavors (lemons, limes, green apples).
Don't know what bottle to bring to a dinner party? Pinot grigio/gris is likely to pair with at least something on the table.
Chablis
No, not the misnomered juice in the Franzia box. Hailing from Burgundy, France, chablis is made with 100 percent chardonnay grapes but tastes nothing like the oaky chard you may think of as "typical."
Chablis has a citrusy, mineral-like, and almost salty taste — like licking a wet rock, but in a really yummy, refreshing way!
Chenin blanc
A shining star in South Africa and France's Loire Valley, chenin blanc is a versatile grape that comes in many styles.
Drier expressions tend to be tart and lean with flavors of pear, yellow apple, and ginger — so do yourself a favor and pour a glass alongside your takeout sweet-and-sour chicken.
Herbal-driven wines are usually light-bodied, showcasing pleasant "green" flavors and aromas like bell pepper, jalapeño, gooseberry, and even grass.
This category of whites is very food-friendly, pairing well with herby sauces, green veggies, salads topped with tangy cheese (especially goat), and sushi.
Sauvignon blanc
It's crisp, it's dry, it's fruity… but what makes sauv blanc distinctive are its green-and-grassy notes and biting acidity. This grape is widely planted around the world, from Bordeaux to New Zealand, California, and beyond.
Grüner veltliner
Grüner is sauvignon blanc's Austrian cousin. With each sip, you'll get flavors of herbs, spices, white pepper, and nuts and tingly acidity that bounces off your tongue like a Diplo song.
Vinho verde
This light and playful Portuguese delight is a blend of six grapes (Alvarinho, Arinto, Azal, Avesso, Loureiro, and Trajadura, for those who wanna know).
It's slightly fizzy, with zingy acidity and lower alcohol — so if you're not currently sipping this wine on the porch or by the pool, grab a swan float and reprioritize your to-do list.
"Sweet" wines can be polarizing — some love 'em, some hate 'em. But keep an open mind when tasting, because some wines just smell sweet and the first sip may surprise you.
Pairing with food? The bit of residual sugar in sweeter wines does an excellent job of counterbalancing spice, so go 'head and pair them with bold and zippy cuisines like Chinese, Indian, and Cajun.
Riesling
Ranging from quite sweet to off-dry (a slight sweetness), riesling offers the perfect balance of fruit, acidity, and sugar, which makes it arguably one of the most versatile food wines out there.
Try sipping riesling alongside General Tso's chicken, spicy enchiladas, deviled eggs, or even salad (the wine's acidity works well with hard-to-pair vinaigrette dressings).
Gewürztraminer
While not the most well known, this aromatic white is both underrated and undervalued, with many great bottles ringing up at less than $20.
Have a glass with your takeout pad thai, and then impress your friends by saying "Gewürztraminer" five times fast (it's pronounced "ge-VOORTZ-tra-meener," BTW).
Moscato (muscat blanc)
If your sweet tooth drives your drink choice, say hello to moscato, made with muscat blanc grapes. Recognized for its sweet orange flavors and succulent aromas, moscato comes in many styles, from still to semi-sparkling and full-on bubbly.
Brooke Sager is a freelance writer who shares her musings on wine, wellness, beauty, relationships, and all things lifestyle.