The "special brownie" needs less introduction than most baked goods, but you'll find no sloppily constructed, slightly burnt bars here. For those who don't live near a dispensary (or a group of friendly college kids), here's a low-key way to get your hands on safe, tasty edibles: Go homemade. Not only will they taste better, but when you DIY, you're also fully in charge of how much bud actually ends up in the brownies. This recipe calls for a full 1/8 ounce of cannabis, yet the process still works if you decide to use less. We made the full batch of the following cannabutter recipe, used our preferred amount in the brownies, and stored the excess in the fridge in a clearly marked container (emphasis on "clearly marked").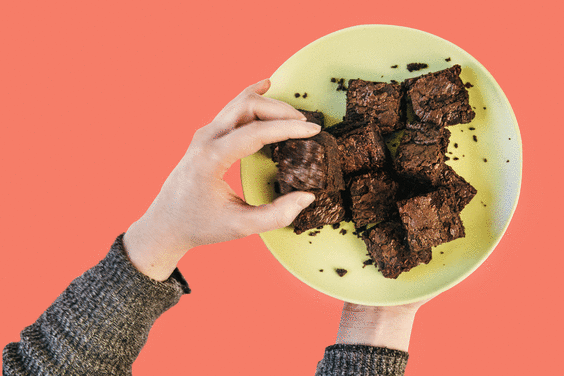 Before you dump the contents of your grinder into a box of Duncan Hines Double Fudge, hang on a sec. To draw out cannabis's full potential in edibles, it must be decarboxylated. Decarba-what? Decarboxylation is basically a fancy way of saying that the herb needs to be heated to fully activate to its psychoactive form. Think: A joint won't get anyone high unless it's lit on fire.
Pro tip: If you're not keen on the classic flavor and scent of weed, add finely minced mint leaves to the batter; it will offset the potency of the cannabis flavor.
Note: This recipe makes 16 potent brownies. While they are delicious, we do not recommend you eat more than one at a time. However, if you make this recipe with regular butter (not cannabutter), feel free to eat half the tray.
Recipe by: Rebecca Firkser
Makes: 16 servings
For the brownies:
4 ounces unsweetened chocolate
3/4 cup cannabutter (see below)
1 3/4 cups coconut sugar
1/2 teaspoon Kosher salt
2 teaspoons vanilla extract
3 large eggs
1 3/4 cup all-purpose flour
2/3 cup chopped walnuts (optional)
3 mint leaves, minced (optional)
For the cannabutter:
Makes: 3/4 cup cannabutter
1/8 ounce finely ground cannabis trim
3/4 cup (1 1/2 sticks) unsalted butter
For cannabutter:
Preheat oven to 240 degrees. Spread cannabis evenly on a baking sheet. Bake 50 minutes (if using less cannabis, check oven after 35-40 minutes). Remove from oven and set aside.
In a medium saucepan, melt butter over low heat. Add decarboxylated (oven-baked) cannabis and lower heat to a simmer. Cook for 45 minutes, then remove from heat.
Strain cannabutter through a fine-mesh sieve or cheesecloth into a small glass measuring cup or bowl. (Discard strained cannabis solids or save for cannabis tea.)
For special brownies:
Preheat oven to 350 degrees and grease a 9×13-inch glass baking pan with cooking spray.
Place chocolate in a large glass mixing bowl and melt in the microwave or over a saucepan of boiling water.
Add cannabutter to melted chocolate and mix until combined, then mix in coconut sugar, salt, and vanilla.
Add eggs one at a time, mixing until fully incorporated.
Mix in flour, and walnuts and/or mint, if using.
Pour batter into prepared baking pan and bake for 25-30 minutes. Let cool slightly, then cut into 16 pieces. Store leftovers—clearly marked as "special" if there are others using your kitchen—in the refrigerator for a week, or in the freezer for several months.