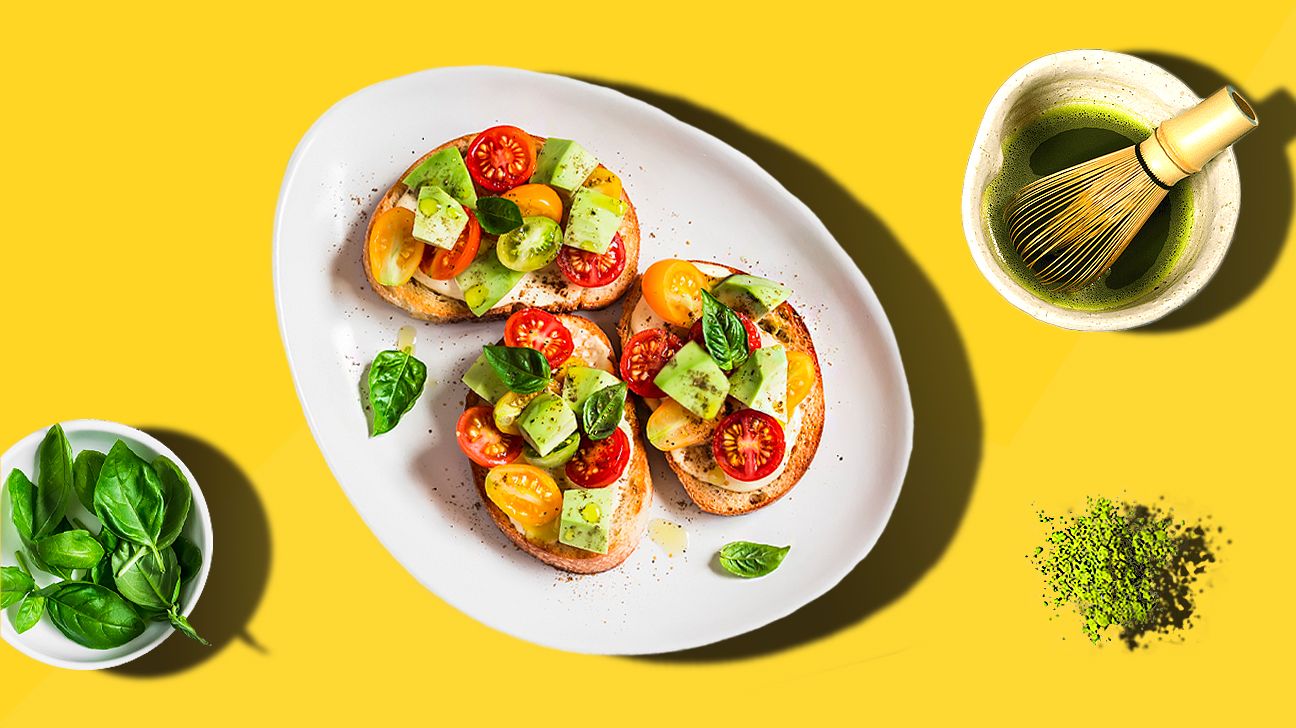 In the quest for dewy, glowing skin we usually prioritize what we put on the skin. But did you know you can also help your skin from within?
Skin is the largest organ in the human body. And like all organs, nutrition and diet have a big impact on overall health and function.
In fact, a main culprit (besides sun exposure) for wear and tear on the skin is diet. Advanced glycation end products (aka AGEs) are formed when fat or protein combines with sugar in the bloodstream and when foods are exposed to high heat (think fried foods).
While diet is only one of many factors that affect your skin's appearance (keep practicing skin-protecting habits like moisturizing and wearing sunscreen daily!), we put together this 1-day menu of foods known to make your skin smile.
For the first meal of the day, eat the rainbow by incorporating skin BFFs avocado, spinach, and tomato.
Instructions
Toast two slices of your favorite bread.
Mash half an avocado and spread it on the slices.
Add salt and pepper.
Add a layer of spinach.
Chop a small handful of cherry tomatoes in half and add on top of spinach.
Why our skin loves these foods
Spinach. They're rich in anti-aging copper which helps in the production of collagen, the protein that gives your skin structure.
Avocados. With plenty of antioxidants and vitamins E and C, avocados have been shown to help protect against UV-induced skin damage and skin aging.
Tomatoes. Like avocados, tomatoes are an excellent source of vitamin C. Tomatoes are also rich in carotenoids, such as beta carotene and lycopene, which have been proven to help in the prevention of sun-related skin damage and skin wrinkling.
There's nothing wrong with needing a morning pick-me-up (or afternoon, or late-afternoon, or late-late-afternoon…). Matcha is a great way to get a little buzz and boost your skin health at the same time.
Get our matcha latte recipe here!
Why our skin loves it
Green tea is a powerful source of antioxidants that are shown to protect the skin from both damage and aging.
One 12 week-study found green tea increased oxygen and blood flow to the skin, protected skin against UV damage, and helped improve overall skin quality (including moisture, thickness, and elasticity).
Salmon (and fatty fish in general) are amazing when it comes to skin health. Consider a hearty and healthy fat-packed salad with these ingredients:
kale
salmon
nuts or seeds
an olive oil vinaigrette
Why our skin loves these foods
Salmon, nuts, seeds, and olive oil are all high in omega-3 fatty acids which positively affect skin's moisture, thickness, and suppleness. They've also been shown to reduce skin inflammation, redness, and acne.
Kale is rich in antioxidants and vitamin A, both which promote skin health.
Walnuts, almonds, sunflower seeds, and olive oil are loaded with skin-boosting nutrients such as vitamin E, antioxidants, and essential fatty acids.
Fruit is loaded with nutrients that are beneficial for overall skin health. Think: Berries (hello, antioxidants), citrus (all that vitamin C!), and red grapes (lookin' at you, resveratrol).
Stir-fries are a super easy and yummy way to get in a big serving of veggies.
Ingredients
1/2 cup of long-grain white rice
1 red onion, diced
2 cloves garlic, grated or minced
1 red bell pepper, sliced
1 head of broccoli, chopped
1/2 cup of tofu, cubed
2 tablespoons olive oil
Instructions
Make a pot of rice.
Heat 1 tablespoon of olive oil in pan until hot.
Add tofu, cooking until brown on each side (or as many sides as you can). Roughly 3 minutes on each side.
Remove tofu and put on a plate.
Add the rest of the olive oil to the pan.
Sautee onions until translucent, around 5 minutes.
Add garlic, bell pepper, broccoli, cook for around 10 minutes (until veggies are tender).
Top it with this basic teriyaki sauce recipe.
Why our skin loves these foods
Broccoli has lots of the oxidative damage-fighting carotenoids we talked about earlier, in addition to an anti-cancer compound called sulforaphane.
Bell peppers are an excellent source of all the good-for-the-skin goodies we've discussed such as vitamin C and beta carotene.
Tofu is especially helpful to skin health in older or postmenopausal women. Soy has been proven to reduce wrinkles, improve skin elasticity, promote moisture, and increase collagen.
Don't skip dessert! End this skin-boosting menu with some dark chocolate.
Why our skin loves chocolate
Since dark chocolate is rich in antioxidants, it can have some phenomenal benefits for the skin. We're talking better blood flow, more hydration, and less wrinkles.
This one day food menu will have you eating your way to better skin health. However, when it comes to the skin, it's also best to avoid these foods:
deep fried foods
trans fats
processed meats
baked goods and sugary treats
low fat dairy
alcohol
soda
Tiffany La Forge is a professional chef, recipe developer, and food writer who runs the blog Parsnips and Pastries. Visit her at her blog or on Instagram.