Handcrafted cocktails have a way of taking your evening from college rager to sophisticated dinner party. But you don't need alcohol in your drink to make it feel special. Drinks can be just as fun (and maybe even more tasty) without the hard stuff.
Whether you're cutting out alcohol or just looking for a new way to mix it up, we've rounded up 20 mouthwatering mocktails you won't want to miss.
Alcohol-free drinking tips from the experts
Sweet is not complete. Think about flavor additions *other* than sugar. Alex Pendergrass, who heads up the food and drinks at Hotel Viking's One Bellevue, says, "Mocktails can often tend to be too fruit-forward or syrupy when not properly done."
Get creative. Mike Spence, the beverage director for several bars, including New Jersey's Tommy's Tavern + Tap and Tio Taco + Tequila Bar, says, "I believe in serving mocktails that have a creative edge over what's already been done over and over in the industry." His signature mocktail is the Cinnamon Apple Cider Squeeze, which blends apple cider, grapefruit juice, and orange juice.
It's all in the details. You'll notice that many of the mocktail recipes below include a garnish. Don't forget the aesthetics of a great cocktail! Pendergrass says, "I enjoy a mocktail, or no-proof cocktail, that is well balanced in both taste and presentation."
Don't forget the bubbly. From splashes of kombucha to ginger beer, there's always a way to sneak in carbonation, which Pendergrass says is "always a lot of fun, especially around the New Year."
This trio of bartender originals will whet your appetite for a month — or year or lifetime! — of alcohol-free sipping.
Papa don't peach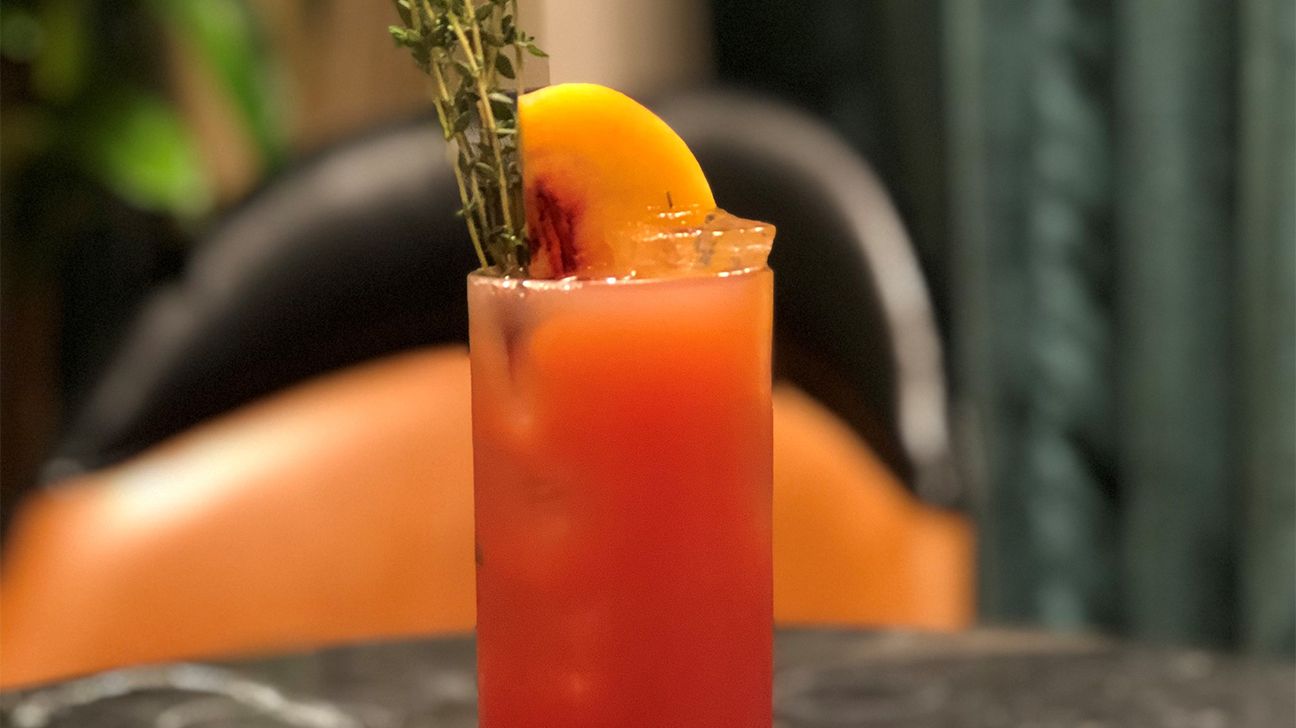 Tasting notes: warm, spicy, autumnal
The deets: Tobias Moser, general manager at Philadelphia's The Wayward, says this of in-house mixologist Kevin Ho's creation: "This mocktail captures all the fall flavors of nutmeg and cinnamon from the chai tea. The peach and thyme add depth and acid. This mocktail can even be served warm or chilled."
Ingredients
Thyme syrup
1 cup sugar
1 cup boiling water
4 sprigs thyme
Stir sugar and water together until sugar is dissolved. Steep thyme in warm syrup until infused.
Grilled peach syrup
1 cup sugar
1 cup boiling water
2 ripe peaches (sliced, then grilled until caramelized)
Stir sugar and water together until sugar is dissolved. Transfer mixture to a blender, add peaches, and blend until liquefied.
Final cocktail
6 ounces chilled chai tea
2 ounces grilled peach syrup (instructions above)
1 ounce thyme syrup (instructions above)
Sliced peach and thyme sprig, for garnish
Combine tea and both syrups, then garnish with peach and thyme sprig.
Instructions
Start with the thyme syrup. Mix boiling water and sugar until the sugar is dissolved. Ta-da, you've just made simple syrup! Now, steep a handful of thyme in the syrup until the flavors combine. That could be for as little as 30 minutes, but the longer you let it infuse, the more powerful the flavor becomes.
Then make the grilled peach syrup. Slice the peaches and grill them until they're nice and caramelized (golden brown and juicy). Make your simple syrup (see above) and blend it with the grilled peaches. Perfection.
It's cocktail mixing time. Mix your chai with the syrups. Shake it up, baby!
Finally, garnish and serve. Your zero-proof cocktail is served.
No proof that it's not (pumpkin martini)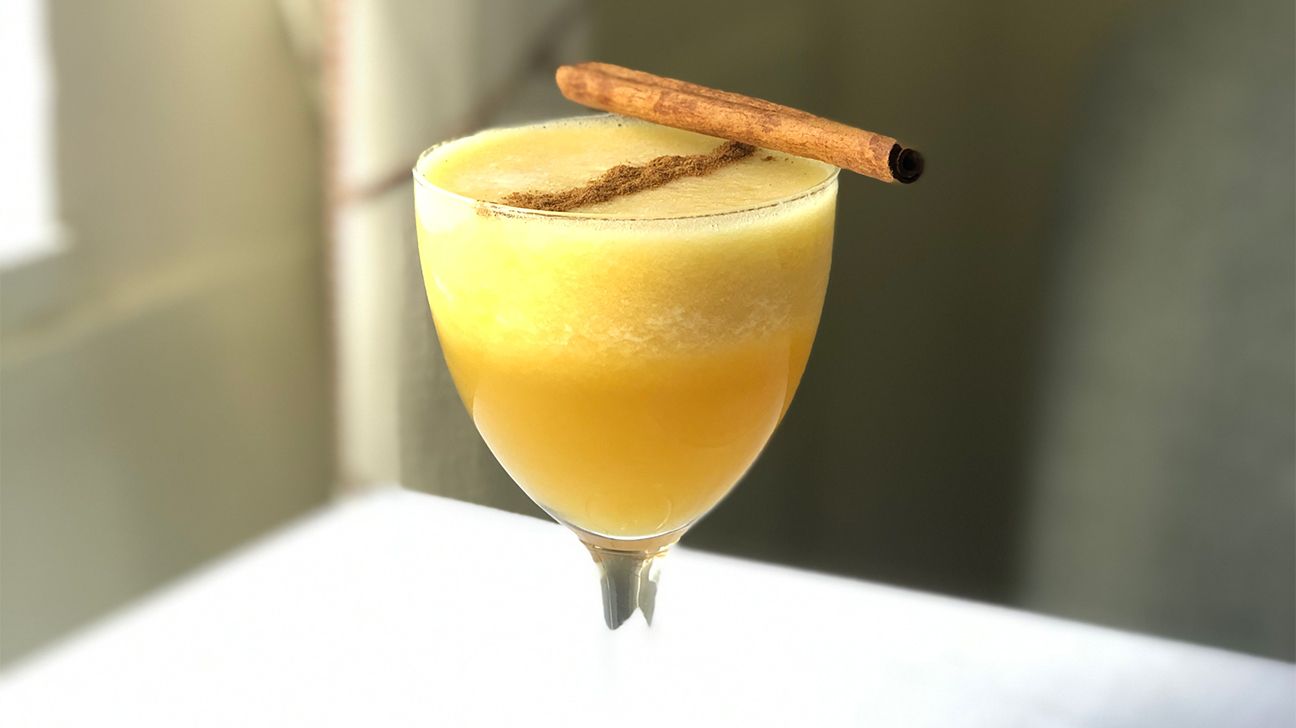 Tasting notes: spicy and complex
The deets: Alex Pendergrass has the enviable position of helping manage the food and drinks whipped up at the swanky Hotel Viking in Rhode Island. He says this faux martini "incorporates all the flavors of fall while adding a bit of depth using egg whites."
Ingredients
1 ounce spiced syrup (made with cinnamon, nutmeg, allspice, brown sugar, and water — all to taste)
1 ounce Lyre's Dark Cane Rum Alternative
1 ounce local pumpkin puree
1 egg white
Cinnamon stick and nutmeg, for garnish
Instructions
Make the spiced syrup. Generally, simple syrups include equal parts boiling water and sugar. Once the sugar has dissolved, you can add the spices to taste.
Get cracking. This recipe includes an egg white, which means you should definitely crack and separate that baby first.
Shake it up. Combine the syrup, rum alternative, pumpkin puree, and egg white. The International Bartenders Association recommends mixing up egg white cocktails in a cocktail shaker. To get enough foam, cheer yourself on while you shake: "Be aggressive! Be, be aggressive!"
Garnish and serve. Don't forget your cinnamon stick and nutmeg.
Apple highball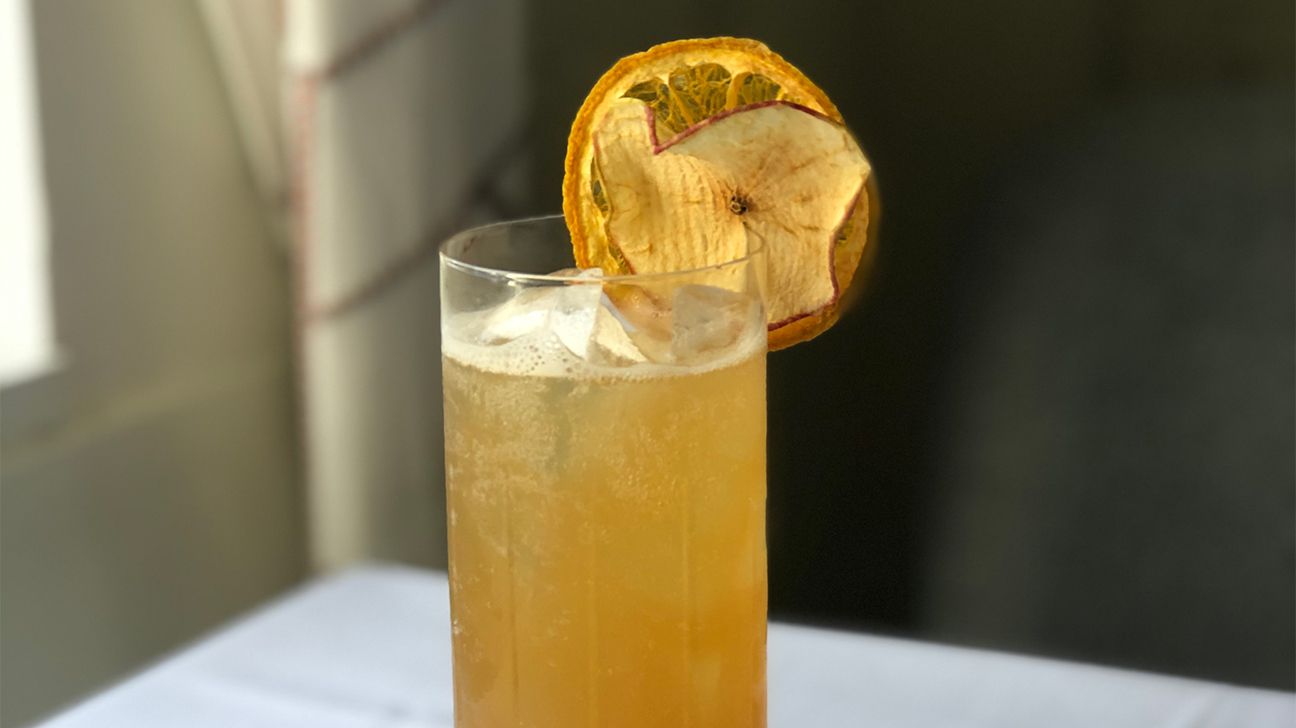 Tasting notes: sweet and spicy
The deets: Pendergrass recommends using local apple cider if it's available. He adds that the apple cider "pairs nicely with the spiciness of the ginger beer and Ritual Zero Proof Whiskey."
Ingredients
1.5 ounces Ritual Zero Proof Whiskey Alternative
1 bar-spoon (about a teaspoon) orange marmalade
Ginger beer (enough to fill the glass)
Dried apple and orange chips, for garnish
Instructions
Gather your ingredients. Combine whiskey alternative, marmalade, and ginger beer.
Shake it up. Give it a good shake, but you don't have to go too hard for this one. Just mix it up and go.
Garnish and serve. And save those apple and orange chips for a late night snack.
Ready for another round? We went on the prowl for 17 more zero-proof sips. The interwebs delivered.
1. Virgin margarita | Sweet and fruity
Want an alcohol-free trip to the beach, dock, or whichever tropical paradise your mind craves? This virgin margarita includes a secret ingredient that elevates the lime juice and sugar to shockingly tequila-like heights.
2. Pomegranate nonalcoholic spritzer | Fruity
This sweet-and-sour spritzer is as festive as it is tasty. The ruby pomegranate juice decked out with lime wedges is the perfect zero-proof drink for your next holiday party — or just a night in with your BFF. Top it off with jewel-like pomegranate seeds for some dazzle.
3. Lemon lavender spritzer | Fresh
Hoping to chase away the winter doldrums? This six-ingredient mocktail is like springtime in a glass.
This isn't a drink you can shake up just before serving time, though. It'll need time to simmer on the stove and then chill long enough to turn into crisp, cold yumminess.
4. Classic Shirley Temple | Sweet and bubbly
Say hey to the OG mocktail. Despite its cutesy name, this classic Shirley Temple recipe deserves a spot on your adult cocktail party menu (er, ya know, your Netflix throwdown for one). Bubbly and sweet, it pairs well with salty classics like these easy toaster oven recipes.
5. Virgin piña colada | Tropical and fruity
🎶 If you like piña coladas and getting caught in the rain…
… then this pineapple-y mocktail is for you! When you're mixing up alcohol-free cocktails, it helps to start with the classics. Don't forget one of those itty-bitty drink umbrellas!
6. Honey strawberry lemonade | Sweet
Bloggers Trevor and Jenna of Show Me the Yummy contend that this sweet bevvie is also great with a splash of gin for friends who prefer a boozier drink. But there's really no need. The combo of honey and strawberries packs a powerful punch of flavor.
7. Grapefruit rosemary soda | Herbaceous and fruity
Wanna feel a little fancy? The rosemary sprig in this classy little mocktail will have you feelin' good *without* the next-day hangover. But seriously, try it. It's a bit less sweet than most other mocktails, which makes it taste *almost* boozy.
8. Pomegranate mulled cider | Sweet and spicy
This steamy mocktail will give your cheeks an alcohol-free glow. But the best part is that it can be made ahead, stored in the fridge, and heated up whenever you're in the mood for a nightcap or an afternoon belly-warmer. Cheers!
9. Blackberry ginger mint mocktail | Herbaceous and fizzy
Aside from providing a tasty jolt of booze-free fizz, this mocktail's mint and ginger could soothe an upset stomach. Healthy drinking FTW, right? Keep the extra mint leaves on hand to mix up a pitcher of flavored water.
10. Raspberry herb smash | Fruity and herbaceous
Fresh herbs can be hard to come by in the winter. If you have plants at home or notice a batch of sage or basil at the grocery store, snatch it up for this raspberry herb smash! It's like a summer garden in your mouth (but, like, no dirt or bugs).
11. Pomegranate rose water spritzer | Floral
This red and green alcohol-free spritzer looks like Christmas and tastes like springtime.
Can't find rose water? Check the skin care aisle in your local organic food market or try whipping up your own. It's the perfect excuse to freshen your face with a DIY toner while sipping this delectable mocktail.
12. Virgin watermelon sangria | Sweet and tangy
Is it just us, or does the presentation make all the difference when it comes to booze-free cocktails? With watermelon "ice cubes" and a flavor that rivals that of actual sangria, this mocktail will liven up suppertime in any season. We dare you to have just one glass!
13. Ginger cinnamon apple cider mocktail | Warm and spicy
Pumpkin spice gets all the love these days, but cinnamon apple is a true cold-weather classic. This fun "fake-tini" is especially festive when poured into a martini glass with a sugared rim and an apple wedge garnish.
If you have leftover simple syrup from this recipe, save it to drizzle over apple crisp, ice cream, or whatever you love noshing on in front of a crackling fire.
14. Raspberry cream soda | Sweet
Yeah, cream soda isn't a mocktail. Don't @ us. But next time you're craving a hard drink, think about what you really want. Sometimes it's just a sweet sip, refreshing fizz, or an alternative to flat, boring H2O. And if that's all you want, mix up this raspberry cream soda.
15. Sparkling blood orange mocktail | Fruity and effervescent
Blood oranges sound more suited for Halloween than Dry January, but these babies pack a vitamin C-infused citrus punch. The deep orange color looks pretty in a glass too. To kick it up a notch, add a splash of kombucha.
16. Island mocktail | Tropical and milky
Add some healthy fat to your sips: Have a mocktail with coconut milk! This cross between a cocktail and a tropical smoothie is perfect for Tiki Tuesdays, a beach flick, or really any time you're craving summertime vibes.
And since there's no booze, you can sip this at any time of day… breakfast, anyone?
17. Hibiscus mocktail | Light and floral
Not all alcohol-free cocktails need to be sugary-sweet. Sometimes a light, floral taste will do. This is the perfect alternative to sangria or sparkling wine at your next get-together.
This mocktail gets its vibrant hue from one special ingredient you might already have in your kitchen.
Skipping alcohol doesn't mean you have to stick to boring drinks. These recipes for booze-free sips feature everything from herbalicious shrubs to homemade spiced syrups. Cheers to that!