Kimchi is a classic Korean dish that's loaded with health perks. It's also super tasty and easy to make. The only downside: It's so versatile that finding the right recipe can be tough. But don't worry! We rounded up the 10 best kimchi dishes to please every palate.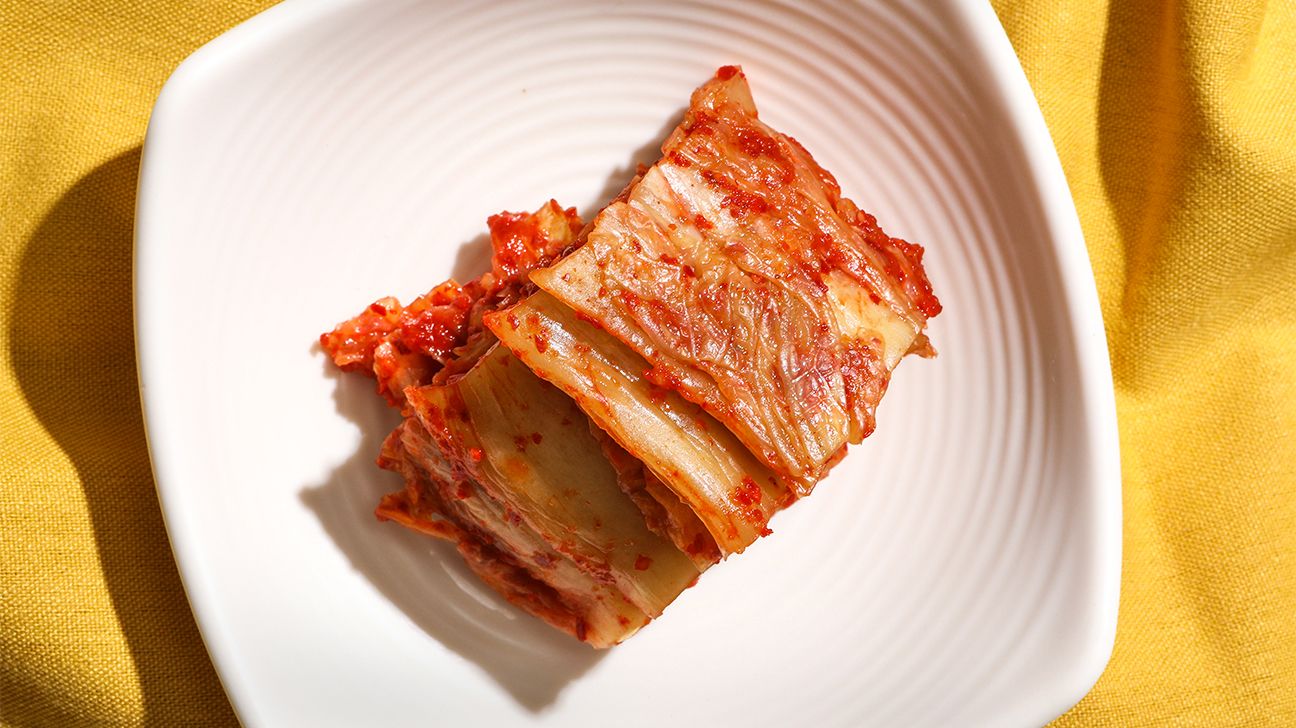 Kimchi might seem intimidating at first, but it's actually super simple! Once you master the basic recipe, you can doctor it up any way you like. Here are 10 rad recipes to start with.
While there are tons of top-tier kimchi recipes out there, this one is our fave. It takes the stress out of cooking, so you can have your kimchi and eat it too.
P.S. Feel free to play around with the ingredients to match your unique tastes.
All aboard the kale train! This snappy kimchi is chock-full of vital nutrients. More good news: You can make it in a snap, and it's packed with fab flavor.
This is a Japanese spin on a Korean classic. It's a beautiful blend of stir-fried pork and kimchi. And don't worry if you don't have "Iron Chef" status. Even culinary beginners can give this one a whirl.
This recipe is a one-pot trip straight to Flavor Town. It's a feel-good meal that will satisfy soup and kimchi lovers alike.
Pro tip: Use vegetable broth and ditch the meat to make it vegan.
This fried rice is so yummy and easy to make that you may never want takeout again. It's also a great way to use up your leftover kimchi. Side note: The smoky bacon is drool-worthy 🥓🤤.
While the name is LOL, this recipe is wholesome AF. This bangin' brunch packs a protein punch. It's the perf way to stave off the Sunday Scaries.
This classic dish has earned beloved status in kitchens around the world. It's slightly salty and boasts a great balance of sour and spicy.
Pro tip: Pop a pancake in your lunchbox for a fab feast at work or school or on the go.
Food that's tasty and adorable? Sign 👏 us 👏 up 👏. These dumplings make a sensational snack or starter.
Pro tip: Use a dumpling mold or press for a perfect pouch of kimchi goodness.
It doesn't get much better than this. You can whip up this delish dish in just 15 minutes. The slice of cheese brings all the flavors together and adds a creamy finish.
Take everything you love about grilled cheese and multiply it by 10. It's ooey, gooey, and totally tasty. Bonus: It's vegan!
Kimchi isn't just 10/10 *chefs kiss* 😘. It also boasts beaucoup health benefits. Here's why you should add it to your diet on the reg.
Gut health
Fermented foods like kimchi are loaded with natural probiotics. These live bacteria buddies can work wonders for your gut health.
Bacteria boost
Kimchi contains a bacterium called Lactobacillus that might boost your immune system.
Heart health
Research suggests fermented foods like kimchi might reduce the risk of certain heart diseases. But more clinical studies are needed to determine whether this link is legit.
Inflammation station
According to a 2012 study in mice, compounds found in kimchi, such as HDMPPA, can fight inflammation.
Anti-aging effects for cells
A 2011 test-tube study suggests that kimchi can increase viability and cell health. But TBH, we need more research to verify this.
Yeast infection defense
Kimchi has antimicrobial properties that might fight against fungi that cause yeast infections.
The nutritional content of kimchi can vary from recipe to recipe. But according to the USDA, an average 1-cup serving has:
| | |
| --- | --- |
| calories | 22.5 |
| carbs | 3.6 g |
| protein | 1.65 g |
| fat | 0.75 g |
| fiber | 2.4 g |
| sodium | 747 mg |
| vitamin B6 | 0.32 mg |
| vitamin A | 7.5 µg |
| vitamin K | 65.4 µg |
| folate | 78 µg |
| iron | 3.75 mg |
| niacin | 1.65 mg |
| riboflavin | 0.315 mg |
Kimchi is a sour, spicy, and delicious dish made from fermented cabbage and spices. You can buy it in most grocery stores or online, but it's also super easy to make at home.
These 10 recipes will leave you craving kimchi on the daily. And that's great news, since kimchi is packed with health perks.