When was the last time you felt joy? Like pure, blissed-out, forget-the-bad-stuff joy? Not to brag, but I feel joy like that all the time. And it's because I figured out how to get it on-demand: with Julie's Real Cinnamon Vanilla Bean Cashew Butter.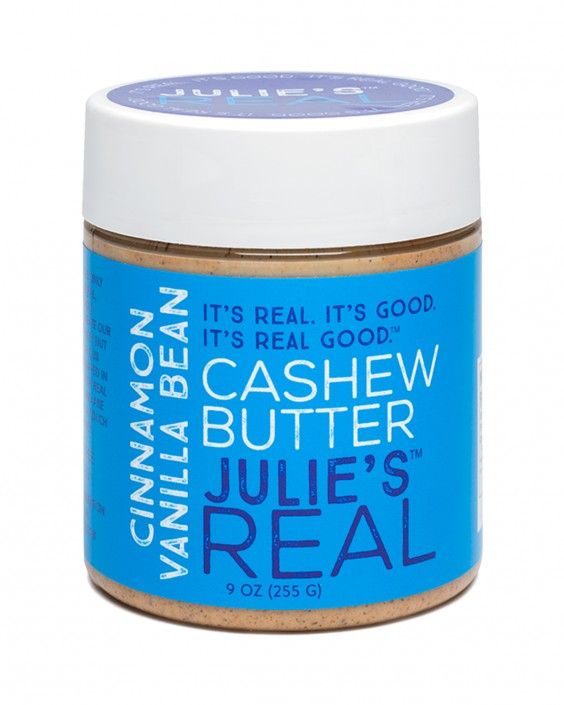 A spoonful of Julie's Real is the cure for a bad hair day. It reduces stress, helps you sleep better, and makes doing your taxes less complicated (anecdotal evidence, but still). It tastes like heaven itself was bottled up in a nine-ounce jar, and one spoonful has brought entire armies to its knees.
If you need more convincing, there's also this: Julie's Real is healthy. It's gluten-free, Paleo, peanut-free, dairy-free, soy-free, and refined sugar-free. It's sweetened only with honey, and not even that much—between the honey and natural sugars, there's only three grams of sugar in a two-tablespoon serving. That barely even registers as unhealthy.
It's clear Julie uses some kind of white magic to make this cashew butter sweet but not too sweet, spreadable but not too runny, and healthy but not bland at all. Whatever it is, she uses it on all her products—from Cacao Espresso Almond Butter to Coconut Vanilla Bean Cashew Butter, any nut butter Julie touches turns to gold.
They say you can't put a price on happiness, but I would argue someone already has. It's $16.99 a jar on Amazon. Do yourself a favor and buy it at juliesreal.com for a buck cheaper or Amazon if the convenience is worth the extra $.