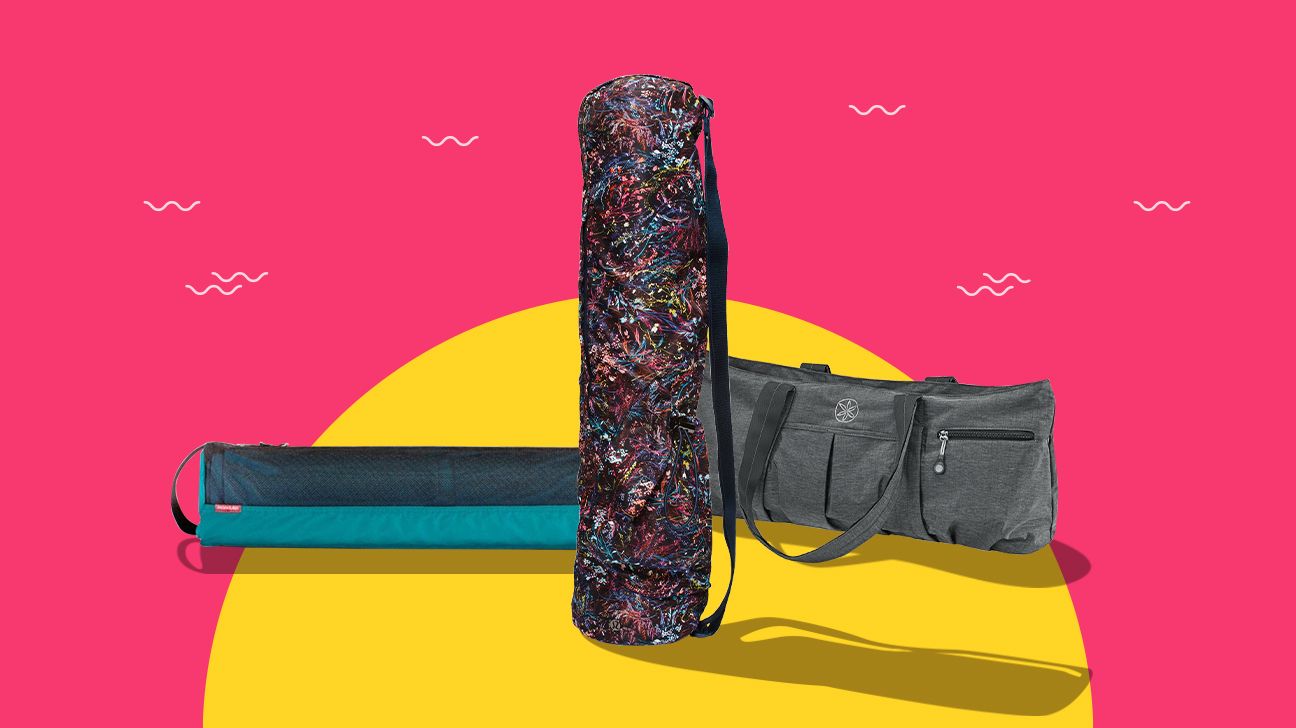 We include products we think are useful for our readers. If you buy through links on this page, we may earn a small commission Here's our process.
Greatist only shows you brands and products that we stand behind.
Our team thoroughly researches and evaluates the recommendations we make on our site. To establish that the product manufacturers addressed safety and efficacy standards, we:
Evaluate ingredients and composition: Do they have the potential to cause harm?
Fact-check all health claims: Do they align with the current body of scientific evidence?
Assess the brand: Does it operate with integrity and adhere to industry best practices?
We do the research so you can find trusted products for your health and wellness.
If there's anything harder to clean than red wine from a white top, it has to be a yoga mat after your cat decides to use it as a scratching post. Not to mention trying to guard it against the elements (rain, subway dirt, pollen, all-around germs) when you're on the go.
Luckily, there are yoga mat bags to keep your pose platform tidy.
Designed to protect your yoga mat from crumbs, canine hairs, and more, yoga mat bags come in clutch when you're schlepping your mat from apartment-to-subway-to-work-to-yoga.
Or, in the case of a global pandemic, from the closet or corner to the floor. Beyond the whole "can hold a yoga mat" thing though, yoga mat bags don't have a single #lewk.
Some look like Om-ed out beach bags. Others look like tantric tennis slings. And others just look like knapsacks or totes (More on that below).
Here's how to decide which yoga mat bag is best for you.
How exactly are you going to use it?
Face it: The kind of bag you need to protect your mat while you aren't using it is different from the kind of bag you need if you'll be pit-stopping at the office or store first.
So, think about how often you'll be taking your bag to work, on the subway, or out to coffee. If the answer is often, you probably want something that'll COMPLETELY cover your mat.
How much other (ahem) crap do you need to carry?
On a similar note: noodle on whether you need your bag to hold more than just your mat. Bringing your own yoga towel or block along? How about a change of clothes or second pair of shoes? You'll want something B-I-G.
What's your budget?
How much green are you really willing to dish on a yoga mat bag?
While you can get a simple bag for as little as $20 to $35, higher priced bags are usually made of durable, waterproof material. Plus, they tend to be bigger. Way bigger.
What's your style?
If given the option between loving the look of your bag and not, you should choose the former. Walks of shame are for a different kind of sweat sesh. *Wink*.
What size is your mat?
The order of operations is nonnegotiable: First, buy a yoga mat that fits your needs. Then, buy a bag that your yoga mat can fit inside. Doing it the other way around obviously limits your mat options.
$ = under $50
$$ = $50–$100
$$$ = over $100
Ready to stop talking about yoga mat bags and start buying? Here's our list of the year's best that's inclusive of all styles, price points, and sizes.
Best yoga bag for yogis who drive to class: LuluLemon The Yoga Mat Bag 16L
At just 16 liters in size, this bag will only fit your mat (and maybe your keys and wallet), so you'll need to schlep another bag with you if you plan to bring a change of clothes.
However, as an option that'll keep your mat free of dirt/debris, this LuluLemon sling has got your back.
Worth mentioning: Mats thicker than 5 millimeters don't quite fit in this bag's slim frame. So, sorry Pilates Lovers, but you're outta luck here.
Price: $$
Get it via: LuluLemon.com
The best yoga bag for bougie benders: Icon Luxe Kit Bag
True to its name (until Gucci enters the yoga mat bag market), this is as luxurious as you're gonna get.
Inside this quilted cutie, you'll find a laptop pocket, zip pockets for valuables, a pocket for your sweat-drenched post-Bikram bra, and more.
The only downside: This bag features straps that secure the mat to the bottom of its beach-esque bag, not a sheath that protects the bag itself.
Price: $$$
Get it via: SweatyBetty.com
For part-time yoga, full-time adventures: Venture Utility Backpack 2.0
Because why not match your camo legging and bra set to your yoga bag?
With a built-in laptop case, two water bottle holders, a bajillion lil' coin and card slots, and underbelly straps for your mat, this souped out Black Camo sack will support you wherever you're headed.
Price: $$$
Get it via: Athleta.com
For the yogi looking for something simple: Manduka Breathe Easy Yoga Bag
If you know anything about yoga, you know that yogis are *heart-eyes* for Manduka. So it should come as no surprise that the brand makes bags, too. The Manduka Breathe Easy Yoga Bag is a minimalist bag that will fit any mat under 24 inches wide. And only the mat.
"Great bag for simple carriage of my yoga mat to/from classes," says one reviewer. "It's a great carry bag if you're looking for something to simply take your mat from A to B."
Price: $
Get it via: Manduka.com
For the yogi with A LOT of stuff: Aurorae Yoga Mat Bag
This colorful bag isn't just the biggest on our list, it's also Amazon's choice. With an average of 4.7 stars from nearly 500 customer ratings, yogis stan it.
"This is the best yoga bag I have had yet," writes one. "I am in love with this bag. The material and quality are excellent," writes another.
Price: $
Get it via: Amazon.com
For the spiritual yogi: Gaiam Chakra Embroidered Yoga Mat Bag
A super simple design, the Chakra Embroidered Yoga Mat Bag has a big ol' pocket that'll fit any sized yoga mat. Plus, it has a baby side slot for your water bottle and keys.
Be warned though, made out of 100% percent cotton, this bag is *not* waterproof. So, no guarantees your mat won't get a little wet if you take it out on rainy/snowy days.
Price: $
Get it via: Gaiam.com
For the yogi with a lot of accessories: Gaiam All Day Yoga Tote
Looking for a yoga mat bag that holds, well, more than your yoga mat? Look no further. This lanky bag is hella roomy.
Your yoga block, water bottle, sweat rag, and full change of clothes can all fit in the zippered compartment, while your yoga mat will slide right into the side slot.
One note: According to reviews, this bag is best for mats that are less than 5 millimeters thick.
Price: $
Get it via: Gaiam.com
For the yogis who commute: The Imarana Yoga Mat Bag
The lovechild of a briefcase and yoga sling, The Imarana Yoga Mat Bag is made for those looking for an easy way to tote their yoga mat between work and the studio.
There's a main pocket for your yoga mat and four miscellaneous pockets that can be used to store a protein shake, keys, cards, and more.
Important: This bag will only fit mats 24 inches wide x 71 inches long x 0.4 inches thick or smaller!
Price: $
Get it via: Amazon.com
While these bags can spur interest in toting around all your favorite belongings in style, even if you're not that into yoga, be sure to keep their original purpose in mind. Buying a yoga mat before trying yoga is like buying a propane tank before a grill.
As London-based, body-positive wellness coach and yoga instructor Donna Noble puts it, "There's really no reasons to invest in a yoga mat or yoga mat bag before figuring out if you're going to stick with yoga."
Use your judgment. You can start doing yoga without a mat, but on a surface you trust. A vinyl floor, for instance, is obviously going to get slippery when slick with sweat. And it makes no sense to roll around on a wool carpet when you're allergic to wool.
Then, when you decide you want to continue for more than just one session, invest in a mat and, eventually, an accompanying bag.
Gabrielle Kassel (she/her) is a queer sex educator and wellness journalist who is committed to helping people feel the best they can in their bodies. In addition to Healthline, her work has appeared in publications such as Shape, Cosmopolitan, Well+Good, Health, Self, Women's Health, Greatist, and more! In her free time, Gabrielle can be found coaching CrossFit, reviewing pleasure products, hiking with her border collie, or recording episodes of the podcast she co-hosts called Bad In Bed. Follow her on Instagram @Gabriellekassel.