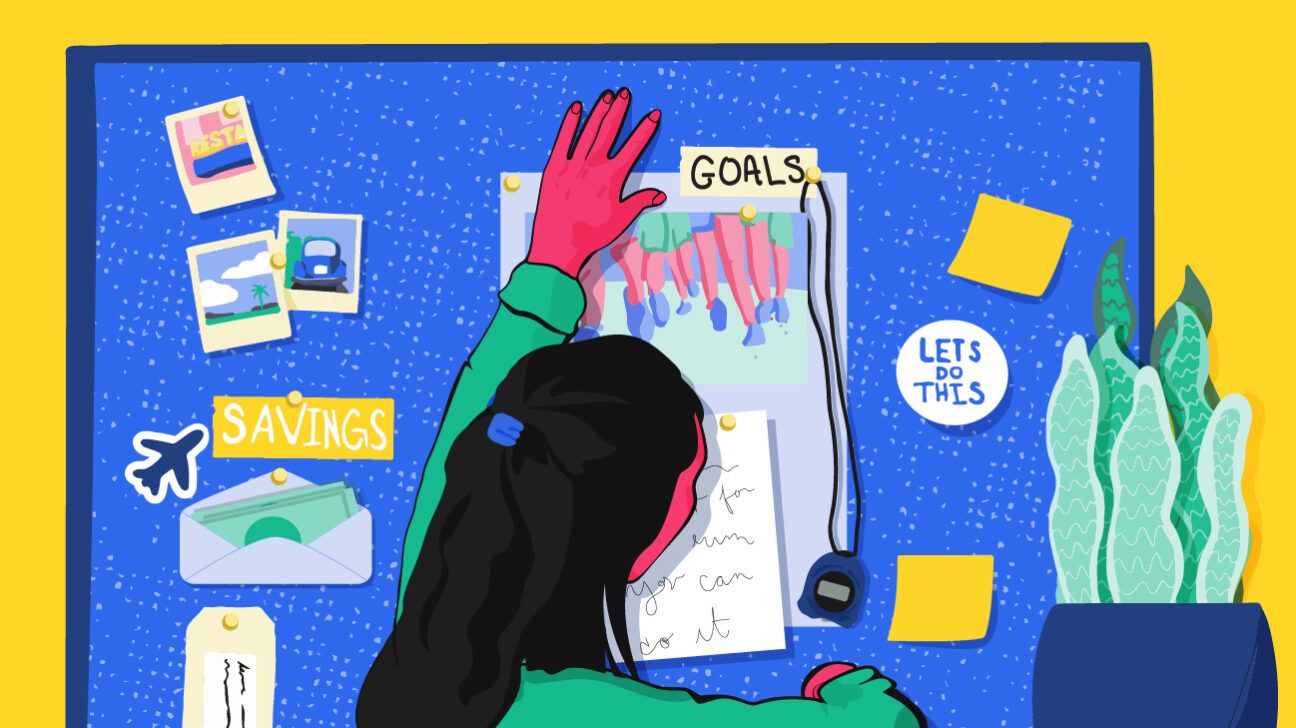 "Manifesting this lifestyle" one Twitter user exclaims, followed by several photos of luxury vacations and designer goods. You might have even seen the words "claimed" in the comments section of Instagram. Meanwhile, over on TikTok, a short video explaining how to "manifest anything in 24 hours" has gone viral, with over 2 million views. Although this seems like another social media trend, the practice of manifestation is nothing new.
Manifestation is one of the key principles of the Law of Attraction which, in New Thought philosophy, is the belief that positive or negative thoughts bring positive or negative experiences into a person's life. In 1877, the Law of Attraction first appeared in a book by Russian occultist Helena Blavatsky, but it wasn't until a decade later that it became popular.
"You are the master of your destiny," wrote Napoleon Hill in his best-selling book, Think Rich and Grow Rich, which first published during the Great Depression in 1937 and has since sold over 100 million copies worldwide. "You can influence, direct and control your own environment. You can make your life what you want it to be."
Fast forward to the 21st Century, the age of social media stardom and side-hustles, where manifestation is still thriving. Through various creative mediums, content creators are curating their digital spaces to teach the art of manifesting and getting everything you want. Whether it's consumed through visual, audio or text, the notion of manifestation remains the same; all thoughts become tangible possibilities.
Although TikTok may be the center of a controversy in the U.S. right now, the video sharing app has also dominated social media throughout 2020. From pandemic-related information to dancing, the platform features an array of positive content, with a huge focus on manifestation. That hashtag currently contains over 4 billion videos.
Zozo Shumba, a content creator on TikTok, has amassed upward of 83,000 followers on the platform. She credits manifestation for her successes, including her creative projects like Our Sunday Series, a five-star Apple rated comedy wellness podcast. In a different video posted on her YouTube channel, Shumba explains how she manifested her move to New York City by using the 5×55 manifestation method, which involves writing down a specific desire 55 times for 5 days in a row.
"I've been unknowingly manifesting this [TikTok] for a while and I had a feeling that it was time for me to start teaching. At first I was like 'TikTok — really? Of all places…' but I trusted my intuition," Shumba tells Greatist.
Shumba joined TikTok earlier this year in March, feeling drawn to the platform to share her teachings on manifestation through prompted visualizations, how-to guides, and self-help book recommendations.
"Pretend you're walking back to your apartment with them holding the umbrella," says the overlay text in one of Shumba's videos for visualizing manifestation. Viewers watch a clip of New York City in the rain sound, tracked by Billie Eilish's 'when the party's over'. "Do it again but this time close your eyes," the follow up text reads.
The 10-second video, posted in July, has over 700,000 views and thousands of comments from users saying they have "claimed this".
Speaking on her impressive growth rate and dedicated following, Shumba notes: "So many souls all at once were seeking guidance of any kind and a lot of manifestation content creators were drawn to share their thoughts and ideas to address the growing need for guidance. It's an energetic exchange of sorts."
Manifestation is an industry that is jam-packed with success stories, widely attributed by celebrities such as Jim Carrey, who, in an interview with Oprah, credited manifestation for his career after writing himself a check and using visualization techniques to bring in $10 million.
Deeper into the social media world, manifestation influencers are also a thing. Social media personality Gabi Abrao has garnered a 100,000 strong following on verified Instagram account @sighswoon, where she shares hilarious wellness posts, ranging from heartfelt poems to memes featuring Angelina Jolie, the comments a wall of users tagging their friends, pointing out just how relatable Abrao's posts are.
Building on from her Instagram account, Abrao's shop includes PDF guides to better your future. One 28-page guide teaches readers how to write and perform their own spells and rituals. Her merch, which launched on August 31, also caused the shop's website to time out.
For professionals in the wellness industry manifestation techniques and life coaching go hand in hand. Dr. Rakish Rana has seen an increase in demand for his executive life coaching business from individuals who have been attempting to further their careers.
"I've taken on new clients and during the pandemic have had more coaching inquiries than ever before," he says. "It's people who want to re-evaluate what they may want to do with their lives and be more purposeful." One of Rana's clients had coaching sessions over a period of 6 months and, in that time working with him, she built her confidence and became more centered and present, which helped enable her to progress in her work as a public relations professional.
However, living by the idea that all thoughts lead to consequences may also prove detrimental.
Exposure to manifestation and the law of attraction is something that could be extremely harmful to the more than 40 million adults in the U.S. who struggle with their mental health.
The law of attraction is the belief that "like becomes like" and states that we are responsible for bringing both positive and negative influences into our lives. This idea, that we need to be thinking positive all the time, can contribute to feelings of anxiety and hopelessness that are present with mood disorders such as OCD, depression, and bipolar disorder.
Dr. Caitlin Hitchcock is a clinical psychologist and manager of the Cambridge Clinical Research Centre in Affective Disorders. While there's a lot of research demonstrating that engaging in positive mental imagery and positive self-talk can help to improve low mood, Hitchcok says that the belief that thoughts become possibilities can be harmful if the thoughts start to fixate on negative events. For example, for those with OCD, the practice of manifestation may contradict recovery plans.
"Individuals with obsessive compulsive disorder, in response to a negative thought, may initiate repetitive behaviours to try to stop the feared event from happening," she explains. "Challenging the belief that thinking something means it will come true is a key feature of treatment for OCD."
One of the core tenets of manifestation is the idea of choice. Motivational speaker and best-selling author Esther Hicks, known for her teachings on manifestation, states in her book, Ask and It Is Given: Learning to Manifest Your Desires, "For you are the creator of your own experience — you have only to decide it and allow it to be." But someone with a mental health condition cannot always decide what happens. People with depression don't choose to be depressed, just as someone with anxiety doesn't wake up one day and decide to enjoy the feeling of existential dread.
Sarie Taylor, a psychotherapist and anxiety coach, says that it's not realistic to try and force ourselves to only think positive and then assume that everything will just work itself out.
"When we are anxious or in a low state of mind, our thinking becomes more contaminated," she tells Greatist. "We often feel helpless and this can create a vicious cycle if that, rather it being a normal response to poor mental health, we believe we are manifesting negativity into our life."
Taylor adds that during times of mental health struggles, we should be showing ourselves more love and compassion, instead of shaming ourselves for circumstances that are out of our control.
"We can feel much more empowered when we take responsibility for our own internal experience of life," she says. "There is no harm in attempting to remain optimistic, but we need to remember that as human beings we naturally experience a range of emotions, including the negative ones."
Meditation is a technique that is often used alongside manifestation. With a huge focus on calming the mind through deep breathing and entering a Zen-like state, meditation helps people achieve a clear and quiet mind. For people with mental health disorders, practicing how to achieve this quietness can be a relief.
Many people choose to mediate to high frequency music, while another technique is to engage in a guided meditation in which positive affirmations are read aloud to the listener.
Meg Josephson, a YouTuber who began sharing spirituality and wellness video after dealing with anxiety in 2019, sees meditation as a way of giving herself purpose and connection — and it's a connection many others have felt through her meditation content. Since then, she's quickly racked up over 18,000 subscribers.
"I definitely think there's a great awakening happening, and people are becoming more aware of the corruption in the system," she says. "The 9-to-5 world has been turned upside down and people are spending more time at home with their thoughts and their emotions."
And the downloads support that. Since the start of the pandemic, leading app Calm saw an increase of 31 percent in downloads between January and April, and in July, app downloads rose by 94 percent during the week Harry Styles' "sleep story" was introduced. So it's easy to see why manifestation — and meditation — are on the rise. Especially in our current climate.
Manifestation offers a glimmer of comfort and hope in uncertain times, realistic expectations need to be put in place. It fuels creativity (vision boards are another go-to visualization tool) and whether you're a believer or not, it has provided a dose of optimism and opportunity to many people's lives. But while you're dreaming up a brighter future, it's also important to remember that, along with setting positive intentions, only you can take action and turn them into reality.
Emma Kershaw is a freelance journalist who writes about health, pop culture, travel and more. Keep up with her latest work on Twitter.