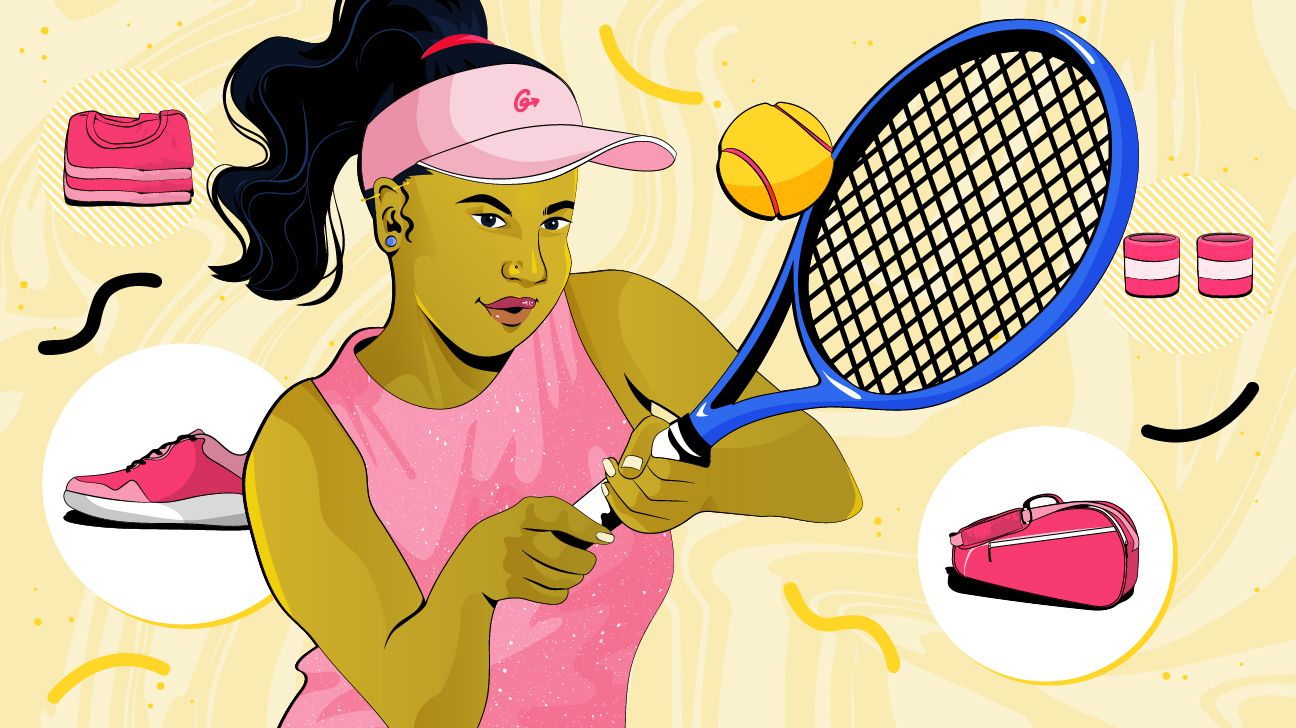 If you regret not starting tennis lessons when you were 5 so you could be living your Serena fantasies today, here's some news: You can start playing tennis at any age, and with any level of athletic ability.
This guide will lead you right to the baseline for your first gorgeous serve.
Whether you've been watching from the sidelines since Graf and Agassi were hot, or you just recently became inspired by badass (tennis) players like Naomi Osaka, there are some important things to determine before you start playing.
Do you know your fault foot from your left?
You can certainly hit a few volleys with a friend at the local park once or twice a month. Or you can take lessons, join a league, or go to a sleep-away tennis camp (OMFG)! How much you want to commit to this new hobby all depends on your time, budget, and goals.
Where do you fall on the tennis commitment scale?
🎾 = "I'm going to try this for a month and then decide if I like it enough to get serious." — Total tennis newb, looking for the easiest ways to try it out.
🎾🎾 = "I know tennis is going to be my new hobby, and I'm ready to gear up." — Feeling committed, and just need to know what equipment will help you learn and improve skills for casual play.
🎾🎾🎾 = "I'm going pro, baby!" — Determined to master this sport, and willing to put lots of time and money into it.
Watch for our ball code below for specific tips for your commitment and interest level.
Where's the court?
You've got the moxie to tackle a new sport, but do you know where you are going to play? (Assuming you don't currently live on an estate with its own courts and a full time tennis pro on staff.) Depending on the size of your city, you may be overwhelmed with options or limited to a few courts at the city park. No worries, with a little research you can find the best court for your needs.
Try this tool from the U.S. Tennis Association to find a local court. Here are more places to look for available tennis courts:
Check out the website for your local parks department to pinpoint tennis facilities and schedules.
There may be a tennis club or fitness center with courts.
Country clubs usually have courts for members.
Your apartment complex or neighborhood may have a community court.
Local high school and college courts might be open to the public on a limited schedule.
Need a coach or a partner?
It's hard (though not impossible) to learn or practice tennis by yourself. Don't have any friends who currently play or want to practice with you? No worries, there are social leagues for all skill levels, often organized through the club or park where you will play.
If you are looking for tennis lessons, there are a number of ways to find instruction or support:
Ask your inner circle. If you have a (patient) friend with some experience, they may be willing to trade lessons for a weekly boba tea or something. (This is a great starting point for players at the 🎾 level, and a good way to get more practice at all three levels.)
Join the club. Signing up for group lessons or coaching at the club or park where you plan to play is a good option for someone just trying tennis or a serious amateur competitor. Just be honest about your skill level so you are matched with the best group. (🎾 and 🎾🎾)
Take some private (coaching) time. The great thing about going with a one-on-one tennis coach is that they can adapt to your skills and ability at a pace that works best for you.
Ball out. It's hard to learn tennis on your own, but you can practice your form with a ball machine that lobs plenty of balls your way. See if you can rent one from your tennis club. If you are all in, you may even want to invest in your own ball machine (🎾🎾🎾).
Set up camp. If you love tennis so much that you would consider it a vacation to travel and play for a week, tennis camp might be your thing. There are even travel agencies that specialize in tennis vacations. Google "adult tennis camp" and your skill level to see what's out there. (🎾🎾 and 🎾🎾🎾)
Do you have the time?
You could have fun chasing balls around the court with your buddies once a month (no judgment), but you need to be consistent to develop core tennis skills, improve your game, and build fitness. Will your schedule allow for a weekly lesson or 2 to 3 nights a week doing drills?
Besides time on the court, consider how much time you may want to commit to training off the court, building your cardio fitness, agility, and hand-eye coordination. How much time you want to spend on your new hobby should be roughly in line with your current level and goals.
Have you checked in with your body?
Before you start any new sport or activity, it's a good idea to check in with your body and a health professional. Do you have any injuries or mobility concerns to take into account? Beware of the common human urge to push yourself too hard too fast and injure yourself in the first week of a new activity.
If you have any old injuries that need support, you might want to wear a brace. Also, consider sports glasses for a tighter, safer fit if you need glasses on the court.
Motivation and determination might get you a long way in tennis, but you can't get started if you don't have the right gear. See below for the basic essentials, things to consider, and some upgrades.
Racket
"The racket shall have a frame enclosing sturdy strings, usually made of nylon, interwoven in a crossed and bonded pattern, and a handle." So sayeth the International Olympic Committee, but many options fit this basic description of a tennis racket. Rackets vary by weight, face size, grip size, and price.
Tips for each beginner level:
🎾 = Until you are ready to commit, try to borrow a racket from a friend or purchase an affordable aluminum racket. If you enjoy the hobby, you can hone in on a higher quality racket later.
🎾🎾 and 🎾🎾🎾 = Go for a pricier graphite frame. (But not too pricey! Your racket should level up with your skills.) Visit a pro shop and discuss all the options to decide what fits your game. They may even have a demo policy so you can take a few rackets out for a test match before deciding.
Grips
Your racket comes with a grip that may be synthetic or leather. Most players wrap the handle in an overgrip — an extra layer of tape that provides some extra texture and "stickiness." Keep a few rolls on hand for when your overgrip wears down.
String
Beginner rackets come pre-strung. If you play long enough to have your racket restrung, you will have a choice of string materials (natural gut, nylon, or polyester) and tension.
Balls
Obviously. You'll find most tennis balls come in cans of three. Which balls you choose will depend on the surface you play on (hard, clay, or grass). Read the can to make sure your balls match your specs! For instance, there are balls especially for play at high altitudes. Get a few cans to start and replace them as they start to feel "dead" (every few weeks or so).
Shoes
If you plan to play tennis on a regular basis — weekly or biweekly — proper shoes are a must. Look for tennis-specific shoes with nonmarking soles. (Black soles are out of bounds on some courts.) Running and cross-training shoes are not suitable for tennis because their cushy heels are too unstable for quick side-to-side movements.
Bag
Any bag that holds your gear (and doesn't hurt your back) is a good bag. Bags made specifically for tennis will have a shaped area for your racket and compartments for common gear. Let's also consider what you should have in your bag:
Sunscreen is a necessity for any daytime, outdoor activity.
A visor or hat will offer more sun protection and shade you from glare on the court.
An extra shirt or two can help because you're gonna sweat, baby.
A hand towel can be great for mopping sweat and drying off your grip. No flying rackets!
Wristbands and headbands might look goofy! But you know what's not goofy? Keeping cool so you can smash that ball.
Water, water, and water. Take extra water just in case.
A snack. Mmm, fuel.
Clothing
Generally, if you're comfortable running, jumping, and sweating in it, it'll work for a casual tennis match. If you want to invest in specific tennis clothing, look for wicking fabrics that will keep you cool, pants with ball pockets, no seams or zips that will cause chafing, and close-fitting styles that won't tangle or shift around while you move.
Even if you've never stepped foot on a tennis court, you can start learning the sport at any age. Your basic gear will include a racket, balls, proper tennis shoes, and workout clothing.
Most communities have clubs or parks with tennis courts, and you can get beginner lessons as an adult. Your time and financial investment in your new hobby should be in proportion to how committed you are to playing long-term and getting better at tennis.