We include products we think are useful for our readers. If you buy through links on this page, we may earn a small commission. Here's our process.
Greatist only shows you brands and products that we stand behind.
Our team thoroughly researches and evaluates the recommendations we make on our site. To establish that the product manufacturers addressed safety and efficacy standards, we:
Evaluate ingredients and composition: Do they have the potential to cause harm?
Fact-check all health claims: Do they align with the current body of scientific evidence?
Assess the brand: Does it operate with integrity and adhere to industry best practices?
We do the research so you can find trusted products for your health and wellness.
Scars are a natural part of life, baby. They're the result of your body quickly covering up a wound to keep it safe while it heals. But while your skin is busy repairing damage deep below the surface, things can go awry up top.
This is where a good scar cream can come in handy.
"Scar cream" is a catch-all term for creams, lotions, gels, ointments, and even sheets (basically, any product you can apply to your skin!) that help reduce the appearance of scars.
These products work by healing the top layers of the skin. Some do this through gentle exfoliation by buffing away the scarred skin cells; other products rely on intense hydration that plumps the skin so that it appears less discolored or misshapen.
If you're ready to say so long to your scars, check out our list of the best scar creams backed by the most recent scientific studies on scar management.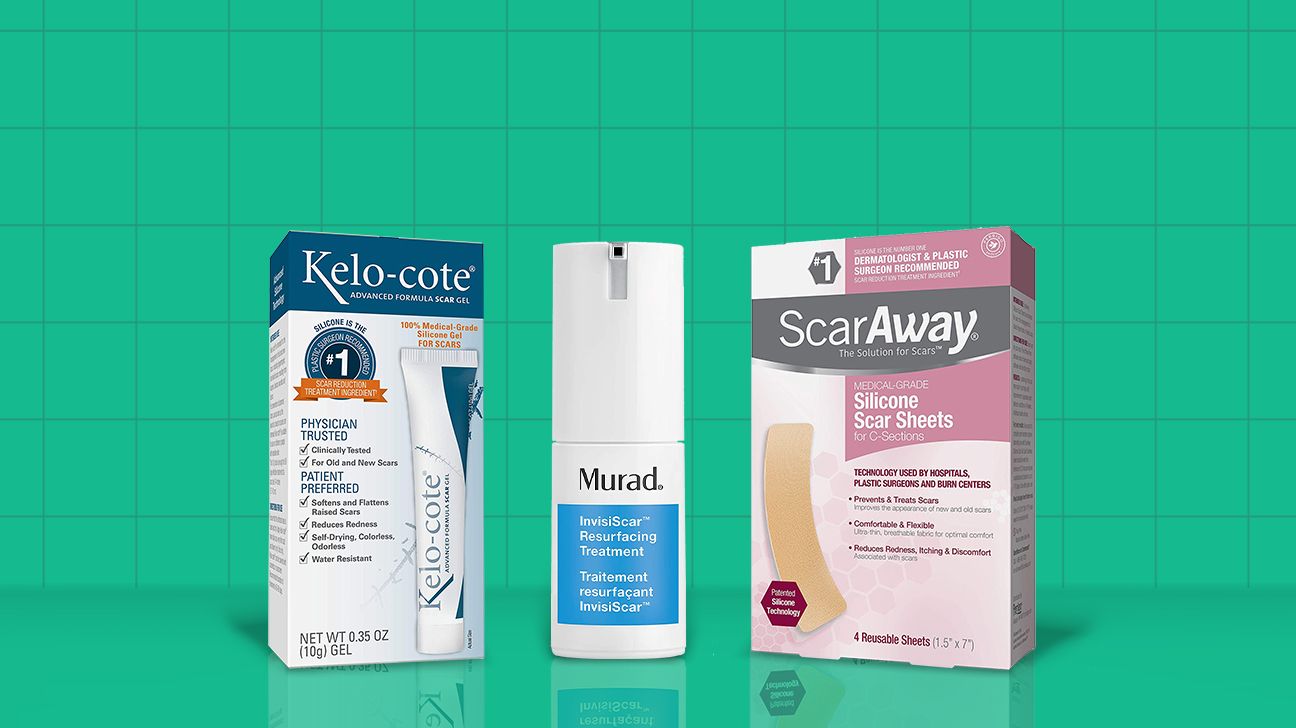 So, how'd we narrow our list down to these nine sweet scar creams?
To make our selections, we took several factors into account, including:
Research. We looked at the cold, hard facts to find products that are backed by science.
Ingredients. Overzealous collagen creation can cause healing skin to become raised, while inflammation and lack of hydration can cause indentations, discolored spots, and stretch marks. We looked for scar creams that target these issues with proven ingredients.
Scar type. We know each scar is a little bit special, so we aimed to include options for scars of all kinds — including burns, postsurgery, acne, raised, red, and stretch marks.
Your #Goals. We also made sure to consider other ingredients that can help you meet your unique skin care goals. (Seeing a scar cream with SPF was a huge plus!)
Price. Every budget is different, so we made sure to choose products at a variety of price points, so you can find what you need at a cost you can afford.
Reviews.

We only considered the best of the best for our Greatist peeps, so we made sure that IRL folks actually love each product we picked. You'll find that this list contains highly rated products that have received top marks from reviewers.

Vetted products. We only included brands known for creating top-notch products with quality ingredients. We put every product through a thorough vetting process to make sure brands aren't making any unsupported health claims or engaging in shady business practices. Only brands that passed made our list.
Even though we're talking about scar "creams," we also looked for a range of formulas including gels, oils, and silicone sheets to accommodate different scar types, sizes, and locations.
$ = under $20
$$ = $20–$40
$$$ = over $40
Scars, like snowflakes, are super unique. Here are our picks for the best scar creams for every skin situation.
Best overall scar cream for raised scars
Price: $
Key ingredients: silicone
Size: 0.35 ounces (oz.)
Dosage: apply twice daily
When you have a big ol' open wound, your body produces a bunch of collagen to help it heal. That extra collagen is what causes raised scars to form.
Oftentimes in skin care, you're trying to increase collagen production to get all of its benefits, like increased skin elasticity. <3 But when you're trying to stop a scar from forming, you wanna slow it down.
According to research, silicone helps slow down collagen production. It can also increase hydration of the stratum corneum (aka the outermost layer of your skin), protect the scar from bacteria, and reduce itching.
That makes silicone a great option for hypertrophic scars, which are raised and typically red.
When scar cream shoppin', you'll see silicone gels and silicone sheets. Gels are a little more flexible and can be used basically anywhere on your body — including irregular areas (like your scalp) or mobile areas (like your knees). And research shows that gel is just as effective as the sheets.
All of this scar-reducing goodness, the addition of SPF to protect your scar from the sun, and a low price make this our top pick for raised scars.
Reviewers love that it's highly concentrated and say it really works (people post pics to prove it), but a few complain that the roller ball applicator kind of sucks.
can help reduce the appearance of raised, red scars

gel can be applied anywhere on your body

contains SPF
inexpensive
some reviewers don't love the applicator
Best overall scar cream for flat scars
Price: $$
Key ingredients: allantoin, hyaluronic acid, panthenol, onion bulb extract
Size: 0.7 oz.
Dosage: apply once daily
Mederma is one of the OG scar creams.
It features onion bulb extract, which a study showed can help improve redness, smoothness, and the overall appearance of new scars. In another study, researchers found that it can help improve overall appearance — especially in regard to discoloration — but it isn't great for reducing scar height. It works best for newer, flatter scars.
The addition of hyaluronic acid and panthenol also makes this cream v hydrating and soothing.
With its decent price point, high concentration, and easy application (only once a day!), Mederma is many reviewers' fave option.
Reviewers like that a little goes a long way with this gel, and many are almost shocked at how well it can work on old and new scars alike. Several reviewers do warn, however, that you have to be patient: results can take a long time with this product, so persistence is key.
helps improve the appearance of flat scars (due to onion bulb extract)

contains additional hydrating and soothing ingredients

highly concentrated
once-a-day application
slow-acting results
contains alcohol and fragrance, which may irritate sensitive skin
Best scar cream for face
Price: $$$
Key ingredients: Centella asiatica, Bulbine frutescens, oleuropein, lactic acid
Size: 0.5 ounces
Dosage: apply twice daily (morning and night)
She's a splurge for a reason. This derm-backed brand uses a unique trifecta of plant extracts: Centella Asiatica to reduce scar pigmentation and Bulbine frutescens and oleuropein (aka olive leaf extract) to promote wound healing.
Lactic acid is here, too, to slough away dead skin cells and improve skin texture. The addition of this gentle alpha hydroxy acid (AHA) is what makes this an excellent choice for scars on your beautiful face — it helps brighten up your entire complexion (just make sure you wear some SPF with it!).
Reviewers love this stuff. They've found this gel to help significantly reduce the appearance of scars of all sizes and colors. The biggest drawback? The price. For such a teeny tube, this ish is ex-pen-sive.
doctor-recommended
contains evidence-backed scar-reducing and wound-healing ingredients

suitable for all skin types

alcohol- and fragrance-free
Best scar cream for acne scars
Price: $$
Key ingredients: salicylic acid, vitamin C, vitamin E
Size: 0.5 oz.
Dosage: apply twice daily (morning and night)
This cream is designed to tackle acne scars both old and new with acne- and acne-scar-reducing ingredients.
Salicylic acid is a beta hydroxy acid that's proven to help reduce acne and post-acne hyperpigmentation (read: acne scars). And vitamin C is one of the most studied antioxidants out there that's basically famous for reducing hyperpigmentation and protecting your skin from UV damage.
It also includes vitamin E, which has conflicting results as a scar reducer on its own but is still an A+ antioxidant that helps protect your skin from sun damage.
All of this is wrapped up in a nice hydrating formula that sort of "fills in" and blurs the look of scars while they're being treated.
Reviews rave about the velvety feel of this facial cream, and how well it works to eliminate surface scars with regular use. Many love the blurring effect they get from this product as their scars heal.
A few folks have shared that this cream isn't as effective on deeper or pitted acne scars, and they're def not fans of how little product you get for the cost. Even many die-hard fans wish they got more creamy bang for their buck.
Greatist editor favorite
contains acne-fighting and hyperpigmentation-reducing ingredients
blurs the appearance of scars
alcohol-free
pricey
small size
contains fragrance, which might irritate sensitive skin
Best scar cream for surgical scars
Price: $$
Key ingredients: silicone
Size: 5- x 6-inch sheets
Dosage: Apply a sheet for 4 hours on the first 2 days of use. Increase by 2 hours a day. Clean twice daily and use for up to 28 days.
These super convenient scar-fading sheets contain medical-grade silicone, which we already know is a super effective treatment for scars in general. But research shows that silicone sheets can also be helpful for preventing excess tension on surgical scars, which adds an extra safeguard for preventing scars post-op.
We love that these can be cut to match the shape and size of any scar, plus you can wash and reuse them a few times. But if your scar is in an area with lots of movement (like, say, your knee), it can be tough to keep them in place. A little medical tape should do the trick though.
Users find these handy sheets to be especially effective for reducing discoloration and texture in large burn and surgery scars. Many also found them to work on older or deeper scars, and they love that they can cut them to fit the exact area they need them.
The biggest problem? They don't stay put on certain areas. Many folks shared that these sheets shift and fall off really easily on knees, elbows, or other bendy parts.
contains evidence-backed scar-reducing silicone
sheets help reduce tension on surgical scars

can cut to fit your scar

reusable
sheets shift in high-movement areas
Best scar cream for C-sections
Price: $
Key ingredients: silicone
Size: 1.5- x 7-nch sheets
Dosage: Apply one sheet for 12 hours per day. Clean daily and reuse for up to 14 days.
Silicone sheets like these are a science-backed solution for all kinds of scars — including C-section scars, which tend to become hypertrophic.
The best part about these strips is they're especially pre-cut for C-section scars. Done and done.
So, what do users think? Overall, they're big fans of these flexible, breathable strips. Most new mamas seemed to see a huge difference in their C-section scars within a few short weeks.
These strips may not always hold up to body sweat, however, as some users say they may start to shift if you start to get a little slick, which isn't always ideal. Also, don't put them on open wounds — they're not sterilized.
silicone sheets are evidence-backed scar treatments
reusable
sized well for longer scars
flexible
safe for use while nursing
few sheets per package
not sweat-proof
not safe for open or unhealed wounds
Best scar cream for old scars
Price: $$
Key ingredients: silicone
Size: 0.35 oz.
Dosage: apply twice daily
All the benefits of a silicone scar sheet but in a self-drying, stay-put gel.
Even better? Silicone products have been shown to improve mature scars and prevent new scars from forming. Yay!
This simple formula can be used to prevent abnormal scarring after a procedure as soon as a wound is closed, and we loved learning that it's been clinically tested for old scars, too. Good for children and sensitive skin, one tube can last up to 90 days with use on a 3- to 4-inch scar.
Reviewers love this healing gel, and many have shared that it's been effective in treating all sorts of scars, both old and new. Over time, most saw significant changes to their scars.
The biggest gripe that folks have is how small the tube is. While most say that a little goes a long way, this tiny tube still doesn't last as long as they'd like it to.
evidence-backed treatment for mature scars
self-drying, odorless
water-resistant
nongreasy
can be worn under makeup
Best scar cream with SPF
Price: $
Key ingredients: allantoin, panthenol, zinc oxide
Size: 1.5 oz.
Dosage: apply as needed
As your scar is forming and healing, that brand new baby skin is super susceptible to sun damage. UVA/UVB rays can make your scar look darker (called hyperpigmentation) or make them thicker and harder to treat.
This scar cream combines a healthy dose of SPF 35 with allantoin to encourage quicker healing while keeping your scar safe from the sun. Plus, it's super gentle, making it a great option for protecting your face from scars and sun damage.
Many reviewers tout this as their go-to SPF moisturizer. They say that it's great for not only reducing the appearance of acne scars and hyperpigmentation but also keeping their face feeling supple and well-moisturized.
Some users found that the product became less effective over time but that can happen with any product as your skin adapts. Others shared that they weren't big fans of how small the tube is, as well as how the product can sometimes leave a white residue after applying.
contains evidence-backed scar-reducing ingredients
vegan
cruelty-free
nongreasy feel
alcohol- and fragrance-free
small container
may leave a white residue
Best scar cream for stretch marks
Price: $
Key ingredients: lavender, rosemary, calendula, chamomile, vitamin E, vitamin A
Size: 4.2 oz.
Dosage: apply twice daily
Bio-Oil has amassed a bit of a cult following — probably because you can basically use it head to toe, including in your hair. But of all the things this multi-tasking oil can do, it really shines against scars and stretch marks.
A combo of lavender, rosemary, and chamomile helps fight off bacteria, speed up wound healing, and reduce inflammation.
It also features vitamin A (Psst: retinol is a form of vitamin A) and vitamin E to fight oxidative stress, increase hydration, and increase collagen production. Unlike other scars, stretch marks are actually caused by broken collagen and elastin in your skin, so you don't necessarily want to stop collagen production, you want to boost it.
All of this wrapped up into a hydrating oil help reduce the appearance of non-keloid scars and stretch marks, according to a 2018 study.
Users love the nongreasy feel of this oil, as well as its pleasant scent. They're also big fans of its natural ingredients. While many find this oil to help keep their skin (and scars!) supple from head to toe, some users found that it may not work as well on sensitive skin or for those who have eczema.
Lots of folks also share that this oil is great for fading fresh scars but it may not be as effective for those older, deeper marks.
contains ingredients that can help reduce appearance of stretch marks and non-keloid scars
contains natural oils
suitable for most skin types
nongreasy
multi-use
**not safe for use in first trimester of pregnancy (bc of the vitamin A!)**
may cause a reaction on sensitive or eczema-prone skin
doesn't work as well on older scars
| | | | | | |
| --- | --- | --- | --- | --- | --- |
| | Product | Price | Key ingredients | Size | Dosage |
| Best for raised scars | ScarAway Silicone Scar Gel | $ | silicone | 0.35 oz. | apply twice daily |
| Best for flat scars | Mederma Advanced Scar Gel | $$ | allantoin, hyaluronic acid, panthenol, onion bulb extract | 0.7 oz. | apply once daily |
| Best for face | SkinMedica Scar Recovery Gel | $$$ | Centella asiatica, Bulbine frutescens, oleuropein, lactic acid | 0.5 oz. | apply twice daily |
| Best for acne scars | Murad InvisiScar Resurfacing Treatment | $$ | salicylic acid, vitamin C, vitamin E | 0.5 oz. | apply twice daily |
| Best for surgical scars | Smith & Nephew Cica-Care Gel Sheet | $$ | silicone | 5- x 6-in. sheets | Apply a sheet for 4 hours on the first 2 days of use. Increase by 2 hours a day. Clean twice daily and use for up to 28 days |
| Best for C-sections | ScarAway Advanced Skincare Silicone Scar Sheets for C-Sections | $ | silicone | 1.5- x 7-in. sheets | Apply one sheet for 12 hours per day. Clean daily and reuse for up to 14 days |
| Best for old scars | Kelo-Cote Advanced Formula Scar Gel | $$ | silicone | 0.35 oz. | apply twice daily |
| Best with SPF | Derma E Scar Cream Sun Protectant SPF 35 | $ | allantoin, panthenol, zinc oxide | 1.5 oz. | apply as needed |
| Best for stretch marks | Bio-Oil Skincare Oil | $ | lavender, rosemary, calendula, chamomile, vitamin E, vitamin A | 4.2 oz. | apply twice daily |
Scar creams are basically juiced-up moisturizers with special ingredients meant to heal, protect, and reduce the look of scars. Most scars will typically fade in time but scar creams can help speed up the process or, if the scar is very superficial, help prevent them altogether.
Scar creams work in different ways depending on the product. Here are some common ways they can help:
Reduce collagen production. When you have an open wound, your body produces collagen ASAP to help you heal. Some scar creams use ingredients (like silicone) that can slow that process down a bit to prevent thick, raised scars.
Reduce discoloration/hyperpigmentation. Some creams use onion bulb extract, antioxidants like vitamin C, or exfoliants to reduce discoloration/hyperpigmentation and brighten up the appearance of your skin.
Reduce scar tension. Some treatments, like silicone sheets, help reduce tension on wounds to prevent scars from forming.
Increase hydration. Some creams use ingredients like hyaluronic acid to hydrate and plump up the skin, which can make indented scars temporarily appear more filled in. Others use silicone sheets and gel, which help improve stratum corneum hydration.
But — you knew there was a but coming — scar creams are just part of a scar care routine. If you want to see your scars a little less, keep them out of direct sunlight and hit them with sunscreen as much as you can.
Finding the right scar cream can make a major difference in the recovery time of your skin, Here are a few tips to help you find the one.
Consult a pro
And we def mean a dermatologist.
They can work with you to find the best types of treatment for your unique scar — and help you suss out what definitely won't work for you. This can save you precious time, money, and stress in the long run.
Reach for proven, powerful ingredients
Opt for creams and sheets with scar-fading powerhouses near the top of the ingredient list. This will help ensure that the product will not only be potent enough to be effective, but gentle enough to keep that sensitive scar skin protected while your marks fade away.
Some key ingredients to look out for include:
Silicone. A go-to for raised scars and keloids. Go for silicone sheets to prevent excess tension on your scar and a gel if your scar is in an irregular (like your scalp) or highly mobile (like your knee) area.
Onion bulb extract. Not as great for raised scars but has shown to be v helpful for discolored scars.
Centella Asiatica. Another great pick for discoloration.
Vitamin A. Increases collagen production, which might help reduce the appearance of stretch marks or mild indented scars.
You can also go for hydrating ingredients like glycerin, dimethicone, and hyaluronic acid or skin soothers like allantoin and panthenol to reduce inflammation and redness.
Don't go broke
Scar cream can get pricey, honey! But not to fear, there's a scar cream for every budget.
Just because something's expensive doesn't mean it'll work for you. It's more important to look at what your scar cream of choice targets (and how!), as well as its ingredients list and what actual users have to say, rather than reaching for the fanciest one on the shelf.
Stick with trusted brands and manufacturers
Scars are ultra-sensitive skin, meaning you should treat them with ultra-sensitive care. This isn't the time to mess around with sketchy, unresearched ingredients or companies you can't trust.
Look for brands and manufacturers who've been around the block and have built a solid reputation. You can def tell an established brand by looking at the research they've put in, how long they've been around, and what users have to say about their products.
Peep those reviews
Don't just take the brand's word for it: scroll through those reviews! Seeing what actual users have to share about their experience with the product can give you a more realistic view of whether or not it's right for you — especially if reviewers are using it to target the same type of scarring you're looking to heal.
You've got your brand new scar cream (or sheets) in hand … now what?
Consider the following best practices when using scar minimizing products:
Peep the label. Your skin is a delicate thing — especially when a scar has formed. Before using any product, carefully read the instructions to know how much to use, how often, and for how long. Also, look for any warning signs to be on the lookout for or ingredients that you may be sensitive to.
Start fresh. Always apply scar healing products to clean skin. Wash and pat the area dry, THEN put on your cream, sheet, or ointment of choice for max healing power.
Wait it out! It's totally natural to want to stop a scar before it fully forms. But using scar cream too soon can actually make the situation worse. Rather than slathering the product on while the skin's healing, it's best to wait until the skin is clear and the scar's fully formed.
Don't go it alone. To boost effectiveness, your derm may recommend using other treatments in addition to scar cream. This could include certain supplements (yay for skin-loving vitamins!), massage therapy, compression clothing (especially for burns), or other products that can boost healing.
Don't rush it. Be patient, young grasshopper. Scar healing takes time, so you shouldn't expect major results overnight. In fact, it may take several months to see major changes — and that's OK! Carefully read the product instructions and use the product for as long as indicated. Be patient, be persistent, and be scar-free (over time)!
Scar cream is just one of many different solutions for helping scars fade away, and it may not be effective for every person — or every type of scar.
Deeper atrophic (like from severe acne) or older scars may require more intense medical treatment options. For stubborn scars that just won't go away, your dermatologist might recommend:
injections
prescription creams
laser therapy
radiation
surgery
If you're wondering whether an over-the-counter (OTC) scar cream or a doctor-ordered treatment is best for you, talk with your derm. They can help you figure out what will work for your scarring, including types of treatment, how often you'll need to use (or receive) treatment, and when you should start and stop to see the best results.
Sometimes, a cream just isn't gonna cut it. In some cases, it may actually make your scar situation worse.
If your scar cream is making your skin super dehydrated or dry to the point where it's starting to crack or bleed, stop using it ASAP and call your doc.
You should also see your derm if:
your scar healing product causes a reaction, such as redness, irritation, itching, or burning
a keloid scar starts to form over the area
you notice any changes to your scar, including size, shape, or color
Your dermatologist can work with you to re-heal the skin before starting the scar-fading process anew. They can also recommend other treatment options that may work better for you.
Can creams heal scars?
Yes, they can! But they're not necessarily a "one size fits all" solution.
While many scars do respond positively to scar creams or other OTC treatments, others may need something stronger to help them fade away. It's always best to consult your dermatologist before using any product to make sure it's right for you.
What cream is best for scars?
It kinda depends. Factors like the type, size, or color, where the scar is located, and even how long you've had it can affect what type of cream may work best for you. If you're unsure which cream to use, talk with your dermatologist for guidance.
What causes scarring?
Cuts, scrapes, scratches, even picking at zits … basically, anything that causes an open wound can cause a scar.
When your skin senses danger, it goes to work protecting itself from any harmful germs that could cause infection or disease. To do this, it tries to close up as quickly as possible, thus forming a scar.
While some scars fade over time, others may need some special treatment to disappear.
Scars are a totally natural part of healing, but they don't need to stick around forever. OTC scar creams are an effective way to prevent and reduce the appearance of scars at home.
Just remember to consult with a doctor or dermatologist before using a new scar cream because different types of scars benefit from different ingredients.