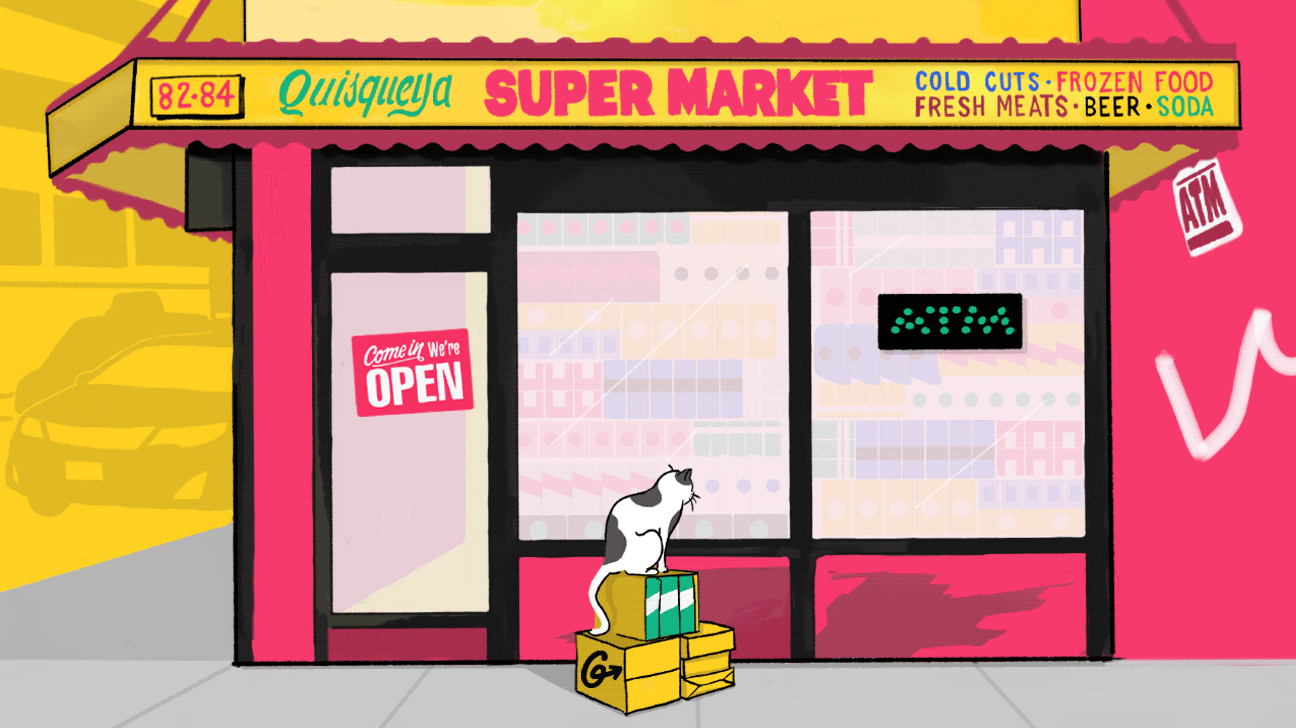 As a native New Yorker, delis and bodegas were and still are a huge part of my life. The sidewalk by the front door of my local corner store was a meetup and a hangout spot all through my youth.
Bodegeros and deli owners who I've been buying snacks from since I was a toddler are a fixture of my upbringing in Queens. They reminded me of the duality of my reality; the reality of a lot of children from immigrant families. It's where Caribbean, Polish, and Middle Eastern treats existed alongside calling cards and soda cans and potato chips.
And now as COVID-19 has pummelled so many major cities around the world, including NYC, bodegas and delis have become a sort of emotional lifeline for me and others I know.
Not only do we now lean on these small stores for food and necessities, they exist as a beacon of normalcy — even if their aisles are more bare than they used to be. Plus, going to the corner store is one of the few times a week that I get to be outside during daylight hours and interact with someone apart from my family members.
Knowing this experience is shared by so many others in the city, I went out to talk to three NYC residents about the re-imagined role bodegas play in life during the pandemic.
Bodegas: An ecosystem once taken for granted
Early in April, I visited a small store in Ridgewood Queens, Amir Deli and Grocery, to chat with one of the store's employees, Rachid Naje, about how things have changed in the last couple of months.
Naje was behind the counter by himself when I greeted him. On the shelves behind him were the familiar corner store supplies: calling cards, individual packages of aspirin, and umbrellas.
Pre-pandemic, he tells me the store and the strip of sidewalk out front was a hive of activity. People leaned against the brick wall taking drags off cigarettes, with no apparent place to be. Other's hurried their way out the door holding paper cups of coffee, on their way to hop on the next train. Parents whisked their kids through the aisles, grabbing last-minute breakfast supplies before school.
Of course at the time, none of this was remarkable. Bodegas like Amir's were part of the backdrop to a life everyone — myself included — took for granted. None of us could have imagined we'd be nostalgic for something as pedestrian as the normal happenings of a corner store.
These days, Naje works the register alone while wearing a mask and gloves. The door is open for ventilation but no one hangs around except for a quick hello or goodbye from a distance. He misses the small community that used to congregate inside the store and on the front steps.
"I'm here by myself all day," he said from behind the makeshift plastic shield that's become commonplace at stores throughout the city.
While the loss of community is saddening, Amir's is faced with a much more dire predicament: Business is hemorrhaging. "We're making less than half of what we used to," said Naje. "People aren't going out a lot. We sell lottery tickets and some snacks but not a lot of other stuff."
As we talked, I noticed a picked over shelf of cleaning products toward the back of the store. The remaining products — some floral smelling off-brand cleaners and a couple very small bottles of Clorox — sat as eerie reminders to the blitz on cleaning supplies that defined the initial weeks of the pandemic.
Despite the somber mood while we talked, I was surprised by Naje's assuredness. He told me he's worked in stores and restaurants for years and that ups and downs are all part of it.
I said goodbye and hoped he was right, that we'd come out of this like we always have.
Trips to the bodega are a figment of the life we used to know
Ivelise Mogena is a Dominican-American case manager from the South Bronx who I met through a relative. I caught up with her over the phone one afternoon. The conversation started out carefree and familiar as we laughed to Spanglish jokes and traded notes on our overly protective Caribbean parents and growing up in NYC.
As a trained social worker, Mogena told me she's noticed that for many people she works with, trips to the corner store have become a way to retain normalcy and soothe the uncertainty of the pandemic.
Especially as more and more people become restless while social distancing — and cohabitating in small city apartments — running necessary errands has become one of the few activities people have to look forward to.
"It's part of having a normal routine," she explained. "That's really important for people's mental health right now."
Like most people, Ivelise grew up buying snacks or last-minute ingredients from her neighborhood's delis and bodegas. But since the pandemic, these stores have taken up a much more vital function in her and her family's life (she lives with her parents). Nowadays, they rely on the corner stores for staples like milk, eggs, and bread. It's simply a more convenient option.
"My mom had gone to a couple of different [supermarkets] and each one she had to wait about an hour," says Mogena. "My dad had to wait like 3 or 4 hours at the one supermarket where we [usually] get bread."
As our conversation wound down, she told me that despite the stress brought on by the pandemic, she was proud so many immigrant-owned small businesses were deemed essential and are now depended upon to provide services that community members needed.
When everything falls apart, businesses adapt with community in mind
L Gourmet Deli, a store in East Williamsburg has taken its role as a cornerstone of community to heart. I spoke with one of the owners, Amer Alihe, over the phone about how he's been adapting to the upheaval. He was friendly and seemingly hopeful when he described doing his best to keep the business afloat.
Since shelter in place restrictions were implemented, Alihe has lost around 30 percent of his regular business. Similar to Naje, Alihe's attitude remained calm and level.
Nothing in business is stable, he told me. In 2012, superstorm Sandy ripped through the neighborhood, which caused a drop in sales for a while as people weren't going out. And a few years ago, he even lost a previous business to a fire.
"It showed me that there's no guarantee, every business goes through a hard time," he explained.
But he's confident things will pick back up since he sells a variety of necessary home goods like ingredients for meals, cleaning supplies, and snacks.
One thing Alihe has learned from working in stores for more than a decade is that focusing on the needs of the community creates a positive feedback cycle that ultimately upholds the business.
Alihe has been offering deliveries for older customers who cannot leave their homes and has even allowed some longtime customers to pay 1 or 2 days late. Despite the massive loss in business, he said he hasn't started charging higher prices and doesn't want to turn regulars away. He's grateful to them for keeping the deli afloat and thinks loyalty will play a big part in the deli's survival.
"We have to support the community right now… and I have workers so I don't want to lay them off right now," says Alihe.
He encourages customers to call or email with any concerns and has a sign outside the store that reads: "We stand with our customers… Working hard to keep our store clean, stocked and open for you."
Angely Mercado is a freelance writer and researcher from NYC focusing on city policy, environmental justice, personal essays and more. Her work is featured in The New York Times, CNBC, The Nation among others. Subscribe to her newsletter Media Mercado, follow her on Twitter and Instagram.