If you have psoriatic arthritis you might dread shoe shopping. You're not alone in this.
With stiff ankles, swollen toes, peeling toenails, and tendon pain along the heels and soles of your feet, wearing a pair of uncomfortable or painful shoes can literally ruin your day — affecting your ability to work, run errands or, well, basically do much of anything.
"Many of my patients tell me that their shoe size increases with psoriatic arthritis, and that's probably because they have swelling joints and swelling toes" says Dr. Ana-Maria Orbai, director of the Psoriatic Arthritis Program and Assistant Professor of Medicine at Johns Hopkins.
That's why it's super important that you buy the right kind of shoes. While it's unclear whether the shoes you wear (or insoles and socks) can help manage or lessen your psoriatic arthritis symptoms in the long run, wearing the right kind of shoes can minimize your pain and help prevent worsening of symptoms.
That's why we're here to break down everything you need to know about shoe shopping with these 10 tips.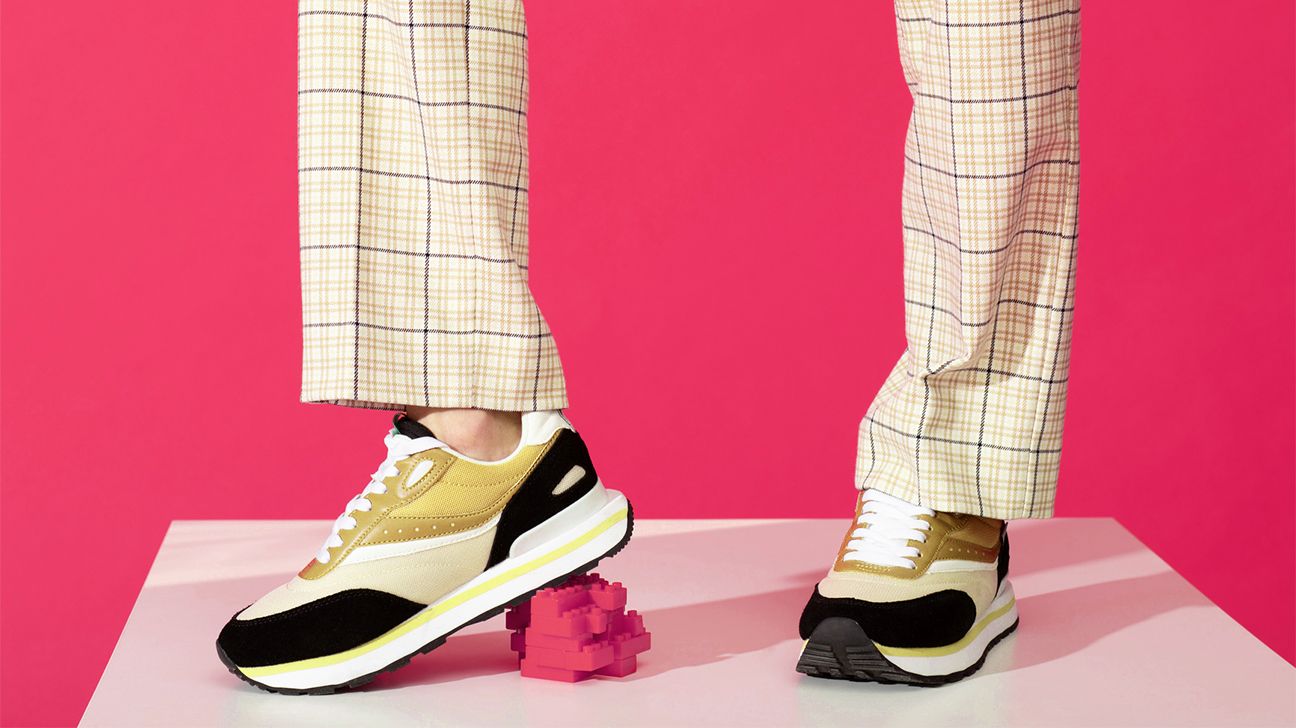 Wearing the wrong size shoe is always uncomfortable, but with psoriatic arthritis, it can put pressure in all the wrong places (aka your toes) if you wear the wrong size shoe.
If something feels even slightly too tight, size up, even if it's just a half-size — your joints and toes are already prone to swelling. Ideally, allow yourself about half an inch of space behind your heel in case you have inflammation.
Shoe size (i.e. length) isn't the only thing that matters when you have psoriatic arthritis. Width matters just as much — if not more.
With swollen joints, toes, and inflamed tendons in their feet, a lot of people with psoriatic arthritis find it beneficial to buy shoes that are wider so that they don't squish their toes.
Look for shoe brands that offer wide widths or styles that don't taper or narrow in the toe area.
Your inflammation levels can vary from day to day — and there's nothing worse than having your already swollen toes or peeling toenails squished on a bad day. Make sure you can wiggle your toes when you try on a new pair of shoes.
If you're having a pain day or just want to limit the number of shoes you have to try on you can also draw the outline of a new shoe on a piece of paper, then step on the outline and make sure that your toes fit comfortably inside the lines. If the shoes don't pass this test you don't have to try them on at all.
High heels put your foot in an unnatural position and put excess pressure on the forefoot. This can make your existing foot problems — and pain — worse. Heels also place extra stress on other joints in your body too, including your back, hips, and knees.
Instead, opt for flatter shoes or wedges. If you must wear a heel to work or a special event, make sure it's under an inch in height.
In other words: no ballet slippers.
Lots of people with psoriatic arthritis think that super flat shoes, like ballet flats, are a good choice but most ballet flats have no shock absorber or cushioning under the soles of your feet — which can worsen your pain because it puts pressure on the places where tendons and ligaments connect to bone in your feet.
They may not be the perfect match for every outfit, but athletic shoes are often the best for your feet if you have psoriatic arthritis.
Not only do they offer padding and shock absorption under the soles of your feet, but they also have good arch support so that you distribute your weight across your foot. This eases pressure on your already-swollen joints and tendons.
Lightweight hiking boots are also OK — plus they offer ankle support.
Overly rigid or stiff shoes aren't great for your feet either — and can worsen your symptoms.
However, shoes with rubber soles will strike a nice balance between cushioning your feet and supporting them. They'll also provide shock absorption while still allowing the ball of your foot to be flexible.
Foam soles can be comfortable too.
A lot of sandals are bad for your feet if you have psoriatic arthritis because they have flimsy soles, bad arch support, and zero shock absorption. Case in point: flip-flops.
However, good sandals with straps allow you to adjust the shoes around swollen feet — which can be good for high inflammation days. So, if you want to wear a sandal, opt for ones that have good arch support, adjustable straps and rubber soles.
Just be sure to avoid sandals that have straps that cut across sensitive areas on your foot, like over your toes.
Instead, look for sandals that have a strap across the back of the ankle and an adjustable instep.
You don't want to injure your sore or swollen toes so opt for shoes that cover your toes (without squishing them) so that there's a barrier between your toes and anything that could hit them.
If you wear sandals or open-toed shoes, pick some that cradle your foot in a deep footbed.
Plastics, synthetics, and heavy materials can constrict your foot, which can be especially painful if you have swollen toes.
Instead, opt for material — like leather, neoprene, and cotton — that breathe, wick moisture away, and stretch over time. This will allow your shoes to mold to your feet a little better.
Because your inflammation might vary from day to day, shoes that allow you some flexibility are going to quickly become your best friends.
Laces can be tough to tie if you have swollen fingers, so instead, look for shoes with elastic laces, Velcro closings, or zipper fastenings. These are easy to put on and they allow you to adjust them to your feet on days when you need some extra room.
Shoe inserts (or orthotics) can help relieve pain caused by your psoriatic arthritis. However, since no two people have exactly the same systems or the same severity of the condition, it's best to talk to a podiatrist.
They can evaluate your feet, help you decide what kind of orthotic would help ease your pain the best, or prescribe you a custom-made orthotic or shoes.
If you don't want to go to a podiatrist just yet, you can shop for specialized shoes that could help. For example, shoes made for people with diabetes might be able to ease some of your foot-related complications from psoriatic arthritis.
You can usually find these shoes online, if your local stores don't carry them.
ECCO
Vionic
Brooks
Aetrex
Dansko
Arcopedico
Earth Origins
When you have psoriatic arthritis, shoe shopping can be painful — literally. But if you know what you're looking for, the right pair of shoes can help ease at least some of your pain.
And remember: you can always consult a podiatrist if you're struggling to find something. They can always prescribe orthotics or specialized shoes.