Wine is one of those rare things that has the power to make pretty much every situation better. Having a bad day? Pour yourself a glass. Having a good day? Pour yourself a glass. Most wine drinkers appear to fall into one of two camps: the fair-weather fans and the fanatics. If you're a part of the latter group (guilty!), we've rounded up a list of 19 products you need in your life:
Not all vices are created equal. Exhibit A: It's not exactly socially acceptable to walk around the office with a glass of pinot. But no one bats an eye when you're on your third cup of coffee. Keep your coworkers on their toes by sporting this mug. "It's 10 a.m., there can't really be wine in there," your coworkers say with a laugh. Wanna bet?
($14.95; zazzle.com)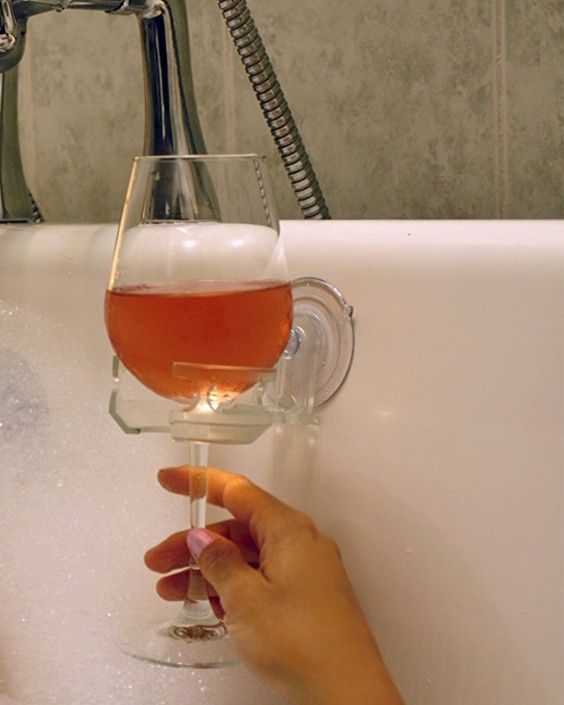 A short list of things we were introduced to in college: all-nighters, ultimate frisbee, and shower beers. Since we're adults now, it's time to class up that last one. Introducing shower wine. Fill up your glass, place it comfortably in the SipCaddy, and take sips in-between sudsing. If you really want to indulge, use the cupholder while taking a bath. After all, vino will always do more to relax you than bubble bath.
($13.95; amazon.com)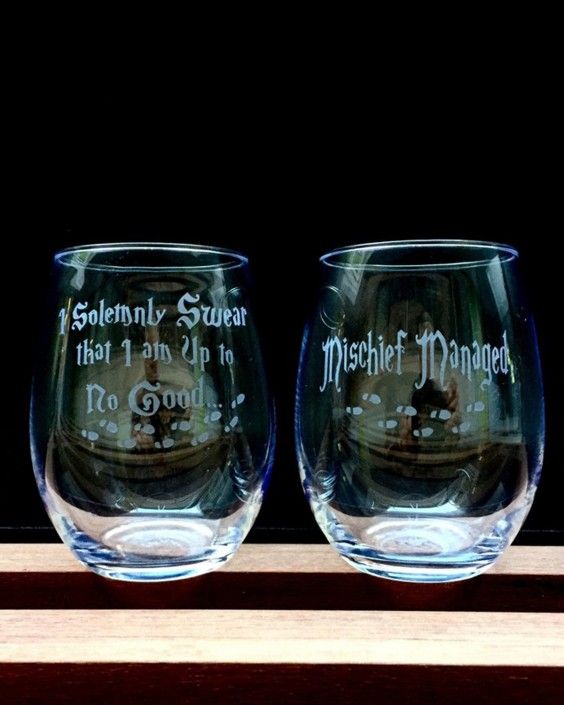 Butterbeer is great, but nothing is as magical as a glass of wine. It's enough to cast a spell on you. OK, enough bad wizarding puns—even without them, these wine glasses are a Harry Potter fan's dream come true.
($13.99; integritybottles.com)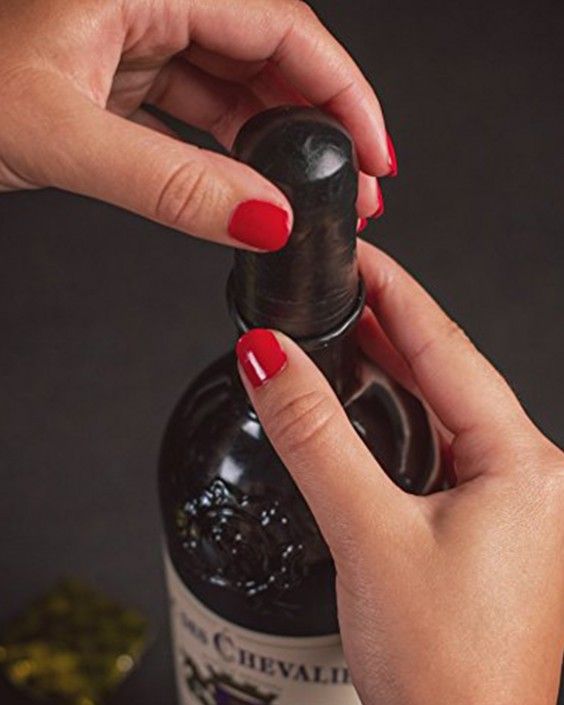 For those *rare* times when you don't finish a bottle in one sitting, you need to figure out how you're going to keep the leftover wine from spoiling or spilling. We've had so-so luck with wine stoppers, so we like the look of wine condoms. The tight seal means you can lay a bottle on its side in your fridge and not worry about any of it dripping onto the shelf. Plus, just like regular condoms, you can keep one in your pocket at all times so you're ready when the moment strikes.
($13.97, set of 6; amazon.com)
OK, at first we thought this Franzia with handles was a hilarious (and slightly pricey) gag gift. But there are lots of situations where stealthily carrying around wine would be a major plus. Sitting through a boring movie? Visiting those relatives who look down on drinking before noon? All fair game.
Don't let the fancy name fool you: This is a glorified wine necklace. The lanyard and rubber lining hold your glass snugly in place so you can use your hands for other things—like eating, gesturing wildly, or filling up another glass of wine.
($7.99; amazon.com)
Some people wear their hearts on their sleeve. We wear ours on a graphic t-shirt. Different strokes for different folks, right? Wine and Disney films are our two true loves—and they also happen to be our Friday night plans.
Sommeliers will tell you rosé is a summer beverage—and probably scoff at the fact that you consider drinking pink at all. But who are they to tell you how to live your life? Celebrate rosé all winter long—when sunshine and balmy temps are a distant memory—with this adorable and super-warm beanie.
Few things hit the spot like a full-bodied red wine after a long day. (Look at us trying to sound like we don't walk into the liquor store and say, "Your cheapest bottle, please.") The not-so-fun part of drinking red wine? It stains your teeth. Unless, of course, you have Wine Wipes. They're mini stain removers that come in a compact mirror so you can make sure your pearly whites are, well, pearly white wherever you are.
($7.62, pack of 15 wipes; amazon.com)
If you're using a sheet mask and you don't have a wine in hand, are you doing it right? Actually, it doesn't matter. This Tony Moly mask, infused with red wine extract, takes boozy self-care to a whole new level. The manufacturer claims that wine extract "reduces the appearance of enlarged pores while tightening and purifying skin." We're not so sure we buy that, but it left us feeling (and smelling) good.
Picnics seem so romantic, but the only one we've been on turned into a disaster. We opened our tote bag and found the wine had crushed the crackers and dented the cheese. Oh, and of course, we forgot a corkscrew. Tears followed. We'd actually consider picnicking again with the Igloo Daytripper Insulated Backpack. It has separate pouches for drinks and food (plus plenty of padding to stop the bottles from clinking) and comes equipped with knives, a cheese board, and a bottle opener. What more could you ask for?
($79.99; amazon.com)
We're going to take a wild guess and say you've got a bunch of empty wine bottles lying around (no judgment). You're keeping 'em for all those DIY projects (wine bottle candles, wine bottle vases, etc.) you'll probably never do. So maybe save time and opt for the do-it-mostly-yourself route. This strand of battery-powered lights is designed specifically for wine bottles and tells the world, "Yes, I like to drink and watch HGTV."
($8.99, set of 3; amazon.com)
Scientists can't vouch for the accuracy of this illustration. For starters, it's not clear that grapes existed during the Triassic period. Plus, could a T. rex—with its small hands—really hold a wine glass? (These are the questions that keep us up at night.) But the Winosaur Tote is also irresistibly cute, so go ahead and snag one. Wine not, right?
($18; society6.com)
Confession time: We usually buy bottles with a screw top because we somehow made it to adulthood without learning how to properly use a corkscrew. It's not that we can't use one. It's just that, like, half the time, we break the cork. But then we learned about electric wine openers exist to do all the hard work for you. This one from Primavera is a savior—no more cold sweat when someone asks, "Hey, can you open this bottle?"
($16.99; amazon.com)
For those of you who have mastered the art of using a corkscrew, check out this pirate-themed one. The design is hilarious—the pirate has a bandana, beard, eye patch, earring, and a parrot on his shoulder—and it's functional. Well, at least that's what our friends who can use a corkscrew tell us. Oh, and once you get the cork out, it looks like the pirate has a peg leg. The designers behind the Legless Pirate Corkscrew are geniuses.
($15; amazon.com)
We love a crisp sauvignon blanc or a dry pinot grigio on a hot day. But it's only refreshing (and drinkable) if the white wine is chilled. Seems easy enough, but we're terrible at planning ahead. Since ice cubes dilute wine and ruin the whole experience, we've become fans of the Vacu Vin. It's a specially designed ice pack that chills bottles in five minutes. We keep one in the freezer at all times in case of emergency.
($9.56; amazon.com)
Supposedly half the sensory experience of drinking wine comes down to smell. But what are we supposed to be smelling? Fruity and woody notes? What does that even mean?! We were lost before we got our hands on this incredible scratch-and-sniff book. Author Richard Betts is a master sommelier, but not the pinkies-up kind. He explains the basics in a way everyone can understand.
($8.68; amazon.com)
Some wine is for sharing, but most isn't. For all those bottles that fall into the latter category, you need this lock. It's basically a bottle stopper with combination lock on top so you can keep your precious vino away from moochers.
($19.88; amazon.com)
Not sick of puns yet? See if you feel that way after reading this: A glass of Malbec is the purr-fect end to a long day. And two glasses? That gets us feeling frisky. We're paw-sitive all the cat lovers in your life will be fans of these stemless beauties. Makes you want to drink, doesn't it?
($16, set of 2; urbanoutfitters.com)