We include products we think are useful for our readers. If you buy through links on this page, we may earn a small commission Here's our process.
Greatist only shows you brands and products that we stand behind.
Our team thoroughly researches and evaluates the recommendations we make on our site. To establish that the product manufacturers addressed safety and efficacy standards, we:
Evaluate ingredients and composition: Do they have the potential to cause harm?
Fact-check all health claims: Do they align with the current body of scientific evidence?
Assess the brand: Does it operate with integrity and adhere to industry best practices?
We do the research so you can find trusted products for your health and wellness.
"Oh, sure, a regular condom will work for anyone and everyone," said your high school health teacher as they pulled a condom over a banana.
Later that night, you get home, and have a go yourself. And you realize a fatal flaw in their argument — not all bananas are the same size. Or shape. And, as you look down at your Johnson, you notice that it's not the same size as a banana in the slightest.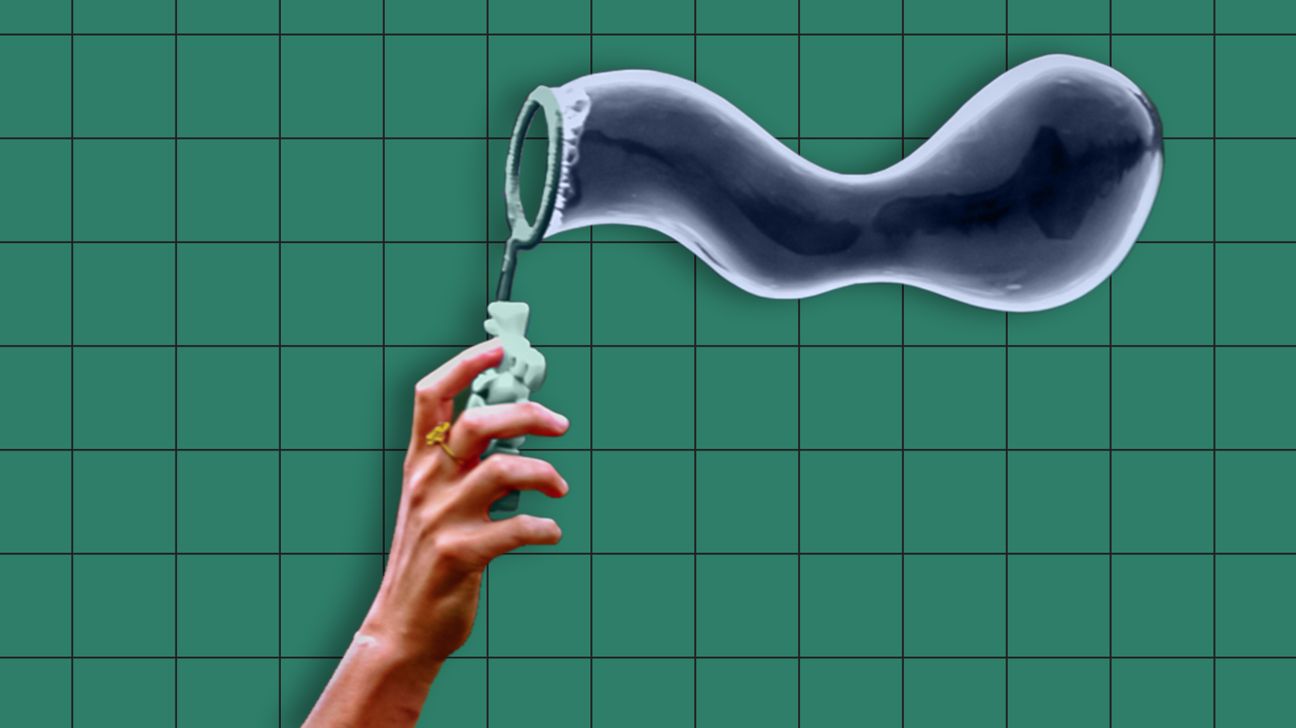 Anyone who's had condoms routinely break or fall off knows that finding a well-fitting condom is harder than we've all been led to believe.
We've got the lowdown on how protection is supposed to fit down low.
Even if you don't go for the ultra-specific, custom sizes offered by brands like One, there are more options out there than the "average" and "XXL SUPER MEGA GOLD" condoms on sale behind the checkout counter.
Condom sizes tend to come in the following fits:
They measure differences in penis length and girth in millimeters, and then use words like "thin" and "ultra-thin" to describe the thickness of the condom material itself (rather than the penis).
So which one's for you?
We also put together the definitive guide on every type of condom — you're welcome.
The ruler rules: Measurements are king
If you're not sure what size you should be wearing, Brahmbhatt suggests that the best first step is to measure your erect penis with a measuring tape.
Get the right length by measuring from your pubic bone to the tip, and also measure your girth by wrapping the cloth tape measure around your penis at the thickest part.
If you don't have a cloth tape measure, you can use a piece of string and measure that against a ruler.
Standard condoms usually have a length of 7 inches. But condom width is also important, and most regular condoms have a width of 1.75 to 2 inches, says sexpert Antonia Hall, author of The Ultimate Guide to a Multi-Orgasmic Life.
"A slightly smaller option is the snug fit condom, which has a tighter width of less than 1.75 inches, whereas a large-size condom length is usually a little over 8 inches and accommodates over 2 inches' width," says Hall.
And if you get the wrong size and the worst happens — fear not. We explain what to do if your condom breaks.
Other ways to determine the best fit
If you're not sure what size you wear, get a variety pack (it's the spice of life, or so we've heard).
"If you're specifically looking to upgrade your condom because you've been noticing slippage or breakage, try masturbating with a condom on, so you can gauge how it feels without running any risk if it isn't the right fit," Lisa Finn, a resident sex educator and sexpert at Babeland, suggests.
(Don't worry if you just got a condom that fits — masturbating won't change the size of your penis, as some myths suggest.)
Even if a condom isn't marketed as a specialty size like "slim fit" or "extra-large," it may suit your body in a different way, depending on factors like penis length, girth, and head size, so it's worth giving a few a try.
Some condoms will have more room at the tip than others as well, says Finn, which may be an additional factor to consider when selecting your winner.
There's a lot of vanity in condoms and how they're packaged, like flashy marketing and larger foils to make the condom appear massive.
"When it comes down to it though, your partner probably couldn't care less about the brand," Finn says. "They care more that the protection you're using actually does its job." Your partner also probably cares more about what you do with your penis rather than what it's wearing (or its size at all).
It's always better to focus on what fits you and your body.
As long as you can roll the condom all the way until the base of your shaft is covered (and so long as you're not so girthy that the condom is uncomfortable), you're probably rolling dirty just fine with a standard size.
"Don't worry about unrolling the excess," Brahmbhatt says. "Most men don't need the extra-extra-long 'make-me-feel-more-macho' size condoms, so don't get sucked up in the hype and buy condoms to look cooler around your friends or at the cash register."
The checkout person isn't about to tell all their friends what big condoms you buy. Get what makes you feel good and have sex comfortably.
Lube always makes condom use way better
Lube can help cut down on the bad friction that can make a condom more apt to tear or drag on the body where it feels uncomfortable. This can help you feel great in a wider range of condom sizes.
"Putting a drop of lubricant on the inside of a condom before rolling it down the shaft and then using lube liberally on the outside of the condom can help everything feel slicker and transmit body heat for a closer feel," Finn says.
Just make sure your lube is silicone-based or water-based. Oils and oil-based lotions and lubes can degrade and break down your condoms, which takes you straight into 😱 territory — a slippery slope, some might say.
Lube is a key player in anal sex — learn more about putting things in your butt, or the butts of others, here.
Try out different materials and styles
"Even if you don't have a latex allergy, latex alternatives like polyurethane and polyisoprene can feel really great because of how they transmit heat for more of a 'barely there' sensation," Finn says.
The scent of latex also bothers some people, and polyisoprene and polyurethane don't tend to smell as intense. If your partner has a latex-sensitive nose, either of these could be a good compromise.
Ridges, ribs, and studs can feel great to some folks and not so much to others, so it's worth testing out.
Flavored condoms may be a good choice for blow job enthusiasts. However, some can find the flavoring chemicals cause irritating when entering a vagina or anus, so have a non-flavored option around if you take play in that direction.
(We took a closer look — and sniff — at flavored condoms and why they exist.)
So go forth, experiment, and find the condom that's best for you (and your partner)!
"Not all condoms are created equal," says Emily Morse, sexologist for LifeStyles and SKYN Condoms, and host of the Sex with Emily podcast. This is appropriate, as .
"Just like a size 'medium' from one clothing brand won't fit the same as a 'medium' from another, you have to find the condom that works best for you."
And it would appear, from research, that people with penises have regular gripes with the tailoring of their condom.
In 2013, researchers found across other studies that 35 to 50 percent of those with penises suggested that their condoms don't fit right and that people were interested in a wider range of sizes.Cecil M, et al. (2013). Online purchases of an expanded range of condom sizes in comparison to current dimensional requirements allowable by US national standards. https://pubmed.ncbi.nlm.nih.gov/23849142/
Getting the right fit is important — and not only for increased pleasure. It's a matter of safety, too. Having a condom that's the right size can help you avoid an unwanted pregnancy and the risk of acquiring or transmitting sexually transmitted diseases.
"If you're wearing a condom that's too small, not only can it feel restrictive, but you're also more likely to tear it. If you've got one that's too big, it could slip off or feel super apparent and potentially uncomfortable for both parties," says Finn.
"Some condoms can stretch and seem to fit different sizes. However, it doesn't mean that they're going to be safe," advises Finn. "Especially if they're pulled to the point of almost snapping or if they're slipping around the shaft and potentially letting precum and ejaculate sneak out of the bottom."
We investigated whether precum can cause pregnancy.
"Once you know what your true size is, you can research what brands would fit you best," says board-certified urologic surgeon, Jamin Brahmbhatt, MD, co-director of The PUR Clinic.
"There are also specialty brands like One that help you measure your penis and choose among 60 condom sizes to get you the right fit." They even allow you to enter your own measurements, getting you closest to a snug, comfortable condom.
We provide a beginner's guide to having orgasms for those who haven't yet reached the apex (spoiler alert: they're pretty damn good).
Ultimately, sex is about feeling great. And if you're one of the people who casts condoms away because they feel awkward, it may just be that you've not yet found your size.
There's plenty of options available in the world of condoms, it's just about finding your size and brand. Measuring helps, lube can help even more, and experimenting seals the deal over time.
We put together a guide to the best condoms out there — for every occasion.
Aly Walansky is a New York-based lifestyle writer. Follow her on Instagram and Twitter @alywalansky.