We include products we think are useful for our readers. If you buy through links on this page, we may earn a small commission Here's our process.
Greatist only shows you brands and products that we stand behind.
Our team thoroughly researches and evaluates the recommendations we make on our site. To establish that the product manufacturers addressed safety and efficacy standards, we:
Evaluate ingredients and composition: Do they have the potential to cause harm?
Fact-check all health claims: Do they align with the current body of scientific evidence?
Assess the brand: Does it operate with integrity and adhere to industry best practices?
We do the research so you can find trusted products for your health and wellness.
While becoming a plant parent has recently become trendy, the benefits of greenery in our living spaces are timeless. Not only are they a beautiful decor element that adds color and texture to a room, but they offer a slew of perks for our health and happiness.
Plants have been shown to boost our productivity, and they may clean the air we breathe, improve our mood, and calm our nerves.
And honestly even if all those benefits didn't exist, these cute green bbs would still be welcome in our homes.
If times are making it tough to journey to a nursery or a home improvement store, you can still expand your indoor plant collection via mail. These 13 brands offer delivery services that make it easy to fill your abode with lush leaves.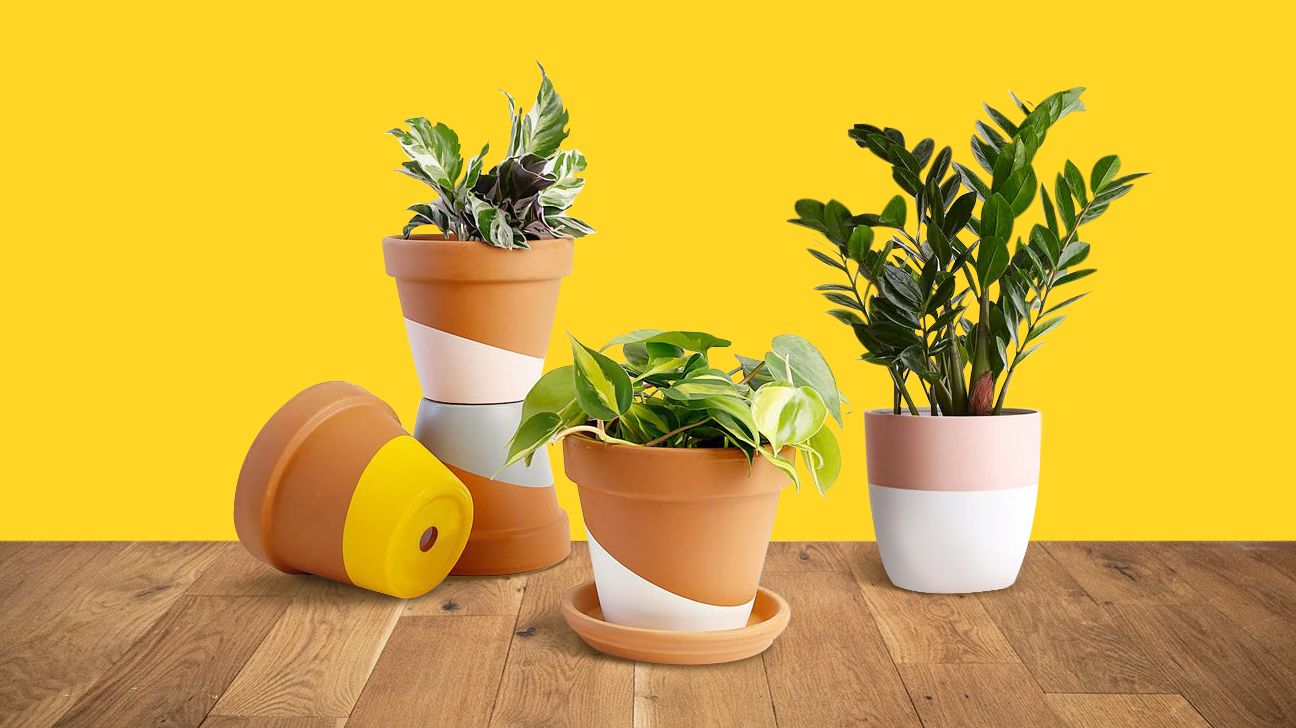 You've already been dabbling in at-home plant care, and you'd call yourself somewhat experienced. In fact, you might even have a preference over different species or a design palette. If so, this California-based company might be your new favorite thing.
You choose from ten different subscription box options, including pre-potted terracotta plants, air plants, succulents, large indoor plants, pet-friendly plants, and many others.
Subscription starting at $12/month
Your best friend has 50 plants — and counting — and they're all in great shape. You have two succulents you've managed to keep alive for 6 months, and you're ready to graduate to a potted beauty. Improve your self-confidence by selecting a plant from this company.
They offer "hard-to-kill" indoor plants that are ideal for sitting on your at-home desk. Not only do they purify the air, but all species require very little TLC to remain healthy. (They also have a "rare plant" section for those who want something a little hands-on.)
For each variety you purchase, you can download a free "plant care" kit from their website for some tips and tricks.
Plants starting at $17
For a modern, fun, and colorful monthly addition to your household, Horti is just about perfect. Not only are the pots super-unique (think: a bright painting on terracotta), but the plants are unique and rare.
Rather than the tried-and-true succulents, you'll explore varieties of ferns and pileas, among others. Each purchase comes with plant care guidance and tips, and no delivery is ever the same. While some of them do come with the stand-out pots, others will include a surprise accessory instead.
Subscriptions starting at $20/month
Named after the place where most plants thrive — the window — The Sill is a budding gardener's dream destination. You can order everything from pots and plant accessories (think: mini signs for the soil that say: "You grow girl"), and more.
They cater to all skill levels and environments, including a beginner's monthly subscription, a low-light monthly subscription, and other options, too.
Subscriptions start at $35, other plants start at $18
If you're ready to dip your thumb into plant ownership, but you need a little extra help, The Plant Club (sold on Cratejoy) is a smart place to begin.
Each month, they deliver a chic and helpful package with a plant, an accessory and a pot. You'll receive all of the information you need to help it grow, and have something to look forward to each month.
Subscription starting at $24/month
Whatever you want, Plants.com has it. As you can probably guess from the name of the website, this is one-stop-shop for plant parents. You can organize by various needs — low light or high light — as well as your goal.
Do you want a plant that adds feng shui to your bedroom? One that cleans the air? No matter what plant purchase you select, each comes with a care card and a 30-day guarantee. This means if it bites the dust before a month, they'll replace it for free.
Plants starting at $30
Once you've nurtured a few plant babies, you start to understand which ones fit your space. Since every home or apartment has a different level of light, certain plant species will thrive over others.
For when you want to add another element to your personal greenhouse, consider browsing through Bloomscape. They have it all: succulents, small and large plants, indoor treats, pet-friendly options, you name it.
They also have a "plant mom" tools inventory, including shovels, pots, and more. Each purchase comes with a care guide, and plenty of 101 guides can be found on their website.
Plants starting at $35
More than just bouquets for Mother's Day or Valentine's Day, 1-800 Flowers offers more than 150 indoor and outdoor plant options — from houseplants to succulents.
In addition to fun, decorative and healthy options, they also include expert-guided plant tips, as well as advice on picking the best one for your lifestyle and habits. And if you want to be held accountable (or get a regular present!), consider their 3-month, 6-month or 12-month plant subscriptions!
Subscriptions starting at $40/month
When you add another plant to your space, you don't only think of the shape of the leaves. You also consider the color of the pot, how it'll look in the intended corner you want to place it, and, hopefully, how it will flourish and grow.
For those who consider greenery an element of their aesthetic, Ansel & Ivy will have you drooling. You choose from one of their iconic hues for your pot color, and you receive a fully-potted, high-quality plant from family-owned farms in California.
Plants starting at $44
As a way to support small businesses on a national scale, UrbanStem works with florists around the country to deliver high-quality flowers and plants.
This means when you put in an order on their website, a nursery or flower shop nearby will package and deliver your potted baby. No matter if you sign up for an orchid, cacti, a succulent, or another plant, you'll receive free, next-day shipping.
Plants starting at $45
The next time you're in search of a birthday gift, set your sights on this company. Not only do they offer unique and beautiful gourmet food crates, upscale fashion accessories and other thoughtful ideas, they also have a wide selection of succulents.
By giving the gift of something living and breathing, like a plant, you're adding even more happiness and health to your friend's next lap around the sun. As a bonus: Gift wrapping is included in every purchase for no additional charge.
Plants starting at $48
Problem: You want two entryway blooms, but you're not sure what ones are best for your home. No worries.
With this company, you take a short quiz to identify the best plant for your needs to take all of the guesswork out of the process. Then, you're sent soil and two plants. You'll just need to provide the planters.
You can also choose from a one-time purchase or a quarterly subscription that will change as the seasons do.
Subscription for $65 per quarter, or $75 each
This upscale brand isn't quite as budget-friendly as other options, but they offer a more hands-on experience for nervous gardeners. Each plant is grown locally in the United States in native climates based on each bloom's preference of light, humidity and soil.
Whether you choose a small, medium or large indoor plant, you'll receive a "plant doctor" with every purchase. This includes 24/7 support with a trained team member to help you troubleshoot any issues that pop up.
Plants starting at $79
Lindsay Tigar is a lifestyle and travel journalist whose work has appeared in Travel + Leisure, National Geographic, CNN, Real Simple, and countless others. You can find a full collection at lindsaytigar.com.