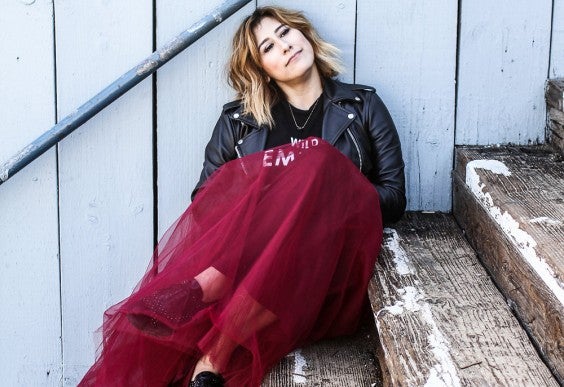 Question of the day, as Celine Dion famously asked: Where do all the lonely hearts go? Where do they go, squirrelfriends? If you're single, ready to mingle, and own a smartphone, then the answer is simple: There's an app for that.
And what a time it is to be single, because right now there are a helluva lot of apps for that. Everyone and their mother wants to set you up with Drew from Manhattan Beach who works in medical sales and whose anthem is "Love Will Tear Us Apart." So how do you sort through the zillions of dating apps that have surfaced over the past five years? Luckily, I've been single for six, so I can totally tell you.
I like to think of dating sites in terms of shopping chains. Shopping makes everything make more sense, I say. It also provides a breeding ground for your cripplingly addictive personality, my therapist says. Tomato, Tomahto.
The Biggies
Tinder
Tinder, for example, is the Walmart of dating apps: It's large and scary, and full of sketchy-ass people, and everyone swears there's good stuff there, but who the hell even knows, it's so goddamn big and full of so much crap and dealing with it takes forever. Tinder popularized the famous swipe method, which lets you, in essence, virtually "thumb through" a (nearly) neverending Rolodex of available singles until you find someone you fancy, in which case, you swipe right.
If you both happen to swipe right on each other, boom, that's a match, and you're able to chat through the app. If you don't match, there is no way to contact the other person, unless you decide to be a total creeper and DM that person on Insta, and for those of you who do that, just stop.
Tinder offers up a lot of pixelated screen shots, shirtless bathroom pics, and some fascinating mutual friends. It has become the requisite app for single people: If you are single, you are most likely on Tinder. However, good luck finding your crush because you'll have to swipe through 500 men with questionable facial hair first (don't give up; it's been six years and I'm still looking!). Tinder is also commonly known as an app for hookups; however, interestingly enough, the majority of people I know who married someone they met online met through Tinder. For anything else you never needed to know about Tinder, witness the incomparable Alyssa Edwards.
Bumble
Then there is Bumble. Thank the lord for Bumble. Bumble is the Target to Tinder's Walmart, if you will: slightly smaller and better organized, clean and cute, with plenty of Nate Berkus. If you go on Tinder to find a f*kboi, you go on Bumble to find a really nice guy who has great boyfriend potential but lets your messages stay on "read" for hours before responding. (He's also the guy who has his read receipts on, which is another article entirely.)
Bumble has adopted Tinder's Rolodex swipe schtick, but what differentiates Bumble from its pleasantly slutty predecessor is that you must message anyone you match with within 24 hours, or that match disappears from you forever! Oh, and the girl must message first. Which is why there are so many hot, flaky dudes on Bumble: It requires absolutely no work from them. So for those women out there who are just dying to find a gorgeous, emotionally unavailable man who works as a "brand ambassador," whatever that really means, then Bumble is your gig. Yes, that means it is probably all of our gigs.
The Others
Then there are the outliers. These often differ in format, but usually not in matches. There are only so many single humans in your area, and most of them are on Tinder or Bumble, so these apps are probably not going to make or break your online dating experience.
Coffee Meets Bagel
Coffee Meets Bagel is basically Etsy. It's adorable and kitschy, but they only sell like 500 versions of five things (cute, gold-filled, personalized necklaces, anyone?) So if you don't like one of those five things, you're SOL. You get one match—one "bagel"—a day, which makes the experience more personal and less mind-numbingly Rolodex-y, but not great if you're a little particular, because you will literally never find anyone you like and the process takes f-o-r-e-v-e-r.
The League
The League is one of the newer apps. It's a bougie, elitist site that advertises itself as attracting only educated, employed peeps. It's expensive, you only get five questionable matches a day, and no one ever messages anyone else. Basically, I swipe left on this whole app. Think of it as the Brooks Brothers of dating sites, offering very niche, very expensive, but really basic things, like sterling silver collar stays and Kevin J., who is a 42-year-old chief data scientist, got his degree at Cal State Northridge, and has an interest in cocktails and culture.
Raya
Then there's Raya, the online equivalent of the Kendrick Lamar popup that mysteriously appeared a few months ago (for which my mother and I waited in line for two hours until they started turning people away because they were out of merch). Raya is an ultra-exclusive, members-only app that allegedly allows people in based on the number of Twitter followers you have? Something like that? All I want is a boyfriend with 5,000 Twitter followers. Just kidding… but maybe not really. I don't even know anymore. Raya, if you're listening, well, call me.
Paids vs. Free Apps
Let's talk about money. We are only talking free apps these days—and I'm looking at you, The League. Used to be, if you were serious about finding someone, you would avoid the free apps in favor of pay-to-play jams like Match or eHarmony, because someone willing to front the cash money for a membership used to mean that they were serious about finding love.
But it's different now. Free apps are so prevalent, so accessible, and so efficient, they've virtually rendered the paid sites obsolete. It would be like actually paying for HBO instead of finding someone with an HBOGo account and using theirs. Basically, we just don't do it anymore. That is, unless you're old (OurTime, or the titillatingly titled MatureSinglesMeet), Jewish and seeking other Jewish folks exclusively (JDate… although the free JSwipe app might be better, at this point), or a farmer (FarmersOnly.com.). In that case, get out your credit card and go find true love.
Keep your head together (and your finger on the swipe button).
It's a jungle out there, but don't give up! Buckle down, commit yourself to doing 20 swipes a night—you will be stunned at how quickly that 20 turns into 500. My advice: Just message a million potential matches until you're blue in the face (and other places, maybe). Pick one first date outfit to wear over and over again to save yourself the hassle of coming up with something creative five zillion times. Don't save any numbers into your phone until the fifth date, at least.
And most importantly, never, ever, ever, ever give up.
Your requisite pep talk: Carry on, my wayward squirrelfriends.
Carry on through disastrous dates, last-minute cancellations, the promising few who mysteriously never call you again. Take it from me, someone who has never given up and has absolutely nothing to show for it! I'll be right with you, swiping away, applying my contour like warpaint, screenshotting questionable text messages and sending them to a jury of 12 friends. I have to believe there's someone out there for everyone… even me.
Mikayla Park is a teacher/nonprofit creative person residing in the slums of Beverly Hills. Find her, and her two charming rescue dogs, everywhere at @mikaylapark.