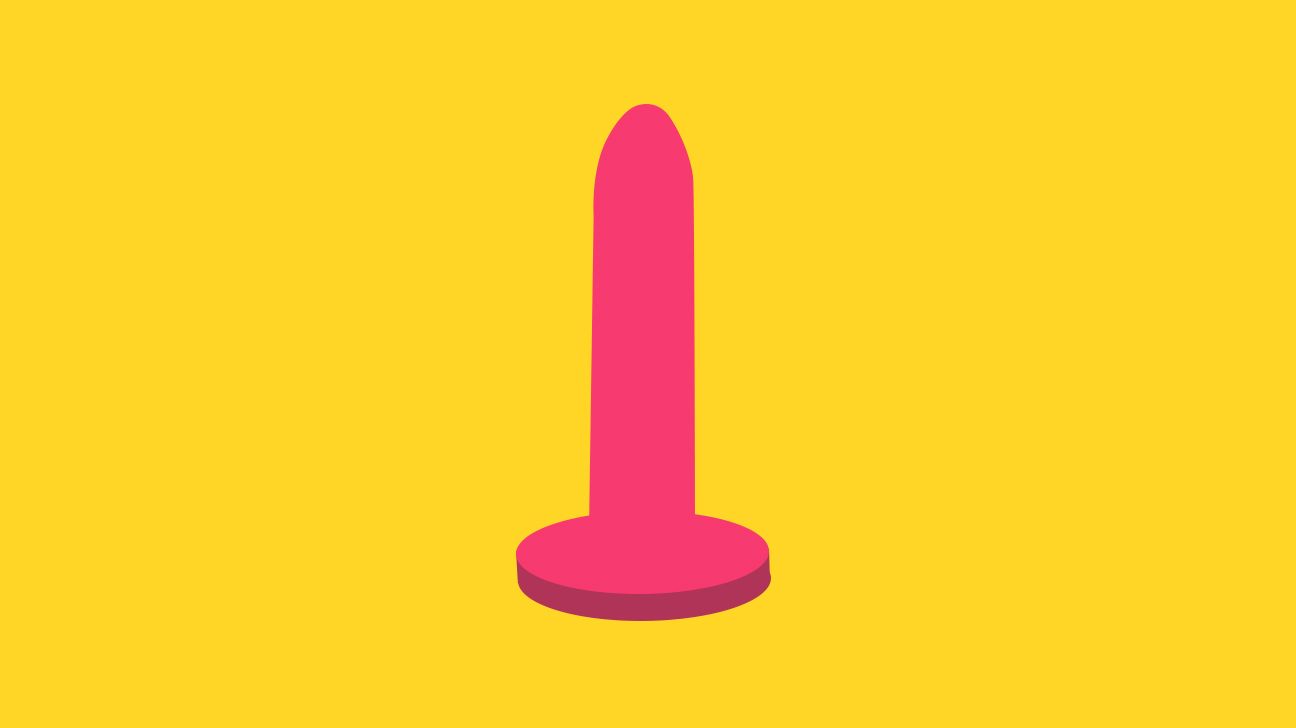 We include products we think are useful for our readers. If you buy through links on this page, we may earn a small commission. Here's our process.
Greatist only shows you brands and products that we stand behind.
Our team thoroughly researches and evaluates the recommendations we make on our site. To establish that the product manufacturers addressed safety and efficacy standards, we:
Evaluate ingredients and composition: Do they have the potential to cause harm?
Fact-check all health claims: Do they align with the current body of scientific evidence?
Assess the brand: Does it operate with integrity and adhere to industry best practices?
We do the research so you can find trusted products for your health and wellness.
In the last few years, whenever someone's come close to my coochie, she's clamped shut and stayed shut.
I discovered this one night on my back while giving someone (who was The Most My Type) my best "come here" eyes, and they were kneeling over my body when suddenly it happened.
No matter how gently they pressed their finger or dildo against my opening, she wouldn't open. Cool, Coochie. Real cool.
So, I booked an appointment with a pelvic floor therapist who, after touching around my its and bits with a lubed-up latex glove, diagnosed me with a hypertonic pelvic floor. (In most cases, you'd see a gynecologist for a diagnosis and then get a referral to see a PFT.)
For me, a hypertonic pelvic floor means that my pelvic floor muscles are where I hold my stress — as opposed to, say, my traps, lats, or jaw.
Her recommended plan of action: Masturbate more. Fun! Do a yoga-esque sequence of Cobra, Down Dog, and Frog Pose every a.m. Easy enough! Start using vaginal dilators…
Huh?
Before I started using vaginal dilators, I'd never heard of 'em either. But I'm 2 months into my program, and my muscles are finally learning how to relax. I still need to rely on CBD lube and tons of foreplay, and sometimes I have to press pause and move on to non-penetrative activities… but for the first time in a long time, penetration is actually happening! And sometimes it even feels good.
So, for folks who have questions, I asked vulva health experts to explain what dilators are, who they're for, and how to use them.
"Vaginal dilators are a medical tool used to either relax and stretch the pelvic floor muscles and connective tissues to reduce pain or help desensitize hypersensitive vaginal tissue," says Heather Jeffcoat, a doctor of physical therapy who specializes in sexual dysfunction and incontinence.
Basically, they help the vagina expand in size (and get used to size).
Usually made of medical-grade silicone or hard ABS plastic, vaginal dilators may look like dildos — but unlike dildos, which are generally designed to go in and out with speed, dilators go in and stay in.
Most dilators come in a set of five or six of increasing size. The smallest is usually no bigger than a thin tampon or a pinky, and the largest is closer in size to a medium banana.
"The idea is that you start by inserting the smallest, gradually increasing the size as insertion and penetration begins to feel comfortable," explains women's health expert Jennifer Wider, MD.
The experience can differ from vulva owner to vulva owner, depending on the W-H-Y behind use. But it should never be excessively painful.
"Most folks describe it as feeling pressure," says Dr. Wider. "If there is a sensation of pain, pause, try to relax, and start again." If you're still feeling pain, the dilator you're using is likely too large.
Once it's in, your expert will tell you to either lie there or manipulate the toy so you can internally massage hard-to-get spots within your pelvic floor, says Jeffcoat.
With patience, dilators can work, but the timing may vary depending on the condition or reason you're using them.
According to Jeffcoat:
Experiencing pain when inserting something small, like a tampon, will resolve within the first 4 weeks, as long as you're hitting the right spots.
Pain with penetration from slightly larger objects can take anywhere from 6 weeks to 8 months to improve.
Constant vulvar burning, endometriosis, or another chronic condition can take a year or more.
Your healthcare provider may prescribe or recommend vaginal dilators for several different reasons, even if you're not overly tense down there. A gynecologist will help diagnose the cause before you see a PFT for instructions and a therapy program.
According to Jeffcoat, the diagnosis can be any of the following:
vaginismus (tight vaginal muscles)
vulvodynia or vestibulodynia (pain around the vaginal opening)
vulvar vestibulitis (burning pain around the vagina)
interstitial cystitis (sometimes called painful bladder syndrome)
dyspareunia (painful sex)
need for rehabilitation after vaginal surgery
The same goes for patients who have experienced vaginal shape changes after childbirth or menopause.
Dr. Wider notes that dilators can also be used by patients undergoing radiation for cervical, vaginal, endometrial, or uterine cancer to help prevent the treatment from altering the length/shape of the vaginal canal.
Occasionally, dilators are used alongside sex therapy or psychotherapy as part of a healing plan for survivors of sexual trauma.
"There's a steep learning curve with dilators," says Jeffcoat (and I agree). "It just isn't as intuitive as stretching your neck or hips is, which can be frustrating." And no matter how confident you feel, start with the smallest size or the one your doctor recommends.
1. Create a calm, private environment
You'll want to set aside about 20 minutes to get comfortable. Lock the door for extra security so you don't tense up.
According to Jeffcoat, some patients like the warmth and privacy of the bathtub. Warm water can help soften tissue so it stretches more easily.
I find that my bedroom — with Bon Iver background music and an oil diffuser spritzing calming aromas — works best. Any space where you can lean back, cozily, will help.
2. Spend at least 2 to 3 minutes doing diaphragm breathing
"Focus on a drop or heaviness of the pelvic floor with each breath," says Jeffcoat.
If you're feeling particularly anxious about insertion, she recommends doing a progressive relaxation exercise from her book, "Sex Without Pain: A Self-Treatment Guide to the Sex Life You Deserve."
I've found journaling offers a similar anxiety-relieving benefit. The key is to get into a positive, optimistic mindset.
3. Get in position with your legs to the side
Lie on your back or lean against something comfy where you can let your legs fall to the side without too much pressure. Bend your knees and hips if you need to.
4. Now, grab the lube
Lots of it — for your entrance and the dilator itself. Jeffcoat recommends GoLoveCBD water-based lubricant for her patients who have inflammation. And I'm a fan of Foria's Awaken CBD lube and Pjur Aqua.
When you're ready, S-L-O-W-L-Y ease the tool inside. As you do, focus on your breathing, easing the dilator farther in only on the exhale. Angle it toward your tailbone so it moves along your vaginal canal.
If you ever feel like you've hit a "roadblock," stop. The dilator should stay only as far in as is comfortable. When it's in as far as it will go, hold it there for at least 20 minutes.
How long it stays depends on your program
A good rule of thumb is 20 minutes, twice a day, but expert recommendations can be anywhere from 10 to 30 minutes a day, 5 to 7 times a week, until the issue is resolved.
Can your partner help?
If you have a willing and loving partner, "you might have them help you insert the dilator or hold you as you do," suggests board certified urologist and female pelvic medicine specialist Michael Ingber, MD, of the Center for Specialized Women's Health in New Jersey.
While I don't find inserting the dilator to be a particularly sexy experience, a few times my current partner and I have cued up my favorite porn site and had them insert the dilator into me. Cheers to lovers who make us feel safe when we're being vulnerable!
Clean your tools! You won't need to sterilize a dilator, and cleaning should be fairly easy. Wash it with mild soap and hot water, and then dry it with a clean towel before putting it back in the case it came in.
"Dilators do not require a prescription to purchase. But you should still check with a vulvar specialist, physician, or physical therapist with specialized training in sexual health," says Dr. Ingber. They'll be able to help you figure out what's going on with your anatomy and develop a healing plan that fits you.
Buying and using a vaginal dilator kit willy-nilly without professional help may only risk making the issue worse.
Gabrielle Kassel (she/her) is a queer sex educator and wellness journalist who is committed to helping people feel the best they can in their bodies. In addition to Healthline, her work has appeared in publications such as Shape, Cosmopolitan, Well+Good, Health, Self, Women's Health, Greatist, and more! In her free time, Gabrielle can be found coaching CrossFit, reviewing pleasure products, hiking with her border collie, or recording episodes of the podcast she co-hosts called Bad In Bed. Follow her on Instagram @Gabriellekassel.