While research suggests there are health benefits, the FDA doesn't monitor or regulate the purity or quality of essential oils. It's important to talk with your healthcare provider before you begin using essential oils and be sure to research the quality of a brand's products. Always do a patch test before trying a new essential oil.
Palmarosa oil isn't just a sweet-smelling essential oil. Peeps use it to treat skin probs like acne, eczema, and psoriasis. It's also been linked to mental health, respiratory, and nervous system benefits.
Here's a deep dive into palmarosa oil's potential perks. Spoiler: We still need a lot more research to prove it's legit.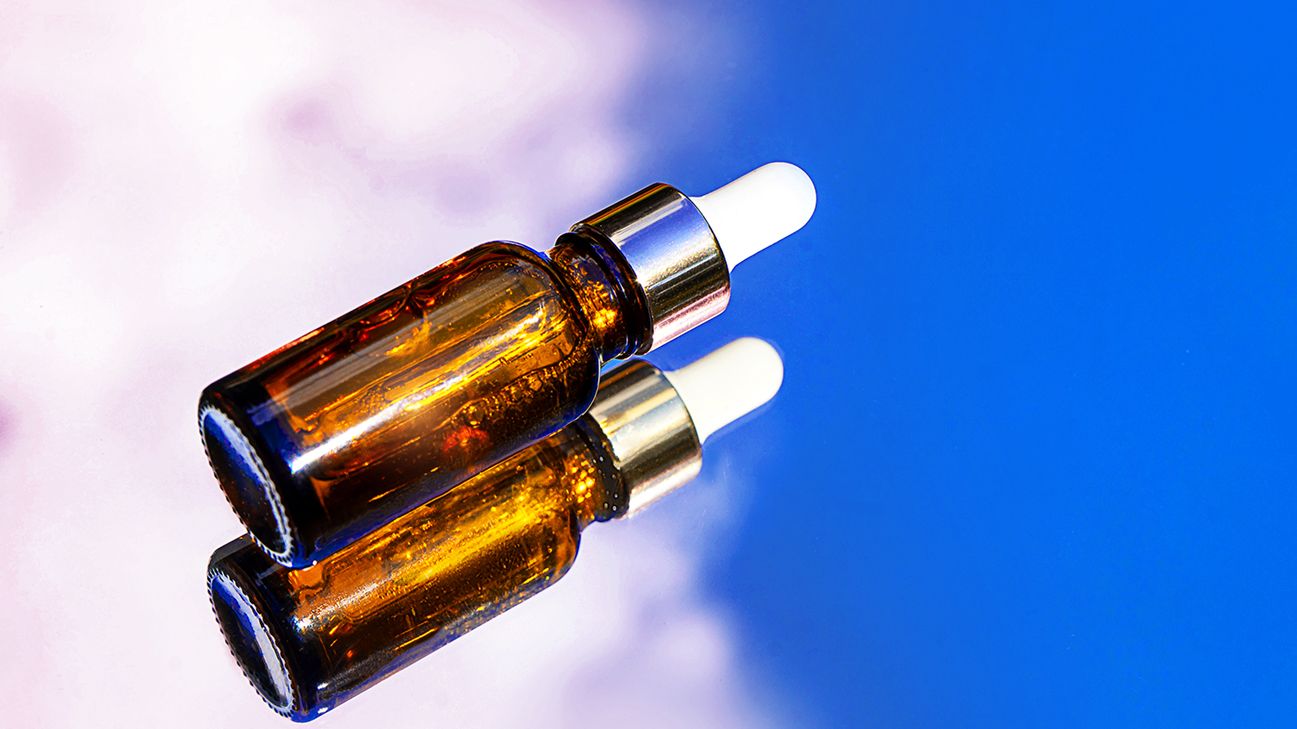 Palmarosa oil comes from the (surprise!) palmarosa plant (aka Cymbopogon martinii).
It's also referred to as:
rosha
rosha grass
ginger grass
Indian geranium
Even though it has a sweet-grassy, rosy geranium-type scent, it stems from the lemongrass family. It's native to India and is also found in Guatemala and Vietnam.
Palmarosa oil might boast beaucoup health benefits. Here's what the science says.
Respiratory system
Studies show palmarosa oil has antioxidant properties that can fight against free radicals. Some folks like to add it to a diffuser and inhale the goodness.
But there's little evidence to show it can prevent or treat chronic coughing, bronchitis, or other respiratory conditions.
Nervous system perks
Palmarosa oil may have a positive effect on the central nervous system (CNS). A 2012 animal study suggested it may help folks who have anorexia, seizure disorders, or neuralgia.
There's also some research that shows essential oils can protect against neurodegenerative disorders like dementia and Alzheimer's disease.
FYI: We need more studies to prove palmarosa oil's positive effects on the human CNS.
Anxiety and depression
Several studies have backed the use of essential oils to treat anxiety and depressive disorders.
But TBH, there haven't been any solid studies to prove palmarosa oil can aid your mental health on its own.
Brain benefits
Palmarosa oil may also benefit your brain. A 2012 animal study found it can reduce the risk of cerebrovascular disease — disorders that affect your blood vessels and blood supply to the brain.
But again, we need more research on humans.
Palmarosa oil has natural antioxidant, antibacterial, and antimicrobial properties. This might make it a killer addition to your skin care regimen. Here's how it can help you get a glow-up.
Acne. Palmarosa makes a 10/10 toner. Its antibacterial properties can kill the bad bacteria that leads to those pesky pimples. It can also remove the excess skin cells and oils that clog pores.
Eczema and psoriasis. Palmarosa oil can be super soothing. It may reduce inflammation and act as a barrier to stave off cracked, dry skin.
Pro-aging treatment. The oil's antioxidants may help fight off the free radicals that lead to wrinkles. It can also help your skin lock in moisture and might reduce the appearance of scars.
PSA: We still need more research to prove palmarosa oil is a skin care winner. Stick to more tried-and-true skin care treatments (especially if you have sensitive skin).
Palmarosa oil is diverse AF. Here are some simple ways peeps add it to their day-to-day.
Diffuse it up
Get yourself a dope oil diffuser. You can opt for a reed diffuser if you don't dig humidifiers.
Pro tip: Palmarosa pairs perfectly with scents like:
rose
lime
bergamot
ylang-ylang
cedarwood
sandalwood
Slay that steam
You can totes have a fab facial at home (and on a budget!). Here's how you do it:
Add a few drops of palmarosa essential oil to a large bowl of hot, steamy water.
Lean your face over the bowl.
Cover your head with a warm, damp towel.
Relax and take deep, cleansing breaths for 3 to 5 minutes.
Follow with a gentle toner and lightweight moisturizer.
P.S. Pour the leftover scented water into a spray bottle. Spritz it over your bed for a relaxing aromatherapy sleep sesh 💤.
Add it to your skin stuff
Spice up your regular skin care creams with palmarosa oil. Just add a few drops to your daytime or nighttime moisturizer.
You can also mix it into a carrier oil and apply it to patches of psoriasis or eczema. Just make sure your dermatologist says it's OK first.
Reminder: Don't put pure palmarosa oil directly on your skin. Essential oils can be harsh and even dangerous when undiluted, and can lead to redness and inflammation.
Palmarosa oil can take your rubber ducky time to the next level. Here are some top tips.
Homemade bath oil
Grab your fave carrier oil (e.g. olive or coconut) and add a dash of palmarosa oil to it. About 1 teaspoon of palmarosa oil per 8 fluid ounces of carrier oil should do the trick.
Just give it a shake and add a splash to each bath 🛀.
Bath bombs
Ready to take things up a notch? Save hella $$$ and DIY your own bath bombs. Here's how you do it.
Ingredients:
1/2 cup baking soda
1/2 cup corn starch
1/4 cup citric acid
1/4 cup Epsom salt
1/2 tablespoon olive oil
1/2 teaspoon organic palmarosa oil
How to:
Separately mix the dry and wet ingredients together.
Slowly incorporate the wet ingredients into the dry.
Pack both halves of a bath bomb mold with the mixture.
Press both halves together.
Place in the fridge overnight.
Gently remove from the mold.
Plop in your bath and enjoy!
Shower
No bathtub? No problem. Just add five or so drops of palmarosa essential oil to the wall of your shower. The hot steamy air will diffuse the scent.
Palmarosa oil is generally considered safe when you use it correctly. But some folks might experience a burning sensation or rash when used topically. Be sure you dilute it with a carrier oil before you apply it on your skin.
Essential oils are not regulated by the FDA for purity or quality. It's really important you do your research so you can purchase a quality essential oil.
Read the label. Essential oil brands should clearly label the Latin name of the plant used to create the oil. It should also tell you how and where the plant(s) were grown and distilled.
Avoid fillers. Some brands add preservatives and artificial fragrances to the mix. This stuff might not be good for consumption and may cause skin irritation.
Verify the source. A high-quality essential oil should come with an origin story. Don't trust brands that don't disclose where the ingredients come from.
Price check. You don't need to spend the big bucks on a top-tier essential oil. Some brands charge crazy amounts for not-so-sweet scents. You can prob find a really good palmarosa oil for under $10 per 15 ml.
Palmarosa oil isn't the only oil game in town. Here are the best essential oils that have been linked with similar health benefits.
BTW, we still need more research to prove the benefits of these oils.
Palmarosa oil is an essential oil that comes from the palmarosa plant. It's pretty popular in the skin care world and has also been linked to other health benefits. But we still need more research to prove these perks are legit.
Reminder: Not all essential oils are legit. Be sure you stick to high-quality oils that don't contain added fillers or bad-for-you fragrances.