We include products we think are useful for our readers. If you buy through links on this page, we may earn a small commission Here's our process.
Greatist only shows you brands and products that we stand behind.
Our team thoroughly researches and evaluates the recommendations we make on our site. To establish that the product manufacturers addressed safety and efficacy standards, we:
Evaluate ingredients and composition: Do they have the potential to cause harm?
Fact-check all health claims: Do they align with the current body of scientific evidence?
Assess the brand: Does it operate with integrity and adhere to industry best practices?
We do the research so you can find trusted products for your health and wellness.
Acne is a common skin concern that affects folks of all ages. You can use makeup to reduce the appearance of pimples, but you should be mindful of the products you use. Some makeup can clog pores and might make breakouts worse.
No blemish could ever dim your beauty. But if you want to tone down that red or discolored, screaming pimple on your chin, we totally get it. There are lots of makeup types that can take the spotlight off your spots.
Here's everything you need to know about concealing your zits with cosmetics.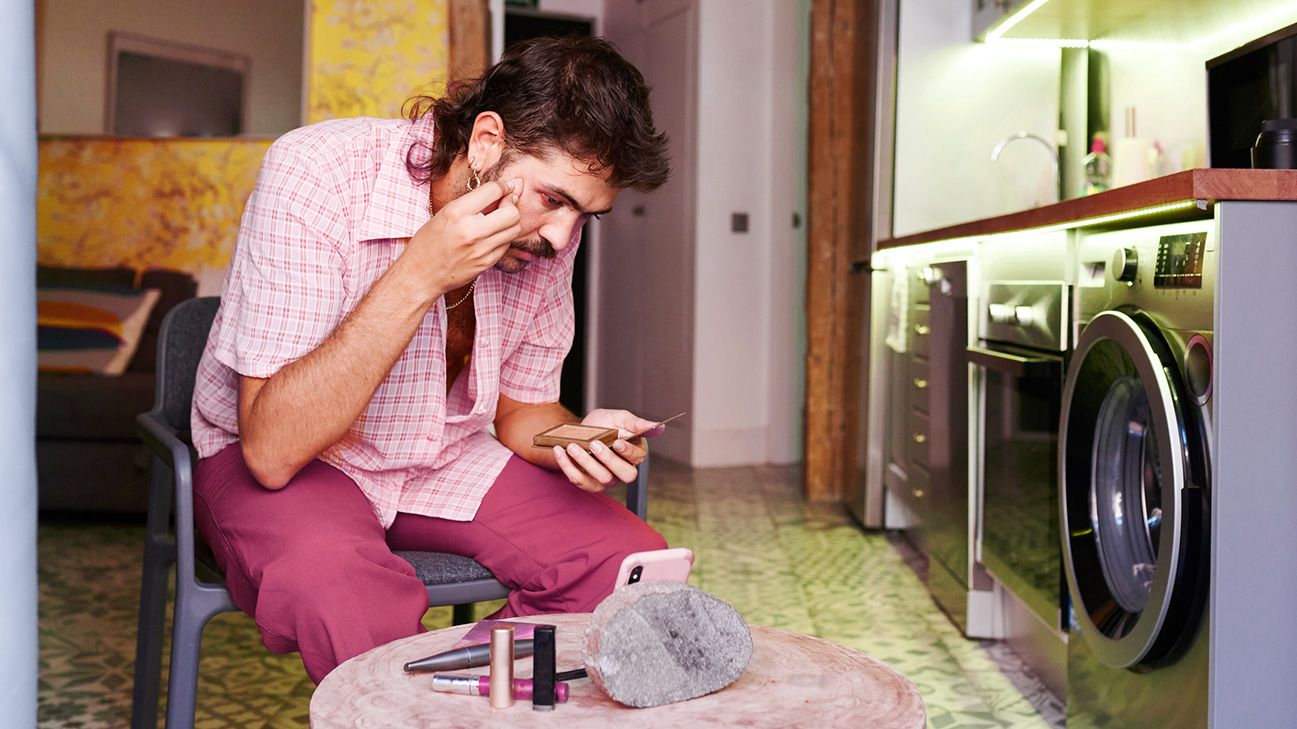 You're not alone in wanting to use makeup to cover up spots on your face. In one small 2017 study involving folks with dark spots caused by acne, 70 percent said they use makeup to cover it up.
After all, breakouts can be a big bummer. Even after the bumps clear, you may have scars or post-inflammatory hyperpigmentation (aka dark spots). But a bit of makeup magic can help cover these skin concerns.
The best types of makeup to cover acne are:
foundation
tinted moisturizer
beauty balm (BB) creams
color control (CC) creams
Read on for how to use each type and product recommendations.
Along with primer, foundation acts as a base. It helps create even skin tone and texture. You can find it in liquid, powder, cream, and stick formulas. Foundation can help cover small bumps that aren't too red or discolored. It also tends to work well on whiteheads and blackheads.
Just keep in mind that there are different types of foundation for different types of skin concerns.
Light coverage foundation will lightly even out discoloration, but your skin will still shine through. Use this for a more bare look.
Medium coverage usually works well for camouflaging mild redness, discoloration, or small bumps.
Full-coverage foundation is more opaque and can be used for more obvious pimples or overall uneven skin color.
PSA: Very thick foundation can actually make big zits look worse. If that's the case, you're prob better off using a concealer with a lighter foundation.
Concealers come in a stick or liquid formulas. They're dope if you want to cover up specific spots on your face. They conceal (get it?) pimples better than foundation alone.
Green concealers might seem like they would give you an alien glow, but they actually reduce redness or discoloration. The green tint neutralizes the tone, so it won't peak through your regular foundation. See, magic!
Pro tip: Use yellow concealer to correct the color of purple-toned zits.
Tinted creams and moisturizers can give you a subtle glow while subduing the appearance breakouts. Think of tinted moisturizer as foundation's younger sibling. It can cover a zit, but might not be great if you have very dark or discolored acne marks.
Applied just like your regular moisturizer, tinted moisturizer just has a little color to even out your whole face. BB and CC creams are like tinted moisturizers with added benefits.
Formulas vary widely but often include:
Picking a shade can be the trickiest step in the whole makeup process. The wrong color might draw attention to everything you try to hide.
The most fool-proof way to pick a color is to get the advice of a makeup consultant in the store and hygienically test a sample on your actual face. If that's not possible, hold the color next to your face in the clearest light available or natural light and look in a mirror.
Consider buying the two closest shades and blending them. Ultimately, if the most recommended product doesn't have a shade that suits you, it might not be the product that's right for you. Next!
If you really want to de-emphasize those zits, it's good to have an application game plan. Here's a step-by-step guide to help you apply makeup like a pro:
Wash your hands and cleanse your face.
Apply acne treatments if you use them and let them absorb fully.
Apply primer for a more even skin texture.
Dot concealer only on the spots you want to cover. Lightly blend it into the surrounding skin with a brush or sponge.
Apply foundation, tinted moisturizer, or cream all over. Be careful to not disturb your concealer.
Set everything with a dusting of powder.
P.S. The American Academy of Dermatology Association suggests starting with a clean face and applying makeup with applicators instead of your fingers.
It's time to address the elephant in the glam room. Does makeup make acne worse? The answer is… maybe? Not all makeup will trigger a zit fest. But some ingredients in popular makeup brands can clog pores and lead to a breakout. This can make you want to cover up more pimples, which can lead to (you guessed it) more pimples.
But according to a 2021 research review, treating your acne and using the right type of products can help break the cycle. Opt for products that don't contain comedogenic ingredients that can block your pores. These include:
olive oil

palm oil

coconut oil

lanolic acid
avocado oil
palmitic acid
cocoa butter
stearyl alcohol
coconut butter

sorbitan laurate

vitamin A palmitate

evening primrose oil
Additionally, it's a good idea to keep your skin care regime on fleek. Here are some tips that can reduce your risk of a breakout and send those pimples packing.
Cleanse your face after a workout.
Clean makeup applicators on the reg.
Remove all your makeup before bed.

Read labels to make sure your makeup is noncomedogenic.

Give it time. It can take 4 weeks or longer to see major results.
Apply makeup very gently to avoid irritation, and use clean brushes and sponges.
Wash an affected area twice a day with a mild cleanser and rinse with lukewarm water.
Treat acne with a product containing benzoyl peroxide, salicylic acid, or adapalene

.
Not sure which products to shop for? We gotchu. Here's a rundown of the 15 best products to cover pimples for all types of acne.
Foundations
This light liquid foundation comes in 21 shades, upping your odds of finding a match. It offers moderate coverage, and could be a good fit if you have a smattering of small bumps or the occasional pimple to tame. Reviewers say it's lightweight and blendable.
Try this stick for buildable, medium to full coverage and a matte finish. The formula contains moisturizers, green tea, ginseng, vitamin B, and ingredients like retinol and lactic acid that encourage cell turnover.
A classic powder foundation, bareMinerals comes in 30 shades and can be built up from sheer to full coverage. It can double as a concealer if you use a small brush to apply it directly to your spots.
Liquid concealers
This popular and affordable option has more than 6,000 reviews on Amazon and currently has a 4.6/5.0. A thin layer covers dark circles and spots without drawing attention to itself.
Available in 14 shades, it's highly pigmented for full coverage. Kaolin clay in the formula helps it absorb oil. More than 14,000 Amazon users give it a 4.3/5.0-star rating.
For darker skin
Fit Me! Foundation comes in 40 shades, with a larger range to match darker skin. This formula is suited for people with typical to oily skin types looking for matte, medium coverage.
Available in 30 shades, waterproof, and long-wearing. MAC's foundation can also conceal blemishes on other parts of your body, and it stays put. Users say it covers well without being heavy.
Medicated products
Hide pimples while also treating them with 0.5 percent salicylic acid. It's safe to use daily, oil-free, and won't clog pores. Users like that it's lightweight, easy to use, and has a low price tag.
This light coverage BB cream has 2 percent salicylic acid to cover and reduce breakouts. Coverage is lightweight, sheer, and matte.
Another Neutrogena product with 0.5 percents salicylic acid to pair with your concealer or use alone. It manages oil and gives medium to full coverage.
Green concealers
Lightweight formula offers medium to full coverage. The green shade will neutralize redness or discoloration so that it won't peek through your foundation.
This is a hypoallergenic stick formula to give you full coverage of red or discolored spots. Users like that it is lightweight and moisturizing.
A good option for larger areas of redness, this BB cream also moisturizes. More than 16,000 Amazon users have given it a rating of 4.3 out of 5.0 stars.
BB and CC creams to cover acne
This multitasker comes in 21 shades and offers medium to full coverage. It covers, color corrects, plumps, moisturizes, and sun protects.
Light coverage to hide spots and manage oil. Users like that it's easy to apply, looks natural, and blends well.
Don't let a little red or discolored bump bum you out. Tone down spots so they are less noticeable, or totally camouflage them with the right concealer. A light touch with the right products might be enough to hide bumps and put pimples out of your mind.