We include products we think are useful for our readers. If you buy through links on this page, we may earn a small commission Here's our process.
Greatist only shows you brands and products that we stand behind.
Our team thoroughly researches and evaluates the recommendations we make on our site. To establish that the product manufacturers addressed safety and efficacy standards, we:
Evaluate ingredients and composition: Do they have the potential to cause harm?
Fact-check all health claims: Do they align with the current body of scientific evidence?
Assess the brand: Does it operate with integrity and adhere to industry best practices?
We do the research so you can find trusted products for your health and wellness.
Gluten-free skin care is a viable option for those with celiac or gluten sensitivities. Just make sure the product you choose is labeled GF to avoid cross-contamination.
Forget your gluten-free pizza or pasta for a min — what's the deal with GF skin care? Even though lotions, creams and serums made without gluten aren't totally new, they've become increasingly popular in recent years.
But are they safe?
Basically, if you have an extreme gluten sensitivity and happen to get some moisturizer with gluten into your mouth, could you potentially have a reaction? We answer this question and more about gluten-free skin care products.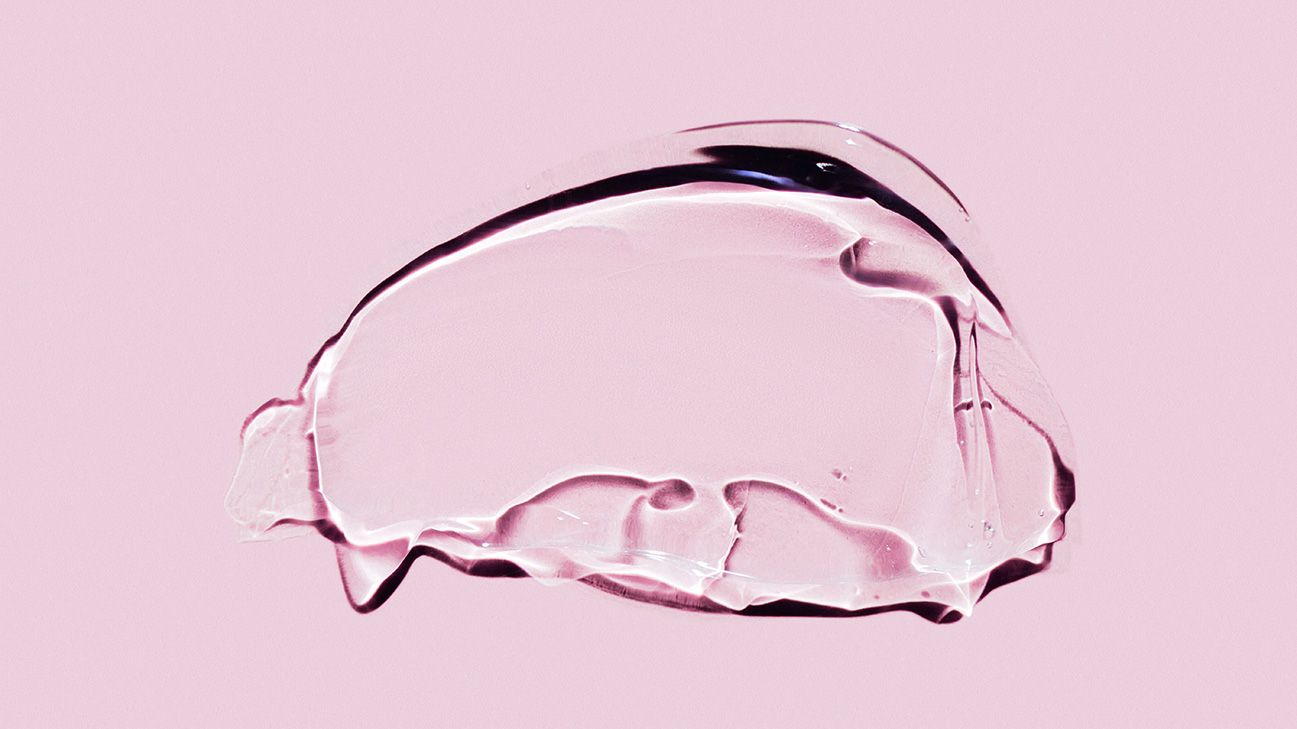 Those with celiac disease and gluten sensitivities may especially want to avoid cosmetics or skin care products with gluten – aka with the gluten protein that's found in wheat, barley, rye, oats, or other grains.
Dermatologist Elaine Kung explains that gluten is used in some skin care products as a "thickener, emollient, volumizer, moisturizer, or exfoliator." GF skin care products are formulated *without* this substance, which may make them more friendly to those with severe gluten sensitivities.
Kung explains that "using products containing gluten should not cause a typical systemic celiac reaction such as stomach pain, intestinal cramping, or nausea" by absorbing through the skin alone.
However, you could have a reaction if you accidentally swallowed some of that gluten-filled chapstick or moisturizer. For that reason, dermatologist Anna Chacon recommends that those with celiac or gluten sensitivities use GF lipstick and lip products since they're easily ingested. "Hand creams can also cause problems if you are one to frequently touch your lips or are a nail biter," Chacon says.
She adds that patients with active dermatitis herpetiformis, a manifestation of celiac that affects the skin, "should use gluten-free products to avoid contact with any open skin lesions." Even though this type of celiac is also triggered via ingestion, it can trigger rashy patches on your bod that you def don't wanna make worse.
What about those without gluten sensitivities?
If you don't have an allergy to gluten, is there any reason to bother with that GF product life? Chacon says those with sensitive skin or eczema may find that using GF skin care "reduces redness, irritation, or breakouts due to the products containing anti-inflammatory properties."
Chacon adds that GF products may also often be "rich in antioxidants, which aid in cell turnover, improving the skin's youthful appearance and eliminating free radicals from UV rays, environmental toxins, and lack of sleep."
According to a 2018 review in the International Journal of Toxicology, the teeny-tiny amounts of gluten in the form of hydrolyzed wheat protein in makeup are too little to elicit hypersensitivity, and therefore is safe for use in cosmetics.
However, in a 2012 report from a meeting with the American College of Gastroenterology, researchers strongly recommended that cosmetics manufacturers indicate when products are GF and safe to use by people with celiac.
The rec was based on one case where someone with celiac had symptoms after using a lotion with wheat protein, and no longer had any symptoms after they stopped using it. Even though it's only one instance, it may be better to be safe than sorry.
Soak it up: Can gluten be absorbed through the skin?
"Science tells us that the gluten present in topical skin care products cannot be absorbed through the skin," Kung says. "The gluten particles are too large to enter your bloodstream."
"Breaking out and suspect that a skin care product is to blame?" Kung asks. "The culprit might not be gluten." Kung says that contact dermatitis could instead be the culprit. She tells us that common chemical irritants that trigger contact dermatitis include:
"Besides these, contact dermatitis may be due to wheat or another grain that could cause a skin reaction."
So, if you want to avoid gluten in your skin care routine, you just make sure it's not listed on the product label … right? If only it were that easy!
Here are some tips from the National Celiac Association to help you cut gluten out for good:
Check that ingredients list twice. Avoid the words "wheat," "barley," "malt", "rye," and "oat" — as well as the many, many ways they could be hiding in your product, listed below.
Find the full list. Sometimes the ingredient list in its entirety is too large to list on the product itself. In this case, look for a tear sheet or another off-packaging ingredient list to make sure everything checks out. If all else fails, you should be able to get one offline. If you can't, you might want to just skip it.
Contact the company, JIC. If you're ordering online, it might be worth sending a quick message to the company to ask whether their products have any wheat, barley, rye or oat derivatives.
Look for products labeled GF. This is prob the easiest route, TBH. A lot of companies are labeling their products these days.
Kung also helps us out by naming some of the many ways various by-products of gluten-containing grains are labeled (courtesy of the Gluten Intolerance Group):
Wheat
AMP-isostearoyl hydrolzyed wheat protein
enzyme-modified gluten
hydrolyzed wheat protein (HWP)
hydrolyzed wheat gluten
hydrolyzed wheat starch
triticum lipids
triticum vulgare
wheat amino acids
wheat bran
wheat bran extract
wheat germ extract
wheat germ glyceride
wheat germ oil or Tocopherol
wheat hydrolysate
wheat peptides
wheat starch
Barley or Malt
barley extract
Hordeum vulgare
malt extract
Rye
Oats
("due to possible cross contact but could also be an allergen," Kung explains)
Avena sativa
Avena sativa extract
sodium lauryl oat amino acid
Heads up: She notes that the ever-popular Aveeno line contains oats.
When in doubt, choose a product that's labeled as gluten-free. These days, there are a lot of companies labeling their products, which takes a lot of the guesswork out of the equation.
You can also talk with your derm about finding a product that's right for you.
Even if a product's ingredient list checks out, there's always a slight chance of cross-contamination from being produced in a facility with gluten. If you want to play it extra safe, consider shopping for your moisturizer, foundation, or lip product at one of these certified gluten-free brands:
BITE Beauty
Ecco Bella
Eos
Gabriel Cosmetics
Gluten-free Savonnerie
Green Leaf Naturals
Keys Care
Vanicream
Zuzu Luxe
Even though other brands may be mostly GF, this list only includes those that are confirmed GF by the company — meaning all products are produced without gluten and in a contaminant-free facility.
Concerned about your new powder or toner? You can also look up any product in this Gluten Free Product Directory online. Retailers like Dermstore and Target also conveniently let you narrow down products by which ones are GF.
Whoops — what if you accidentally say, licked your lips and swallowed some of that gluten-filled chapstick? First, stay calm — it's most likely not a huge deal, and there are steps you can take to mitigate issues.
How to respond to a gastrointestinal reaction
Chacon says most symptoms of gluten exposure are digestive (like stomach pain, diarrhea or constipation) — you may also experience some "headaches, anxiety, or brain fog." You'll want to address these symptoms first. To do so, she recommends:
aggressive hydration to help flush out the system
lots of sleep to help the body recover
taking a detoxifying salt bath to stimulate the lymphatic and immune systems
If you have severe gluten sensitivity or are still experiencing symptoms after 24 hours, visit your doc.
How to respond to a skin reaction
What if you experience what Chacon calls a "gluten rash" (aka contact dermatitis herpetiformis) from ingesting gluten? In that case, here's what she recommends:
Wash off the affected area of your skin with mild soap and water. And don't reapply the product!
Use a cool compress to relieve itching and pain. Chacon also recommends applying aloe vera gel.
Take a warm (not hot!) shower or bath to prevent further skin irritation.
Take acetaminophen to relieve the pain.
Use a moisturizer with a "barrier" ingredient like dimethicone (like CeraVe) to protect the skin.
If your rash persists, visit a dermatologist. This type of rash is often treated by docs with the antibiotic Daspone.
Gluten-free skin care is becoming increasingly popular. For those with celiac or gluten sensitivities, the main risk of using a product with gluten is accidental ingestion — not topical exposure. That's because gluten can't be absorbed through your skin.
To reduce the risk of reaction, though, use certified GF products, especially for areas around your mouth. If you have a gastrointestinal reaction to gluten, flush out your system by drinking plenty of water.
If you get a rash, wash off the offending product and soothe symptoms with OTC pain relief, a warm bath, a cool compress, and aloe. And don't hesitate to visit a dermatologist if symptoms persist.