We include products we think are useful for our readers. If you buy through links on this page, we may earn a small commission. Here's our process.
Greatist only shows you brands and products that we stand behind.
Our team thoroughly researches and evaluates the recommendations we make on our site. To establish that the product manufacturers addressed safety and efficacy standards, we:
Evaluate ingredients and composition: Do they have the potential to cause harm?
Fact-check all health claims: Do they align with the current body of scientific evidence?
Assess the brand: Does it operate with integrity and adhere to industry best practices?
We do the research so you can find trusted products for your health and wellness.
We include products we think are useful for our readers. If you buy through links on this page, we may earn a small commission. Here's our process.
From Botox to microneedling, it seems like poking the face with needles is always trending in skin care. Remember when celebs like Kim Kardashian and Gwyneth Paltrow bared their bloodied "Vampire Facial" faces to the world? Yeah.
Dermarolling is basically the DIY version of the microneedling procedure, but a little less invasive. The results aren't as dramatic as an in-office treatment (it won't make you look like you just crawled out of the latest Ari Aster film) but — and this is a big BUT — there are things you need to know before you try it.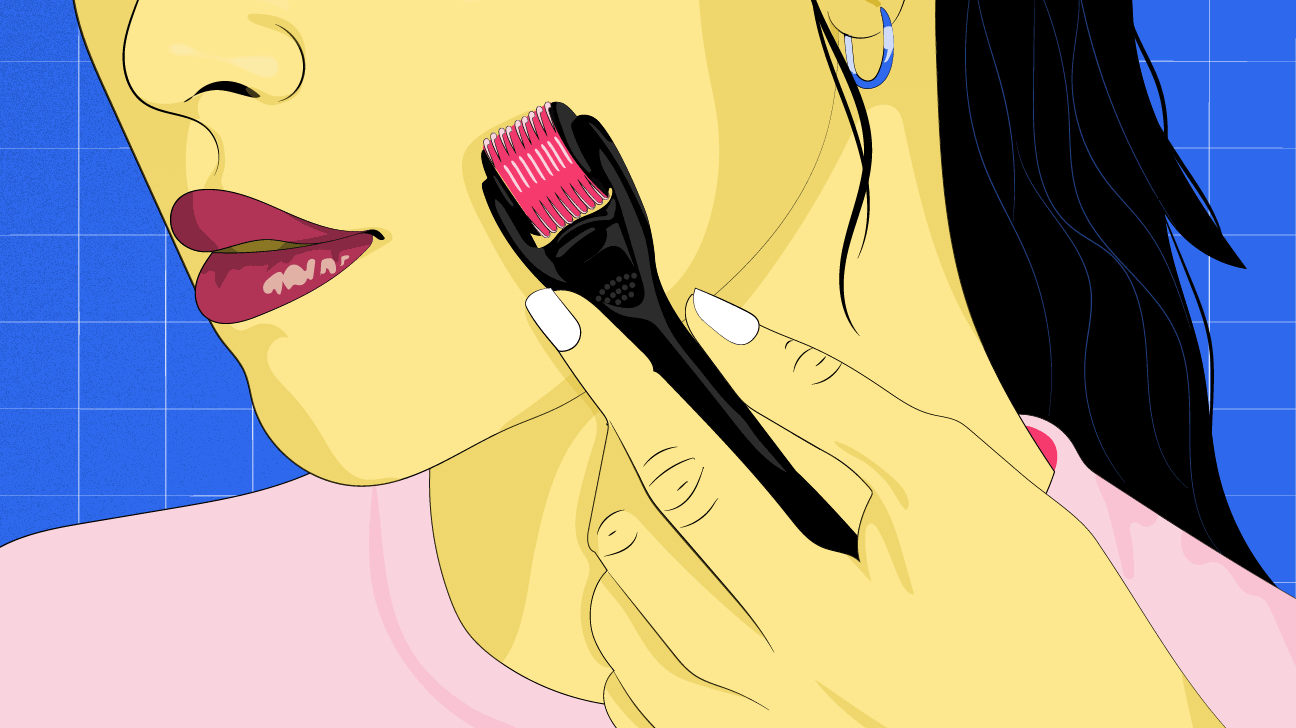 The tool behind all the buzz is a small handheld roller with hundreds of very tiny needles. When rolled onto the skin, it creates hundreds of teensy wounds, which in turn increase collagen and elastin production.
Collagen is the bod's most abundant protein and holds the tissue of the skin, muscles, tendons, cartilage, and bones together.
If using a spiky device on your skin at home sounds scary — can't blame you there. You might want to leave this trend to the influencers or visit a licensed esthetician instead.
"I actually wouldn't recommend dermarolling at home," esthetician Jess Possemato of Skin2SoulCare told us. "I think it can do more harm than good, and it's always better to go to a licensed professional [for microneedling]."

When done incorrectly, dermarolling can lead to scratches, bruising, inflammation, and infections.
More of a "beauty is pain" kind of person? If you really want to try dermarolling at home, we've got the info you need to do it as safely as possible.
Although it can draw blood, dermarolling is still considered a minimally invasive procedure. Some compare it to rubbing sandpaper on the skin. (So, not ideal… but not exactly torture.) Longer needles do cause more pain, though, and everyone's tolerance varies.

So, who should do it?

"Typically I don't recommend that people in their 20s dermaroll unless they have a specific skin condition that warrants it, [such as] acne scarring that may respond to needling," esthetician Penn Smith of Penn Smith Skin Care told us.

"Once a person enters their 30s and they begin to experience the decline and degradation of collagen, needling is a viable option," Smith said. "At the other end of the spectrum, once the skin is very thin with age, it's less advantageous to needle."
Squeamish around needles? The tool's shiny spikes might understandably alarm you. Start with the finest needles: about 0.25 millimeter (mm). These won't provide as drastic of results as longer ones, but experts recommend starting there and working your way up.
Warning: Dermarollers or microneedling tools with needles longer than 0.3 mm have not yet been approved by the Food and Drug Administration. If you want to play it safe, only use ones with shorter needles.
"People with autoimmune diseases, diabetes, psoriasis, and eczema may not be good candidates for needling," Smith said. "Life style, allergies, and medications come in to play also. Anyone considering needling should research it first to ensure that they are a good candidate. I often recommend that people see a pro the first time before needling at home."
If you're unsure about whether dermarolling is right for you, always chat with a dermatologist or esthetician first.
If you decide to break out the dermaroller, a few potential benefits are that it:
diminishes appearance of fine lines, wrinkles, and stretch marks
rejuvenates and brightens skin
reduces acne scarring
thickens skin
reduces skin discoloration
enhances product absorption
may stimulate hair follicle growth
The equipment
The type of dermaroller you choose depends on what results you desire. If you've got a skin concern, this chart will show you the needle length needed to help remedy it:
| | |
| --- | --- |
| Probs | Needle length (mm) |
| surface-level acne | 1 mm |
| deep acne scars | 1.5 mm |
| enlarged pores | 0.25 to 0.5 mm |
| blemishes* | 0.25 to 0.5 mm |
| skin discoloration | 0.2 to 1 mm (start small) |
| sun damage or sagging skin | 0.5 to 1.5 mm (a combo of both is best) |
| stretch marks | 1.5 to 2 mm (but don't try 2 mm at home) |
| surgical scars | 1.5 mm |
| uneven skin tone or texture | 0.5 mm |
| wrinkles or fine lines | 0.5 mm to 1.5 mm |
| hair loss on scalp | 0.5 to 1.5 mm |
*Although microneedling works on some blemishes, it can't treat redness or pink blemishes. It's not recommended for use during acne outbreaks.
Stainless steel vs. titanium rollers
Dermarollers either have titanium or stainless steel needles. Titanium's a tougher alloy and more durable. As a result, the needles won't dull as quickly and will last longer.
On the other hand, stainless steel is more sterile. The needles will dull more quickly, but are the same kind used by medical professionals, acupuncturists, and tattoo artists.
Both will work fine though, so the choice is yours.
Is the price right?
When browsing your options, you'll find dermarollers priced anywhere from under $10 to over $100.
While you may be lured by the luxurious-looking packaging of the pricier models, they don't necessarily offer any added benefits. A mid-range option should get the job done.

Look closely, though: "It is important to research and purchase a roller that has real needles and not metal barbs," Smith said.
Look through photos and reviews to ensure you're getting a quality product. It's possible to receive a very cheap one with rust or bent needles (yikes!). When you receive your dermaroller, take a close look to ensure everything's in order.
Dermarollers are safest when used exactly as instructed. Here's how to do it:
Step 1: Disinfect
Since you'll be puncturing your face, you need to ensure the instrument is squeaky clean and sterile. Disinfect your dermaroller by soaking it in 70 percent isopropyl alcohol for 10 mins.
Pro tip: A spray bottle makes this step easy.
Step 2: Wash your face
Use a gentle pH-balanced cleanser to wash your face. Avoid harsh cleansers or those specially formulated for acne, which can cause irritation when combined with the dermaroller.
If you're using a dermaroller with needles longer than 0.5 mm, you should also wipe your face with a bit of 70 percent isopropyl alcohol after cleansing.
Pat your face dry and keep rolling.
Step 3: Apply numbing cream (optional)
This step is optional but recommended if you have a lower pain tolerance or if you're using needles longer than 1 mm. At that length, the needles will def draw some blood (ouch).
You can pick up a numbing cream OTC. A product like Numb Master Cream 5% Lidocaine will do the trick. Use your product exactly as instructed to take the pain away.
Step 4: Get rolling
The dermarolling technique takes some practice. Always avoid your eye socket area, which is too delicate to be punctured by needles.
Here's what to do:
Select an area of your face (like the forehead, cheeks, nose or chin) and roll it horizontally 6 to 8 times. Each time you make a "pass" across your face, lift the roller up. Doing so will prevent you from looking like a cat scratched you (yeah… yikes).
Now, repeat on the same area, this time, vertically. Roll it, then lift up, 6 to 8 times.
Repeat steps 1 and 2 on all desired areas.
Step 5: Wash your face with water
Rinse your face with warm water is best.
Step 6: Clean your dermaroller
Time to clean this baby. Fill a container with dish soap and warm water and place your dermaroller in it. Swish the dermaroller around in the mixture to remove dead skin and blood.
Step 7: Disinfect your roller
Disinfect your dermaroller by letting it soak in the 70 percent isopropyl alcohol for another 10 minutes. Place it in a safe case.
Note: It's preferable not to reuse a dermaroller, but instead to use disposable ones. However, if you must reuse, definitely disinfect.
Step 8: Proceed with your skin care routine
Finish up with your basic skin care routine. Avoid chemical exfoliates or harsh chemicals like benzoyl peroxide, salicylic acid, or tretinoin.
Since the dermaroller enhances product absorption, now is a great time to get the most out of that serum or mask you splurged on (whoops!). Products that hydrate, heal and boost collagen can reach deeper into your skin and deliver more dramatic results.
Try products with niacinamide, hyaluronic acid (HA), or epidermal growth factors to plump and heal skin. A little bit of vitamin C can be beneficial, too, but beware that it may irritate more sensitive skin.
Pro tip: Caution should always be exercised when using products immediately after a dermaroller treatment as some products are not formulated for introduction past the skin barrier and may cause irritation or an allergic type reaction.
Here are some products you might want to try:
But wait: after you moisturize, your work's not done yet!

"The days following a needling session are critical to the best outcome," Smith told us. She recommends a detailed post-needling regimen of nutritional supplements, topical application, and clinical intervention.
Your results will vary based on the unique nature of your skin and the length of the needles you use. Here's what might happen right away:
skin redness or sensitivity for 30 mins to 2 hours
a sunburn-like feeling
minor swelling
increased blood circulation
If you used longer needles, expect increased redness and sensitivity. In some cases, mild redness can last for 2 to 3 days. If you experience peeling or discomfort, don't 👏 touch 👏 your 👏 face! Use plenty of moisturizer and let healing take its course.
Although you might notice some immediate plumping, it will take a few uses before you experience prolonged change.
In a 2014 study, participants' acne scarring diminished by an about 31 percent after 3 micro-needling sessions. Longer needles and continued use deliver more dramatic results.
So, how long will your results stick around? Research suggests that the results of 3 sessions last up to 6 months after stopping treatment.
Since the needles puncture the skin, your skin needs a break in between treatments to heal and rebuild collagen. The longer the needles, the longer your skin needs to renew.
For safe use, here's how often you can use your device depending on the needle size:
| | |
| --- | --- |
| Needle length (mm) | Frequency |
| 0.25 mm | every other day |
| 0.5 mm | 1 to 3 times a week (to start, less is more) |
| 1 mm | every 2 weeks |
| 1.5 mm | every 3–4 weeks |
| 2 mm | every 6 weeks (professional use only) |
Let's be real: Puncturing your face with needles is risky. Some derms and doctors discourage DIYing at-home due to the potential for devices like dermarollers to "tear" the skin.
To minimize harm, safety is key. You might feel tempted to skip out on disinfecting your device just this once — but doing so could lead to a nasty infection.
Protect your skin and overall health by being diligent about cleaning and disinfecting your device. Inspect it regularly to ensure it's clean and free of rust and bent needles.
Always start with a shorter needle (0.25 mm-ish) and work your way up to the scarier stuff. Although you might find something longer than 1.5 millimeter on the market, save the 2-millimeter-game for a trusted esthetician.
If you experience severe pain, redness, or irritation that lasts longer than 2 hours post-dermarolling, consult a medical professional.
Dermarolling helps tighten the skin and can reduce acne scarring, minimize pores and diminish the appearance of wrinkles and fine lines. It also helps products like serums absorb more deeply into the skin.
Properly cleaning, disinfecting and using the device is key to avoiding adverse effects.
Treatments with needles of 2 millimeter or more should always be conducted by a licensed professional.
Remember: Although they're readily available, devices with needles longer than 0.3 mm have not yet been approved by the FDA.