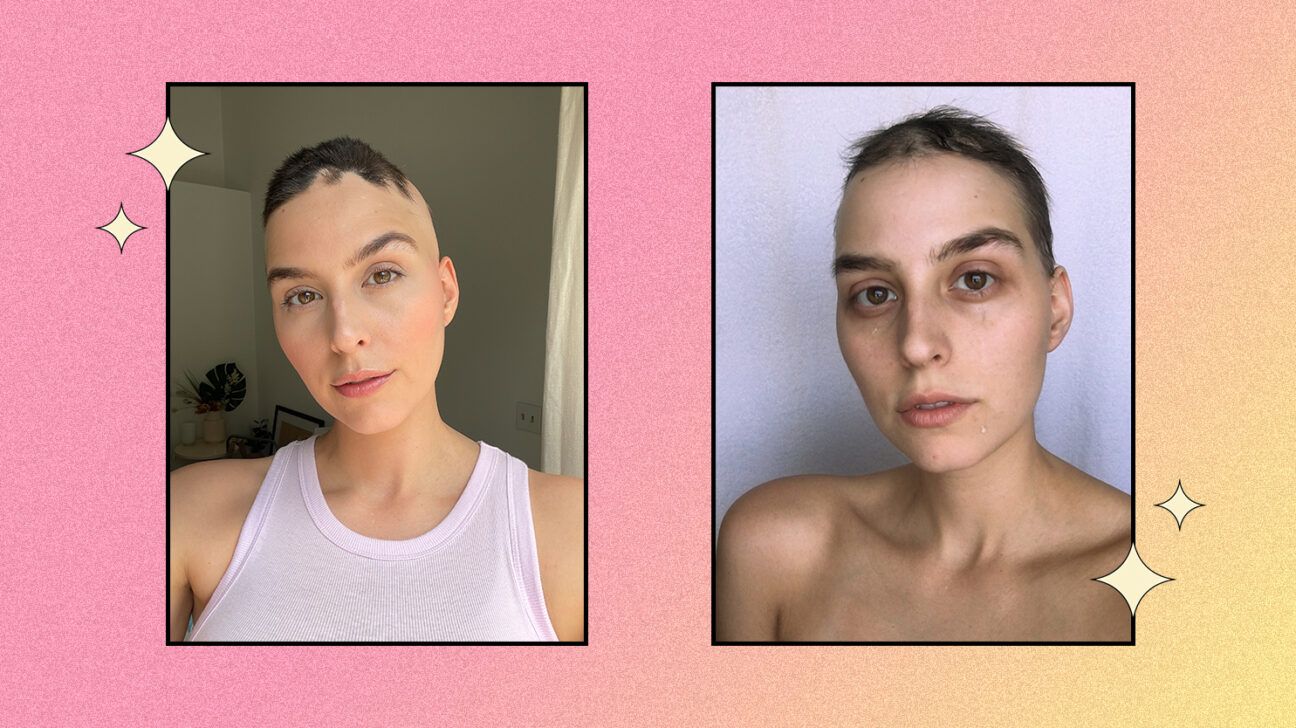 Dating in today's world can be scary, hard, and competitive. With all the different dating apps, it can also feel very impersonal.
And having something that makes you stand out physically can make it feel even more overwhelming. How do you casually date when you carry something with you every second of that day that's so personal?
My journey through dating with alopecia areata has had difficult and debilitating moments, but it has also had humorous and truly wonderful moments.
A few weeks after I lost all my hair for the first time, my then-boyfriend broke up with me.
It truly had nothing to do with the fact that I no longer looked the same, but it was the absolute worst timing. I remember saying, "You really had to do this now?"
We were in a long-distance relationship. During our time apart, I'd lost my hair, and he hadn't seen me without it yet.
When I took a trip to see him, I remember feeling so ashamed and scared to show him what I looked like. I wore a wig or beanie the whole time. I hadn't come to terms with losing my hair yet.
When I look back on it now, it makes me sad to think that I didn't even want to show it to the person I was most vulnerable with. That's how isolated alopecia can make you feel, even with someone who loves you.
We ended things not long after my trip, and I was devastated. I didn't want to walk this new path alone. But as horrible as it was, it was for the best that he didn't stay because he felt bad for me.
Now single in this new life with alopecia, I had thoughts like "Who will ever love me like this? How can I date with no hair on my head?"
There were a few months when I completely hid from the world. But it wasn't long before I didn't want to miss out on life any more than I already had. If I couldn't change losing my hair, I might as well embrace it.
I started sharing my story on social media. The love and support that came from my online community brought me hope and helped me see that I'm more than my hair.
Soon after, I met someone and we started spending time together. I remember our first kiss. I had a weird reaction and pulled back because I was so hyperaware of him touching my wig.
He probably was clueless, but I was sweating bullets on the inside. Would he know? Would he ask? Would he not like me once he found out?
I used to fall asleep in his bed with my wig on. I'd make sure to wake up before him, run to the bathroom, and fix my wig, which had often completely moved on my head.
I was terrified to open up and share what I really looked like.
After we'd hung out a few more times, I felt that it wasn't fair to him for me to keep my hair loss a secret. I liked him, but I was holding a part of myself back. So I finally told him that I wear wigs and the reason why.
He was not fazed in the slightest and continued to see me. Ultimately, it didn't work out with him, but this experience gave me the confidence and reassurance that someone would like me without hair on my head.
About a year after I lost my hair, I met my next long-term boyfriend. We met through mutual friends, and something inside of me was drawn to him.
I instantly felt safe and comfortable with him, and within 5 minutes after we started talking, I told him I was wearing a wig. He looked at it and said, "That's a wig? No way! Well, awesome — doesn't change a thing for me." That was the start of our relationship.
We went on to have 5 wonderful years together. Unfortunately, we broke up at the beginning of this year, but I am forever thankful for him. He showed me what it's like to be loved unconditionally.
I cannot express enough how important it is to have a partner who supports you and loves you. Or even a close friend or family member. Having alopecia can feel isolating and alienating.
I went through periods of high anxiety because of the emotional effects of alopecia. It was always helpful to know that I had someone rooting for me.
He loved every version of me — wig, head wrap, nothing on my head. My true self was his favorite. He would often see me get frustrated with my wig and say, "Come on, let's just go out without it. I love you for who you are." He showed me that to truly love someone, you must see beyond their outward appearance.
It's taken a while for me to be ready to jump back into the dating world. This time around is a bit different for me. I'm the most confident I've been, but I still have my worries.
I have anxious thoughts knowing that I'll have to open myself up again and reveal my secret. Although I'm very open about my story online and share many photos of myself with no wigs, it's still scary to put yourself and all your baggage out there.
The thought of it can feel exhausting. You might have to go on many dates and build up the courage to share your story again, and then it still may not work out for whatever reason.
I do feel that being honest from the beginning weeds out the jerks. I'd rather know the type of person they are from the start than find out farther down the line. The ones who aren't bothered by alopecia are the ones you'd want in your life anyway.
I'm not currently on any dating apps, but I often think about what my profile would be like and whether I'd share that I have alopecia.
It's hard to sum up what alopecia is in just a simple photograph with no context. It sets you apart, and it's scary to share what makes you different right off the bat.
But I do believe that being open and confident brings the right people into your life. So if I ever were to join a dating app, I probably would add photos of myself with no wig on. I want to be with someone who loves me for exactly who I am, so I might as well cut to the chase.
I write this to show others that I still have my moments. As confident or open as I may seem, I still have those thoughts and worries. I still wonder to myself, "Will I ever find love like this?"
I believe I will. I have been graced with a handful of men in my life who have shown me that the answer is yes.
I have to remind myself that each time I've embraced having alopecia, the universe has brought me just what I needed.
Embracing yourself unapologetically is attractive and magnetic. When we learn to love ourselves for who we are, it opens the door for the right person to come along and do the same.
---
Robyn Germyn is a social influencer, actor, and model known for her honesty and positivity. She's passionate about inspiring women to embrace the skin they're in. Robyn began sharing her hair loss story on social media soon after her diagnosis with alopecia areata. She hopes that her vulnerability and willingness to be open can inspire others to keep moving forward in their own journeys. You can find her on her social media pages, like Instagram, sharing her heart with the world and helping women learn it's more than our looks that makes our beauty shine.