We include products we think are useful for our readers. If you buy through links on this page, we may earn a small commission. Here's our process.
Greatist only shows you brands and products that we stand behind.
Our team thoroughly researches and evaluates the recommendations we make on our site. To establish that the product manufacturers addressed safety and efficacy standards, we:
Evaluate ingredients and composition: Do they have the potential to cause harm?
Fact-check all health claims: Do they align with the current body of scientific evidence?
Assess the brand: Does it operate with integrity and adhere to industry best practices?
We do the research so you can find trusted products for your health and wellness.
Cinnamon tea is a soothing beverage that has a variety of health benefits. While it's generally safe to drink in small amounts, there are some risks to be aware of.
In addition to being delicious, cinnamon tea is percolating with perks for your overall health. Here's a rundown of 14 benefits, plus the best brands to buy from.
Psst. We also have a step-by-step guide on how to make cinnamon tea at home!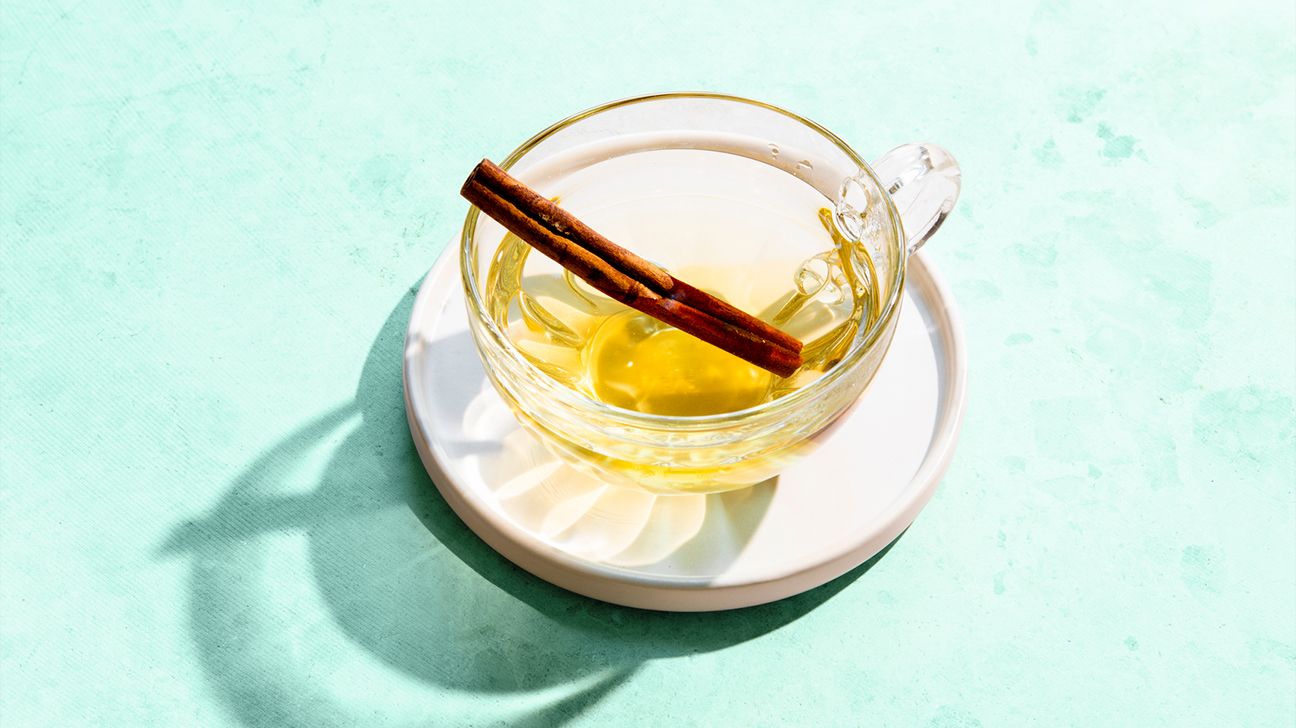 Ready to start sipping? Here are 14 potential perks of drinking cinnamon tea.
1. Good source of antioxidants
Cinnamon tea is loaded with antioxidants. These healthful compounds help neutralize free radicals, molecules that are associated with cancer, heart disease, and diabetes.
Specifically, cinnamon is a solid source of polyphenol antioxidants. Studies also show that cinnamon tea can increase your body's total antioxidant capacity (TAC).
According to a 2018 study, cinnamon extract can be used instead of synthetic antioxidants in food to improve health and nutrition. However, we need more research on cinnamon in tea form to know how well it works.
2. Helps your heart
Cinnamon might benefit your heart health. Studies show it may help:
FYI: Cinnamon on its own won't cure heart disease. But it might help reduce your risk of certain heart conditions when combined with a healthful diet and lifestyle.
3. Good for your skin
Cinnamon can help promote collagen production. This protein acts as a building block for lots of your body parts, including your skin. Collagen can increase elasticity and improve hydration. In turn, it can help keep your skin looking plump and firm.
Additionally, cinnamon's anti-inflammatory and antibacterial properties make it a good acne remedy. However, the jury's still out on whether topical cinnamon treatments or oral supplements work better.
4. Might increase hair growth
Can cinnamon transform you into Rapunzel overnight? No. But it might help your hair grow a bit.
A 2018 animal study found that cinnamon oil helped lengthen the hair in male rates. This might be due to cinnamon's cinnamaldehyde levels. This compound is thought to improve blood flow and circulation to hair follicles. Additionally, a 2019 review found that procyanidin — a type of flavonoid found in cinnamon — is associated with hair growth.
But wait, there's more! Some anecdotal research suggests using cinnamon on the scalp can improve dandruff, thanks to its antifungal properties. But again, we need more research to prove the perks.
5. Might improve diabetes symptoms
First off, cinnamon might help reduce blood sugar levels. Small studies also suggest cinnamon can reduce total plasma glucose and improve insulin sensitivity.
Additionally, cinnamon might help improve other diabetes-related symptoms. A 2015 review noted that 60 people with type 2 diabetes consumed up to 6 grams (g) of cinnamon a day for 40 days to 4 months. At the end of the study, the 60 participants had lower serum glucose, triglycerides, low-density lipoprotein cholesterol, and total cholesterol.
Keep in mind that we need more studies on cinnamon tea on its own to show how it can improve diabetes symptoms.
6. May promote weight loss
Lots of peeps think cinnamon is a natural way to lose weight. But is this true? Well, maybe.
Some research shows that cinnamon can aid fat loss in waist circumference. An older study found that participants lost 0.7 percent of their fat mass and gained 1.1 percent of muscle mass after taking 10 g (or 5 teaspoons) of cinnamon powder every day for three months.
While this def sounds promising, more research is needed to show if lower doses of cinnamon — like the amounts found in cinnamon tea — can actually make a difference.
7. Reduces inflammation
Consuming cinnamon might help ease joint swelling. Studies also suggest that this special spice might help reduce inflammation markers. This might mean cinnamon can have a positive effect on inflammatory conditions such as:
It may also help conditions where inflammation is a risk, like:
And no, cinnamon isn't a cure-all — science can't say for sure how effective it is on its own yet.
8. Improve cold symptoms
Although it won't cure a cold or the flu, cinnamon might make you feel better faster. Thanks to its antioxidant properties, cinnamon tea might help give your immune system a boost. In theory, this could speed up your recovery time. However, there's no scientific evidence that shows this is legit.
Pro tip: Sip some cinnamon tea and honey if you feel crumby. Even if it doesn't speed up your recovery, it can be very comforting on a sore throat. The soothing steam may also help ease congestion.
9. May soothe stomach issues
Cinnamon contains a phenolic compound called catechin. According to a 2017 study, catechins might have a positive effect on inflammatory bowel disease (IBD) symptoms. There's also a chance catechin can help ease:
But (surprise!) we need more studies on cinnamon tea to show how well it works on tummy troubles.
10. Wards off bacteria
Cinnamon contains bioactive phytochemicals (e.g., cinnamaldehyde and eugenol). This gives it some dope antibacterial properties. A 2018 study found that cinnamon extracts and essential oils were able to damage bacteria's cell membrane, slow motility, and decrease cell division.
11. Fights fungus
Studies show cinnamon extract has some powerful antifungal properties. Some folks use it as a DIY treatment for foot fungus or fungal infections of the skin. But it's unknown if drinking cinnamon tea will have the same benefits as extracts.
Additionally, cinnamon might only work on minor fungal infections. You should still talk with a doctor if your infection persists for more than a few days.
12. Might have anticancer properties
Cinnamon is known to have antimicrobial, antioxidant, and anticancer activities. Studies show cinnamon extract can induce cancer cell death. It may also help stop cancer cells from spreading to other areas of the body.
PSA: Cancer is complicated. While cinnamon might help, you should def consult an expert before adding it to your treatment plan.
13. Might help improve brain function
Lots of animal studies suggest cinnamon can benefit your brain.
A 2021 study found that cinnamon extract can help memory loss after a traumatic brain injury. A 2016 study found that cinnamon helped encourage new memory formation and aided the learning process.
14. Improve period or PMS symptoms
Lots of menstruating folks claim cinnamon tea can help ease cramps and premenstrual syndrome (PMS). And there's actually some science that backs this up!
During a 2018 study, researchers had 80 participants take 3 g of cinnamon or a placebo each day for the first three days of their period cycle. The people in the cinnamon group had significantly less pain than those who took the placebo.
BTW, cinnamon might not work as well as over-the-counter (OTC) pain meds. A 2015 study with 114 people found that taking 1.5 g of cinnamon during the first three days of the menstrual cycle worked better at relieving discomfort than a placebo. However, ibuprofen worked better than cinnamon.
While cinnamon tea is generally safe to drink, there are still some risks to keep in mind. Here are the deets.
Liver damage: Cassia (aka regular) cinnamon contains coumarin. When consumed in excess, this compound has been known to cause liver damage.
Oral lesions: Folks with a cinnamon sensitivity might experience oral ulcers or lesions. This is prob because cinnamon contains cinnamaldehyde, a compound that can trigger allergic reactions.
Low blood sugar: Eating cinnamon can help lower your blood sugar, but consuming too much might lead to low blood sugar.
Medication interactions: You should def talk with a healthcare professional before adding cinnamon tea to your diet. Cinnamon has been known to interact with certain medications, especially ones that are used to treat liver conditions or diabetes.
Lots of commercial teas are made with Cassia cinnamon, which is a rich source of coumarin. On average, a teaspoon of ground cinnamon contains 7 to 18 g of the stuff.
According to an older study, the healthy intake of coumarin is about 5 mg a day for a 130-pound person. That means even a single teaspoon of Cassia cinnamon could take you over the daily limit.
Also, not all cinnamon tea brands advertise the exact amount of coumarin per serving. So it's a good idea to stick to a high quality brand with detailed dosage deets on the box.
You can easily make cinnamon tea with a few simple ingredients. Here's how:
Fill a pot with 2 cups of water.
Add 2 cinnamon sticks.
Bring to a boil.
Remove cinnamon sticks.
Pour tea into a large cup.
Voilà!
Pro tip: Add a tablespoon of honey, a squeeze of lemon, or a splash of your favorite milk for a delicious flavor.
Best cinnamon tea brands
If you don't feel like making cinnamon tea from scratch, you're still in luck! Here are the 5 best cinnamon teas you can buy in stores or online:
What does cinnamon tea do to the body?
Cinnamon tea boasts beaucoup benefits for your overall health. It's a rich source of antioxidants and may help:
heart health

skin health
increase hair growth
improve diabetes symptoms
promote weight loss
reduce inflammation
improve cold symptoms
soothe stomach issues
ward off bacteria
fight fungus
slow cancer growth
improve brain function
ease period or PMS symptoms
Is it good to drink cinnamon tea in the morning?
There are no studies that show drinking cinnamon tea in the morning is better than drinking it at night. So enjoy it whenever you want!
Does cinnamon burn belly fat?
While cinnamon doesn't burn belly fat, some research shows consuming cinnamon can aid fat loss in the midsection.
How often should you drink cinnamon tea?
You can drink a small serving of cinnamon tea once a day. However, it's uber important you don't overdo it. Excessive amounts of cinnamon could lead to liver damage.
Cinnamon tea is a healthful drink that can be enjoyed at home or on the go. It's also delicious and cost-effective. Just remember that it's not a cure-all. You should talk with an actual healthcare professional before using it to treat what ails ya.
Also, be sure to stick to high quality brands that give safe dosages on the box. That way, you know the exact amount of cinnamon you're ingesting. You can also make it at home with cinnamon sticks and water. It's quick, cheap, and soothing.