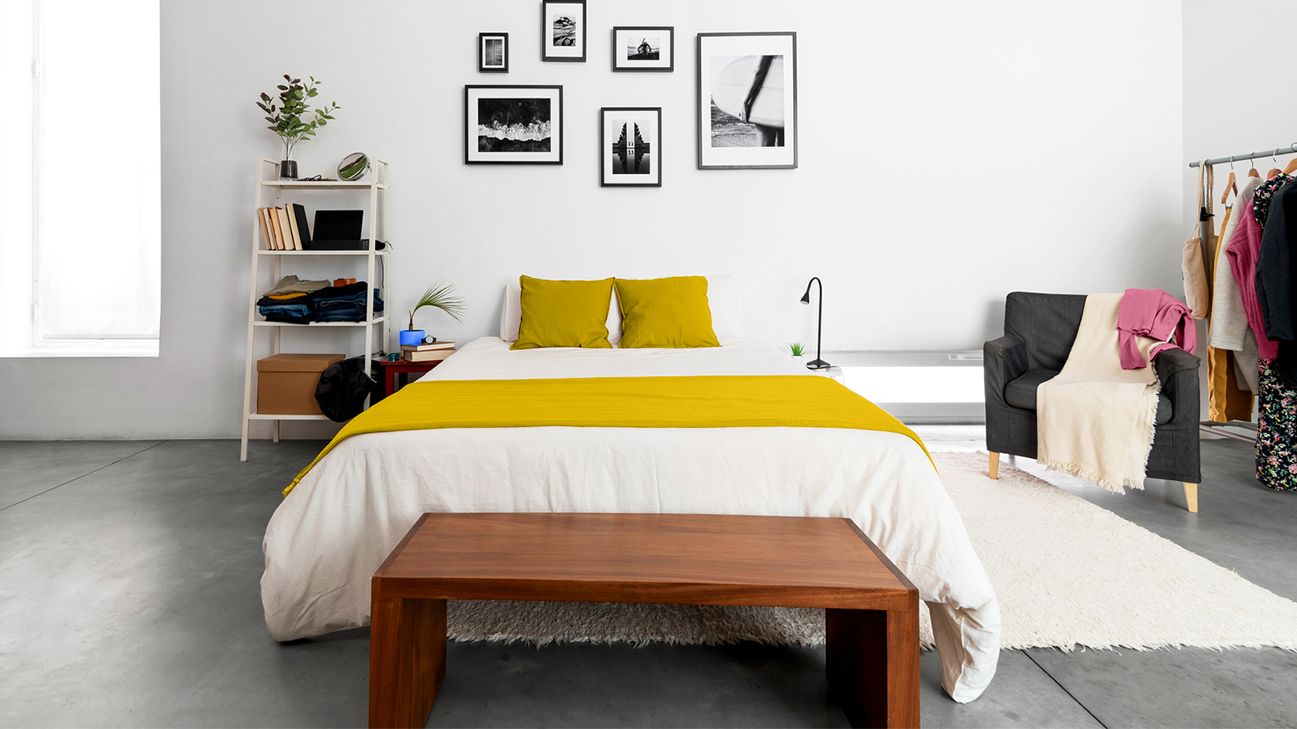 We include products we think are useful for our readers. If you buy through links on this page, we may earn a small commission. Here's our process.
Greatist only shows you brands and products that we stand behind.
Our team thoroughly researches and evaluates the recommendations we make on our site. To establish that the product manufacturers addressed safety and efficacy standards, we:
Evaluate ingredients and composition: Do they have the potential to cause harm?
Fact-check all health claims: Do they align with the current body of scientific evidence?
Assess the brand: Does it operate with integrity and adhere to industry best practices?
We do the research so you can find trusted products for your health and wellness.
As shelter in place persists, our homes endure the tough task of juggling space for classrooms, offices, cafeterias, gyms and more. No matter the size of your home, there's one space that should function as a retreat from the constant, hectic buzz — the bedroom. (But if it can't, we have a solution for that too!)
We asked five interior designers to share their secrets for arranging these restful escapes and any impactful tips that can be applied to any given space, whether you're starting from scratch or simply in need of a refresh. Either way, you'll find what you need towards achieving a calming sleep environment fit for recharging at the end of the day.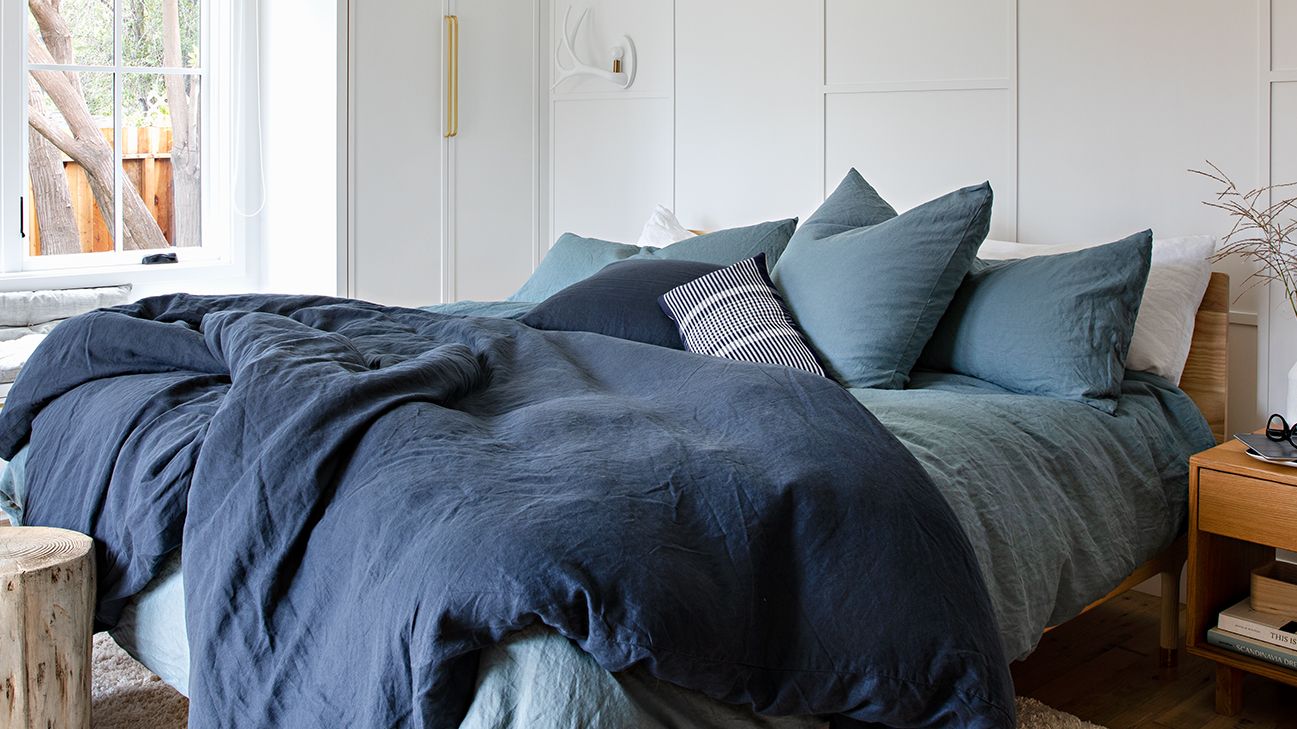 "When it comes to bedrooms, I think it's important to think about how you want the space to feel first, then aesthetics second," says ETC.etera stylist and creative director, Jake Rodehuth-Harrison. "Since the bedroom is the last thing we see at night, and the first thing we see in the morning, it's important to consider what comfort we crave."
Whether you prefer light, airy and minimal spaces, or a dark, moody and cavernous experience, think about what you really need to relax at night and feel good in the morning.
For designer Alexis Garrett, it all starts with a super soft, comfortable mattress. "If you aren't ready to invest in a new one, consider a less expensive but thick and plush memory foam pillow top, she says."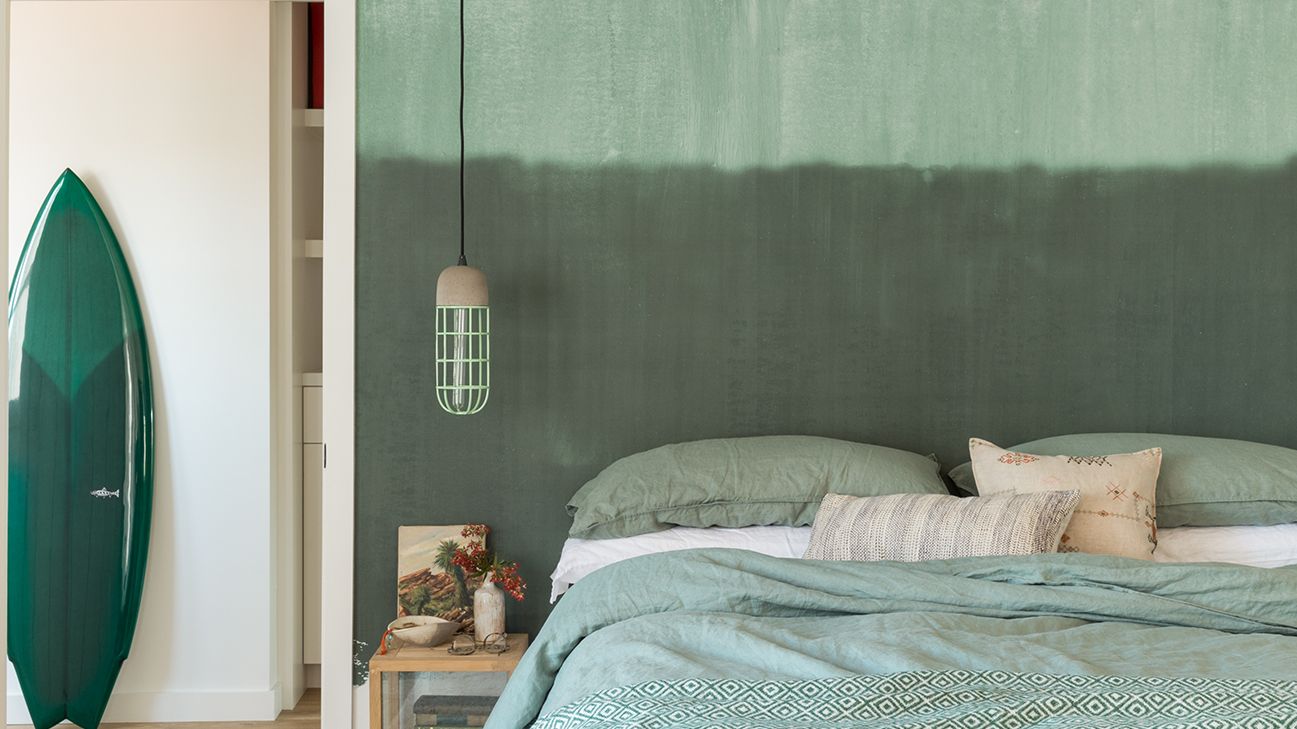 "I think a big part of creating a successful bedroom color palette is keeping it monochromatic," says Rodehuth-Harrison. "A lack of contrast means a lack of tension, so it will naturally feel less hectic." Early in the pandemic, he repainted his bedroom's ceiling in "Not so Delicate" by Backdrop Paint, a smokey lavender that changes throughout the day with the lighting.
"It truly makes me smile every morning," he says. "As a rule, I think dustier tones are always a nice choice for bedrooms as they feel a bit more calm and muted than their brighter, primary counterparts." He adds that white paint is always a nice idea, but make sure it's got some warmth to it.
Another tip for keeping the peace in the bedroom, keep your bedside table clutter to a minimum.
"The less you can have on your bedside table the better," Garrett says. "I have my book and a pencil, and that's it." (She charges the phone outside her bedroom.) For those who like to linger in bed, she suggests a candle, water carafe and glass, or a mini tea-service, such as a small plug-in tea kettle with a cup, saucer and a few tea bags. "For those who have the space, consider a real splurge like a Nespresso," she says.
Clara Jung of Banner Day Interiors says that when it comes to the bedroom, we often think of layering fabric and textures. But implementing layered light is important too and, she says, "I think it's a game changer."
For starters, overhead lights should be controlled by dimmer switches whenever possible. (If you can't install a dimmer, adding task lighting is especially important). To create ambient lighting next to the bed for reading, she prefers to free up bedside table space by utilizing sconces. Sconces are wall mounted light fixtures, which can be hardwired by an electrician or purchased with a cord that can be plugged directly into the wall.
If you like to wake up to natural light, skip the blackout window treatment and consider a color spectrum light bulb. These smart lights mimic the sun's progression to help you fall asleep by gradually dimming, or turning on slowly to help you wake naturally.
Designer Raili Clasen says working from home has changed the way people use their bedrooms. "These days people aren't just going to their bedroom to sleep anymore," she says. "They are waking up and doing an hour's worth of work in their bed."
If the bed needs to be a comfy place to pop open your laptop for an email deep-dive, she suggests doubling down with a good stack of pillows for back support, and keeping a basket at the foot of the bed to store them. If your WFB routine goes beyond checking email, you may want to consider a laptop tray.
We also like Garret's "keep everything washable" tip, which she implements because her young boys love jumping on their parent's bed, also works for those who WFB. Garrett tops her duvet with a simple coverlet or cotton quilt and also takes the extra step to utilize pillow liners to help minimize allergies.
"If my kids are coming in to watch television, or [if I want] to escape, I love having that extra layer to pull over without having to get in the bed," says Garrett.
If a tidy bedroom isn't enough to keep your mind from wandering, Natalie Tiller, Decorist designer, suggests an inexpensive accordion screen, which can be stowed against the wall or under the bed. "I always prefer upholstered folding screens, which have better acoustics." An upholstered screen can help absorb sound, which will makes it easier for participants to hear one another.
Another way to divvy up space is to use ceiling mounted curtains. "You can draw them open or keep them closed if you don't want to see your office anymore because it makes you anxious. They can also look really, really nice and complement your space as well."
If your space allows, add a cabinet to conceal printers and work materials but for bedrooms-slash-work areas that feel cluttered, Tiller suggests relocating the dresser to the closet, or reorganizing the closet and eschewing the dresser all together.
Finally, if possible, place desks near windows with natural light and run an air purifier, which may help curb fatigue. For a visual lift, don't skimp on a little greenery. "I have plants in my quote unquote office," says Tiller. "Having that connection to nature is also important."
Minimal furnishings in bedrooms can translate to less visual clutter and less dust. Don't let the allure of minimalism trick you into getting a table that doesn't have storage, though!
"Side tables are getting bigger," Clasen says. Her clients are requesting more drawer and or cabinet space to stash work-related items. Addressing storage needs up front will also prevent the surfaces from getting cluttered with pens, notebooks and cords.
There are other ways to keep furnishing minimal too, like skipping the ever-tempting upholstered chair. "I love the idea of a couple of stools at the end of the bed. Chairs just end up being places you throw your clothes on."
But Clasen's absolute favorite bedroom accessory for setting the tone for a goodnight's sleep? A softer than a cloud rug.
"I love a big yummy shag plush rug in the bedroom because that's the last thing your feet touch at night before you get into bed," she says.
Tiller uses her bedroom as an office, and while she admits she has no problem "checking out mentally" at the end of the day, it's all because she has established morning and evening rituals for a clean slate. No matter how organized or restful your space is, if you don't use it the way you planned, it's not going to work for you.
"Make sure you clean off your bed and organize," she says, which helps prevent an unmade bed or last night's pajamas from becoming distracting. At the end of the work day, close your computer and push in your chair to signal that you're leaving the office.
"Make sure you keep [your bedroom] clean too," she says. "Every weekend, I have a full cleaning day when I just buckle down and clean the floor, wipe the window sills. I do it every Sunday and that resets me for the week."
Chantal Lamers is the Home Editor at Greatist, covering everything from design trends to D.I.Y. and zero waste topics. Find her tips on homesteading (and chicken wrangling) in the suburbs on Instagram.