Let's face it, filling a large block of real estate on your calendar (especially on a weekend) with a task that feels less than fun is, well, less than fun.
My answer to this universal dilemma is to take a big, daunting project and transform it into a series of little projects. I like to call these mini projects 15-minute wins(you can check out some fun examples by searching the tag #15MinWin on Instagram).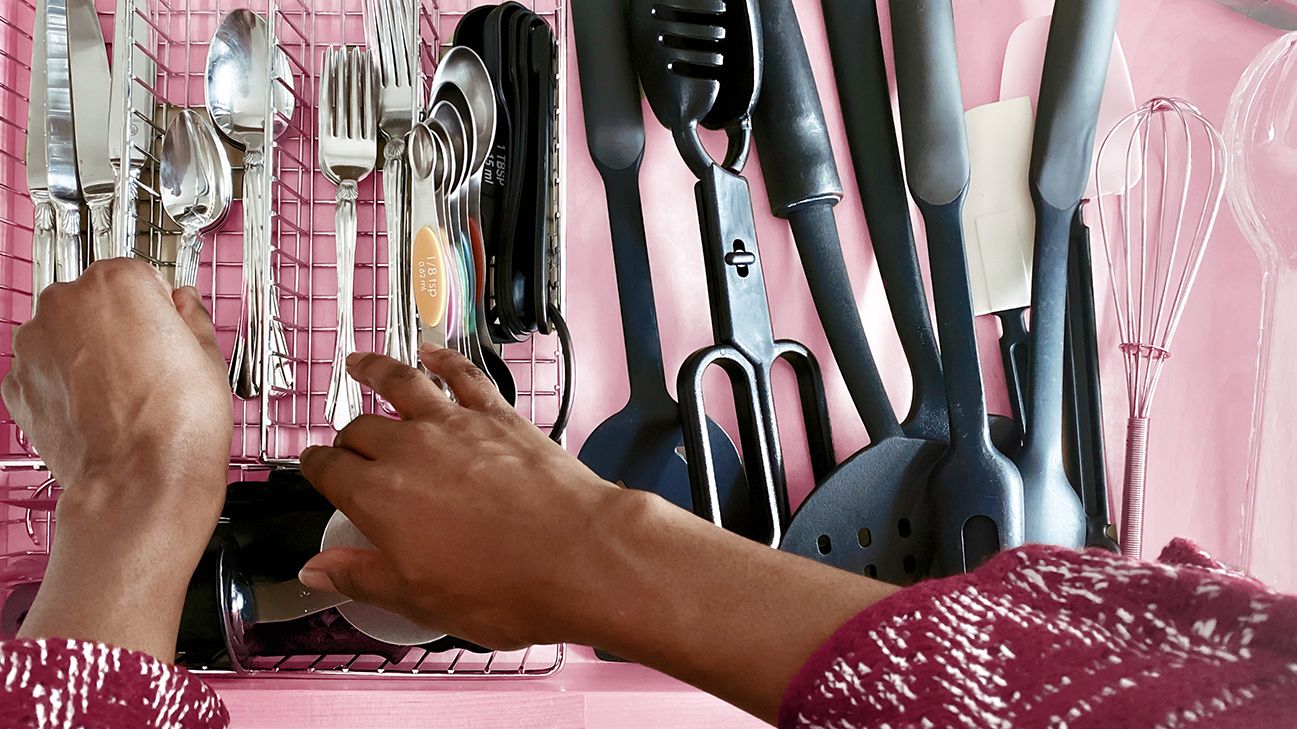 The simple act of making the time frame manageable, and the goal attainable, is all it will take to move you from overwhelm (the whole house is a wreck) into action (I tackled the dishes!). I love to turn dreaded tasks, like cleaning out the refrigerator or tidying up the entryway, into a game. Can I make it fun? Can I do it faster than I've ever done it before?
Once you get going, not only will you find out you can accomplish much more in 15 minutes than you thought possible, but the repeated experience of successfully setting a goal and accomplishing it will create momentum until the big project, that once seemed impossible, is completed. I've used this simple productivity hack to tackle everything from tidying the bathroom to doing my taxes.
Rather than delay cleaning and organizing until the chore is massive, I opt to integrate tidying and maintenance into the movements of my day. Even though I live minimally there are places in my house that tend to get a little rough around the edges. I've implemented systems to make sure that I sort through these areas on a regular basis. For example, I place all my mail in a woven basket on our entry table and commit to reviewing and processing it once a week.
Likewise, I always make sure to knock out dishes after each meal, clear surfaces when I wrap up my work day, and put my clothes away before bed each night. My schedule rarely allows for large blocks of uninterrupted time, but I can always manage to find 15 minutes a day.
Things get out of control when you defer projects for too long, and breaking down projects is perfect for the areas that no one wants to deal with. By committing multiple, small chunks of time to a project each day, bit by bit, the big projects get smaller until they're done.
No matter what the project, the most important question is not where to start, but when to start — and the answer is now.
Need a little help thinking of possible bite-size projects?
Choose a space then try one of these for an easy 15-minute win:
Kitchen
Visit your fridge. Check for empty condiments, expiration dates, and move leftovers to the front.
Empty your freezer. Remove everything to make sure you're not forgetting something that was pushed to the bottom or back of the freezer. You might discover tonight's dinner!
Organize your cleaning supplies. Check for empty bottles, do a quick cleaning with a handheld vacuum.
Tidy up your tea or coffee station. Wipe down your coffee maker or tea pot. Sweep up crumbs.
Tackle your Tupperware. Make sure containers and lids are stacked efficiently and none have gone astray in other cabinets or drawers.
Edit your spices. Look for empties, expiration dates, or spices that haven't been used in months or, even, years.
Transform your junk drawer. Challenge yourself to only the essentials and toss clutter that's been mucking up the drawer.
Bathroom
Clear bathroom counters. Replace old toothbrushes and empty tubes of toothpaste.
Clean out medicine cabinet. Are there expired medications in there?
Refine the contents of your makeup drawers and cabinets. Old eye pencil, expired sunscreens can go.
Declutter your linen closet. Stained or unused linens can be repurposed into cleaning rags or donated.
Bedroom
Clear off your nightstand. A cluttered surface isn't relaxing to fall asleep or wake next to. Knock it down to 1 to 3 essentials.
Clean out your sock drawer. Match them up and repurpose old, hole-y socks into hand-dusters.
Check under your bed. Dust bunnies can interfere with sleep.
Personal
Lighten your purse, backpack and wallet. Thin out credit cards, unused punch-cards, and receipts.
Get the junk out of your car trunk. Drive to the donation station!
Empty out the diaper bag or stroller compartments. The dirty socks, small diapers, and food wrappers have to go.
Clean up your jewelry. If there are pieces gathering dust, maybe it's time to let them go.
A 15-minute cleaning project might not seem like it can move the needle, but don't underestimate the impact of waking up to a clean surface, a tidy drawer, or a sparkly kitchen sink. Until this seems second nature, try scheduling (yes, on the calendar) at least one block per day. Once I discovered the power and impact of the 15-minute win, I started implementing it into every aspect of my life documenting my little wins on Instagram. (You can document yours there, or by journaling your accomplishments and goals.)
I've had so many people tell me that integrating a single 15-minute block of tidying into their daily routine has made them realize it's really just a matter of focusing on tiny wins. Once the timer starts, your only job is to stay focused on your single task and see what you can accomplish. I promise you'll be shocked at what you can do.
Shira Gill is a home organizing expert and author with a less is more philosophy. Her book, MINIMALISTA, will be released fall of 2021.