This post was written by guest contributor Mickela Mallozzi, a professional dancer and travel/arts blogger for Bare Feet™. All views and opinions expressed in the piece are hers. You can usually find her teaching dance in New York City or traveling the world, learning the cultures of other lands through dance and music. Follow her @TravelBareFeet.
Latin dance has always been a great way to burn calories in and out of the gym. In the last 10 years, programs like Zumba® have brought the nightclub party into fitness clubs and living rooms, with a staggering 500,000 instructors worldwide and an endless line of workout videos. Singles and couples are trying out ballroom dance and more classic forms of salsa, merengue, and cha-cha, thanks to popular shows like ABC's Dancing With the Stars. So to get ready for the Mexican-American holiday of Cinco De Mayo this year, I decided to add a little picante to my own workout. I teach Masala Bhangra® and other classically-based techniques, and I always try to find new ways to keep in shape from cultures around the world. When I did some digging, I quickly found out most of the popular Latin dances listed above have no Mexican origins whatsoever! So I set out to find the most authentic Mexican dance just in time for the Cinco De Mayo celebrations.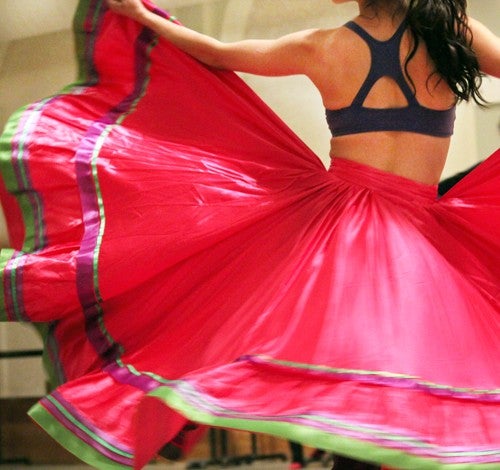 One of my favorite films as a kid was The Three Amigos starring Steve Martin, Martin Short, and Chevy Chase: This was about as much traditional Mexican culture as I knew. So I was excited to learn that Calpulli Dance, one of New York's prominent Mexican folk dance companies, offers weekly open-level adult classes in Queens. When I called the school and spoke with Juan Castano, managing director of the company, he asked whether I'd ever taken tap dance or flamenco. Luckily I've tried both, and it put me at ease knowing I would be somewhat comfortable with the movements. Apparently every culture has its own version of a toe-tapping and heel-clicking dance, and this is Mexico's.
I went to watch a Calpulli rehearsal and stepped into a beautiful antique dance studio at the New York City Center, where the dancers of the Calpulli Mexican Dance Company were practicing for their upcoming performances. I was forewarned that the pieces they were rehearsing involved a bit of contemporary dance. The men wore straw hats and clicked their heels, hunched over in the character of the traditional old man dancing in the village square. The ladies flew in on cue with pink silk skirts, spreading their arms like wings, spinning and twirling. The endless amount of fabric magically hidden in the ruffled skirts came alive once the music filled the room. After the rehearsal, the dancers were kind enough to let me try on a skirt, and I swear it must have weighed over 20 pounds.
Ready for my dance lesson, I came to class with character shoes in tow (two-inch, high-heeled dance shoes soft enough to comfortably move in). Instructor Pilar Maez taught the class of eight students in Spanish (most of the other students were immigrant parents of children in the youth program at Calpulli), starting us off barefoot with some basic dance warm-ups. Then the real fun began — the ladies put on their character shoes and the one guy in the class wore sneakers, which worked just as well. We learned the Jaliscostyle, practicing simple foot rhythms that got more complicated once the music sped up, and we repeated the rhythms with both feet. The golpeis a full foot stomp, same as in Flamenco, and then there are interchangeable toe taps, tow digs, and heel digs. This style is all about the feet, and not only does your lower body get a workout, but your brain gets a bit of a workout, too — memorizing all those intricate rhythms for your feet is half the challenge! Your glutes and upper thighs are continuously working since you are constantly in a semi-squat; meanwhile your hips feel a burn from the slight swaying side-to-side. We danced to Jarabe Ranchero, the song most people recognize from cartoon character Speedy Gonzales and his Mexican Hat Dance.
We then began a combination across the floor — even without the music playing, you could feel this was a very different style altogether. Mexican folk dance is heavily influenced by Native-American, European, Caribbean, and African cultures. This high-energy dance was the Mexican polka (di Chihuahua) from northern Mexico, with a huge influence from Germany in music and dance style. Rapid steps in the 1-2-3 rhythm of the polka catapulted us around the room, a definite cardio boost. We progressively added more and more steps, including quick twists front and back, cowboy-like heel kicks and leg swings, and side-motion sashaying, making us breathless by the end of our entire routine.
This Cinco De Mayo, as you get lost in giant sombreros, tequila shots, and guacamole, consider including some Mexican dance to help keep you in shape. Mexican folk dance is suitable for anyone (that means women and men) willing to have fun, whether you are a professional dancer like I am or a complete novice to dance classes. Changing up your workout routine on a regular basis is not only great for your body, but learning new moves also makes exercise much more enjoyable. Besides, you'll be ready to show off your new moves to the Mariachi bands playing during the festivities! Search your local listings and town arts websites for Mexican folk dance classes in your area or go to CulturalPartnerships.org for more information. ¡Feliz Cinco De Mayo!
Photo by Mickela Mallozzi