This is Week 2 of 6 in Derek Flanzraich's #absperiment series. Catch up on Week 0 (why he's doing this to begin with) and Week 1 (how it takes a village) or read ahead for Week 3 (how much traveling sucks for this), Week 4 (early conclusions), Week 5(the sacrifices), and Week 6 (it's over).
It's two weeks into my six-pack abs in six weeks #absperiment, and even the cheap roadside cart donuts look delicious. But I stayed away from $0.35 crullers these past two weeks, and I'm well on my way to achieving that elusive goal.
As proof, here's my day-by-day, meal-by-meal, workout-by-workout week: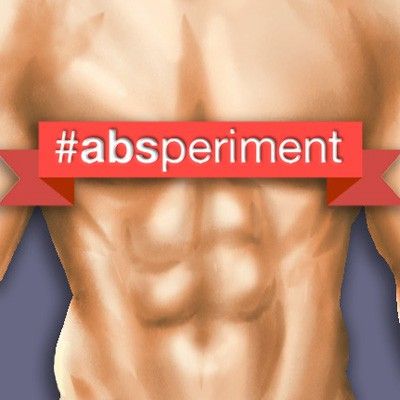 Day 8 (Monday, June 18): Hot Yoga and Low Carb, Lower Calorie Day
Day 9 (Tuesday, June 19): Resistance Training and Morning Fast & Low Carb, Low Calorie Day w/ Slip Up
Day 10 (Wednesday, June 20): Rest Day/in Boston and Low Carb, Low Calorie Day
Day 11 (Thursday, June 21): Metabolic Resistance Training and Low Carb, Low Calorie Day
Day 12 (Friday, June 22): Running Seminar & Resistance Training and Low Carb, Low Calorie Day
Day 13 (Saturday, June 23): Slow Cardio and Morning Fast & Evening Cheat Meal
Day 14 (Sunday, June 24): Long Walk around the City and Morning Fast & Low Carb, Lower Calorie Day
Week Two reminded me how much this journey is less about the big things (accidentally eating a whole Carvel mint chip ice cream cake or missing workouts, for example), and more about the small details and excuses that derail us. Here are the ones that, for me, stuck out the most.
Laundry. I'm not sure I've ever really worked out 6-7 days in a week, and my exercise clothing drawer definitely wasn't ready for it (step up yo' game, clothing drawer!). Today, for example, I have one sock left. Just one. I've done laundry twice a week and this weekend finally decided to buy some more athletic shorts so that I won't have to wear my girlfriend's yoga pants the rest of this #absperiment. I realized, though, how often dirty laundry (or just one sock) can be enough to skip a workout. When there's no external pressure to exercise (like a personal training session or, say, a public six-week challenge), we so often take the easy way out, allowing things like laundry, rain, or the ole "I've already worn all my girlfriend's yoga pants" excuse to get in the way of something we never regret doing afterwards.
Willpower. Last Tuesday, I woke up at 6 am and drove to Boston for an all-day conference, then drove back. The conference was actually amazing (very TED-like) and so was I… at least in terms of sticking to my diet. Knowing I didn't have any time to work out, I fasted in the morning, ate a super healthy lunch right before the conference began, and then said "no thanks" to the insane amount of delicious food (gelato, fruit, chocolate, pigs in a blanket, etc…) and drinks. But then, heading home at 11:30 pm for a four-hour drive, I messed up, purchased a large bag of trail mix, and ate the whole thing (roughly six kazillion servings) on the way home. Whoops. I was a little hungry and a lot tired, and felt like I needed some non-coffee energy for the long drive ahead. I justified in my head that I had been so good the rest of the day that this trail mix dangerfood couldn't be that dangerous. I've found my willpower erodes and, by the end of a long day, I'm always more likely to choose worse. Clearly a whole bag of trail mix isn't the end of the world, but it's amazing how one wrong call can cancel out a whole day of making the right ones. When the #absperiment began, I set a limit of not eating after 9 PM to specifically target this problem, but haven't been that precise. I'll do better this week and return to making that less of a suggestion than a rule.
Alcohol. I went out with some of my best friends Friday night and knew it was going to be a big test. We had a huge Mexican dinner (I had a chicken salad) with a ginormous bowl of chips and guacamole (I had one spoonful), tons of margaritas (I drank strictly water), and then far too many mixed drinks at a bar after that (I drank nothing at all). Basically, I nailed it. And had a great time, too. Would I have had a better time if I was able to down some tequila shots? Maybe. Would I have had a better time if I was able to eat as much guacamole as I could stuff down my throat? Absolutely. But I don't regret it. The scary thing to me was counting up how many calories I would have consumed if I had been drinking with my buddies. I'm a relatively big dude and most of my friends are even bigger, so I likely would have gulped somewhere between 10-15 alcoholic drinks (not kidding), blasting through many thousands of calories, tons of sugar, and then some. I'm not saying everyone has 10-15 alcoholic drinks every time they go out (and, to be fair, we definitely don't do this every weekend). But cutting out alcohol makes a big difference for most people and I have no doubt it'll make a huge one for this #absperiment.
Sense of humor. It's awkward telling people I'm working to get six-pack abs in six weeks in social situations. People often get the wrong idea or friends will tease me about "all that celery" I must be eating. They'll wave BBQ chicken wings under my nose. They'll keep offering me swigs of their cool beer on a 90-degree summer night. But it's always easier if I don't take things so seriously or personally and instead join in on the jokes. I've decided not to drink alcohol, but I definitely keep telling people my 1-gallon water jug is full of vodka. And when my girlfriend wanted a custard concrete from Shake Shack (my biggest weakness) for dessert one night, I went with her. It wasn't torture. OK, not complete torture. But instead of suffering, I just tweeted that "I'll have the gourmet gulp of air." And it was one delicious gulp.
Sleep. Despite recognizing its importance, I'm bad at getting enough sleep. There's too much to do and never enough hours in the day! And the extra workouts don't exactly help with time management (though I've found, to be fair, that there's a lot of Parkinson's Law involved here). But never before has sleep been more important. Exercising so many more days can physically take a toll. And sleep is crucial for weight loss. So this week my goal will be to get more than seven hours of sleep, ideally eight, each night. And I'll start recording it along with my nutrition and exercise. So stay tuned for those results and wish me luck — but not after 11:30 pm.
Thanks again for all the support, and keep following my exercise routine on Fitocracy, food-journaling at MyFitnessPal, intermittent whining on Twitter, and (of course) weekly recap articles on Greatist for the next four weeks.
Have my #absperiment struggles and successes so far inspired some action on your end? Would love to hear how — share your reactions in the comments below!