Melissa Hartwig Urban is a total badass, and happens to be the co-creator of the original Whole30 program. This 1-month reset eliminates sugar, dairy, and grains in favor of unprocessed foods like meat, poultry, seafood, vegetables, fruits, and natural fats.
But fear not, friends. The plan still gives you a ton of choices for yummy Whole30 meals from breakfast through dessert.
That's where these recipes come in — 11 are her own favorites, and the rest were hand-picked from our editors. You need these recipes. 'Nuff said.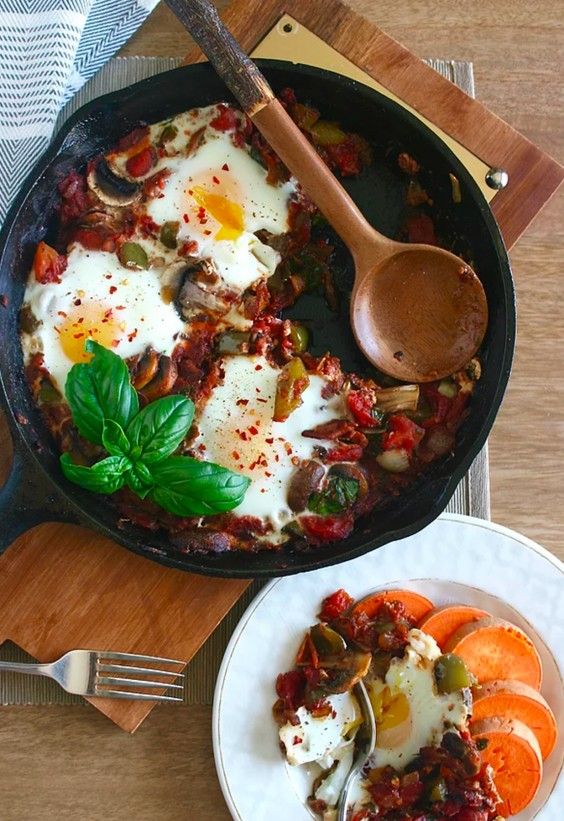 *One of Melissa's Favorites*
Lug out your cast-iron skillet and get ready for the best breakfast you've had in a long time. With sauteed veggies and jammy eggs, this dish would be just as welcomed by a crowd of brunch guests as it would be by your date.
This is a Southern favorite, and although it's usually served on a pile of warm grits, we have no problem with switching it up with crisp, fried potatoes. Almond and tapioca flours thicken the pan gravy.
Enough for the family or several days of zap-it microwave breakfasts. Shredded zucchini, tomatoes, sausage, and eggs makes this casserole good and hearty. And portable.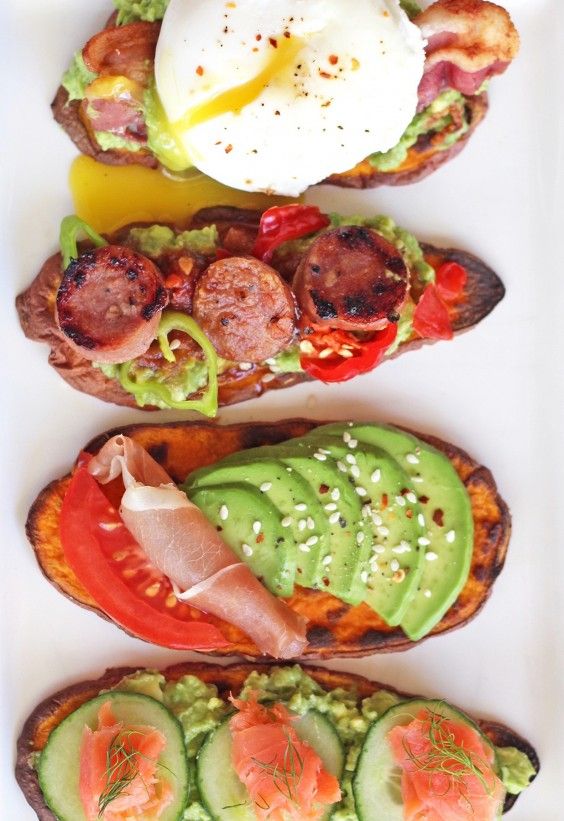 *One of Melissa's Favorites*
Sweet potato toast is the closest thing to bread on Whole30, so naturally we're big fans. As for toppings, it's all good, avocado, cucumber, lox, or deli meats.
Ready to change it up from eggs? This protein-filled pudding features chia and hemp seeds, and cashews. The toppings are all up to you and Whole30.
Spiralized sweet potatoes are the base of this indulgent skillet, loaded with Whole30-approved chicken sausage and bacon. Onions, bell peppers, and a touch of jerk seasoning make this dish sing.
*One of Melissa's Favorites*
This warming soup subdues kale into something you want to eat. Based on a classic Portuguese dish, it's loaded with flavor. Make a big batch on Sunday night, then feast on it for lunch. You'll crave it for days.
*One of Melissa's Favorites*
This 5-minute prep (!) dish is about to be your new weekday go-to lunch, whether you're doing Whole30 or not. Mix that jar of salsa verde you've had in your cabinet forever into a slow cooker with chicken and chile, then serve with cauliflower or your favorite creamy veggies.
These do-ahead, freezable, sandwiches use meat patties as the "bread." This blogger gives lots of healthy options for dressing these breadless bundles, which are delicious at breakfast or lunch.
*One of Melissa's Favorites*
Sweet potatoes to the rescue! This time, we're piling them high with enchilada fixin's: Beef, tomato, and spices galore. This smoky tater is sweet and warm and way too tasty to feel like you're missing out on tortillas.
Zucchini and carrots may sound a bit like rabbit food, but these fritters taste like anything but. They warm up beautifully, and taste even better topped with coconut cream.
Pro tip: Add smoked salmon to tie it all together. You're welcome.
*One of Melissa's Favorites*
So, what if you can't have the tortillas this month? This chicken soup blends all the classic flavors of this cheesy, tortilla-chip-y soup into a Whole30-approved lunch to look forward to for days ahead.
*One of Melissa's Favorites*
Think you can't do chicken wings on Whole30? Think again. And while you're at it, make this creamy herb version of the bar fav. Make your own ranch (or use an approved bottled version) and stock up on the napkins —you're going to need 'em.
We want to eat this now. And you'll want to eat a bowl, too, on those nights when you're looking for a little lighter fare — without lighter flavor.
It's all about the macadamia nut "cheese" crumbles in this recipe, which will fulfill all of your Parmesan needs.
*One of Melissa's Favorites*
This riff on surf-and-turf is ready in just 20 minutes — helllllo, weeknight dinner. (For what it's worth, we're into quick and easy on weekends too.)
As for sausage flavor, get creative. Chicken-apple! Smoky chorizo! Fennel and onion! It's all good.
*One of Melissa's Favorites*
Heat up your slow cooker and load it with meaty short ribs covered in a garlic-sesame marinade. Serve with steamed greens or asparagus — it's like ordering Chinese takeout, but so much better, because you made it yourself.
This golden-crusted update on the ooey-gooey family fave features cashew sauce and spaghetti squash, along with our old pantry friend canned tuna. Easy, nutritious, delicious, done. You'll still have time for Netflix later.
*One of Melissa's Favorites*
A pan full of these Thai-inspired chicken meatballs and a fork is pretty much all we need tonight. The coconut milk and ginger sauce has a little funk thanks to fish sauce. Trust, it gives the meat a richer flavor.
We're ready to pile these bad boys on a bed of greens and get munching. Pad Thai who?
*One of Melissa's Favorites*
Brisket might be our favorite cozy dinner. And when made in a slow cooker, there's no need to leave the oven on for 5 hours.
Whether you pull apart the meat alongside a salad or tender sauteed veggies tonight, hopefully you'll have enough left for tomorrow. You don't want to open up the fridge disappointed.
Just four ingredients and a food processor are all you need to whirl almonds, dates, cocoa powder, and unsweetened coconut flakes into a dough. These guys are just naturally good.
Bananas, cocoa powder, and almond butter bake up into moist and dreamy brownies that'll have you saying, "Who needs chocolate chips?" How can something be this good only have 3 ingredients? We're still not sure.
The creamy coconut-cashew filling is encased in a naturally sweet nutty crust. Blueberries add to the freshness of this off-the-charts good Whole30 dessert.
After the initial prep, you don't even need to bake it either — just let it chill for at least an hour and you're good to go.
This gives new meaning to the words fruit cake. And in a really good way. As in a cake assembled with fruit. This is so much fun. Total inspiration. We feel some insta photos coming on…
Avocado is the secret ingredient in this quick, no-cook dessert. Your food processor will do the work of blending dates, bananas, avocado, and coconut oil into a smoooooth pudding that'll keep in the fridge a couple days.
Wait a minute, who are we kidding? We want it now.
No need to wait until Valentine's Day to make these adorable, blood-red confections. They make a dramatic statement any time of the year. The beet goes on.
Take a tip from Melissa Hartwig Urban — and us. These are our favorite Whole30 recipes, and they'll keep you happy at breakfast, lunch, dinner and dessert. You might even forget you're on Whole30.
For more from Melissa and the Whole30 team, follow them on Instagram, Facebook, and Twitter.