We include products we think are useful for our readers. If you buy through links on this page, we may earn a small commission Here's our process.
Greatist only shows you brands and products that we stand behind.
Our team thoroughly researches and evaluates the recommendations we make on our site. To establish that the product manufacturers addressed safety and efficacy standards, we:
Evaluate ingredients and composition: Do they have the potential to cause harm?
Fact-check all health claims: Do they align with the current body of scientific evidence?
Assess the brand: Does it operate with integrity and adhere to industry best practices?
We do the research so you can find trusted products for your health and wellness.
Earlier in the 20th century, most people just cooked pasta or rice when it came to grains. More recently, lots of whole grains have moved into the foodie's consciousness like quinoa, farro, and wheat berries. They're nutrient-dense staples ready to be tossed into your salads, soups, and grain bowls, but what's the difference between them?
Let's dig into a big bowl of each to find out more.
Quinoa vs. farro vs. wheat berries
It's the grain showdown you didn't know you needed. All of these grains have their unique features like nutrition, texture, and taste, but also share lots in common, including their many ways of preparation.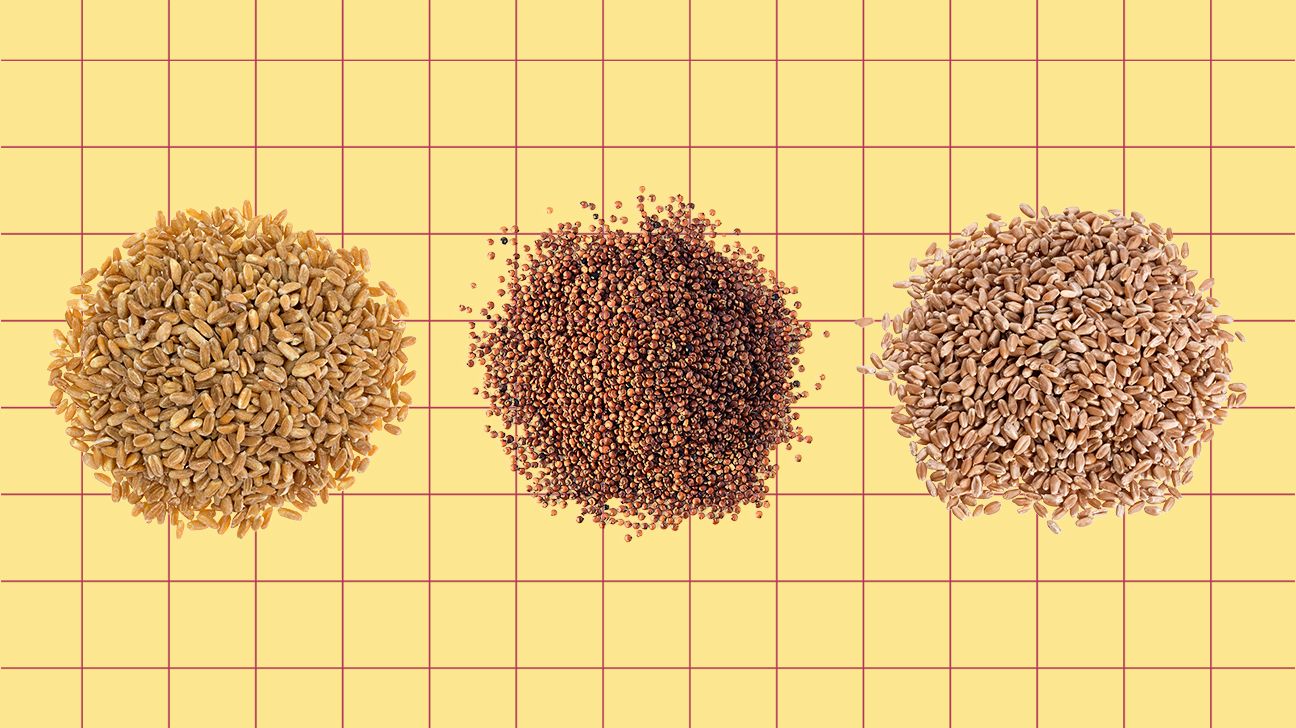 While most refer to quinoa (pronounced "keen-wah") as a grain, it's actually a seed that's likely been around for thousands of years. The quinoa seeds stem from a flowering plant (a relative of spinach!) that goes through a manufacturing process to get rid of the bitter outer coating after being harvested. The result is the quinoa that's packaged and sold in stores.
Fast facts about quinoa
Quinoa comes in a variety of colors including the more common yellow and tan, as well as orange, red, pink, purple, black, and some varieties packaged in multiple colors.
It contains all the necessary amino acids that our bodies can't make on their own. Quinoa also contains calcium, lysine, vitamin B, and iron. Plus it's gluten-free.
Quinoa's flavor is nutty, but not particularly overpowering, so it can blend into lots of dishes. Try adding it to some brown rice and oatmeal for a blend of textures and flavors.
Farro is a grain (one that's not gluten-free) that's been in use for thousands years. It's a type of hulled grain, which comes in three types: einkorn (farro piccolo), spelt (farro grande), and emmer (farro medio). The hull, or the tough outer layer of grain, is removed while the grain is processed, producing farro.
Fast facts about farro
Farro has a similar shape to rice, being oblong and either semipearled or pearled. Semipearled farro has partially removed bran but still contains some fiber, while pearled requires less cooking time and has less bran.
It has an equally tender texture as rice but has a more muted flavor when compared to quinoa's bolder flavor.
All types of farro are pretty nutrient-dense and contain varying levels of calcium, magnesium, fiber, and iron.
It's a great substitute for Arborio rice (Italian short-grain rice) in risotto that can be added as a topping to salads or simply as a side dish for roasted chicken or fish.
A wheat berry is a wheat kernel — a whole-grain form of wheat — meaning it's the original source of all wheat products (including flour) before any refinement or manufacturing occurs.
Fast facts about wheat berries
Wheat berries are almost identical to farro with a tan, reddish-brown color.
Wheat berries take longer to cook than farro and have a chewier consistency.
During the manufacturing process, the wheat kernel is left totally intact, leaving a nutrient-filled kernel that has fiber, iron, and protein.
Wheat berries can easily buddy up to other ingredients like Brussels sprouts and butternut squash and can be the star in a mixed salad.
Check the bulk items aisle in the grocery store where you can stock up on all three grains, or look in organic grocery stores where you'll find brand names like Bob's Red Mill and Ancient Harvest.
Garlic mushroom quinoa
Spice up your quinoa side dish with a ton of minced garlic, cremini mushrooms, thyme, and Parmesan cheese.
Get the garlic mushroom quinoa recipe.
Mediterranean quinoa salad
Quinoa stars in this Mediterranean-inspired salad, which is studded with black olives, roasted peppers, corn, cilantro, and feta cheese.
Snag the Mediterranean quinoa salad recipe.
Cheesy quinoa cakes with a roasted garlic and lemon aioli
While zucchini and other vegetables make great fritters, try out this version where quinoa is the main ingredient. Cooked quinoa, fontina, green onions, and a bit of flour are pounded together to make patties, which are fried in olive oil and then slathered with garlic and lemon aioli.
Try this cheesy quinoa cakes with a roasted garlic and lemon aioli recipe.
Mushroom farro risotto
Farro has a lovely nutty flavor and a delicate chew, which transforms this risotto into a hearty and rustic dish. Parmesan cheese and butter add a creamy texture, while the acidity of the white wine and umami from the wild mushrooms and thyme deliver a delicious and balanced flavor.
Add this mushroom farro risotto recipe to your meal plan.
Mediterranean kale, cannellini, and farro stew
Warm up on cold days with this winter-ready soup, packed with everything from carrots to farro to yellow onions and feta cheese.
Get the Mediterranean kale, cannellini, and farro stew recipe.
Farro cranberry and goat cheese salad
Farro is a great grain to substitute in salads, especially if you're craving something other than greens. This version is simple to make: Just cook the farro, add dried cranberries, crumbled goat cheese, a couple of spices, and the dressing.
Get ready to make this farro cranberry and goat cheese salad recipe.
Farro risotto with squash and kale
The addition of farro makes this a more nutrient-dense version of risotto — one that still manages to be ultra-creamy, thanks to roasted and then pureed butternut squash.
Snag this farro risotto with squash and kale recipe.
3-cheese and wheat berry spinach pie
This is basically a crust-free cheese pie stuffed with spinach, wheat berries, garlic, ricotta cheese, mozzarella, Pecorino Romano, eggs, and nutmeg. Yes, please.
Get the three-cheese and wheat berry spinach pie recipe.
Autumn wheat berry salad
Wheat berries are dressed up with roasted butternut squash, cranberries, slivered almonds, and orange zest, making this a super easy dish for lunch meal prep.
Work your magic with this autumn wheat berry salad recipe.
Wheat berry cinnamon porridge
Swap out oats with wheat berries for this sweet and satiating breakfast staple. Instead, just cook the wheat berries normally, then drench them with warm cinnamon and vanilla-infused milk.
Try this wheat berry cinnamon porridge recipe.
Sure, you could just grab your nearest box of pasta for dinner, but you might be missing some delicious variety in your soups, salads, and grain bowls. The next time you're at your local market, look at the grain aisles to see if you can find some wheat berries, farro, or quinoa.
Now that you know the differences, you can become a grain bowl wizard (with good fiber intake to boot!).