Whether it's served over a bowl of spaghetti, a pile of spiralized veggie noodles, or a plate of pretty much any other pasta you prefer, there's no denying the simple pleasures of a good, home-cooked red sauce. But which one should you choose for your next Italian-inspired feast?
Both marinara and pomodoro are chock-full of tomatoes, and one is just as likely to ruin your good white shirt as the other. But not all Italian sauces are created equal.
What's the difference between marinara and pomodoro sauces?
The ingredients to both sauces are remarkably similar. The differences mostly lie in the texture (smooth versus chunky), color (bright versus deep red), and cooking times (low and slow versus quick and easy).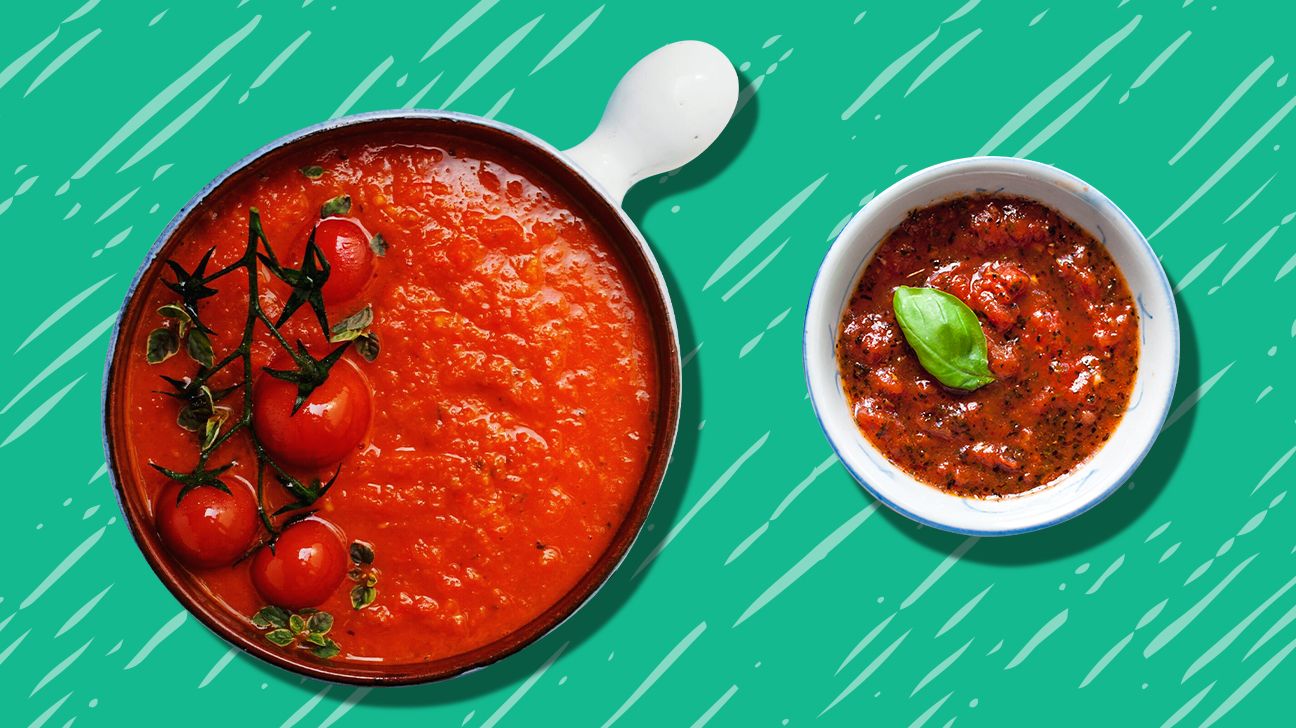 Let's start with ingredients (the base of any good sauce). While there are plenty of variations — some recipes call for oregano, stewed tomatoes, red onion, and thyme, to name a few — the essential ingredients for a good marinara or a good pomodoro include:
fresh tomatoes
olive oil
garlic
fresh basil
salt
Marinara is both runnier and chunkier
Marinara is runnier and more liquid than pomodoro, but it's also a chunkier sauce, great for pasta dishes. You cut tomatoes when making marinara, but mince them when preparing pomodoro.
Pomodoro is thick and smooth
Either one of these can also be considered a pasta sauce or spaghetti sauce, though the latter term usually implies even more ingredients, including meat and additional vegetables. And then there are more specific versions, like ragu and Bolognese sauce. Smoother, thicker pomodoro is often used as pizza sauce.
Color differences and cooking times
Since marinara simmers for a shorter period of time, it keeps more of its bright red and orange hues. Pomodoro, on the other hand, can simmer slowly for hours, resulting in a deeper, darker red (although in the interest of saving you time, many of the recipes listed only take 30 minutes!).
Now you know the difference between these two very close cousins on the red sauce family tree. But while a good sauce is the key to a great dish, it can't do all the work. The next question is: What will you serve it with?
The possibilities are endless, but we've rounded up a few of the most mouth-watering dishes we could find. And whatever you decide, think twice before putting on that white shirt.
Pasta pomodoro recipe
Say hello to your new go-to tomato sauce, perfect for any occasion. Smooth as velvet, this buttery pomodoro packs a delightful punch of basil. The beauty of this recipe is in its simplicity.
High quality ingredients (especially the canned tomatoes) will make all the difference in the world, so treat yourself to some delicious aged Parmesan cheese, cans of real imported whole San Marzano tomatoes, and a ton of fresh basil leaves. You're worth it.
Snag this pasta pomodoro recipe.
Homemade marinara
A classic take on a classic sauce, this flavorful marinara will brighten any dinner table. Gluten-free and vegan-friendly, you can enjoy this marinara over spaghetti, linguine, baked ziti, sliced zucchini, and much more. It's made with stewed tomatoes, but if you have an abundance of heirloom tomatoes, you can make this fresh tomato marinara recipe instead.
Work this homemade marinara recipe into your meal prep.
Italian sausage-stuffed shells
Turn your marinara into meat sauce by adding Italian sausage and tossing it with spaghetti. Or get a little more ambitious and stuff a blend of sausage, creamy ricotta and mozzarella cheeses, and spinach into jumbo pasta shells, then smother them with the smooth red sauce of your dreams.
Try this Italian sausage-stuffed shells recipe.
Lasagna rolls with marinara
For a lighter, meat-free option, make lasagna roll-ups with fluffy ricotta and hearty marinara (which, honestly, can be jarred if it's a good brand). It's a crowd pleaser, and even kids will eat their spinach this way.
Add this lasagna rolls recipe to your lineup.
Homemade pizza
Use your thick, rich, concentrated pomodoro sauce to slather any homemade pizza crust and top it however you please: with mini meatballs, red peppers, onions, sliced olives, pepperoni, burrata, and so on.
Here are some pro tips for homemade pizza.
When it comes to cooking up tomatoes into a rich and savory sauce, you really can't go wrong with either pomodoro or marinara. It will mostly depend on how you want to use them.
If you're making homemade pizza, a rich and smooth pomodoro is your BFF. But if you want some texture to add depth to a pasta dish (or even rework it into a whole new meal), a chunkier marinara may be in order.