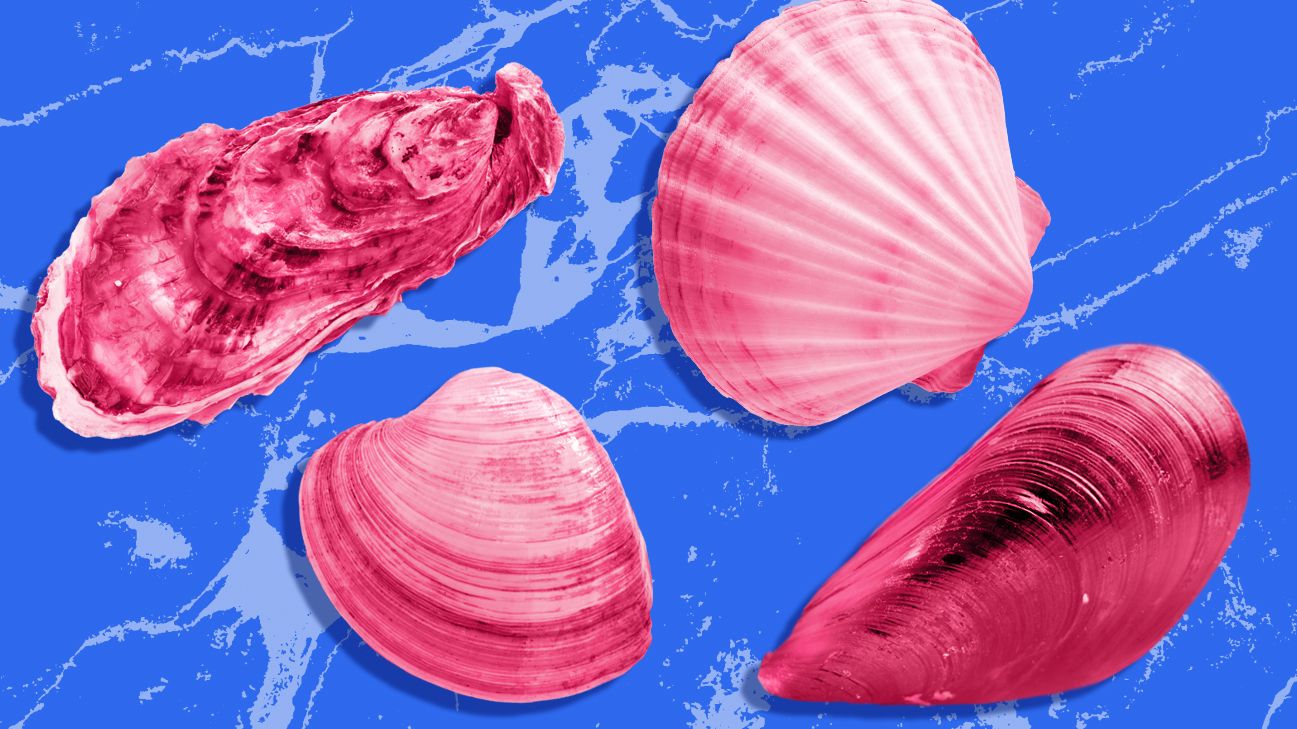 If you're new to eating seafood, you might be wondering about the differences between clams, mussels, oysters, and scallops. Worry not, we've got the skinny on all of these satisfying shellfish.
Scallops are a great pick to start off with because they're delicious when seared and have a similar texture to fish when cooked. Scallops are often sold frozen, but if you're lucky you can find fresh scallops (in which case, serving them raw or lightly cooked in citrus acid is highly recommended; check out this scallop ceviche recipe for inspiration). Scallops pair well with bacon, chorizo, cured meats, and have a slightly sweet and mild flavor. Try grilling scallops and other shellfish too.
Clams are found in freshwater and are also sometimes eaten raw, but are also great candidates for grilling, frying and breading. Clams are a good choice if you're taking baby steps with your foray into the mollusk family—a creamy clam chowder is a solid pick when you're still a beginner. Here's how to clean your clams:
Eventually, you may work your way up to geoduck clams.
Mussels are also shellfish staples: these bivalves cook quickly and absorb the flavor of the broth, sauce, or mignonette that you prepare them with. When looking for a good mussel, make sure the shells are tightly closed and that all of them are still alive; remove the "beard" on the side of the shell while cleaning them and discard any mussels that open. This basic steamed mussel recipe includes instructions for cleaning them too.
Oysters are the saltwater mollusks known for producing pearls. Oysters are not a novice choice—they're expert level shellfish that require total commitment. Oyster lovers declare there's nothing like the briny fresh taste of a fresh oyster but to amateurs, the texture can be challenging. Oysters are farmed in bays and estuaries, and as writer Jonathan Swift once put it: "He was a bold man that first ate an oyster." Here's how to get into one (literally):
Oysters can be prepared in almost any manner possible, but should be eaten alive or consumed quickly after cooking. Not unlike wine, oysters are often described as gaining their flavor from their environment.
Ready to start experimenting with shellfish? Take the plunge and check out these seven recipes for clams, mussels, oysters, and scallops:
A rich vodka sauce serves a great base for this pasta and scallops dish. Season with some lemon and herbs for a perfect meal. Get our Seared Scallops with Lemon and Vodka recipe.
The diced bacon cooks quickly but save the fat for a flavorful base in which to sear the scallops. Wait until they release from the pan without sticking, searing until they're golden brown, about 3-4 minutes. Get our Seared Scallops with Fava Bean Sauté recipe.
Prosecco adds a lovely fizz to the champagne vinegar mignonette with finely chopped shallots, freshly ground black pepper, salt, and the most important ingredient: freshly shucked oysters. Get our Oysters with Prosecco Mignonette recipe.
A little surf-and-turf twist on pasta, start with three dozen manila or littleneck clams and the best quality Mexican chorizo you can find. Garnish with finely chopped fresh Italian parsley. Get our Linguine with Clams and Chorizo recipe.
Larger clams are perfect for stuffing—steam them, chop the meat, and mix it with delicious things like spicy sausage, onions, and breadcrumbs, then spoon the mixture back into the shells and bake until golden brown. Get the Rhode Island Stuffed Clam recipe.
Steamed mussels are topped with freshly made breadcrumbs (use white bread or half of a leftover baguette) and garlic with freshly chopped parsley. Get our Mussels with Garlic and Breadcrumbs recipe.
Be sure to thoroughly soak the clams in cold water before stir-frying. Scallions, red pepper flakes, fresh ginger, garlic, shallots, soy sauce, and Chinese bean sauce make for a zesty stir-fry that is perfect served over rice. Get our Stir-Fried Clams with Spicy Bean Sauce recipe.
A simple grain salad made with farro and served with baby arugula is the perfect base for a perfectly seared scallop. Make sure not to turn the heat up too high in the first few minutes. Get our Seared Scallops with Lemony Farro and Arugula Salad recipe.
A Belgian-style ale is a perfectly paired ingredient to offset the brininess of the mussels, along with some grated lemon zest. Get our Mussels with Fennel, Lemon, and Belgian Ale recipe.