We know the answer is obvious to most of you, but nevertheless, a lot of people ask this question. The difference between avocado and guacamole is: the first item is a fruit, and the second item is a dip using that fruit. Even if you already knew that, we've got more intel that you might not know, from different types of avocado and how to ripen them, to all the great ways you can use avocado and guacamole (way beyond avocado toast).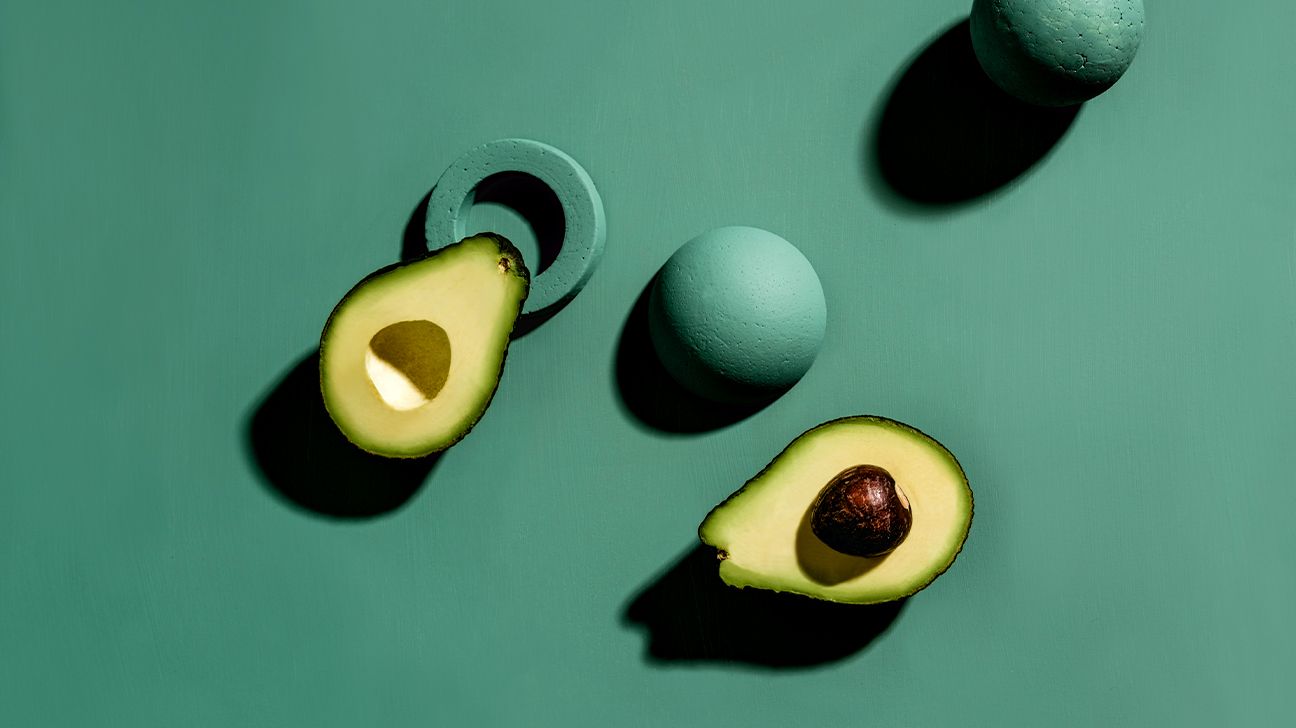 An avocado is botanically a large berry with a single seed (so, yes, a fruit and not a vegetable). Its rise in popularity the last few years stems from other trends: California cuisine, health and wellness, good fats, and Mexican cuisine. While there are many varieties—well over 500 types of avocados, in fact—there are two main categories of avocado that you'll likely see in a store: Hass avocados and Florida avocados.
Hass avocados from California comprise most of the avocados in the United States. Their rich, nutty flavor and buttery, high-fat flesh, make it a classic West Coast variety and a favorite worldwide. The leathery, pebbled skin turns from green toward black as it ripens. These avocados are great for almost all culinary purposes, but especially mashed up in guacamole (and on toast), and used in baking. The naturally creamy texture also makes them great for enriching vegan versions of pudding, mousse, and smoothies; you can even turn them into creamy, dairy-free salad dressing and lush cocktails.
Florida-grown avocados (Hall, Lulu, and Choquette), are marketed as the less oily, lower-fat version, which one company calls "SlimCados." The fruit tastes milder and is much larger and heavier than a Hass. The skin is smooth and greener too, staying green when ripe. The low-fat, firmer flesh means the Florida avocado can maintain its shape for slicing and dicing in salads and salsas.
When it comes to guacamole, there are just as many ways to make this avocado-based dip as there are to craft a turkey sandwich. Purists will cry you don't need anything more than avocado, salt, and maybe a little squirt of lime juice. Besides contributing an acidic brightness to balance out the rich buttery avocado, fresh lime juice (or lemon juice) can keep the avocado flesh from browning—which it does, fast. Incase you were wondering, here's how packaged guacamole stays green.
There are lots of ways to mash your avocado into guacamole, from simply using a fork to squashing them with a potato masher—but for extra style and authenticity points, try a molcajete. It's like a Mexican mortar and pestle made from volcanic rock. Used by the Aztecs for grinding corn flour, it's also great for crushing avocados, and you can serve the guac right in the molcajete too.
People who like to play with the classic guacamole recipe (ahem) inject all sorts of extra ingredients, such as jalapeños, onions, garlic, tomatoes, and cilantro. Adding peas has been a contentious twist, however—if you can't even, better scroll right past the photo just below. Be warned.
The most important factor in all guacamole is the fruit's ripeness. You want the avocado to be perfectly ripe, which means basically black on the outside and giving just a bit when you grasp it. If the avocado is too hard, you won't get the same buttery, creamy flavor and texture. And if it's not ripe now, there's not much you can do about it except wait.
Recipe: Toasted Almond and Apricot Guacamole recipe
Serve your guacamole with tortilla chips, of course, but to get in even more vitamins and minerals, try scooping it up with veggies; raw snap peas are great, as are carrot sticks and anything else crisp or crunchy. Guac is a great spread or topping too, and not just for toast; it adds a deliciously fatty, silky texture to burgers, sandwiches filled with turkey or chicken, and all sorts of tacos, burritos, and other Tex-Mex favorites.
There are lots of ways we love to eat guac and/or avocado, but here are some particular favorites.
You can use a slightly less ripe avocado with this recipe because you want the cubes to hold their shape. If you can't grill the shrimp because it's too wintry outside or you don't have a grill, just sauté the spiced shrimp and follow the rest of the recipe. No problem. This is a fresh way to have tacos, filled with spice and creaminess. Get our Grilled Shrimp Tacos with Avocado-Corn Salsa recipe.
Use perfectly ripe and soft avocado any time you're going to mash it, like in guacamole. This recipe doesn't tweak the traditional dip too much, adding Roma tomatoes, scallions, and serrano chiles. You'll have about six cups when all's said and done—enough for a party. Get our Easy Guacamole recipe.
This is not your typical avocado-laden Cobb salad. There's a pistachio-caper vinaigrette, first off. Then there are sun-dried tomatoes, fresh mint, and fennel. Of course, you've got the avocado in there too. Get our Fennel, Avocado, and Mint Salad recipe.
Definitely less traditional, this rendition calls for bacon, white onion, tomato, cilantro, and chipotles in adobo sauce. Use Hass avocados. Get our Bacon and Tomato Guacamole recipe.
With the dark-meat ground turkey and rich guacamole, this is anything but a bland, dry healthy substitute for a beef burger. Try it. You'll see. Get our Guacamole Turkey Burgers recipe.