Think about it: That tablespoon of maple syrup in your salad dressing, the honey in your Asian-inspired stir-fry sauce, the generous drizzle of ketchup on your burger. Something's starting to add up.
But meals can be just as tasty without the slightest hint of added sweetener. To prove it, we've rounded up 20 recipes for no-sugar-added meals.
Instead of added sugar, these recipes rely on the natural sweetness of fruits and vegetables. Think of how onions transform from sharp to sweet as they sauté or how tomato has both acidic and sweet flavors.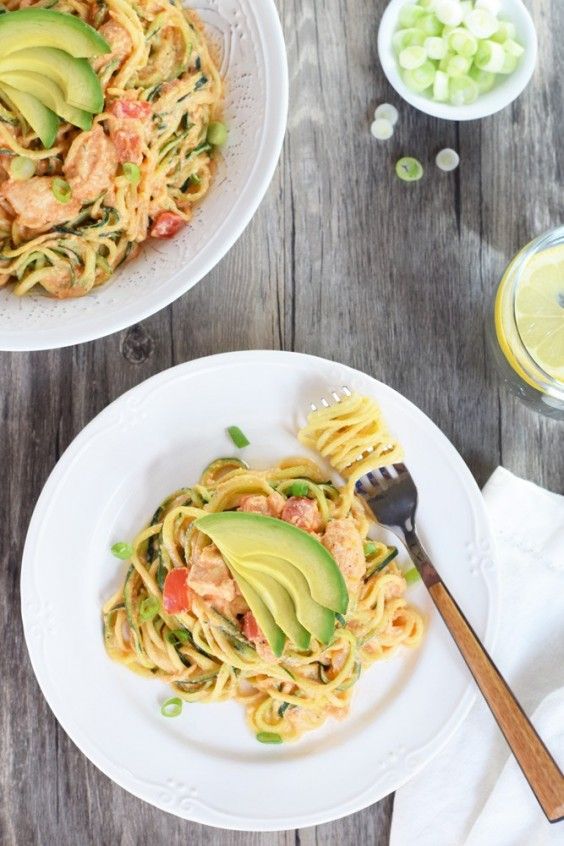 Instead of bottled ranch dressing which may contain hidden sweeteners, this recipe's secret weapon is a rich, creamy cashew sauce that coats the zoodles (that is, zucchini noodles).
If you use coconut oil instead of ghee, the dish also becomes dairy-free.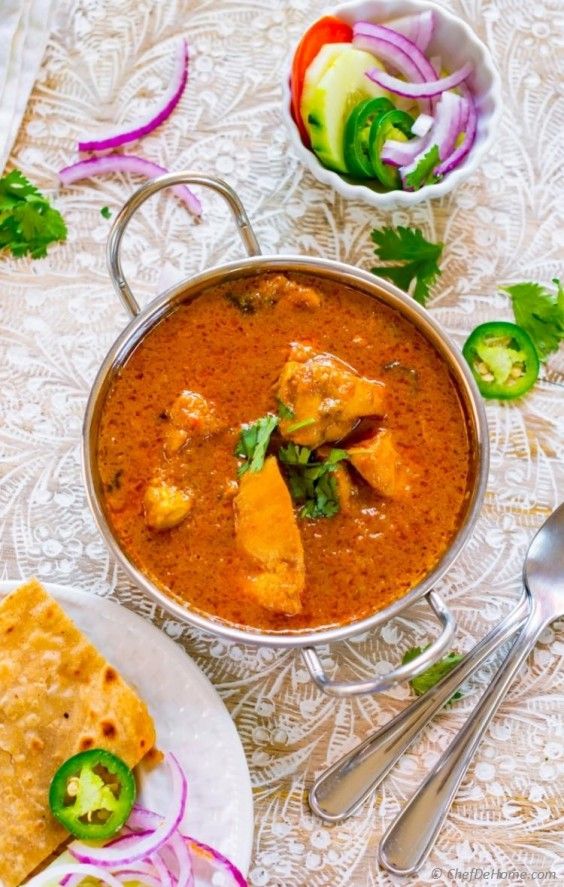 Greek yogurt rounds out the flavors of this spice-filled curry. Red onions and tomato purée add natural sweetness that counters the heat from the green chile paste.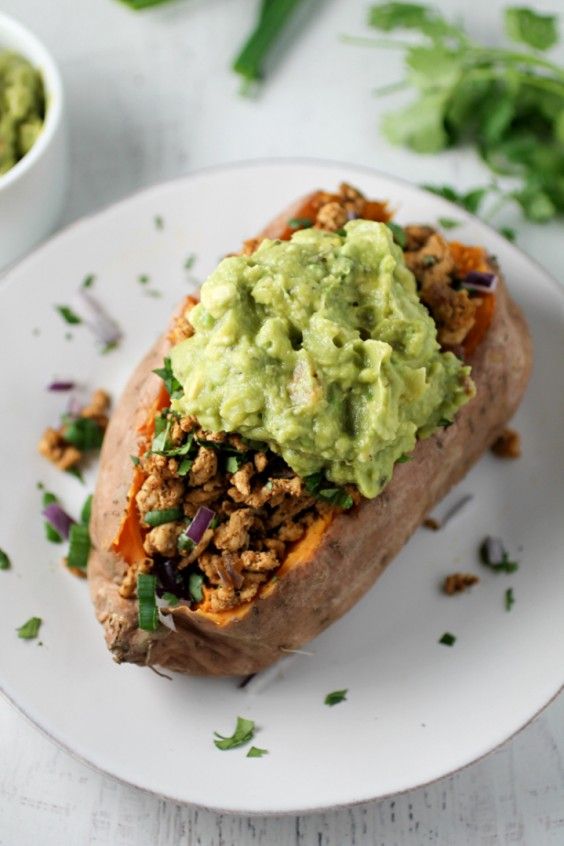 A fluffy, naturally sweet baked tuber becomes a vehicle for turkey cooked in homemade taco seasoning. Don't even try picking up this bad boy. Fork and knife required.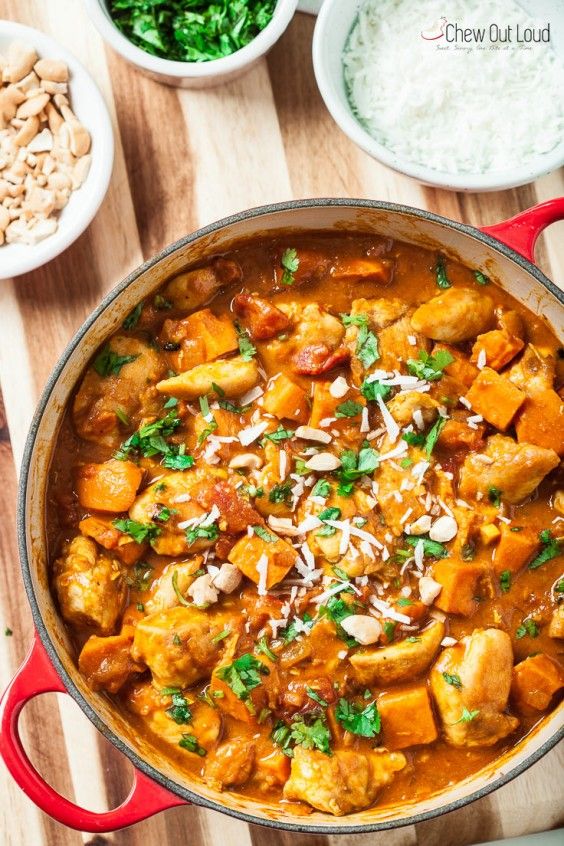 There's a lot that's sweet about this recipe. As in potatoes, coconut milk, and just a quarter cup of freshly squeezed orange juice. Healthy eating can still be hearty.
We also like that this recipe calls for chicken thighs rather than the ubiquitous breasts. They really have more flavor.
Steak salad is a go-to order at a restaurant. And you know what? It's just as easy to make at home — at a vastly reduced cost (look for markdowns) for higher quality.
Here, a lime-sesame-garlic marinade reveals hidden sweetness when the steak hits the hot pan.
Asian food is delicious, with its sweet-savory, sour, and umami flavors. Chinese American takeout often caters to the sweet palate many of us have acquired through eating processed foods.
In this 10-minute recipe, the natural sweetness of pork is amped up by cooking it in a hot pan. Peanut butter, rice vinegar, soy sauce, and sesame oil create an easy, flavorful sauce that makes the broccoli taste great.
Sweeteners can lurk in canned soup. Ditch the store-bought stuff and make this one-pot beef and macaroni soup in less than 30 minutes. It uses real food: carrots, celery, crushed tomatoes, and whole wheat pasta.
This is total comfort food that tastes even better the next day, once the flavors have melded.
Know what's in your seasoning when you re-create this retro favorite without the box. It's just as quick and easy to make as the store-bought stuff.
The feeling of sweet satiation from this bowl of goodness comes from creamy carbs, onions, and sweet peas. Bacon adds rich, meaty, and salty flavors that contrast beautifully with the subtle sweetness of the rice.
This dish is the ultimate comfort food, and it comes together in just 35 minutes — pretty much record time for a risotto.
With an avocado-parsley pesto slathered over salmon, this recipe is all about the "s" word — that's superfoods, not sugar. Pair the fish with asparagus, another vegetable whose subtle sweetness comes out during cooking.
Get protein from the tuna and healthy fats from the avocado in these baked patties. And here's a tip: Swap the tuna for canned salmon. Serve them on a salad or with roasted veggies.
Pineapple is a fantastic way to give this dish natural tangy sweetness. These tostadas, piled high with spiced salmon and juicy pineapple salsa, are just awesomely good.
This blogger makes this spicy rice dish with sustainably caught shrimp. Spicy Cajun seasonings contrast with the natural sweetness of the shrimp, brightened with a squirt of lemon juice.
This dish packs in so many flavors, you'll feel like you're eating in a beachside restaurant. Pan-sear halibut fillets and serve them topped with a sweet and spicy fruit salsa. It's refreshing and satisfying at the same time.
Love this presentation! That's how to twirl your whole wheat pasta. Roasting brings out the sugars in asparagus and artichoke hearts.
The blogger uses store-bought cubes of garlic, herbs, and ginger to dress the pasta. If you can't find them, just chop up your own garlic, ginger, and herbs.
Palm sugar is almost always included in an authentic pad thai — but not in this vegetarian version, where zoodles take the place of rice noodles. Strips of fresh red cabbage and bell pepper join the bowl, and everything's tossed in a yummy peanut sauce.
Give fried rice a superfood upgrade by using quinoa instead. The fluffy kernels are chewy enough to hold up to the veggies and do a great job of absorbing the soy and hot sauce (make sure it's a sugar-free hot sauce, like Frank's Red Hot or Cholula).
Who doesn't love starting an Indian meal with a plate of crispy, deep-fried samosas? Did you know you can create the same delicious flavors of comforting potatoes and peas and spicy garam masala at home? Just nix the deep-fried dough part.
Stay with us. Serve the filling with papadum crackers on the side. The spicy cilantro sauce is an essential part of the meal.
Like tofu, tempeh soaks up the flavors of marinades. Here, the flavors are lime juice, garlic, and classic Mexican spices like cumin and chili powder. Quickly cook it with onions and red bell peppers for a fantastic weeknight fajita dinner.
Swapping lentils for meat in this childhood favorite is a common vegetarian fix, but lots of recipes use brown sugar to sweeten the tomato sauce. This one nixes the sweetness, letting the tomato sauce and spices speak for themselves.
Adding sugar, maple syrup, or honey to entrée recipes seems like a harmless luxury, but it can add up. The good news is that you can still eat deliciously with no sugar added.
Many vegetables have natural sugars that intensify during cooking. These recipes will help you find the naturally sweet side of a healthy dinner.