Is there any meal more quintessentially summer than a clambake? Whether you are digging a pit in the sand and dropping in a bushel along with corn and potatoes or boiling the bounty in an oversized stockpot in your kitchen, you might be confused as to whether you should buy steamer clams or littleneck clams. Here is the difference between these two varieties that both taste oh-so-amazing served with melted butter.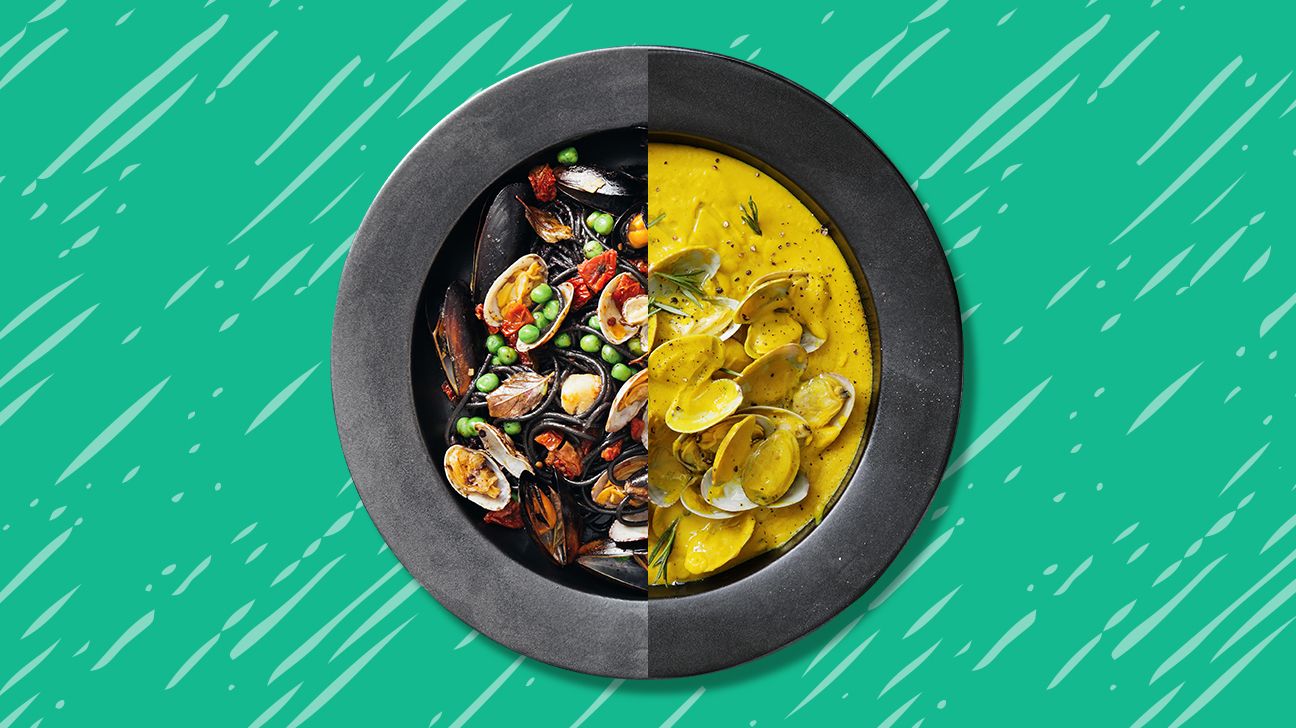 Also called soft-shell, Ipswich, or Essex clams, the species Mya arenaria is mainly found in New England, where clams live buried in the sediment on tidal flats. Their shells are very thin and easily broken (hence the name "soft-shell") and they can be served a variety of ways including in chowder, fried, or steamed. Steamers have a piece of "neck skin" that can hold some sand, so they must be cleaned well and the piece of skin removed before eating.
"I was told by New Englanders to soak clams in fresh water with a bit of cornmeal to help purge them of sand," says Harley Peet, executive chef for Bluepoint Hospitality Group, which operates several boutique restaurants on Maryland's Eastern Shore. "But running them under cold water for several minutes is also effective."
If you serve them steamed you can also clean them right before eating by dipping them in the broth in which they were cooked before dunking them in butter.
The term "littleneck" actually refers to the size of the clams, not to a specific variety. The actual species, Mercenaria mercenaria, is a hard-shell mollusk native to the eastern coasts of North and Central America. In fish markets, the hard clam is sold in various sizes starting with countnecks or peanuts, followed by topnecks, cherrystones, and quahogs (also called chowder clams).
Littlenecks fall between countnecks and topnecks and are the perfect size for a variety of preparation methods. "Littlenecks are small and tender—shuck and eat them raw or steam and pair with a great bowl of linguine," Peet says. If you order a dozen steamed clams in a restaurant, most likely they will be littlenecks. And if you happen upon mahogany clams at the store, they can stand-in for littlenecks, he says. Recognizable by their namesake shells that resemble mahogany wood, they are often very wallet-friendly.
While the above holds true on the east coast, out west, you'll find Pacific littleneck clams, which are actually a different species (Leukoma staminea, similar to Manila clams, which they often grow right alongside). Further confusing things, Pacific littlenecks are sometimes called steamer clams on the west coast; they take longer to cook than Mercenaria mercenaria, but otherwise can be prepared in the same ways.
Also abundant on the west coast, Manila clams (Venerupis philippinarum) are often called Japanese littlenecks. Manila clams are small and sweet and can be steamed, sauteed, or added to soup, or eaten on the half shell.
Ready to sink your teeth into some succulent shellfish?
In this fragrant dish, littlenecks are sauteed in clam juice, Chinese bean sauce, ginger, garlic, and soy sauce. Serve it as a first course or add steamed rice and treat it as a main. Get our Stir-Fried Clams with Spicy Bean Sauce recipe.
The classic thick and chunky stew feeds twelve hungry seafood lovers in this Insta-worthy dinner board. A large bowl of steaming bacon- and parsley-flecked chowder is surrounded by baguette slices, oyster and butter crackers, and individual baby shrimp cocktails. Get the Clam Chowder Dinner Board recipe.
Beer adds more flavor than water ever could in these simple steamed clams with garlic, lemon, parsley, and black pepper. Select an easy-drinking ale, a hoppy IPA, or a Hefeweizen for the clams to soak in, and serve cold bottles or cans of the same brew alongside. Get the Beer Steamed Clams recipe.
Some recipes call for cutting larger species of clams into strips before frying them. These start with perfectly-sized littlenecks, which are meaty without being chewy, and fried in a combination of buttermilk, cayenne pepper and corn meal. Eat them with just a squirt of lemon juice or dip them into homemade tartar sauce, malt vinegar, ketchup, remoulade, or hot sauce. Get the New England Style Fried Clams recipe.
A staple at seafood and fancy restaurants for decades, you don't come across this appetizer too often on menus these days. But its combination of clams, bacon, breadcrumbs, garlic, parmesan cheese, and butter broiled until bubbling and brown is as irresistible as ever. For the traditional presentation, serve them over rock salt. Get the Clams Casino recipe.
Raw oysters might get all the attention, but freshly-shucked littlenecks are less expected and just as delicious. These are topped with a mignonette made with chopped apple, shallot, ginger, mirin, rice vinegar, and red pepper. Get the Clams on the Half Shell with Apple Ginger Mignonette recipe.
Why melt plain butter when you mix it with thyme, parsley, Old Bay Seasoning, and lemon zest? These steamers are served with some of the compound butter alongside, more of it spread on toasted garlic bread and little bowls of clam broth to clean off any remaining sand from the steamer necks. Get the Steamers with Compound Butter and Garlic Toast recipe.
This version eschews the typical linguine for bucatini, adds corn and wild mushrooms, and tops it all with grated Manchego cheese for a substantial entree that straddles the seasons. Get the Buttery Mushroom and Clam Pasta recipe.
Manila clams still manage to stand out among an ocean of other seafood and sausage in this classic Spanish rice dish, done on the grill for a perfect summer feast. Get our Grilled Paella recipe.