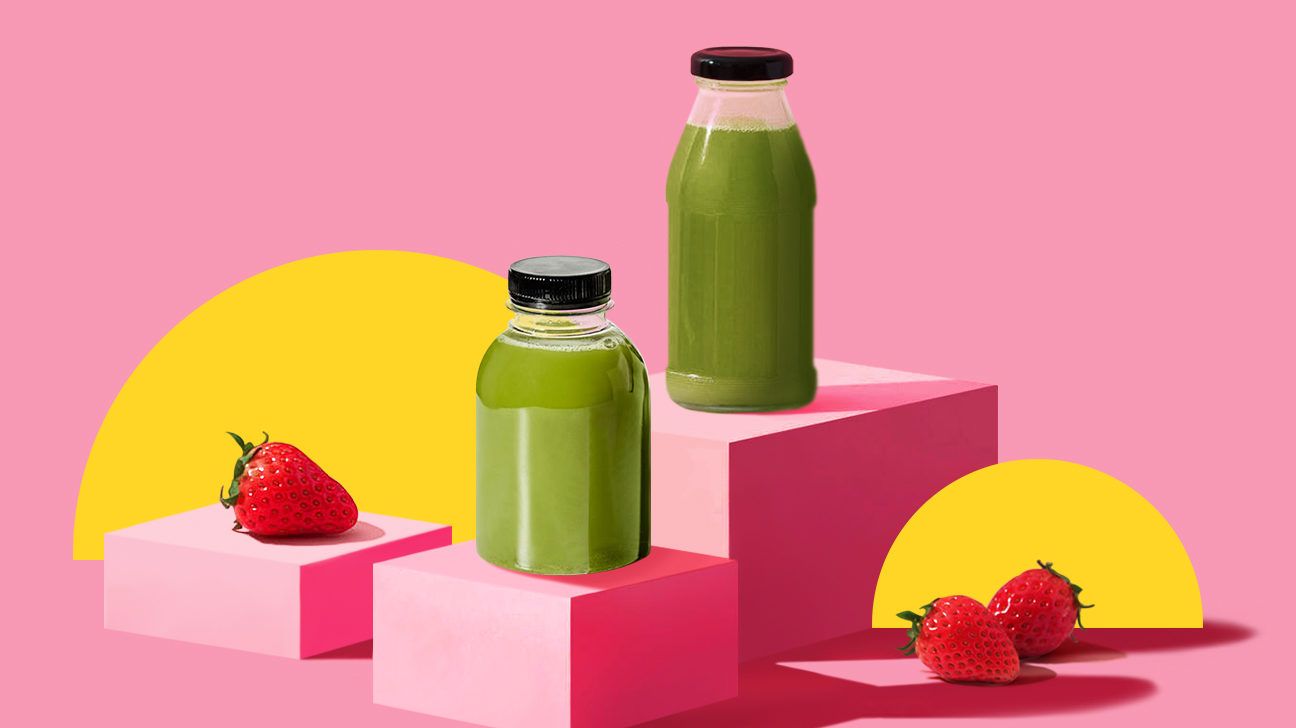 Spinach is the ideal choice for a green smoothie thanks to its neutral taste and ability to blend up without leaving little chunks in your drink. (We love you, kale, but why you gotta be like that?)
Since spinach is rich in vitamins and antioxidants, it's almost a shame not to toss a handful into every smoothie you make.
To prove our point, simply see below. These slurp-worthy smoothies feature real, whole foods (read: pretty much no protein powders or "superfood" powders) that, when whirled together in a blender, make a perfect meal or snack. Time to get your green on!
Spinach looks pretty in pink when blended with bananas and cherries. But there are so many reasons to make this drink beyond its fun bubblegum hue.
Cherries pack antioxidants and vitamin C and have properties that may even fend off Alzheimer's disease.McCune LM, et al. (2011). Cherries and health: A review. DOI: 10.1080/10408390903001719
How's that for a healthy start to your day?
We're skeptical that this will magically make your complexion rival a cover model's, but with ingredients as healthy and delish as avocado, mango, pineapple, and spinach, it's too good to ignore. And it never hurts to get some vitamin C, carotenoids, and healthy fats.
Two tablespoons of flaxseeds in this bright green drink will give you omega-3s plus lignans for cardiovascular health.Rajaram S. (2014). Health benefits of plant-derived a-linoleic acid. DOI: 10.3945/ajcn.113.071514 Blend it with clementines, bananas, spinach, and pineapple, and all you'll taste is sweet satisfaction.
Packed with the hydrating electrolytes of coconut water and the creaminess of coconut milk, this is like a virgin version of a lime in de coconut. Sip poolside for refreshment without a headache.
This chocolate, strawberry, and banana smoothie has not one but two green veggies hiding in its creamy goodness. Broccoli — with its anti-inflammatory flavonol kaempferol — teams up with spinach.Devi KP, et al. (2015). Kaempferol and inflammation: From chemistry to medicine. DOI: 10.1016/j.phrs.2015.05.002 While this may not be the prettiest smoothie, it'll win you over with a single sip.
Peaches provide juicy sweetness to this smoothie without adding refined sugars, but what's even sweeter is that whether you're using canned, frozen, or fresh, peaches come with polyphenols that have been shown to fight cancer cells.Noratto G, et al. (2009). Identifying peach and plum polyphenols with chemopreventive potential against estrogen-independent breast cancer cells. DOI: 10.1021/jf900259m
With banana in the mix, too, the fruit easily overpowers the spinach — so feel free to throw in an extra-large handful of the greens!
Two big handfuls of spinach may make this smoothie look like green juice, but the unique trio of mango, banana, and cashews makes it taste like a milkshake.
With the filling fiber of the fruit plus the satisfying fats from the nuts, this breakfast is less likely to lead to the sugar crash you'd get from a super-sweet coffee drink and more likely to give you lasting energy.
If oats for breakfast sound too boring, you might prefer pureeing them in this more creative smoothie. With whole grains for metabolic and anti-inflammatory benefitsBelobrajdic DP, et al. (2013). The potential role of phytochemicals in wholegrain cereals for the prevention of type-2 diabetes. DOI: 10.1186/1475-2891-12-62 and blueberries boasting one of the highest antioxidant capacities of all berries, you've got a powerful combo!Huang W, et al. (2012). Survey of antioxidant capacity and phenolic composition of blueberry, blackberry, and strawberry in Nanjing. DOI: 10.1631/jzus.B1100137
This pastel blend gets its three shades of green from vitamin C-rich honeydew, lutein- and zeaxanthin-boasting spinach (good for eye health), and kale, which is a surprising source of calcium. A few generous dollops of Greek yogurt add about 11 grams of protein.
Pulsed into a frosty frenzy, it's an exceptional way to begin your morning or end a workout sesh.
If you aren't too familiar with papaya, this smoothie is the perfect introduction. It gives the usual spinach and banana duo a tropical twist and a delicately sweet depth of flavor. (Plus, there's some evidence that this tropical fruit may be good for digestion.)Muss C, et al. (2013). Papaya preparation (Caricol®) in digestive disorders. https://www.ncbi.nlm.nih.gov/pubmed/23524622
Be sure to buy a papaya with orange-yellow skin — if it's green, it's not ripe yet.
OJ and yogurt make this smoothie a no-brainer for breakfast. And thanks to all the blackberries taking center stage, there's no detecting the full cup of spinach behind that deep purple exterior! Throw in pieces of anti-inflammatory ginger to add a kick that offsets the drink's sweetness.Mashhadi N, et al. (2013). Anti-oxidative and anti-inflammatory effects of ginger in health and physical activity: A review of current evidence. https://www.ncbi.nlm.nih.gov/pmc/articles/PMC3665023/
This smoothie looks like a Slurpee, but its purple hue isn't coming from any artificial dyes — it's the result of two whopping cups of mixed berries, plus spinach and coconut water.
A tablespoon of flaxseeds adds omega-3s and compounds that may lower triglycerides.Edel AL, et al. (2015). Dietary flaxseed independently lowers circulating cholesterol and lowers it beyond the effects of cholesterol-lowering medications alone in patients with peripheral artery disease. DOI: 10.3945/jn.114.204594 You won't find that at any 7-Eleven!
Any recipe with the word "paradise" in the title has us sold. Thankfully, this one comes with bonus points for health along with its heavenly taste.
Tangy pineapple provides benefits for your heart and for fighting cancer,Pavan R, et al. (2012). Properties and therapeutic application of bromelain: A review. DOI: 10.1155/2012/976203 and avocado boosts vitamin B-6, which your body needs to metabolize protein. With all that good stuff going on in here, sipping is pure bliss.
This smoothie gets its flavor, its creaminess, and a bonus boost of protein from vanilla Greek yogurt. Strawberries and raspberries contribute an unmistakable tang as well as cardiovascular benefits, and a full cup of spinach hides inside.Basu A, et al. (2010). Berries: Emerging impact on cardiovascular health. DOI: 10.1111/j.1753-4887.2010.00273.x
Seven green fruits and veggies turn this drink a gorgeous shade of jade. Don't forget about the antioxidants in apples and kiwi and the fiber from the spinach and pear. A smoothie this good makes it very easy to be green.
No need for a juicer! Using pear and almond milk helps the leafy greens process in a blender so there's no bits in your sips. Pecans add filling, healthy fats, and the pear makes it surprisingly smooth.
Ready for a trip to the topics? A blend of mango and coconut brings island flavor to this refreshing drink. Greek yogurt provides creaminess, and a sprinkling of chia seeds adds crunch on top. Stick a mini umbrella in this drink, and it'll brighten up your mood on the cloudiest day.
We love how the buttery smoothness of an entire avocado makes this concoction so unbelievably velvety. Plus, an avocado a day might keep the doctor away — or at least lower your cholesterol.Wang L, et al. (2015). Effect of a moderate fat diet with and without avocados on lipoprotein particle number, size and subclasses in overweight and obese adults: A randomized, controlled trial. DOI: 10.1161/JAHA.114.001355
Pineapple provides a fruity twist to "hide" the spinach, and chia seeds thicken things up.
Its parrot-green looks may give away the spinach, but all you'll taste is the sweetness of the mango, the slight spice from the ginger, and the freshness of the antioxidant-packed mint.
Blended with the island flair of coconut milk, this is the perfect mid-afternoon pick-me-up. And it has quite possibly the funniest name for a drink.
Beets give this smoothie its natural good looks, but this drink is more than just pretty. The veggie's natural sugars and cancer-fighting betalains make it a smart nutritional choice too.Guadarrama-Flores B, et al. (2015). Production of dihydroxylated betalains and dopamine in cell suspension cultures of Celosia argentea var. plumosa. DOI: 10.1021/acs.jafc.5b00065
With fruit like strawberries and orange and a few fistfuls of spinach, you'll feel nothing short of awesome after gulping one of these down.
The name of this smoothie is pretty much the entire recipe. With no coconut water or yogurt in the mix, the fruits and veggies shine through with the help of some water to get them liquefied.
Enjoy the unique tartness — as well as the heart-health benefits — of the grapes alongside the sweetness of the apples.Dohadwala MM, et al. (2009). Grapes and cardiovascular disease. DOI: 10.3945/jn.109.107474
With flavors this fresh, you may not even need the tablespoon of honey the recipe suggests!
Antioxidant-boasting basil and ripe strawberries provide the sweet undertones to offset the 2 cups of spinach in this pretty-as-a-picture drink.Elansary HO, et al. (2015). In vitro antioxidant and antiproliferative activities of six international basil cultivars. DOI: 10.1080/14786419.2014.995653
If you're wary of savory smoothies, this one's a great way to ease your way in.
Can't stand the thought of chewing your way through another pile of produce for lunch? Try this super-filling, drinkable smoothie/cold soup, featuring several different veggies and therefore loads of nutrients.
Spinach makes an appearance (duh), along with avocado to boost the smoothie's satiety factor — just like in an ideal salad.
True to its name, this smoothie is an incognito salad, getting its bright green from the combination of spinach, celery, cucumber, and bell peppers. And it packs in more than 1,300 milligrams of potassium — a quarter of your daily value — to help regulate blood pressure.
Made with tomatoes and spinach, this smoothie almost tastes like homemade V8 — with added herbs like rosemary for anticancer properties and basil for antiviral benefits.Kaefer CM and Milner JA. (2011). Chapter 17: Herbs and spices in cancer prevention and treatment. Herbal medicine: Biomolecular and clinical aspects. 2nd edition. Boca Raton, FL: CRC Press/Taylor & Francis. Plus, the Greek yogurt gives the mixture protein so you get satisfying staying power from your liquid meal.
It may be free of sugar, but there are a lot of sweet takeaways from this no-fruit, spinach-y smoothie. Cucumber and hemp milk pack plenty of hydration while nut butter and avocado bring their signature healthy fats. A hint of cinnamon finishes things off with flavorful depth.
More often used in dessert, mint gets its well-deserved moment in the savory spotlight in this veggie-filled smoothie. The cooling herb contains menthol, which may help ease an irritable stomach.McKay DL, et al. (2006). A review of the bioactivity and potential health benefits of peppermint tea (Mentha piperita L.). DOI: 10.1002/ptr.1936 We consider this more of a juice than a smoothie, but it still tastes great.
This cucumber and mint combo gets bumped even higher on the nutritional ladder with the addition of buttermilk and flaxseeds for essential fatty acids. But don't worry if you can't get your hands on buttermilk — simply make your own with regular milk and lemon juice or vinegar.
Packed with tomato, carrots, romaine, and avocado, this recipe teeters between smoothie and soup, with garlic, Greek yogurt, and herbs giving it the distinct flavor of the popular salad dressing.
Don't knock it till you try it — it gets tastier with every sip, and it's a protein-, fiber-, and healthy fat-filled option for a balanced lunch you can grab on the busiest of days.
Chocolate-flavored almond milk nudges this smoothie into (vegan!) dessert territory, but thanks to the spinach, chia seeds, and almond butter, it still comes with a considerable dose of fiber, antioxidants, and monounsaturated fats.
Sprinkled with coconut flakes and mini chocolate chips, this one works as both a decadent breakfast and a wholesome after-dinner treat.
With oats, raisins, and cinnamon, this is practically an oatmeal cookie in liquid form — except that dates and bananas sub for refined sugar, almond butter stands in for butter, and spinach adds vitamin K for blood and bone health. Good luck finding a store-bought baked treat with all that!
Ultra-thick, tastes like melted ice cream… and is healthy? Pinch yourself — it's true!
Avocado, spinach, mint, and banana join forces to create this real-food take on a fast-food joint's signature shake. A dark chocolate sauce provides a nice drizzle of antioxidants over the top.Katz DL, et al. (2011). Cocoa and chocolate in human health and disease. https://www.ncbi.nlm.nih.gov/pmc/articles/PMC4696435/ Vegan? Use nondairy milk and you're set.
Calling all chocolate lovers! There's a cup of spinach and a banana in here, but the 2 tablespoons of cocoa powder make this a full-on treat, without the need for any added sugars. A healthy way to satisfy a sweet tooth? We'll take it, no questions asked!
Frozen cherries aren't just a convenient solution for when the stone fruit isn't in season — they also provide just as many nutrients as their fresh counterparts (if not more!).
Turn cherries and a few other wholesome ingredients into the beverage version of an iconic cake, with some spinach thrown in for a little bit of iron.
Why bother with rolling out a crust, turning on an oven, and attempting a meringue when you can get all the Key lime pie flavors in a healthier, easier way?
This vegan, smoothie-fied rendition keeps all the immunity-boosting benefits from the citrus but also throws in a tropical twist with coconut water and avocado, all while smuggling in that spinach.Gharagozloo M, et al. (2001). Immunomodulatory effect of concentrated lime juice extract on activated human mononuclear cells. https://www.ncbi.nlm.nih.gov/pubmed/11483382
Whether it's the antioxidant-rich cinnamon and nutmeg or the fresh carrots and pineapple, many of the ingredients in this cake-inspired blend stay true to the original. But a few added elements make it even healthier.
Cloyingly sweet cream cheese frosting is swapped out for almond milk and chia seeds, and spinach manages to sneak in undetected to upgrade the smoothie to superfood standards.
Why reserve chocolate-covered strawberries for special occasions? When you transform the simple dessert into a nondairy smoothie bursting with vitamins, it makes for a breakfast worth treating yourself to every morning of the week.