There's always so much to look forward to in the winter — the excitement of the holidays, the fun of winter sports, and (for some of us) a good excuse not to shave our legs for an entire season. And then, of course, there's the food! Hearty stews, warming casseroles, and sturdy seasonal winter veggies always make us want to invite chilly weather to pull up a chair and stay awhile.
To soak up the tastiest foods of winter — and keep you warm and nourished in the colder months — we've gathered 50 healthy dinner recipes for cozy dining. Let's dig in!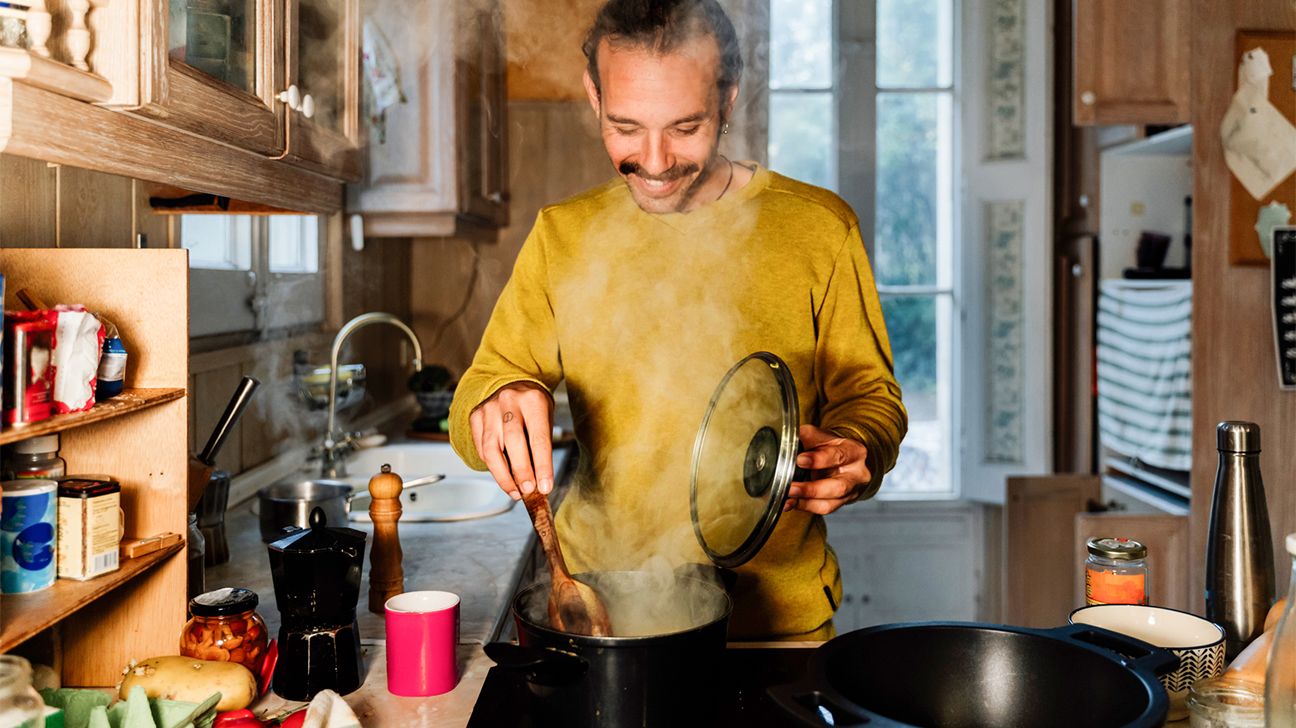 Kimchi mac and cheese
You won't betray mac and cheese by admitting that sometimes it's a little, well, bland. Spice up the ultimate comfort food with the addition of kimchi in a who-knew-those-two-things-could-fit-together dinner recipe.
Easy cottage pie
Call it cottage pie or call it shepherd's pie, pretty soon you'll be calling it "who ate this entire pie?" And the answer will be you because it's a freakin' delicious mashup of ground lamb, hearty veggies, and mashed potatoes.
Vegan lasagna
In this vegan lasagna, tofu and nutritional yeast do the job of creating the savory flavah you know and love (with none of the animal products).
Shakshuka
Isn't it interesting how many cultures have their own version of tomatoes and eggs? Shakshuka is the North African iteration of this beloved (and cheap!) ingredient combo. Since it calls for canned tomatoes, not fresh, you can make it all winter long.
Roasted stuffed delicata squash
Don't be intimidated by the idea of stuffing squash. It's not nearly as labor-intensive as it sounds — especially if you start with this beginner-level vegetarian recipe. You'll stuff the boat-like halves of delicata squash with a mixture of herbed whole-grain farro and nuts. The finished product is loaded with fiber, potassium, and vitamin A.
Savory pancakes
Here, you have your choice of creative options for a savory BFD. Check out blini from Russia, pupusas from El Salvador, okonomikyaki from Japan, and more. Where will your culinary travels take you?
One-pot beef and broccoli stir fry
You don't always hear broccoli spoken of in the same breath as winter veggies like sweet potatoes and parsnips, but its peak growing season is October through April. Enjoy its amazing health benefits in a simple one-pot stir-fry with beef and brown rice.
Make one-pot beef and broccoli stir-fry.
Easy salmon green curry
Here, fishy, fishy! Salmon cozies up to winter veggies in this Thai-inspired one-dish dinner.
Roast chicken with sweet potatoes, cashew brown butter, and shards of cheese
Restaurant chef Ned Baldwin is a pro at combining unique ingredients. In this special occasion roast chicken recipe, he combines juicy chicken, sharp manchego cheese, creamy cashews, and wintry sweet potatoes. (How come, when we try to think of cool ingredient combos, it always turns out weird, like a shrimp and ketchup sandwich?)
Make roast chicken with sweet potatoes, cashew brown butter, and shards of cheese.
Eggplant Parmesan spaghetti squash boats
More squash? Yes, please! Spaghetti squash is in season throughout the fall and winter. If you've never made it, yep, it really does look like spaghetti. Enhance its Italian flair even further by turning it into a rich eggplant Parmesan dinner.
Make eggplant Parmesan spaghetti squash boats.
Swiss chard casserole
Swiss chard tops all the lists of best winter veggies not only for its impressive nutrients, but for the fact that it holds up well in soups, stir-fries, and casseroles — like this low carb egg bake.
Soul-warming chicken tagine
Soul-warming is right there in the name! There's no arguing that this Moroccan dish won't warm you from the inside out with its blend of earthy spices, hearty veggies, and tender chicken thighs.
Make soul-warming chicken tagine.
Hoppin' John
Hoppin' John is a classic on New Year's Day, but you can make it any time for a stick-to-your-ribs Cajun ham and bean dinner.
Fennel, prosciutto, and pomegranate salad
Not all winter dinners are heavy fare. On those evenings when you're craving something lighter (but still want to stick to seasonal ingredients), try fennel, prosciutto, and pomegranate salad.
Make fennel, prosciutto, and pomegranate salad.
Vegan cauliflower Alfredo
Cooked and mashed cauliflower plus nondairy milk are the keys to kingdom of creamy vegan Alfredo sauce. (We'd recommend using cashew milk for the velvetiest texture.)
Slow cooker pork tenderloin with salsa
This pork recipe is the ultimate fix-and-forget meal with just four ingredients. (Yes, for reals!) Dump pork tenderloin, onion, black beans, and salsa in your slow cooker, then sit back and enjoy 6 to 8 hours of hassle-free cooking.
Make slow cooker pork tenderloin with salsa.
Slow cooker Thai yellow curry
Vegan? Check. Gluten-free? Check. Super easy to pop in the slow cooker? Check! Chickpeas and a cornucopia of veggies are the foundation of this nutritious winter meal.
Make slow cooker Thai yellow curry.
Slow cooker chicken cacciatore
This rustic chicken dish dates back to the 14th century but totally holds its own as a modern recipe. Fun fact: "Cacciatore" means "hunter" in Italian. This tomato-mushroom-chicken mix was probably originally a hunter's stew. (But you can feel free to buy your chicken at the grocery store.)
Make slow cooker chicken cacciatore.
Slow cooker rosemary chicken and butternut squash
Haul out the extra-large slow cooker! This recipe nestles an entire 6-pound bird in the slow cooker's insert, then covers it with butternut squash chunks, herbs, and spices.
Make slow cooker rosemary chicken and butternut squash.
Crock-Pot spicy pulled pork
There's a reason slow cooker pulled pork recipes are so popular. Because of its fat content, pork shreds like a champ when cooked low and slow. This version puts an unexpectedly spicy spin on it.
Make Crock-Pot spicy pulled pork.
Slow cooker Hawaiian pineapple chicken
If you're craving some tropical sunshine in the moody months of winter, it's Hawaiian chicken to the rescue! The use of canned pineapple and other pantry staples means you don't have to hop on a plane for island flavor (though, if you can swing it, more power to you).
Make slow cooker Hawaiian pineapple chicken.
Slow cooker pot roast
Pot roast is the poster child of slow-cooked dinners. This one gives off traditional Sunday dinner vibes with chuck roast, carrots, potatoes, onions, and minimal accoutrements.
Vegan sausage sandwich with slow cooker seitan
Never had a seitan sammie? A cold winter's night is the perfect time to try seitan's sturdy chewiness topped with peppers, onions, and avocado.
Make vegan sausage sandwich with slow cooker seitan.
Gluten-free slow cooker meatballs
Since premade meatballs typically contain breadcrumbs, they're one of the many foods gluten-free folks have to watch out for. If you're on a GF diet, it's best to DIY this Italian favorite. These epically-sized slow cooker balls use gluten-free breadcrumbs to prevent an accidental gluten encounter.
Make gluten-free slow cooker meatballs.
Slow cooker braised lemongrass pork chops
Who wouldn't want to come home to the scent of lemongrass wafting fragrantly from the slow cooker? Serve these tender pork chops over mashed potatoes or with roasted winter veggies.
Easy chicken noodle soup from leftover rotisserie chicken
Classic meets easy in this leftover rotisserie chicken soup. After a deli chicken dinner, hang onto extra meat and the carcass of your precooked bird. They'll be the building blocks of a second meal.
Make easy chicken noodle soup from leftover rotisserie chicken.
Cauliflower soup
This one's officially just called cauliflower soup, but we'd like to take the liberty of renaming it "amazingly cheesy, shockingly easy cauliflower soup." Make it and you'll see why.
Creamy sweet potato soup
Sweet potatoes can find their way into just about any winter recipe, from appetizers to desserts. Here, they lend their sweet, starchy goodness to soup.
Make creamy sweet potato soup.
Chinese winter melon soup with meatballs
If you're trying (unsuccessfully) to conjure up a mental image of winter melon, we'll help: It looks like a cross between a cucumber and a watermelon. This often overlooked and mellow flavored gourd is the perfect contrast to pork meatballs and mushrooms in this Chinese soup.
Make Chinese winter melon soup with meatballs.
Vegetarian black bean soup
It doesn't get much healthier than a black bean soup loaded with veggies. Dress this one up to your heart's desire with avocado, Greek yogurt, cheese, and fresh cilantro.
Make vegetarian black bean soup.
Turmeric quinoa vegetable soup
When winter colds and flu are circulating, give your immune system a boost with this anti-inflammatory blend of turmeric, ginger, and nutritious veg.
Make turmeric quinoa vegetable soup.
Butternut squash, apple cider, and white cheddar soup
When do you get to drink your ale and eat it, too? In soup, of course! This simple, smooth-as-silk butternut squash soup features pumpkin ale and apple cider as primary ingredients.
Make butternut squash, apple cider, and white cheddar soup.
Slow cooker split pea soup
Forget the schoolyard jokes about pea soup. This hearty slow-cooked creation is nothing to snicker at, with savory ham, herbs, veggies, and nutritious split green peas.
Make slow cooker split pea soup.
Vegan winter lentil stew
Make a double batch of this lentil stew. Like most hearty soups, it freezes beautifully for reheating on a busy winter weeknight.
Make vegan winter lentil stew.
Easy beef stew
Everybody needs a good beef stew recipe in their culinary arsenal. Here's yours!
Stovetop brussels sprouts with almonds
Speed up the start-to-finish time of brussels sprouts by pan-frying them in olive oil, then tossing on a handful of almonds and a drizzle of lemon juice. Easy peasy lemon squeezy!
Make stovetop brussels sprouts with almonds.
Turnips, potatoes, and greens
Although they've been a solid winter vegetable all over the world for centuries, turnips don't get a lot of love in modern cuisine. If you've ever felt their flavor was "meh," you might not turn-ip your nose at a side dish that pairs them with potatoes, shallots, and fresh thyme.
Make turnips, potatoes, and greens.
Quinoa and sweet potato stuffed mushrooms
Who says vegan cooking has to be complicated? The ingredient list of this plant-based side dish reads like an itty-bitty haiku. No overpowering sauces or heavy-handed seasonings detract from the whole food flavors of veggies, quinoa, and olive oil.
Make quinoa and sweet potato stuffed mushrooms.
Cranberry applesauce
With all the dietary restrictions out there, you might feel like your wintertime side dishes can't please 'em all. At least, you might have thought that before you encountered this cranberry applesauce. It's vegan, gluten-free, dairy-free, low fat, and low sodium.
Creamy celeriac mash
You've had mashed potatoes, and you've probably even had mashed yams. But mashed celery root? That's totally unique. Celeriac (aka celery root) has a similar mild flavor to celery, but unlike the crunchy green veggie, doesn't come with stringy strands that get stuck in your teeth. Bonus: It's lower carb than potatoes!
Rosemary roasted root vegetables
For a reliable wintertime side, you can basically never go wrong with roasted root vegetables. Not only are they seasonal (you can pat yourself on the back for being all eco-friendly), they make perfectly crispy bites alongside meat dishes or plant proteins.
Make rosemary roasted root vegetables.
Winter citrus salad with sherry vinegar dressing
Tired of veggie sides? Shake things up with a winter citrus salad. Four types of citrus fruits plus red onion, cucumber, and mint leaves are a rainbow of juicy color.
Make winter citrus salad with sherry vinegar dressing.
Green bean casserole from scratch
Green bean casserole isn't just for Thanksgiving — and it doesn't actually have to involve canned soups. (They may be convenient, but they usually add a ton of sodium.) Make your beans au natural in this homemade version of the classic holiday side.
Make green bean casserole from scratch.
Beet risotto
How many side dishes turn out neon pink? Beets bring an electric zap of color to this smooth and cheesy risotto. Serve it on its own or top it with bacon, chicken, or beef for extra protein.
Focaccia bread
You probably don't want to run your oven in the warmer months, but when it's cold outside? Crank it up! On a cold winter evening, baking your own focaccia bread will warm the house and fill your belly.
Dark chocolate pomegranate truffles
Pomegranate season doesn't last long, so take advantage of the juicy winter nibs by tucking them into these rich (but surprisingly healthy) dark chocolate truffles.
Make dark chocolate pomegranate truffles.
Pumpkin spice cupcakes with marshmallow frosting
Cue allll the pumpkin spice jokes. We can take it. When we're eating tender pumpkin cake and licking marshmallow frosting off our fingers, who's laughing now?
Make pumpkin spice cupcakes with marshmallow frosting.
Easy apple crumble
Some desserts shine on the merits of their tried-and-true simplicity. That's the case with this easy apple crumble like grandma used to make.
Chewy ginger orange cookies
Once upon a time, oranges were a coveted winter delicacy — but these days, you can get them in the winter months, no matter where you live. Zest one up to add a hint of citrus to these soft, gingery cookies.
Make chewy ginger orange cookies.
Healthy chocolate lava cake in a mug
You've made your way home through frigid conditions after a long day — now you deserve a quick-fix treat! A warm, gooey lava cake will cap off your evening after just 30 seconds in the microwave.