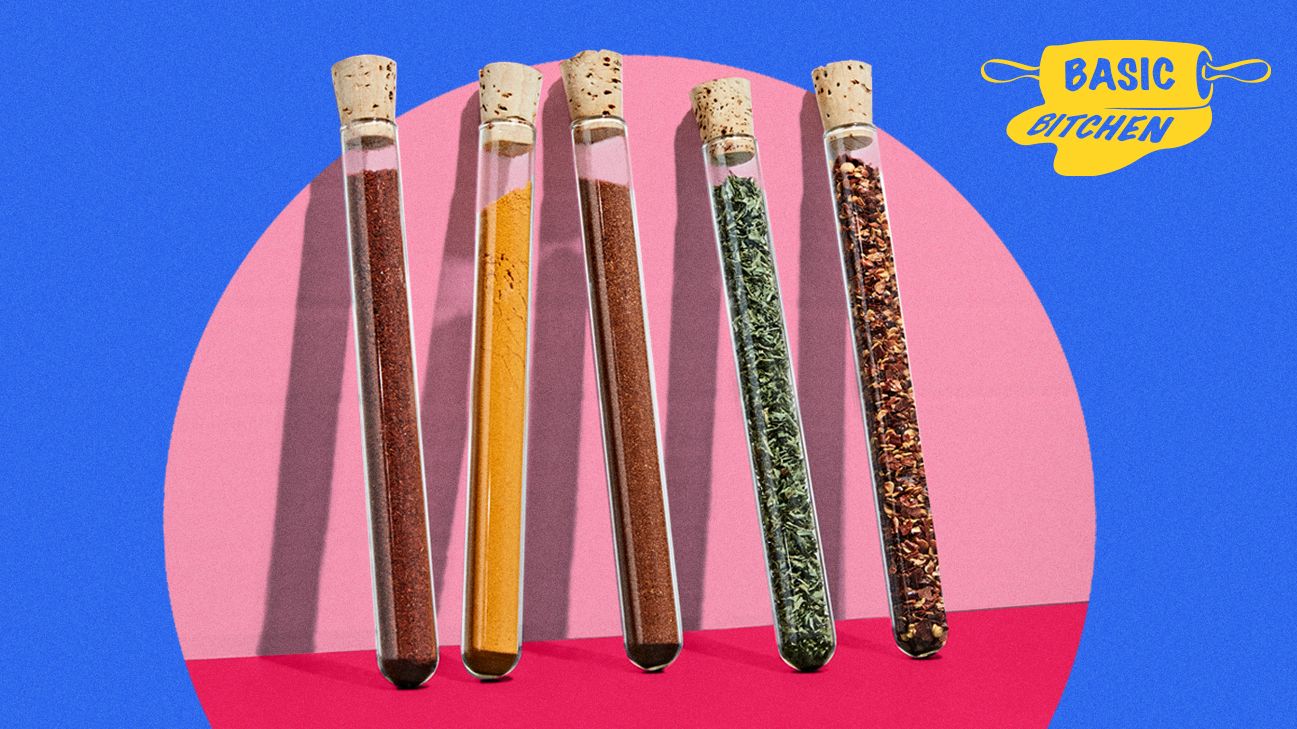 It's the middle of the workweek, and you're tired of having the same bland chicken breast and steamed broccoli for dinner. Sure, there are sauces, spreads, and dips to help zhuzh up your daily routine, but they're typically chock-full of sugars, syrups, preservatives, dyes, and calories that don't lend themselves well to a healthier diet.
Enter seasonings. No, that shaker of dried oregano alone isn't going to dramatically take your protein and vegetables from drab to fab. But when mixed with some other familiar herbs, spices, and salts, it can create new and innovative flavor profiles that will make mealtimes more enjoyable. Once you master your favorite blends, you can also proudly display them on your spice rack and return to them after a long day of Zoom calls.
Check out seven of our favorites below (one for each day of the week!), all of which use ingredients you most likely already have or can find at most grocery stores.
Keep your spice blends in airtight storage containers. This should be easy for those who love to repurpose old spice jars, mason jars, or spice kits with labels (yay, organization!). Your seasonings should last for a few months, but be sure to give them a good shake and mix before using.
Mind your measurements. There's a fine line between enhancing flavor and overpowering your food with spices. When it comes to meat, the general rule is to use 2 tablespoons of your spice blend for 1 pound of meat.
Customization is key. If you don't like an ingredient, swap it out for something similar or remove it entirely and increase the amount of another ingredient. (This doesn't apply to salt. You want to make sure that ratio stays the same!)
Versatility is also key. You want a spice blend that can work on a variety of different proteins, veggies, and starches. That will prevent it from wasting away on your spice rack due to a lack of usefulness.
A little goes a long way. When it comes to spices, it's best to err on the side of caution. You can always add more to your liking once everything is cooked.
1 tablespoon chili powder
1 tablespoon garlic powder
1 1/2 teaspoons paprika
1 1/2 teaspoons onion powder
1 teaspoon ground cumin
1 teaspoon dried oregano
1 teaspoon sea salt
1/2 teaspoon ground black pepper
1/2 teaspoon red pepper flakes
1/2 teaspoon chipotle chili powder (optional)
1 tablespoon dried parsley
1 tablespoon dried oregano
1 tablespoon dried basil
1 1/2 teaspoons dried thyme
1 1/2 teaspoons dried rosemary
1 teaspoon sea salt
1/2 teaspoon red pepper flakes
1 tablespoon light brown sugar
1 tablespoon smoked paprika
1 1/2 teaspoons chili powder
1 teaspoon celery salt
1 teaspoon garlic powder
1 teaspoon onion powder
1 teaspoon sea salt
1/2 teaspoon ground black pepper
1 tablespoon allspice
1 tablespoon garlic powder
1 tablespoon onion powder
1 tablespoon light brown sugar
1 1/2 teaspoons ground cumin
1 teaspoon dried oregano
1 teaspoon dried thyme
1 teaspoon dried sage
1 teaspoon cayenne pepper
1 teaspoon sea salt
1/2 teaspoon ground nutmeg
1/2 cup dried buttermilk
2 tablespoons dried parsley
2 tablespoons dried chives
1 1/2 teaspoons onion flakes
1 teaspoon onion powder
1 1/2 teaspoons garlic powder
1 teaspoon dried dill
1 teaspoon sea salt
1/2 teaspoon ground black pepper
2 tablespoons ground coriander
1 1/2 teaspoons ground cumin
2 teaspoons ground turmeric
2 teaspoons ground ginger
2 teaspoons ground mustard
1 teaspoon ground cinnamon
1/2 teaspoon ground black pepper
1/2 teaspoon ground cardamom
1/2 teaspoon chili powder
1/2 teaspoon cayenne pepper
(from my cookbook, Basic Bitchen)
3 tablespoons ground cinnamon
2 teaspoons ground ginger
1/2 teaspoon ground nutmeg
1 1/4 teaspoons allspice
1/4 teaspoon ground clove