Inventions like microwaves, blenders, and induction cooktops have revolutionized cooking in the last century. Now we live in an age of espresso machines, air fryers, and pasta makers in this post-caveperson wonderland.
But perhaps no invention has been as genius in recent years as the Instant Pot, an all-in-one gadget for steaming, sautéing, and simmering pretty much anything in record time. So next time you want an easy weeknight paleo meal by tossing in some ingredients and letting it simmer, these paleo Instant Pot recipes may be your new go-to.
1. Instant Pot Mediterranean chicken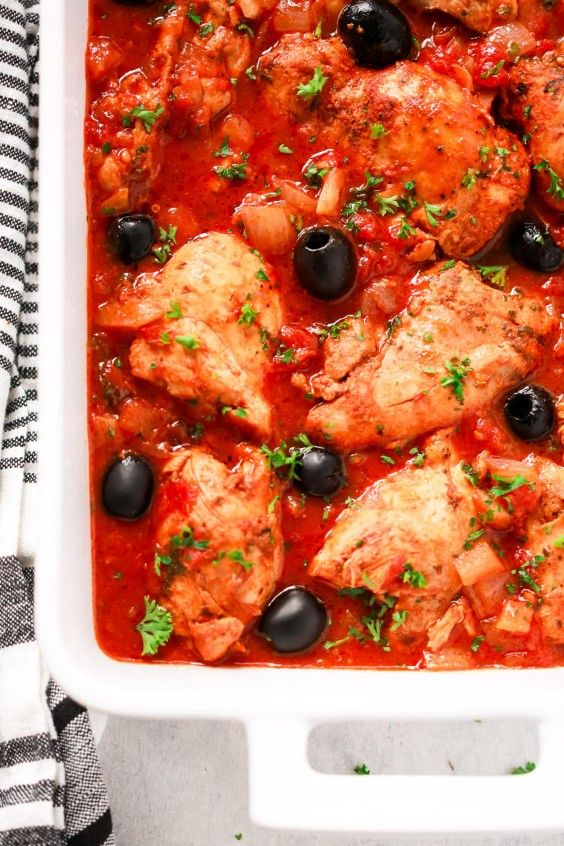 In just 20 minutes, you'll have a dinner that'll make you feel like you're eating on the coast of Italy. The Instant Pot sautés, then steams the chicken in a sauce of tomatoes, black olives, and dried herbs. Sop it up with bread, serve it over rice, or eat it alongside a salad for a lower carb option.
Get started on this dish here.
2. Instant Pot crockpot sunshine lemon chicken chowder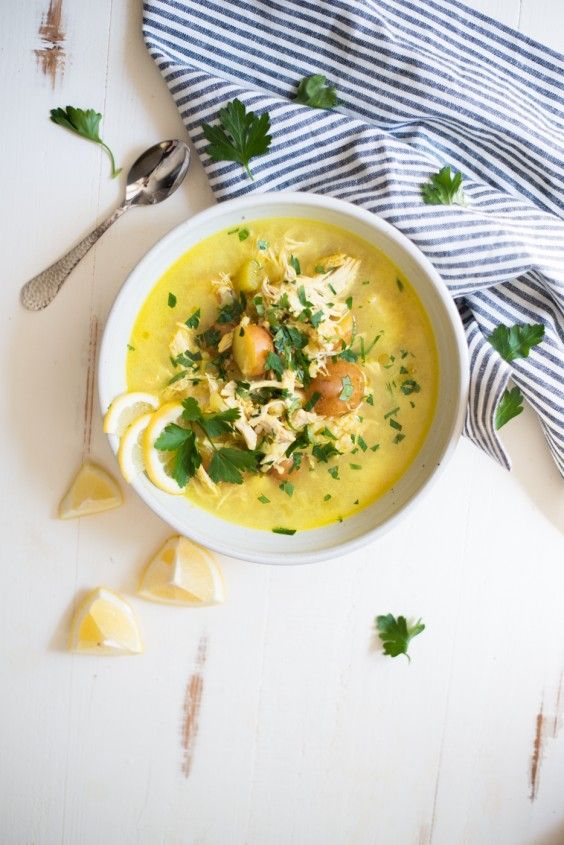 Coconut milk gives this dairy-free paleo-friendly chowder its creaminess, while potatoes and cauliflower add bulk alongside the chicken to make it a balanced meal. But what makes this soup really stand out is the lemon juice that's added toward the end — while most chowders are rich and heavy, the fresh burst of citrus totally brightens this one up.
3. Italian turkey stuffed sweet potatoes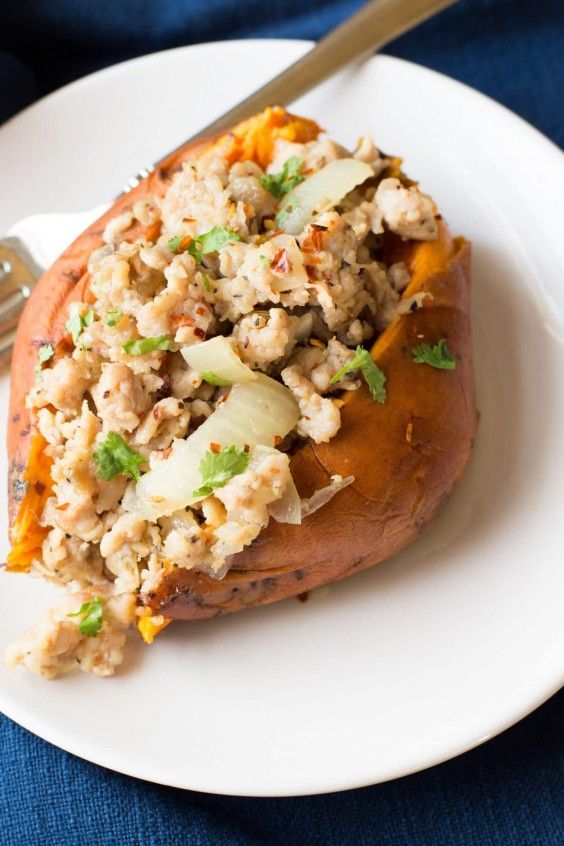 When you can't stuff sweet potatoes with cheese or beans, opt for the high protein filling of ground turkey. In less than 30 minutes, the Instant Pot pressure-cooks the spuds, sautés the meat, and wilts the spinach — the greens are optional, but we highly recommend adding them to round out the meal with some extra fiber and iron.
4. Instant Pot turkey lettuce wraps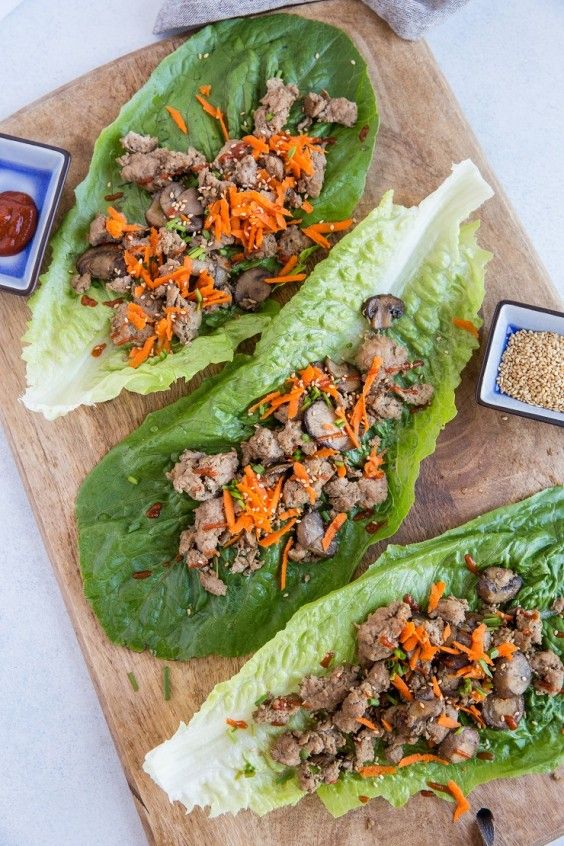 A regular turkey wrap won't do on a diet that says no to grains. Swap out the flour tortilla for leaves of romaine and use them as the envelopes for the Instant Pot-cooked ground turkey and mushroom mixture.
Add it to your meal plan with this recipe.
5. Instant Pot chicken tinga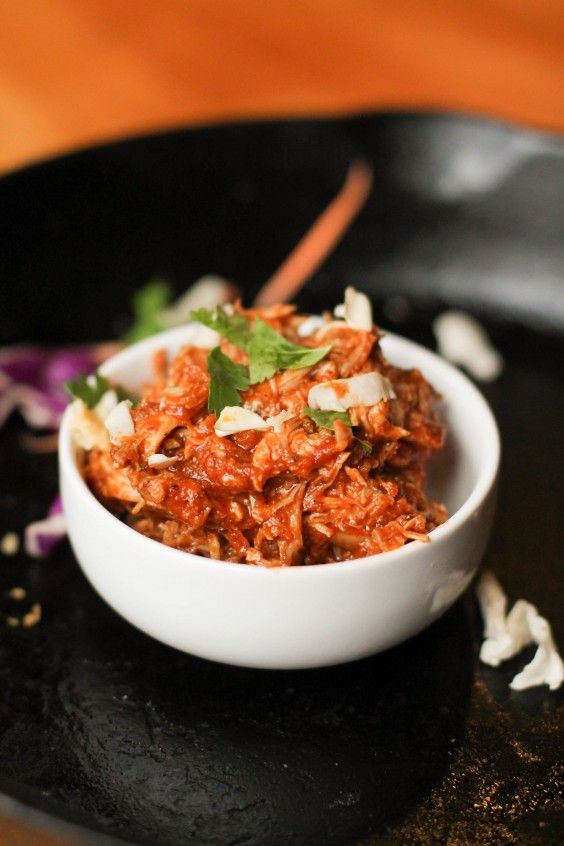 This Instant Pot recipe helps get the slightly spicy, shredded chicken dish ready in less than 45 minutes — doing everything from sautéing the meat to reducing the garlic and chipotle pepper sauce — giving you authentic flavors without the work.
6. Dairy-free spaghetti squash chicken Alfredo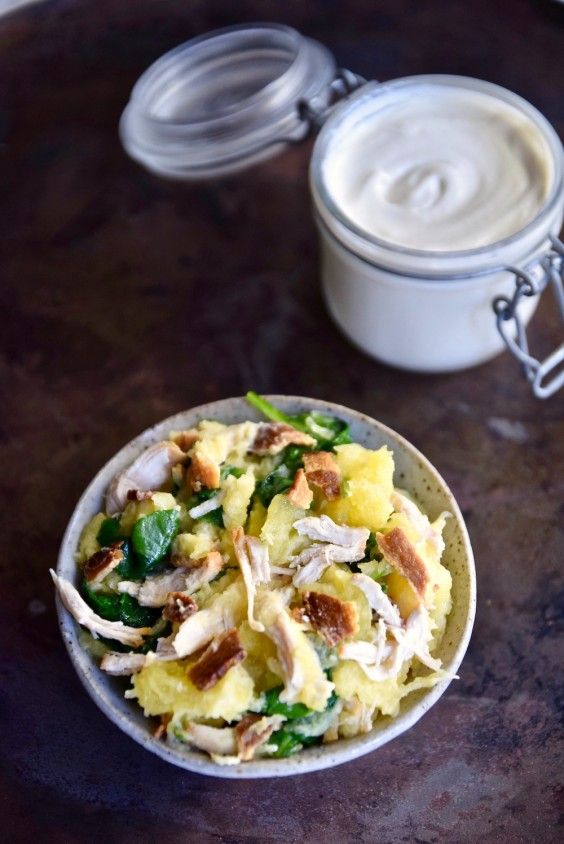 When you've got spaghetti squash standing in for noodles and a cauliflower, cashew, and coconut milk puree stepping in for the cream sauce, pasta Alfredo is made possible. What makes it super easy? An Instant Pot that cooks the squash and the cauliflower in a fraction of the time an oven would take.
7. Instant Pot creamy tomato hamburger soup
No grill at home? Sick of serving up paleo burgers in lettuce wraps? Just in the mood for something warm and comforting? If the answer to any of those questions is yes, you need this soup in your life. The Instant Pot browns the ground beef perfectly before veggies and a creamy tomato puree join the party. Protein-rich and filling, it's an ideal meal in a bowl.
8. Instant Pot Italian-inspired tomato meatballs
All these ground beef balls need are some pantry seasonings to give them all their flavor, while a 4-ingredient tomato sauce makes the recipe even easier. You may not be able to ladle this dish over spaghetti if you're going paleo, but it's equally tasty over cauliflower rice or zucchini noodles.
Learn the steps to make it here.
9. Instant Pot beef barbacoa
OK, so this recipe does take 90 minutes to make, even in the Instant Pot, but let's put things in perspective: The same dish would require up to 10 hours in the slow cooker. And there's no compromising on texture or flavor with the Instant Pot method either; you'll get the same, melt-in-your-mouth shredded beef that's juicy from soaking up all the spicy, garlicky broth.
Grab the recipe for your meal plan here.
10. Paleo Instant Pot beef sirloin tips
This beef dish needs fewer than 10 ingredients, but every one of them, from the cooking sherry to the cracked pepper to the savory mushrooms, packs a significant punch. With just one simple step in the Instant Pot, it's about as low maintenance a meal as you can get.
11. Instant Pot pork chops with apple balsamic topping
Pork chops are totally paleo-friendly, but the sugary glazes poured over them are almost always not. This recipe lets the Instant Pot cook fresh apples, onions, and balsamic vinegar down into a reduction that's naturally sweet for a topping that's caveperson-approved.
12. Instant Pot seafood gumbo
With no okra in sight, this isn't your usual gumbo, but the sea bass and shrimp more than make up for it. Cooked in a tangy tomato and vegetable broth and flavored with plenty of Cajun seasoning, it's best served over cauliflower rice.
Get started on this dish here.
13. Instant Pot lemon garlic salmon
No matter how much we diligently meal plan, even the best of us forget to take the fish out of the freezer sometimes. On those days, turn to this speedy salmon dinner. Thanks to the Instant Pot, there's no thawing necessary to get this dish from frozen to flaky in just 20 minutes.
14. Shrimp with coconut milk
Just a few minutes in the Instant Pot make sure the shrimp here remain perfectly crisp but are also juicy from being totally submerged in coconut milk. Instead of a ton of fancy spices, all this gravy needs is a kick of cayenne and a pinch of garam masala to achieve slurpable status.
15. Instant Pot salmon with chili lime sauce
The salmon gives this dish its omega-3-filled base, but it's really the sauce that sings here. Including spicy jalapeños, zesty lime, earthy herbs, and a touch of sweetness from honey (yep, it's paleo-friendly!), the mix is so good you'll want to make extra for drizzling on everything you eat long after this meal is over.
Add it to your meal plan with this recipe.
16. Instant Pot fish stew
Clam juice instead of broth instantly makes this stew taste like it's being served straight from the Mediterranean, while sea bass fillets and potatoes give it plenty of volume. It's the ideal meal for when you want comfort food that won't weigh you down.
17. Instant Pot aloo saag
No more tiptoeing around the idea of making Indian-inspired food at home — this Instant Pot recipe removes all the intimidation, leaving you with nothing but a richly flavored dish of potatoes simmering in a spiced spinach puree. While it's most often eaten with bread, keep things paleo by serving it with cauliflower rice.
18. Instant Pot potato soup
One look at this soup and it's hard to believe there isn't an ounce of dairy in there. That velvety texture isn't even the work of coconut milk. Instead, it's a blend of potatoes and almond milk, giving you a silky blend that's lower in fat but still has that creamy consistency.
19. Instant Pot paleo cauliflower mushroom risotto
If cauliflower isn't fooling you as a rice substitute, this recipe may just change your mind. It may be grain-free and dairy-free, but thanks to meaty shiitake mushrooms, coconut milk, and nutritional yeast, it's as creamy, cheesy, and hearty as any real risotto — only much quicker to make. It's a great option for entertaining, too.
Learn the steps to make it here.
20. Instant Pot vegan posole
This Mexican-inspired stew always includes pork, but when you're going vegan and paleo, a few cans of jackfruit can step in for the meat, no problem. Not only does it soak in the traditional flavors of red chile, garlic, and hominy, but its resemblance to shredded meat will make anyone do a double take.
Grab the recipe for your meal plan here.
21. Instant Pot roasted asparagus soup
Most people hear asparagus soup and imagine a watery green liquid. This is anything but that. Leeks, cauliflower, coconut milk, and even a white sweet potato (if you want to throw one in) are cooked in the Instant Pot, then blended with the asparagus to create an almost stew-like concoction that's spruced up with the addition of lemon and parsley. Yum.