If dinner has no dessert, is it really a meal? Uhh, no. But when you're following a Paleo diet, it can feel like there's a real lack of dessert options. Don't stress, sweet fiends, we've got you covered.
Yes, certain foods aren't part of the Paleo plate, but that doesn't mean you're entering a time without treats. We've rounded up some of the best Paleo-friendly desserts to satisfy your prehistoric sweet tooth.
So stock up on staples like almond and coconut flours, and coconut oil because these desserts are so tasty, you'll want to eat at least one daily.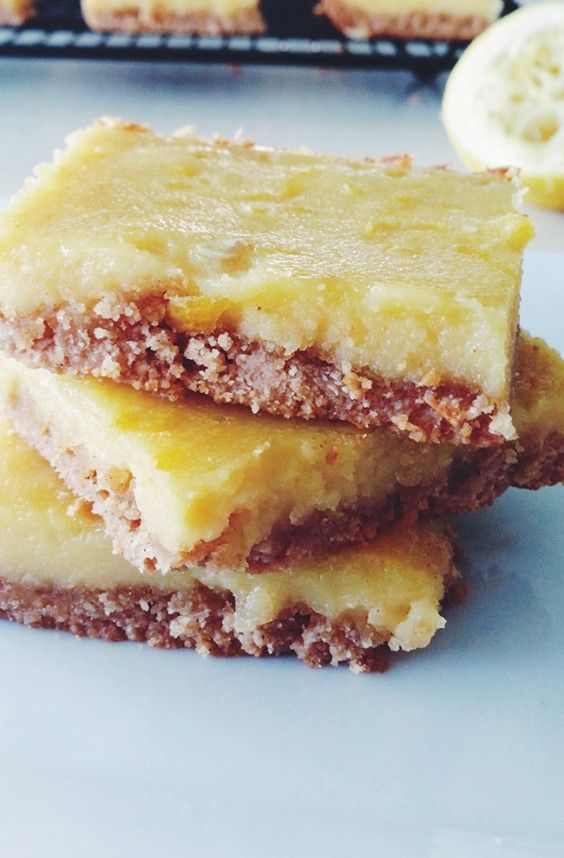 Lemon bars are such a classic treat, and this version is Paleo approved.
Start by making a simple almond-flour crust. While it sets in the oven, combine eggs, lemon juice, honey, coconut flour, and lemon zest in a food processor. Pour the mixture over the crust and bake. Easy as pie… err, bars.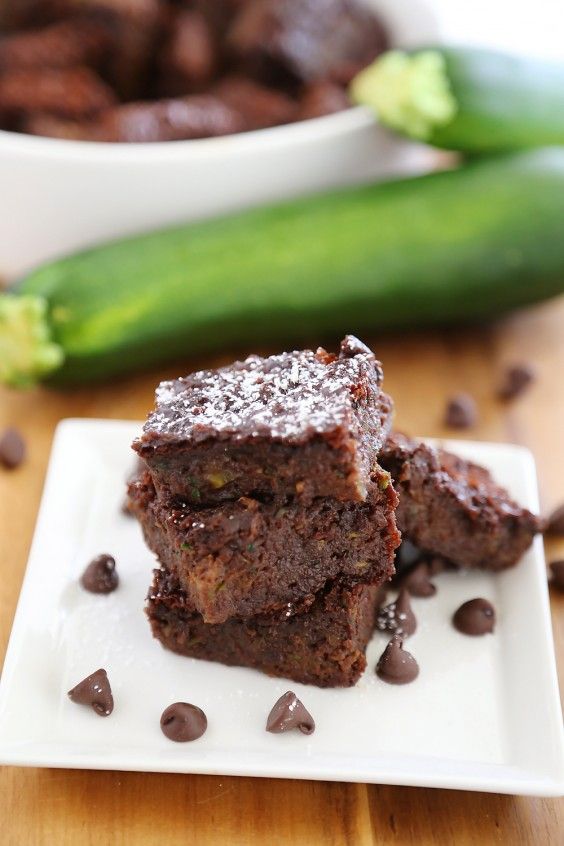 Don't shy away from this recipe because of the zucchini. You'll get an extra-moist brownie, a sneaky serving of vegetables, and zero "green" taste. No special equipment or ingredients needed to whip up these beauties.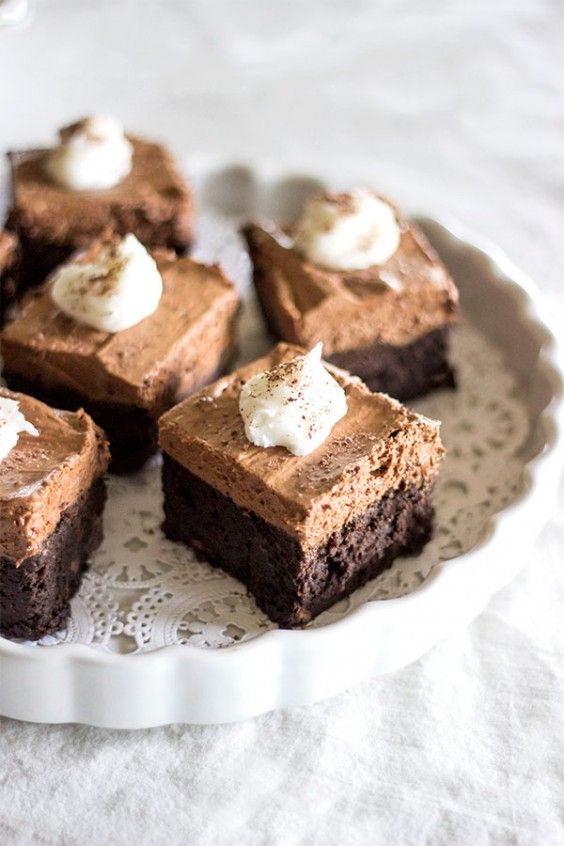 Chocolate mousse meets brownies in this light and lovely dessert. And it's easy enough for novice cooks to tackle. Hint: Try grapeseed oil for the "neutral oil" in the brownie base.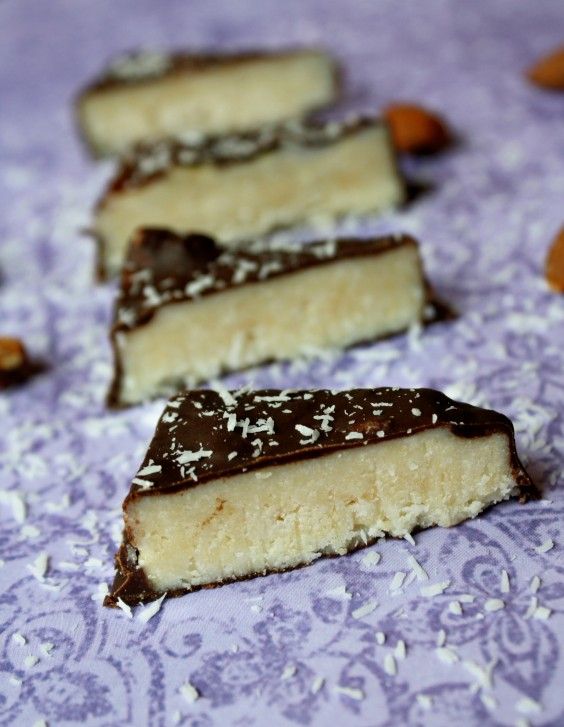 If you're a fan of the classic Coconut Secret bars, you'll know that they're melt-in-your-mouth delicious. These paleo imitations are pure genius: No baking required, 6 ingredients, and done in 20 minutes.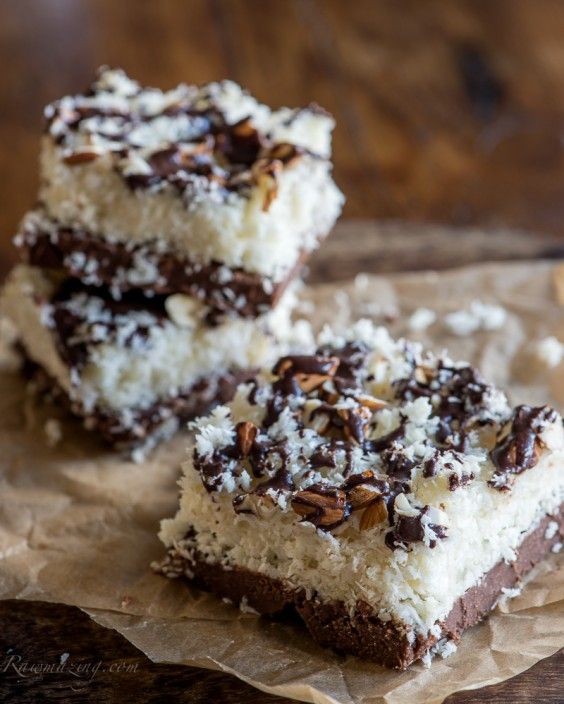 Almond Joy fans, make some nooooise! Yes, it's possible to make a paleo version of this classic candy bar. A layer of almond butter, vanilla bean paste, and a few other ingredients are topped with sweet coconut and agave nectar for a no-bake version of the childhood favorite.
These perfectly spiced doughnuts skip the deep-frying mess. Top with this blogger's amazing cashew-cinnamon glaze or add in some of your own favorite toppings. (We vote bacon, obviously.)
Pro tip: While the recipe calls for a doughnut pan, a regular muffin pan will do just fine.
Fresh avocado combines with zesty lime juice to create this light, festively colored cheesecake. Use puréed fresh berries as a topping or eat as is — either way, it's delicious.
These moist lemon cupcakes are topped with a homemade buttercream-blackberry frosting. The recipe might sound complicated, but you'll be surprised at how many of these ingredients you already have in your pantry.
Grains, dairy, soy, nuts, and refined sugar are left out, but this take on a classic still has that old-fashioned layer-cake flavor, including a double-decker dose of gooey, chocolate frosting. Throw some of your favorite berries on top as a bonus.
Don't go running away from this (slightly) longer list of ingredients just yet.
These two-bite minis look — and taste — like something from the Cheesecake Factory, but they're packed with good-for-you ingredients, like zucchini and cashews. They're worth every second (and every speckle of coconut sugar).
Craving a caveman-size slab instead of these dainty bites? Just add the crust to a pie pan and make one big cheesecake instead.
A cheesecake that doesn't require baking? Awesome. A cheesecake that doesn't require baking and is dairy- and gluten-free? Even better!
Fresh strawberries and a gluten-free graham cracker crust in a jar make these treats both simple and gorgeous.
If you're a fan of this iconic cinnamon cookie, these cupcakes will be your paleo dream come true. Everything comes together using coconut and almond flours, and grass-fed buttercream frosting is the icing on the cake. (See what we did there?)
Chocolate mousse sounds complicated, but once you learn how effortless it is to make, you'll start throwing it together just cuz.
The same holds true for this avocado-and-date paleo version. Toss a few common ingredients in a food processor and then whisk till fluffy. Fancy French restaurants have nothin' on you.
This creamy, spiced carrot cake skips gluten and sugar, but it definitely doesn't skimp on any of that signature carrot cake flavor.
This recipe does include goat cheese, which is an "on the fence" paleo ingredient. So, if you are super strict, go with a 100 percent dairy-free cream cheese frosting recipe instead.
If you're a chocolate lover, this gooey cake will hit all your chocoholic buttons. And because the cakes are baked in ramekins, they are totally photo-worthy.
Pro tip: Drizzle optional caramel garnish on top to take these little beauties over the edge.
Breakfast or dessert, either way is fine with us. A blend of raspberries and orange juice brings a deep, fruity flavor to these amazing little muffins. Make sure to use fresh fruits and juices to get the best flavor.
This paleo recipe will make you regret ever using a boxed mix. Since paleo is all about real food, this is shortcake distilled down to its roots. Chunks of strawberries and almond extract shine in this straightforward recipe.
Who says paleo peeps can't eat dessert for breakfast? Give Cinnabon a run for its money with this personal-size cinnamon roll.
Spread out the coconut flour dough and fill with dried fruit of your choice. Goodbye, food court. Hello, DIY cinna-roll.
Life without classic chocolate chip cookies sounds bleak. Thank goodness almond flour, coconut oil, and coconut sugar provide the building blocks to reproduce a paleo-approved version of Toll House's greatest hit.
Question: What could make chocolate chip cookies better? Answer: bacon. Always bacon.
That's exactly why this paleo recipe is pure gold. Crispy, chopped bacon is folded into the dough along with chocolate chips to make the ultimate salty-sweet mix.
These grain-free and flour-free cookies are mixed with tart cranberries and sweet chocolate chips for the perfect post-dinner treat. The flaxseed + water base may sound weird, but you'll never know that these paleo cookies are missing flour.
These cookies are not only absolutely adorable, but with spicy seasonings like cloves, cinnamon, nutmeg, and ginger, they also scream, "It's holiday season!" (Note: We fully support making these year-round while singing carols at the top of your lungs.)
And don't stress if you don't have cookie cutters to make gingerbread people; just drop spoonfuls on the tray and bake.
Don't make us choose when it comes to dessert: We want chocolate and peanut butter, chewy cookies, and a brownie texture.
These treats are not only delicious, but they also come together quickly and require just seven ingredients. Be sure to sub in almond butter and coconut sugar if you're sticking close to the paleo rulebook.
These delightful cupcakes use mint extract to capture the iconic Thin Mint flavor. And the natural green frosting is courtesy of creamy avocado paired with ingredients you can actually pronounce.
The lemon and coconut combo has us feeling like we're on a beach getaway. These lemony sandwich cookies are like Oreos with a whole foods upgrade. Feel free to use this easy cream filling for other recipes too.
If you've had fried plantains, this'll be familiar turf. Bananas are lightly sautéed in olive oil, then drizzled with honey. Super sweet and a snap to make, these are a great option when late-night munchies hit.
The dessert principle here is K.I.S.S.: Keep It Simple and Sugar-Free. (Now, obviously, the bananas have natural sugar in them, but we're talking about the processed kind.)
Simply stuff a banana with almond butter, sprinkle with cinnamon, and let it roast for 15 minutes in the oven for a quick single-serving banana split.
No fresh fruit? Not a problem with this go-to recipe.
Cobble together your favorite frozen fruits with a little of this (almond flour) and a little of that (tapioca starch) for a dessert that's easy to throw together when your sweet tooth strikes.
Pro tip: If you don't have a stash of frozen berries for this recipe, you can also use overripe fruit.
The crepe batter here is a base of puréed plantains and egg, which means it's full of potassium, vitamins A and C, and omega-3s.
Cook them with coconut oil, then load with your favorite fillings. Our picks are strawberries and blueberries, peanut butter and chocolate chips, or honey and banana.
Make use of overripe bananas in this paleo-friendly remake of an old favorite.
Helpful hint No. 1: As oven temperatures vary, keep an eye on your loaf during the last 10 minutes of baking to ensure it's cooked on the inside and not over-browning on the outside.
Helpful hint No. 2: Banana bread totally counts as breakfast.
Say hello to your new favorite midnight snack (or anytime, really). A sliced apple gets covered in a tasty choco-coco mix that's great for eating solo or perfect for sharing, if you're feeling generous.
Rum, caramel, and flambéed bananas? Now this is a pie.
Start by making a whipped layer full of cinnamon, nutmeg, and cashew butter, and then add a caramelized banana layer. Assemble and refrigerate for at least 6 hours, then inhale. Oh, and eat it too.
Chocolate and coconut team up in this no-bake pie that's perfect for warm nights. An almond and date crust is filled with coconut milk, banana, and cocoa powder. The result is creamy perfection.
If you can't make it to Key West, the next best thing is this key lime pie. A creamy filling is topped with a homemade coconut whipped cream for a tropical treat. The coconut pecan crust is a nice touch.
If you're a pecan lover, this pie won't disappoint. Pecans make up the crust, filling, and topping of this tart. Natural sweeteners like honey keep it indulgent and oh-so-delectable.
Sweet potatoes in dessert? Believe it. The pre-baking process is a bit long; you'll have to wait for the crust to chill and sweet potatoes to steam. But sinking into a meringue-topped slice after is well worth it.
Coconut, raw honey, one egg white, and dark chocolate are all you need for this frozen treat. Heat up a batch of hot chocolate, freeze into ice cubes, blend, and serve for a dessert that's a perfect summer sweet.
If you're a Reese's lover, these will knock your PB-lovin' socks off. Four ingredients combine in mini muffin tins to make a better-for-you version of everyone's favorite Halloween candy.
While this recipe requires some speedy maneuvers and a candy thermometer, it's actually not that difficult. These pretty little caramels make a cute prezzie for a fellow Paleo.
Do we have your attention? This decadent, six-layer dessert is grain-, dairy-, and refined sugar-free. Pecans and dates form the first layer, while grated chocolate is dusted as the sixth.
What lies between? Pure deliciousness earning that over-the-top title.
When you're craving something sweet, it's easy to overindulge. Welcome to being a human being. But with all that sugar and other junk in many dessert recipes, it can leave us feeling less-than-peachy a few hours later.
Enter paleo desserts. With nut flours and butters, creamy dairy-free alternatives, and natural sweeteners in the mix, it's possible to still enjoy rich, decadent flavors without the crash later.