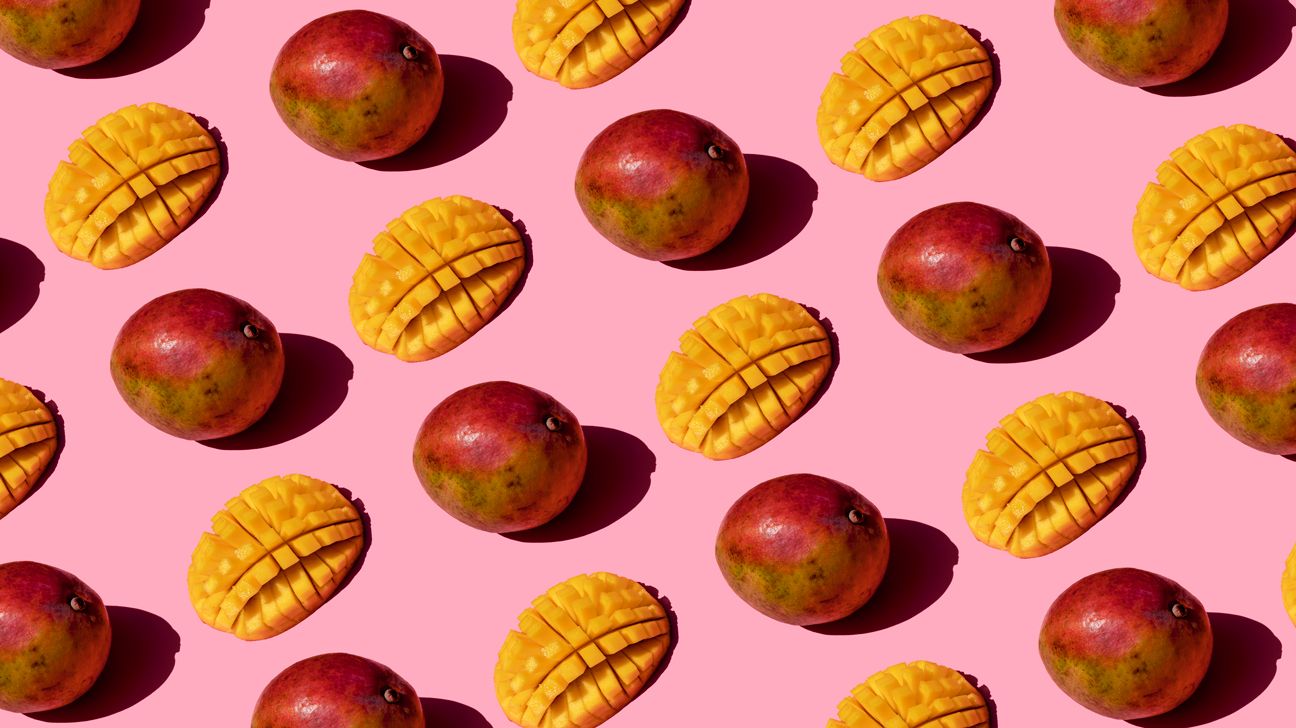 We include products we think are useful for our readers. If you buy through links on this page, we may earn a small commission Here's our process.
Greatist only shows you brands and products that we stand behind.
Our team thoroughly researches and evaluates the recommendations we make on our site. To establish that the product manufacturers addressed safety and efficacy standards, we:
Evaluate ingredients and composition: Do they have the potential to cause harm?
Fact-check all health claims: Do they align with the current body of scientific evidence?
Assess the brand: Does it operate with integrity and adhere to industry best practices?
We do the research so you can find trusted products for your health and wellness.
Mango is one of the most popular fruits in the world, and we totally get why. Have you ever tasted anything quite like its uniquely sweet-tart flavor and slick, smooth texture? We think not.
Fleshy, tropical, and juicy, mangoes are high in multiple nutrients, too. According to the USDA, 1 cup of mango pieces contains 2.6 grams of fiber, 67% of the recommended dietary allowance (RDA) for vitamin C, 10% of the RDA for vitamin A, and just 99 calories.
The orange-fleshed fruits originated in India over 4,000 years ago and have traveled from Asia to every continent since. Mango is still considered a symbol of love in India, and presenting a basket of mangoes has been used as a gesture of friendship between individuals and entire nations.
If you feel like you've been seeing more of them in your neighborhood grocery store, you're not wrong. U.S. consumption of mangoes has steadily risen since 2000.
Ready to go mango? Here's what you need to know about buying, storing, and using these succulent fruits.
Each type of mango has a unique flavor, texture, shape, and size, which may also change depending on its stage of ripeness and time of the year. According to the National Mango Board, there are six main types of mangoes sold in the U.S. These are:
Honey (formerly known as Ataulfo)
Francis
Hayden
Keitt
Kent
Tommy Atkins
These all have different shapes, ranging from oval to round; varying flavors of tart and peachy to honey-sweet; and an array of hues of dark red, green, and bright yellow. Also, the seed-to-flesh ratio and amount of juice vs. fibrous pulp differs by the type of mango. (You can check out a full description of each type for more details.)
Though mangoes are grown all across South and Central America, Asia, and Africa, most sold in the U.S. are imported from Mexico, Brazil, Peru, Ecuador, Guatemala, and Haiti.
Young green mangoes have a sweet, mildly citric flavor that's good for making Indian-style pickles, Philippine chutneys and jams, Thai salads, and Caribbean stews and soups. The tender yellow ones, one the other hand, are usually eaten raw and used in drinks and desserts.
When it comes to choosing a ripe mango, there's an important rule of thumb.
"Smell it first!" says Jet Lee, chef and owner at a Mango-Mango franchise near Atlanta. Lee purchases 100 boxes of fresh mangoes at a time to create mango pancakes, ice cream, juices, and cakes, and all kinds of other mango-based drinks and desserts for his late-night restaurant.
"A tropical, sweet-smelling mango means that it is ripe and ready to eat, while a sour or bitter smell indicates the mango may be unripe or not of good quality," advises Lee.
Ripe mangoes will have some give, but shouldn't be too soft or mushy. Skin should be smooth and firm, not wrinkled.
Unripe mangoes can be stored at room temperature until they're soft. To slow down the ripening process, whole, ripe mangoes should be kept in the refrigerator.
Once a mango is cut, it needs to be consumed within 2 hours unless it's placed in an airtight container and refrigerated or frozen.
Everyone has their own opinion about the best way to cut a mango — so we won't go on record as to which one is officially best. Suffice it to say, you can slice, dice, or simply squeeze the pulp out, depending on what you plan to use the fruit for.
Before you get slicin', just make sure to wash the mango. And always use a sharp knife! You can work around the long, flat seed in the center of the mango and slice each side without breaking the skin. Using a spoon, scoop out the slices (similar to an avocado), then dice it further if you like. (Check out our how-to guide for more juicy details.)
Besides sweetness and nutrition, you can add versatility to mangoes' list of virtues.
The aromatic fruits can be used in salads, juices, smoothies, desserts (we're thinking mango pie, brandied mango bread pudding, mango cheesecake, mango panna cotta), drinks (mango margarita, mango lassi, mango mojito), or as a condiment (mango chutney, mango salsa).
"Anything that you can cook with peaches, plums, cherries, or other stone fruit, you can also make with mangoes, and vice-versa," says Jen Karetnick, Miami-based dining critic and author of the aptly-named cookbook Mango.
Among the many tips and tricks Karetnick shares in her book: drying up mangoes and grinding them into a powder to use as a seasoning, pureeing mango into a gazpacho-style soup, and grilling cubes of mango on skewers.
"If I'm feeling more creative, I'll make a full mango meal of mussels steamed with white wine and mangoes, mango-jalapeño cornbread, asparagus with mango Hollandaise sauce, and baby roasted potatoes glazed with a mango-butter sauce reduced with Champagne!" she says.
Karetnick's favorite mango recipe is also the simplest. She cuts up chunks of ripe mango, adds hunks of Gruyere or Jarlsberg cheese, and uses a provoletera (an Argentine baking dish) to bake in a preheated 350 degree oven for 10 minutes. Then she scoops out the mango-melted cheese and serves it with baguettes and a side of honey mustard.
Whether you're a mango newb or have written an entire cookbook about the fruits, there's always more to discover about mangoes. Try a Tommy Atkins for lengthy shelf life, an Indian Kesar for sweetness, or an Alphonse for its signature purple color. Happy tasting!