Like a warm quilt of cheese, noodles, and marinara, lasagna is among the most comforting, delicious foods on the planet. So you may ask: Why would anyone mess with perfection, giving lasagna the pigs-in-a-blanket treatment?
While lasagna roll-ups might seem a bit gimmicky, rolling your noodles actually has some significant advantages over the usual process of layering them. For one thing, this form of pasta is a simple way to enjoy the gooey decadence of lasagna in a single, lunchbox-friendly serving.
Not only that, they're just fun! There's something oh-so-satisfying about rolling up lasagna ingredients into a neat little pasta package. (You might almost want to put a bow on it when you're done.)
Feel free to play around with this recipe to make it your own. We're fans of using two noodles per roll-up, plus plenty of ricotta, mozzarella, and spinach — but try the suggestions below for your perfect pasta paradigm.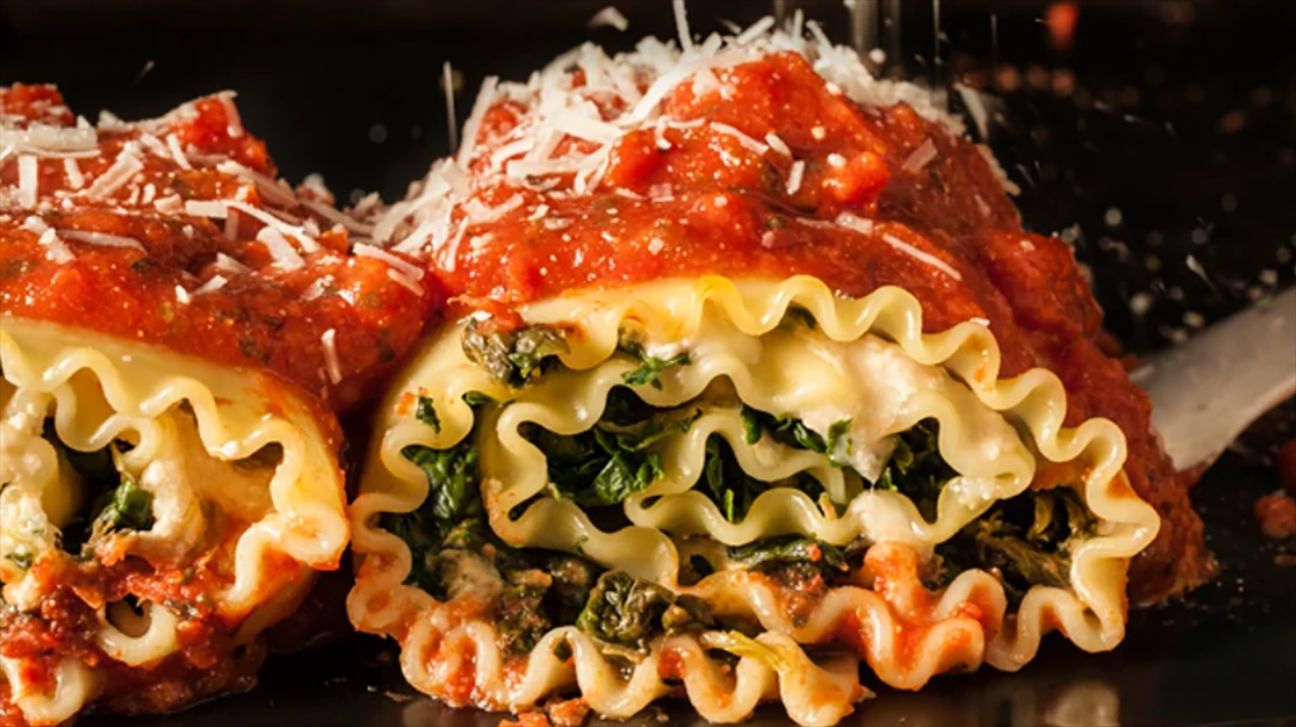 Get rolling with these flavor variations
Makes 11 roll-ups
Ingredients
1 (16-ounce) pack lasagna noodles (about 22 noodles; regular, not no-boil)
Vegetable or olive oil
1 large egg, lightly beaten
1 (15- to 16-ounce) container whole-milk ricotta cheese
1 cup (about 3 ounces) finely grated parmesan cheese
1 pound shredded whole-milk mozzarella cheese
Kosher salt, to taste
Freshly ground black pepper, to taste
2 (17-ounce) bags frozen spinach, thawed and excess liquid squeezed out
2 (22-ounce) jars marinara sauce
Directions
1. Preheat the oven to 350°F (180°C).
2. Boil the noodles in a large pot, removing them when they are mostly cooked but still very al dente. Drain and cool under cold water. In a bowl, add some oil and, with your hands, coat both sides of each noodle.
3. In a large bowl, mix together the egg, ricotta, half of the parmesan, and all of the mozzarella. Add salt and pepper to taste.
4. On a large work surface, lay out the noodles in rows of 2 lengthwise. (You can overlap the noodles either under or over slightly to make the rolling easier and the roll-ups hold together better.) You should have 11 rows total.
5. Evenly spread out the cheese mixture on each row of noodles.
6. Evenly distribute the spinach.
7. Roll the noodles. When you get to the end of each roll, set the noodle seam-side down to keep it together.
8. Cover the bottom of an extra-large baking dish with 1 jar of the marinara sauce.
9. Place the noodle rolls on top of the sauce, then cover with half of the remaining jar of sauce.
10. Cover the dish with foil and bake on the middle rack for 40 minutes.
11. Heat up the last of the marinara sauce and serve it on top with the remaining parmesan cheese. Serve immediately.