Few things hit the spot like a rich, beefy, tomatoey lasagna.
Though the purists are sure to object (Garfield included), we believe that the layers truly define a lasagna. Which begs the question: When building your tower, what will take up residence on each floor?
We break down the classic way to tackle this big batch comfort food favorite — and some cheeky alternatives, too.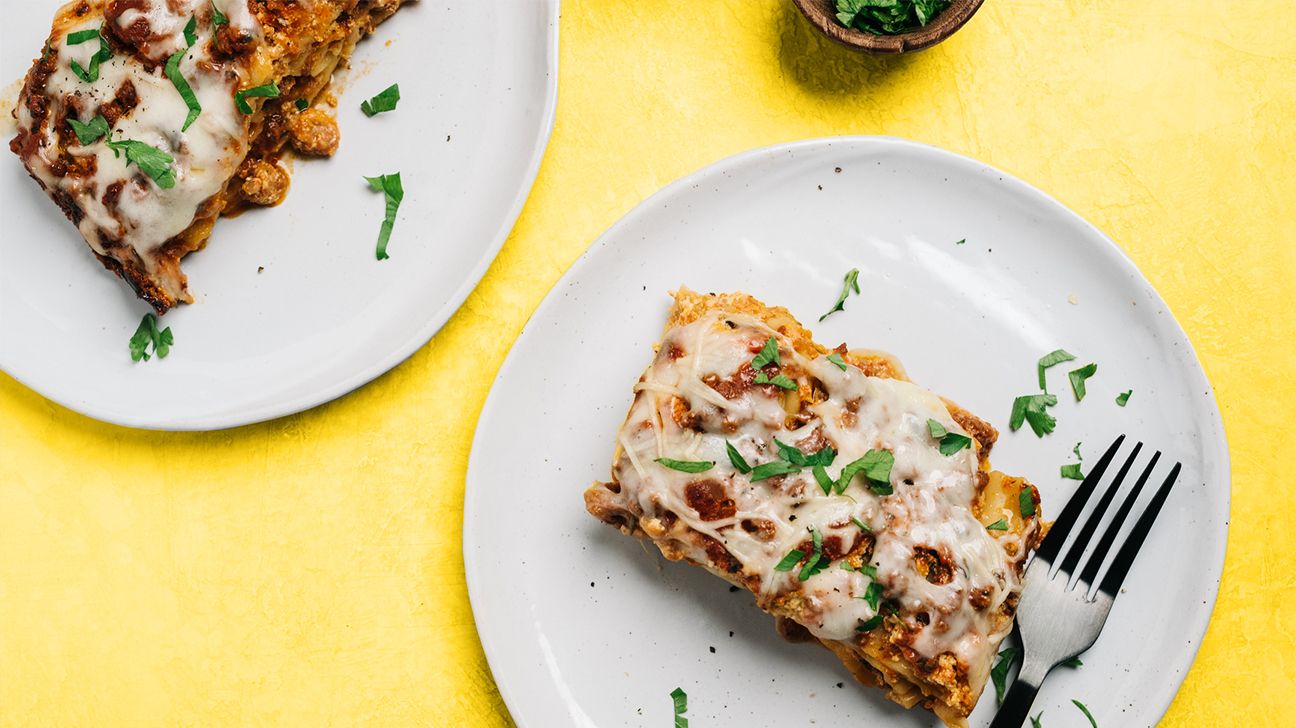 The easy elements in this Lasagna alla Bolognese are the no-boil noodles, sliced provolone, and grated parm. The harder part is making your own Ragu alla Bolognese and béchamel for the sauces — but it's perfectly fine to use store-bought sauce if you don't have the time.
Those extra elements in a homemade sauce can make a world of difference to the final dish, but lasagna is lasagna. It'll be delish however you spin it.
What you'll need to make a lasagna
Ingredients
Feeds: 5 people
10 cups Ragu (either store-bought or homemade)
1 box no-boil lasagna noodles (approx. 9 ounces)
12 ounces mild provolone cheese, very thinly sliced
4 cups béchamel sauce
1 cup finely grated Parmesan-style cheese
Utensils
An enamel baking dish (for the main attraction)
A big-ass stock pot (for the sauce)
A box grater (for all the cheese)
An offset spatula (for spreading the sauce all over those sheets)
A big ol' serving spatula (to dish out those beefy, tomatoey, cheesy towers of lasagna)
You're all set! Time to Garfield up.
How to make a lasagna
Got the tools? Got the cheese and sauces? Time to layer it…
Heat the oven to 375°F (191ºC) with a rack set up in the middle.
Thinly spread 2 cups of Bolognese sauce over the bottom of a 13 x 9-inch baking dish.
It's construction time! Build your lasagna by layering 4 noodles over the sauce. Top with another 2 cups of Bolognese sauce and spread it evenly to the edges of the dish. Cover the sauce with 1/4 (3 ounces) of the sliced provolone cheese. Spread 1 cup of the béchamel sauce in a thin layer and top with 1/4 cup of the grated Parmesan-style cheese.
Place the next layer of lasagna noodles at a 90-degree angle to the the first layer. Top with another layer of filling (using the same amounts of ingredients as above). Repeat twice more, being sure to place each layer of lasagna noodles perpendicular to the previous layer — so, if you had them facing toward 9 o' clock on one layer, have them pointing at 12 o' clock on the next.
Cover the dish tightly with aluminum foil. Place on the center rack of the oven and bake for 40 minutes or until the cheese is melted and bubbling.
Remove the foil and continue baking until the edges are brown and the noodles completely tender (about another 20 minutes)
Allow to stand for 20 to 30 minutes before slicing.
It's a frickin' lasagna!
For when you aren't in the mood for stacks on stacks of cheese and beef.
Because of the unconventional handspun shape of this kid-friendly creation, stock up on noodles that require boiling. No-boil noodles won't be as easy (or fun) to shape.
Once they're cooked, have fun rolling them up with your cheese blend (ricotta, Parm, and mozzarella) and frozen spinach, then gently coat in marinara sauce.
This poultry-based take on lasagna is no turkey.
It uses a blend of herbs and spices in both the sauce and meat to boost the flavor. Be sure to use whole milk ricotta for added richness.
Speaking of turkey, this fall-flavored meatless marvel is bound to delight the vegetarians at your Thanksgiving table.
Instead of using noodles, cooked polenta assumes the starring role. Then, load it up with the sharp, salty notes of gruyère and asiago, followed by butternut squash. Or, you can sub in sweet potatoes.
For another carb-cutting take on lasagna, let zucchini handle noodle duty.
Capers and cottage cheese provide a dash of tang that complements the cremini mushrooms, artichoke hearts, and mozzarella.
Armed with eggplant, lentils, plenty of fresh veggies and herbs, and — crucially — your favorite dairy-free hard cheese, this masterful culinary creation from MasterChef finalist Jackie Kearney is equal parts delicious, nutritious, and cruelty-free.
Sauced with pesto and layered with a cheesy filling that's studded with peas, you won't see red in this tomato-less lasagna.
Who says it's not easy being green?
Many a bubbe has tinkered with ways to make unleavened matzo more palatable during Passover. Well, this matzagna is the answer to her prayers.
The clever and kosher application of thin cracker sheets layered with sautéed, herbed mushrooms and salty feta will please members of the tribe and goyim alike.
You're going to need a very sharp knife and a meat hammer to perfect chef Tyler Kord's gonzo lasagna. It uses thinly sliced and pounded chicken breast as a noodle stand-in.
You then fill the layers between with ground chicken that's cooked with peppers and onions, a tomato sauce spiked with heavy cream, and caramelized fennel.
The sky is very much the limit here.