Not that we don't love chicken. We do. We eat it all the time.
But when you need a break from chicken for dinner, what are your other protein options? Don't worry — there's a wide array of meat, vegetarian, and even vegan sources, like turkey, pork, steak, seafood, dairy, legumes, and quinoa.
So what exactly counts as "high protein"? It's recommended that the average male consume 56 to 91 grams daily, and the average female 46 to 75 grams. That means a high protein meal should come in at about 20 grams per serving.
Here are 21 recipes that pack a protein punch.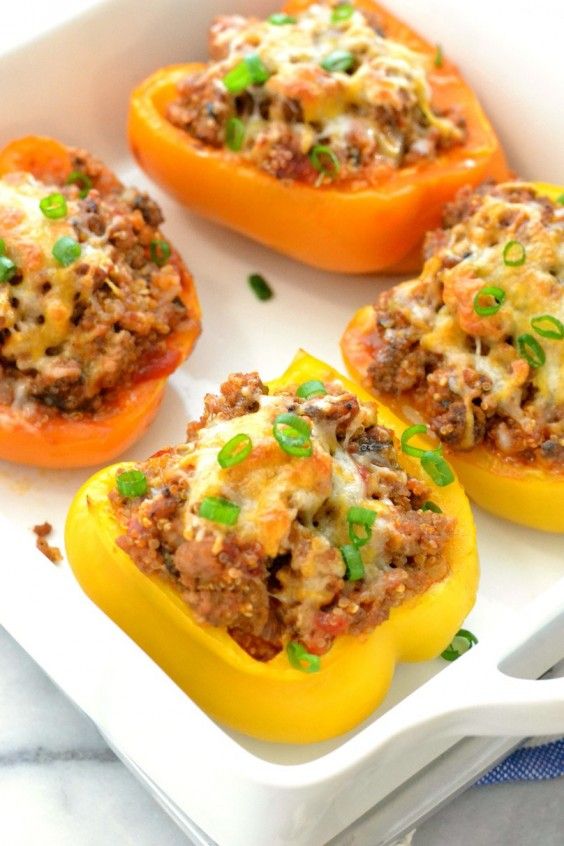 When both turkey and quinoa are involved, you know there won't be any shortage of protein in your meal. Oh, there's also a generous sprinkle of cheese on top of each serving, making these some seriously power packed peppers.
Protein per serving: 36 grams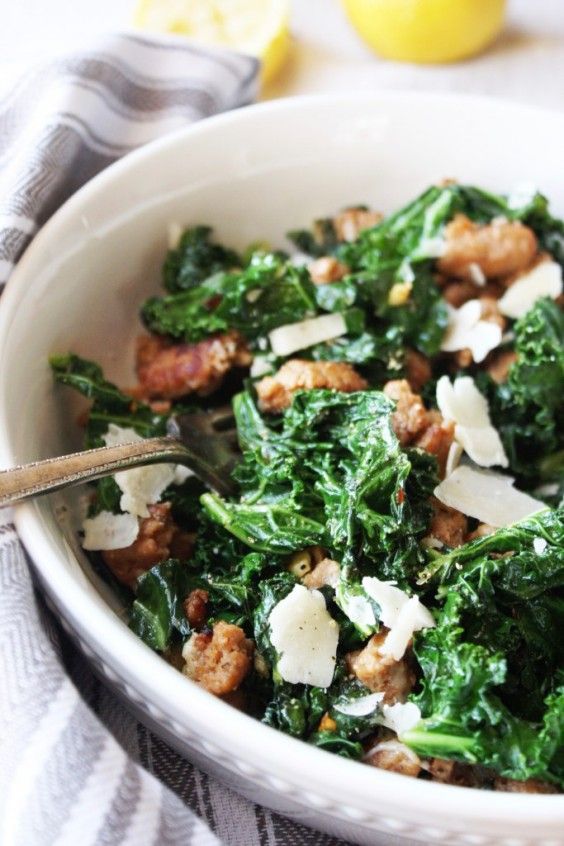 There's something about a warm salad that makes it feel more like a proper meal, and this one's especially filling thanks to turkey sausage. Plus, if you're not a huge fan of kale, you'll love the way the sausage, spices, and Parmesan shavings flavor the greens.
Protein per serving: 32 grams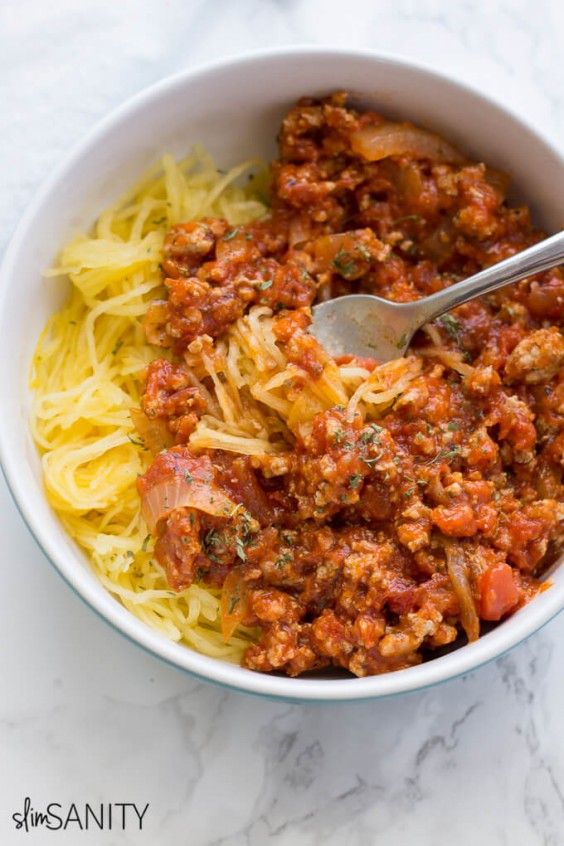 Store-bought marinara sauce and canned tomatoes make this not-really-pasta dinner a snap to put together. Sautéed onion, ground turkey, and dried herbs add richness to the sauce.
Ladle it onto roasted spaghetti squash to satisfy a craving for noodles.
Protein per serving: 28 grams
If stuffed peppers aren't your thing, try putting this Italian-inspired turkey mix into portobello caps instead. The 'shrooms are actually a surprising source of protein compared to other veggies.
And when earthy, meaty mushroom meets sauce and cheese under the broiler… yeah, that's what we're talkin' about.
Protein per serving: 26 grams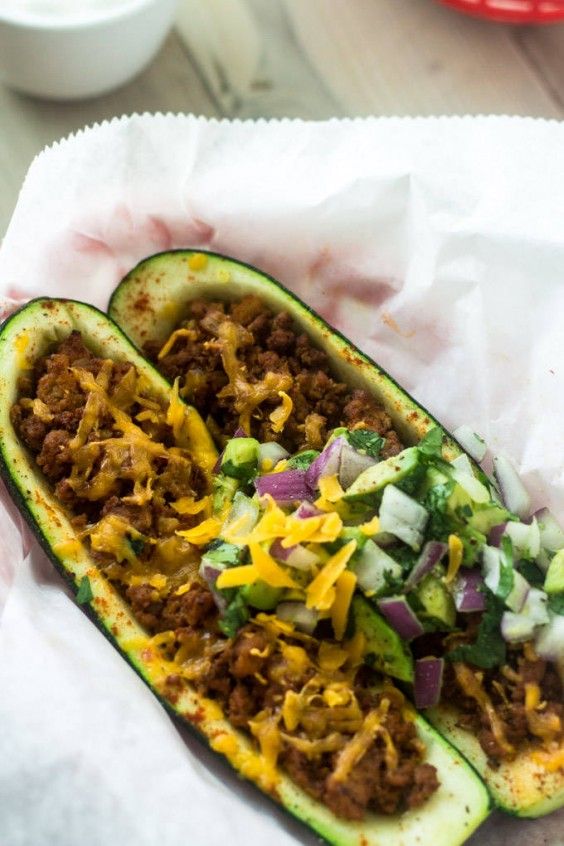 Yet another super stuffable veggie, zucchini makes fun boats to fill with Mexican spiced turkey and salsa. Top it with all your favorite additions and think of it as a lower-carb taco.
Protein per serving (2 boats): 27 grams (estimated)
Steak and peaches aren't an obvious match, but they make a delicious combo for a summer grilled salad. Piled on top of spinach and garnished with pecans and blue cheese crumbles, the combination will surprise you with each bite.
Protein per serving: 27 grams
Marinated pork tenderloin takes about 12 minutes to grill. Meanwhile, foil packs of veggies share the grill and continue cooking while the meat rests. The blogger tops the warm broccoli and zucchini with cheddar cheese. Yum.
Tip: Be careful opening the veggie packs. When they release their juices while cooking in the foil, it creates steam. And steam is hot!
Protein per serving: 33 grams
Enjoy a Chinese takeout fave made with tender flank steak — with a fraction of the oil, sugar, and sodium. Ready in less than 20 minutes, it's even faster than delivery.
Protein per serving: 26 grams
Aromatic lemongrass, ginger, shallots, and fish sauce flavor this veggie filled stir-fry. We like to spiralize the carrots and zucchini to make them like noodles. You can get creative with whatever is in your fridge — try green, yellow, or red bell peppers or snap peas.
Ground pork absorbs the sauce and melds with the veggies, and we're eating this thinking, "I can't believe made Thai food this good at home!"
Protein per serving: 27 grams
Everyone loves fajitas — strips of steak, onions, and peppers seared in a hot cast-iron pan. It turns heads in restaurants, and you can turn heads cooking it at home. This recipe gives the steak a good dash of cumin and chili powder.
If you forget to defrost the meat, here are tips for how to slice it.
Protein per serving: 30.5 grams
This is a quick bistro-style meal, worthy of guests. First sear the pork chops, and then roast them in a sweet-sour balsamic vinegar sauce.
Serve with a simple side, like sautéed spinach. We've been known to make this meal even heartier by pairing it with baked sweet potatoes.
Protein per serving: 36 grams
Update that old avocado boat with a Mexican-style filling. Canned tuna joins black beans, red peppers, diced avocado, cilantro, lime, and jalapeño for a sprightly salad. This dairy-free weeknight meal is like guacamole with the volume turned way up.
Protein per serving: 29 grams (estimated)
"En papillote" just means the food cooks in a pouch made of parchment. Here, bass or halibut fillets marinate in miso, ginger, and lime. The fish steams on top of asparagus, red bell pepper, and Japanese eggplant in the pouch.
When you cut the pouch open, the aromas release, giving you a scent of the flavors to come. Ahhhhhhh.
Protein per serving: 35 grams (estimated)
These fancy salmon cakes are made from fresh salmon fillets. Your food processor will bring the ingredients, which include mashed parsnips and fresh parsley and rosemary, together in a snap. Your oven will do the rest.
Protein per serving (2 cakes): 32 grams
Made from ingredients the blogger had in her fridge, this stir-fry proves the power of limitations: They force us to get creative.
If you're like us, you'll have fresh ginger root and won't have to resort to the powdered stuff. Kudos to the blogger for having sesame seeds on hand.
Protein per serving: 25.7 grams
If you're making a mahi mahi burger, pair it with tropical flavors. This recipe goes for Cajun seasoning on the fish, piquillo pepper mayo on the bun, and — wait for it — slices of grilled pineapple to really make you feel like you're eating beachside.
Protein per serving: 34 grams
You'll need to eat two of these eggplant halves to make a full (and exceptionally protein packed) meal, but we're guessing that won't be hard to do. The fluffy couscous, soft chickpeas, charred veggies, and thick tahini drizzle might have you reaching for a third helping.
Protein per serving (2 halves): 26 grams (estimated)
We adjust the recipe for this make-ahead dinner quiche, using whole eggs and whole-milk cheddar and Monterey Jack. There are lots of veggies in this beauty, including mushrooms and asparagus.
Protein per serving: 22 grams
A meatless salad with more than 20 grams of protein is no cliché. Quinoa and three types of beans, sprinkled with homemade chili-roasted almonds, make a hearty main course.
Protein per serving: 30 grams
Every layer of this dish is bursting with protein: tofu slices, quinoa, and melted mozzarella on top. To serve, drizzle with warm marinara sauce and fresh basil.
We guarantee this one will turn tofu avoiders into fans.
Protein per serving: 23.5 grams
Toaster oven dinners are our go-tos on hot summer nights when we don't want to turn on the oven. This chickpea and edamame mixture takes only 15 minutes to assemble, and it's full of tangy and spicy flavors. Pour us a crisp lager, please.
Protein per serving: 20 grams