Crunchy, soft, and buttery, popcorn is the ultimate happy food. No wonder it's such a popular party appetizer and late-night snack — and the ultimate companion for movie nights.
Popcorn has health benefits. It's a whole grain with important nutrients, vitamins, and minerals, and it's high in fiber. Unfortunately, popcorn is made unhealthy with additions at every turn.
At concession stands, it's drenched in table salt and something that kinda resembles butter (but is it?). And then there are the warnings about the linings in microwave popcorn.
While it is possible to find healthier versions of microwave popcorn (they contain corn, oil, salt, butter, turmeric or paprika for color, and vitamin E as a preservative), we like to skip the packaged stuff and make our own.
We've found 22 recipes that create the flavors we crave. Get ready for movie night! As a bonus, we've paired each recipe with a recommendation for a film to watch while you munch away.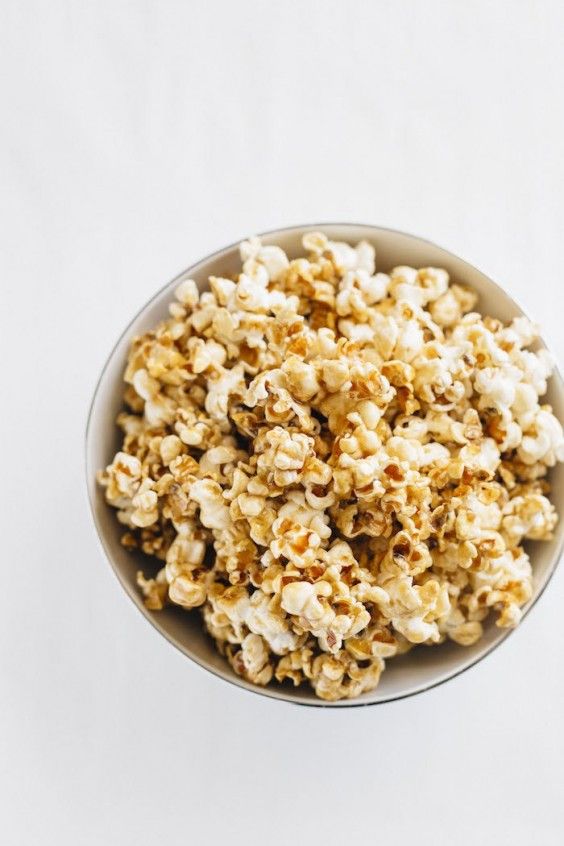 With just a handful of ingredients, caramel popcorn doesn't get any easier than this. This blogger cuts out the refined sugar by using maple syrup and coconut cream. Yum.
Movie: Caramel
We love this recipe, which makes a crunchy, nutty popcorn. A blend of maple syrup, nut butter, and vanilla is drizzled over popcorn and toasted nuts. Then all you do is bake it for a few minutes. Plump up the pillows and get that couch ready!
Movie: Dead Poets Society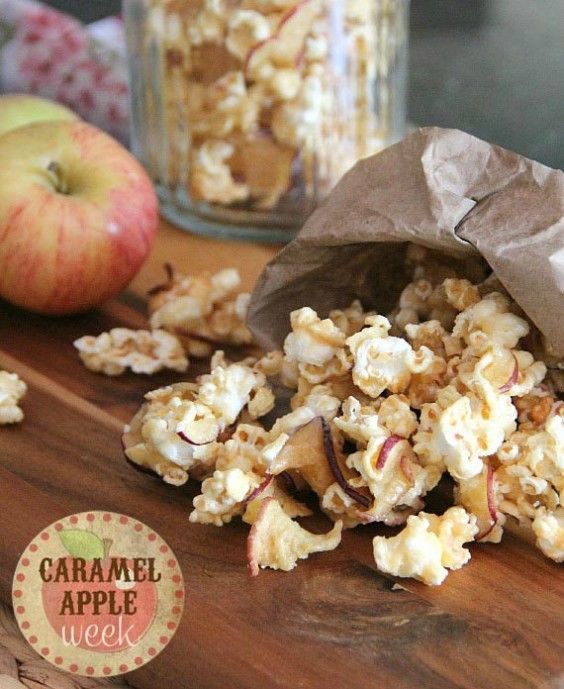 Salty popcorn joins apples and cinnamon, adding a bit of richness and an even bigger punch of fall flavors to the mix. This recipe throws in actual dried apples, so you have plenty of crunchy snacks to munch on at once.
Movie: Chocolat
Unlike many pumpkin-spice snacks, which often rely on artificial flavorings, these morsels are glazed with a spoonful of real (canned) pumpkin, maple syrup, and cinnamon. Think of this as fall-ifed kettle corn.
Movie: It's the Great Pumpkin, Charlie Brown
This is party popcorn, perfect for a kid's birthday or a shower. The secret to the pretty color and deep flavor is dehydrated strawberries. Since it's a party, we're cutting you a break on the refined sugar.
Pro tip: Feel free to substitute another type of oil if you prefer not to use coconut.
Movie: Legally Blonde
Dates, almonds, vanilla, and coconut oil are puréed into a rich mixture that's poured over the popped kernels and baked until crisp.
Movie: The Royal Tenenbaums
Satisfy your nacho cheese craving with this popcorn instead of going for the bag. It's vegan and dairy-free, and you'll recognize every item in the short ingredient list.
And don't worry — the best part of the original remains the same: yummy, cheesy orange dust to lick off your fingers.
Movie: Wayne's World
This is terrific basic recipe that uses real Parmesan cheese. You can keep it simple or use the suggestions for powdered seasonings you might have in your pantry, like paprika, curry, or — for a nod to the Chesapeake — Old Bay.
Pro tip: If you don't have coconut oil, you can use extra-virgin olive oil in this recipe.
Movie: Dirty Dancing
Vegans and dairy-free eaters, get your cheesy popcorn fix here. Nutritional yeast is the star of this recipe. It's the plant-based source of cheddar-like flavor. The recipe calls for only half a serving, but we say sprinkle away!
Movie: Chef
Amid all the fancy iterations here, let's take a minute to go back to popcorn's humble beginnings with everybody's favorite ingredient: butter.
However, the amount from a movie concession stand dispenser is excessive (and is it really butter?). Instead, this blogger calls for just a teaspoon of the real stuff to mist over the popcorn so every morsel gets in on the buttery goodness.
Movie: Real Genius
Almonds and pumpkin seeds join fluffy, crunchy popcorn in clumps of melted bittersweet chocolate, minced rosemary, olive oil, and sea salt. Sophisticated flavorings worthy of top ingredients, like a bar of 80 percent cacao chocolate.
Movie: Bridesmaids
This is the easiest recipe: Just drizzle on the melted dark chocolate and coconut oil mixture. The hardest part is waiting until the chocolate hardens. But who really minds chocolate-covered fingers?
Movie: Willy Wonka & The Chocolate Factory
Coconut flakes get toasty in the oven before joining a generous heap of chocolate chips and freshly popped corn. If a macaroon and a chocolate chip cookie had a baby, we bet it would taste something like this.
Movie: Stranger Than Fiction
How does this blogger get the lime flavor in there? Easy: She starts with a bag of kernels preseasoned with salt and lime. After popping, she doctors them with garlic powder and cayenne. Then she serves them with homemade salsa and melted queso. Yeah.
Note: We're pro-queso, but you may choose to go easy on it or skip it altogether, depending on your dietary needs.
Movie: No Country for Old Men
Wasabi isn't just for sushi — it also gives this popcorn that zing. Cut the heat of the wasabi and cayenne with a touch of butter and brown sugar. You end up with a snack that tastes as irresistible as wasabi peas.
Movie: Jiro Dreams of Sushi
Using fresh (not dried) rosemary, fresh (not bagged) popcorn, and fresh (not processed) Parmesan, this recipe is as all-natural as it gets.
It serves a crowd, so make sure you've got plenty of hungry snackers around when you make it — it's too delicious not to share.
Movie: Rosemary's Baby
Using curry powder and ginger powder makes this Thai-inspired popcorn a snap. Toast the unsweetened coconut flakes to bring out more flavor before tossing the coconut with coconut oil, seasonings, and sea salt.
Pro tip: If you don't have coconut oil, go for heart-healthy olive oil in it's place.
Movie: Uncle Boonmee Who Can Recall His Past Lives
Dress up your popcorn in Bollywood glam with chili powder, turmeric, and a pinch of curry leaves. The blogger cooks the blend of herbs and spices in oil to bring out their flavors before tossing the pungent mixture with the popcorn.
Movie: The Lunchbox
There's actually real tequila in this recipe, plus lime and a little sweet and spicy action with cayenne and brown sugar. Coat the popcorn with the mixture and then bake for 5 minutes, until it's dry. Serving with margaritas is highly encouraged.
Movie: ¡Three Amigos!
This recipe uses a fair amount of butter, but it's also the vehicle for spices like coriander, ginger, cinnamon, and cayenne. A little brown sugar adds a contrasting sweetness that makes the flavors pop.
Pro tip: Since butter is higher in saturated fat, you may want to substitute olive oil, depending on your dietary preferences
Movie: Mississippi Masala
Honey is the sweetener here (and use the good stuff). It's mixed with a teaspoon of butter, a drop of vanilla, and a dash of salt, and the result is pure comfort food.
Movie: When Harry Met Sally…
This 10-minute recipe makes enough for two, but the nutty, salty, slightly sweet popcorn is so good you may not want to share. It calls for vegan butter, but you can substitute coconut oil if that's all you have on hand.
Movie: Mean Girls
It's never been simper to make your own flavored popcorn at home. All you need is a cup of kernels and whatever is in your pantry or fridge to create a delicious, creative movie night snack.
Whatever you're craving, no doubt there's a recipe to satisfy it. Now all you need is a cozy place to lounge, something endlessly entertaining to watch (*ahem* "Tiger King"), and a few napkins for your fingers — though it's also fine to lick them clean. Enjoy!