Once Labor Day rolls around, outdoor happy hours, summer Fridays, and pretty much all summer fun seems to come to an end.
But just because it's customary to trade in cutoffs and piña coladas for pumpkin spice lattes and flannel doesn't mean we can't carry the spirit of summer all year round. In fact, what better way to keep the season alive than by trying a few frozen desserts?
Whether you're in the mood for fruity frozen yogurt or a double chocolate milkshake, these 33 treats are sure to bring back summer. (To your taste buds, at least.)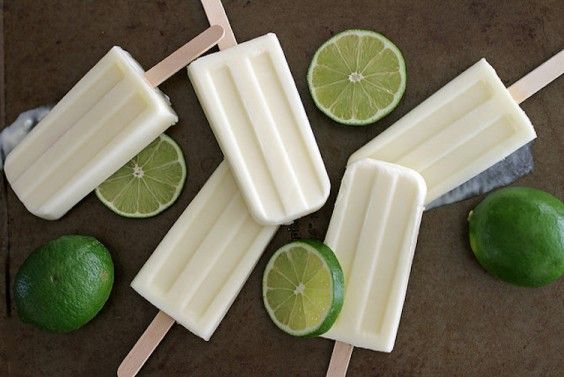 1. Lime Creamsicles
Limes are often seen as tequila shot accessories, but these citrus fruits are capable of oh-so-much more! For a creamy, tart treat that tastes way better than tequila, simply mix lime juice with milk and freeze. Think of it as a solid margarita.
2. Thai iced tea pops
When booking a tropical getaway isn't an option, snag a mental escape with these Southeast Asian-inspired ice pops made with Thai tea, cream, and condensed milk. For extra flavor and texture, add a handful of tapioca pods. It's like bubble tea on a stick!
3. Chocolate peanut butter banana pops
Overripe bananas are perfect for banana bread, but who wants to turn on an oven when it's still warm outside? Another great way to use these potassium-rich fruits is to turn them into ice pops coated with dark chocolate, peanut butter, and nuts. With the combination of protein and carbs, we definitely consider them a post-workout snack.
Grab the recipe for your dessert hankering here.
4. Pineapple cucumber lime margarita pops
Cucumber and lime can perk you up in seconds. Combine them with hydrating, vitamin C-rich pineapple, and these pops are the perfect pick-me-up for any day — whether humid or just plain horrid. For a happy hour treat, add a touch of rum and lime.
Learn the steps to make them here.
5. Coconut water ice pops
We're all for hydrating, but sometimes it takes more than plain H2O to beat the heat with guests. These frozen treats are the perfect addition to your thirst-quenching repertoire and require minimal work in the kitchen. Made with coconut water and your fruit of choice (we're partial to mango or kiwi), these pops will surely bring a smile.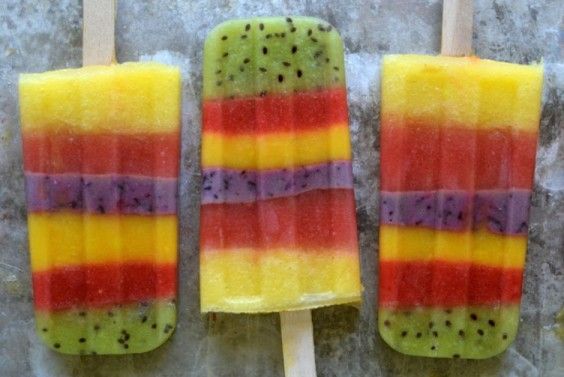 6. Whole fruit pops
With fruit as the sole ingredient in these frozen treats, you can consider them your year-round strategy for hitting the recommended 2 cups of fruit per day. Mix and match whatever seasonal produce you have on hand and enjoy one of the healthiest and most refreshing desserts out there.
7. Peach sangria pops
Was your last picnic a bit uninspired? Don't worry — these pops will come to the rescue. Peaches and white wine make for a potent but light treat, and it's easy to adjust the recipe to your liking. Tip: Substitute heart-healthy red wine and berries for a fall-inspired twist.
8. Watermelon yogurt pops
Barbecues aren't complete without a juicy watermelon — and neither is your freezer. Combine the hydrating fruit with Greek yogurt, sugar (or honey), and tangy lemon juice for a fun spin on summer's favorite snack. (No BBQ needed.)
Add it to your meal plan with this recipe.
9. Greek yogurt fudge pops
Fudge pops bring us back to childhood, to the times of ice cream trucks and 3-month-long summer vacations. To relive the good old days, try these delish treats. Full of protein-rich Greek yogurt and real cocoa, they taste almost identical to the classic but have less added sugar. How sweet is that?
10. Avocado coconut pops
More than just a guacamole staple, avocados are used in many recipes for their creamy texture. They're also loaded with healthy fats and other nutrients to boot, so they're the ideal substitute for butter and heavy cream. Pairing avocado with coconut for added sweetness, this tropical treat solidifies our love for the superstar fruit.
11. Chocolate-dipped pear pops
In a world that's quick to jump on the latest superfood trends, pears can seem a bit unexciting. But when dipped in rich dark chocolate and frozen, they quickly become a rival to the most popular competitors. Acai-ya later!
Get started on this dish here.
12. Raspberry coconut chia ice pops
Chia seeds have made their way into our smoothies, oatmeal, salads, and more — it was only a matter of time before they found their way into ice cream. A nutrient-dense food packed with healthy fats, protein, calcium, and antioxidants, these powerful seeds add a surprisingly awesome texture when combined with sweet coconut milk and tangy raspberries.
13. Mango frozen yogurt
The pistachio crumble topping is bursting with protein and fiber and adds a surprising crunch to this smooth mango yogurt that's ready to eat in less than 5 minutes. Not a nut fan? Swap in toasted coconut flakes or pomegranate seeds for an equally satisfying garnish.
14. Strawberry frozen yogurt
This 5-minute frozen treat combines berries with yogurt, lime juice, and honey to create a dessert that tastes like real ice cream but has half the added sugar and fat. Now that's a good late night snack.
Learn the steps to make it here.
15. Hazelnut mocha ice cream
A decadent treat if there ever was one, this ice cream couples energy-boosting espresso with Nutella for a rich dessert that tastes similar to a mocha latte. Greek yogurt is loaded with protein and gut-friendly probiotics.
16. Pineapple coconut frozen yogurt
Hot breakfast on a warm day? No thanks. For a cooling morning meal that's sweet and packs in some protein, try this frozen yogurt. The fusion of tropical flavors just might have you springing out of bed faster. Consider topping it with some nuts and seeds to up the protein factor even more.
17. Chocolate banana ice cream cups
Muffin tins are a savior when it comes to whipping up easy, quick dishes for on the go. They also work wonders in this dessert, where bananas and a few other kitchen staples combine to provide party-ready ice cream cups (or personal post-dinner snacks if you prefer not to share).
18. Sweet potato ice cream
A Thanksgiving staple becomes a creamy summer treat in this recipe. And don't worry — the taste is far from that of a starchy root vegetable. Sweet potato is mixed with maple syrup, nutmeg, and cinnamon for a summer-meets-fall dessert.
19. Layered berry vanilla soft serve
Who says you can't have ice cream for breakfast? Made with a creamy banana base and layered with antioxidant-rich berries, this dessert will even have breakfast-haters reconsidering.
20. S'mores ice cream sandwiches
Craving s'mores but lack a proper bonfire? This dessert is a close second to the campsite favorite. With toasted marshmallow ice cream nestled between shortbread cookies and layered with chocolate, it may even be an upgrade.
21. Frozen pumpkin mousse pie
If waiting until Thanksgiving for pumpkin pie feels unbearable, this mousse can provide a quick, nutritious substitute. It's packed with vitamin A-rich pumpkin, and the gourd's naturally tangy flavor is sweetened with a variety of traditional spices like cinnamon, nutmeg, and potentially inflammation-reducing ginger.
22. 10-layer ice cream cake
This is probably the easiest cake you'll ever make — it's done in 5 minutes! The recipe uses store-bought ice cream sandwiches to make prep a breeze. It's the perfect dish to bring to an impromptu potluck with friends (or to serve up for that friend's birthday you forgot about).
23. Snickerdoodle ice cream sandwiches
Calling all cookie lovers! Your favorite treat just turned into the ultimate dessert. Time-crunched cookie monsters can turn to store-bought ice cream, but we recommend making it yourself. You won't regret it.
24. Caramel apple milkshake
For those anxiously awaiting cooler temps and color-changing leaves, this is the perfect way to get a taste of autumn. Pitted dates are swapped in for caramel and blended with applesauce, milk, and creamer for a shake that beats out almost any other fall beverage. Yes, even you, pumpkin spice latte.
25. Pink watermelon lemonade slushies
Pink lemonade is a quintessential summer beverage, but the store-bought varieties are often loaded with sugar. Blend with some ice and a cooling cocktail is all yours.
26. Salted caramel milkshake
If you're in the mood for a real treat, opt for this decadent shake, full of vanilla bean ice cream, salted caramel syrup, and dark chocolate.
27. Pineapple coconut slushy
Slicing pineapple is tough. Fortunately, you don't need great knife skills to whip up this slushy — all you need is a bag of frozen piña. Simply add coconut water, seltzer, and coconut cream and blend. Now close your eyes, sip, and picture a serene beach. Welcome to paradise.
28. Peach pie milkshake
It's technically a smoothie, but this creamy drink will fool even the most dedicated milkshake fans. Combine peaches with milk, a cookie, and cinnamon for a fabulous shake that tastes even better than it sounds.
29. Strawberry creme truffles
Store-bought truffles can cost a pretty penny, but these sweet bites are budget-friendly and easy to craft. With a lush strawberry center, maple syrup, coconut, and a dark chocolate glaze, you'd never guess they're vegan. Shh, no need to tell those milk chocolate fans.
Get started on this dish here.
30. Coconut granita
Viva granita! Originally from Sicily, this shaved ice dessert sometimes contains sugar and artificial sweeteners. This recipe uses coconut milk and honey instead, creating a super-rich flavor.
31. Chocolate dipped almond butter banana bites
When an afternoon slump hits, don't reach for any ol' easy snack. Instead, arm yourself with this sweet snack that will satisfy. Made with protein-rich almond butter, bananas, and dark chocolate, it might just make you break up with the vending machine forever.
32. Frozen cookie dough bites
When presented with a tub of cookie dough, it's difficult not to eat the entire container in one sitting. (It happens to the best of us.) For some portion-friendly snacks, we love frozen bites that ration the batter for us.
Learn the steps to make it here.
33. Chocolate frosting shots
Do you dream of cupcakes with less cake and more frosting? This recipe is here to help you indulge in that fantasy. Coconut milk and cocoa powder combine to create the base, and a topping of toasted shredded coconut (or sliced strawberries) adds a satisfying kick.