We include products we think are useful for our readers. If you buy through links on this page, we may earn a small commission. Here's our process.
Greatist only shows you brands and products that we stand behind.
Our team thoroughly researches and evaluates the recommendations we make on our site. To establish that the product manufacturers addressed safety and efficacy standards, we:
Evaluate ingredients and composition: Do they have the potential to cause harm?
Fact-check all health claims: Do they align with the current body of scientific evidence?
Assess the brand: Does it operate with integrity and adhere to industry best practices?
We do the research so you can find trusted products for your health and wellness.
Old Bay is a type of seasoning made from 18 different herbs and spices, including mustard, celery salt, black pepper, cinnamon, ginger, cayenne pepper, paprika, and bay leaves.
If you grew up in a certain sliver of America near the Chesapeake Bay, Old Bay was holy nectar. You would've applied it to chicken, shrimp, fish, and — of course — crabs. But the story behind this East Coast taste is somewhat murky.
Let's look at what Old Bay is, where it came from, how to make your own, and how to use it.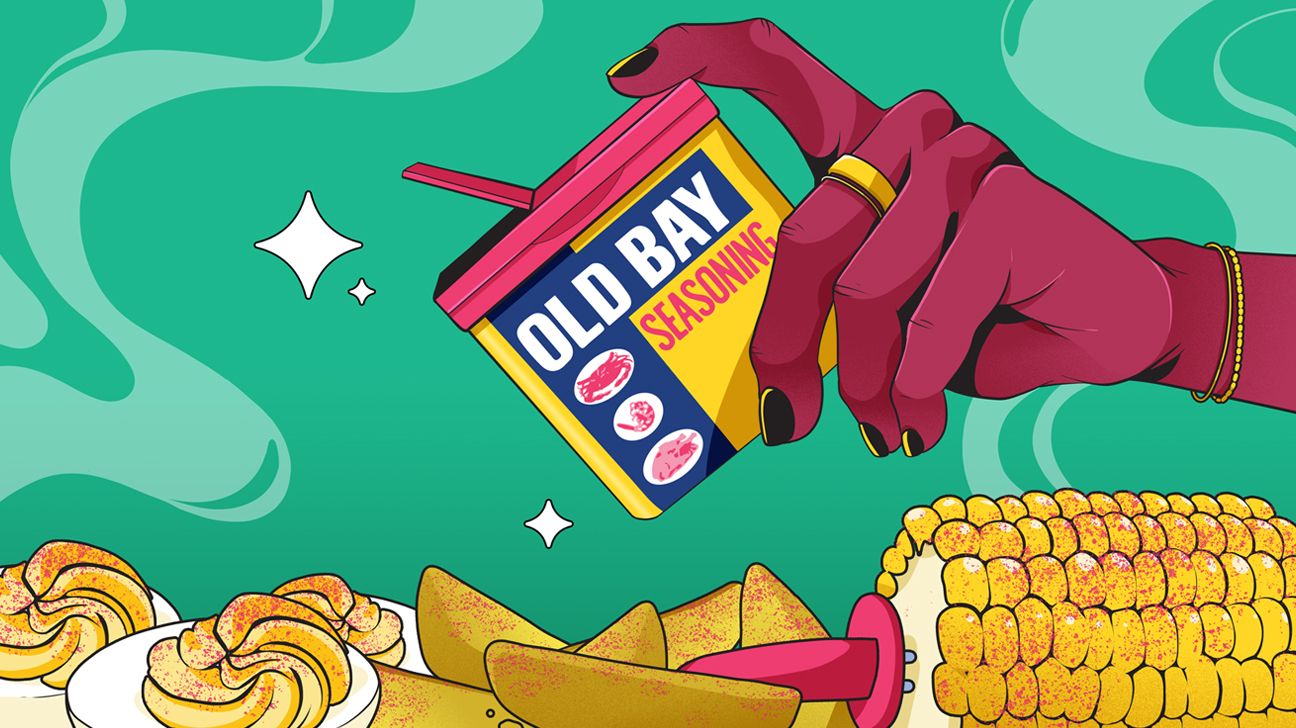 The spice blend has spawned countless imitators. We've even got an Old Bay seasoning copycat recipe we're pretty proud of.
You'll need:
2 tablespoons ground bay leaves
2 tablespoons celery salt
1 tablespoon dry mustard
2 teaspoons ground black pepper
2 teaspoons ground ginger
2 teaspoons sweet paprika
1 teaspoon ground white pepper
1 teaspoon ground nutmeg
1 teaspoon ground cloves
1 teaspoon ground allspice
1/2 teaspoon crushed red pepper flakes
1/2 teaspoon ground mace
1/2 teaspoon ground cardamom
The steps: Mix 'em up. That's it. That's the tweet. Once you've combined all the ingredients, our copycat is ready to use.
Spice giant McCormick currently owns the Old Bay brand, but they only bought the seasoning in 1990. According to Saveur, the blend was the brainchild of a German immigrant, Gustav Brunn, who lugged his spice grinder to the United States in the late 1930s and settled in Baltimore.
At some point, he briefly worked for McCormick. Eventually, Brunn managed to convince local cooks to use the seasoning, and before long he was successful.
Part of Old Bay's charm lies in the success the brand has found without much marketing. Its popularity has largely spread through word of mouth, and that gives it the appeal (and illusion) of a local secret. Old Bay didn't even produce any television advertisements until 2014.
Still, the brand has seen plenty of growth. Roughly 8.3 million of the iconic blue, red, and yellow cans are sold annually.
And even though the packaging has changed somewhat over the years, its bold, bright look has stayed almost exactly the same. It's still made in the Baltimore area, and McCormick has never altered the ingredients.
These days, you can find multiple variations available for purchase, including:
(But everyone knows the original blend is still the best.)
If you're looking to use Old Bay in a traditional preparation, there are plenty of options.
When steaming crabs or shrimp, there are three schools of thought on how to use this spice blend.
1. Dump it into the pot when you start steaming
Some chefs prefer to dump Old Bay directly into the pot when they begin steaming seafood. This method serves up a wonderful treat, allowing the spice to cook right into the meat and giving it that added tinge.
2. Dump the spice on top when food is done
Others wait until the food is done cooking and then dump Old Bay directly on top. This makes for a very aesthetic grub, but it seems a bit silly to waste all that wonderful orange magic on crab shells.
3. Use Old Bay as a post-cooking dip
A third option is to dip your crabmeat and shrimp directly into the stuff once you've finished cooking. On many tables, you'll see bowls of Old Bay and white vinegar combined into a sort of paste that's easy to apply and really brings out the tang of the spice.
Old Bay pairs well not only with seafood, but with potatoes, soups, chicken, and more. Here are a few of the exceptional, unexpected places where it's a wonderful addition.
The Old Bay Bloody Mary is a timeless favorite, perfect for starting off that brunch by the beach. This recipe serves 2, but you may want to multiply it to make an entire pitcher.
Get the Old Bay bloody Mary recipe.
If you're bored with salting your popcorn, try sprinkling some Old Bay on it. It works great with microwaved popcorn, but hey, we won't judge if you sneak that yellow, orange, and blue tin into a movie theater to add to your jumbo bucket.
Get the stovetop-popped Old Bay popcorn recipe.
Plenty of people add a dash of Old Bay to their deviled eggs. In many neighborhoods, no backyard barbecue is complete without a plate of these. Make this recipe as directed, then sprinkle on the Old Bay as liberally as you like.
Potatoes are a friend to all sorts of spice combos, and Old Bay is no exception. The spice blend goes wonderfully on homemade french fries (or potato wedges).
Get the Old Bay potato wedges recipe.
For some reason, corn on the cob and crabs just go together. If you're running low on salt or butter, give your kernels a touch of Old Bay. You may never want to serve them another way.
Old Bay is a local secret turned pantry staple. You can make your own at home to sprinkle on crab, potatoes, popcorn, or pretty much anything you want to taste like bay leaves, paprika, mustard, and 15 other classic spices.
Start with the tasty Old Bay recipes above, and pretty soon you'll be shakin' that can like an East Coast pro.