We've all been there: You're home late from work, bordering on hangry — if you don't have a meal in less than 20 minutes, you might go into Hulk mode.
You think your only quick-fix options are delivery (which starts to cut into your budget) or a frozen entrée (which never seems to satisfy).
New plan: Head to the kitchen. There are plenty of healthy dinners you can whip up with minimal ingredients that you likely have on hand — in 15 minutes tops.
Whether burgers are calling your name, soup sounds ideal, or only cheesy pasta will do, you can prep, cook, and devour in no time by choosing one of these fast foods that don't skimp on taste.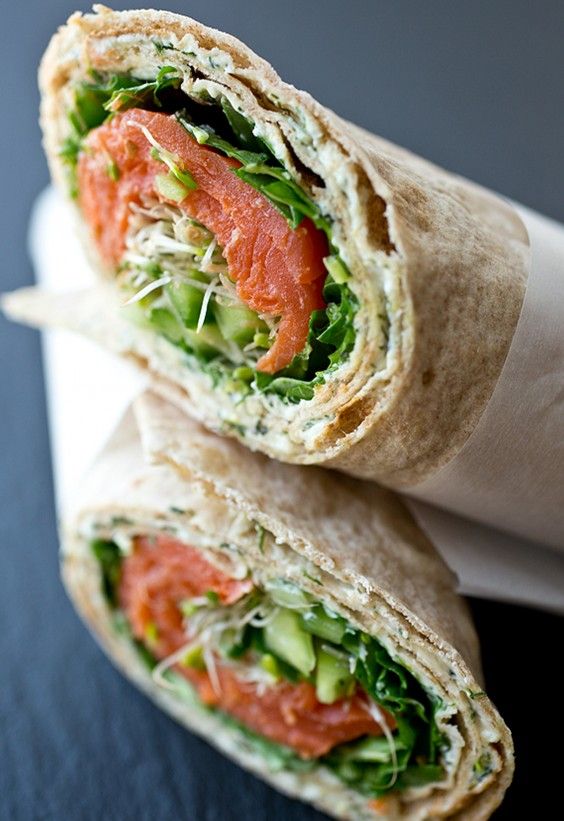 Turn the popular caprese salad appetizer into a light main course in a matter of minutes by adding chicken and a side of French bread.
Top with vine-ripened tomatoes that aren't just juicy complements to the mozzarella but may also contain more cancer-fighting lycopene than the ones that ripen off the vine.Sorrequieta A, et al. (2006). Off-the-vine ripening of tomato fruit causes alteration in the primary metabolite composition. https://www.ncbi.nlm.nih.gov/pmc/articles/PMC3937827 It's simple, fast, and guaranteed to hit the spot.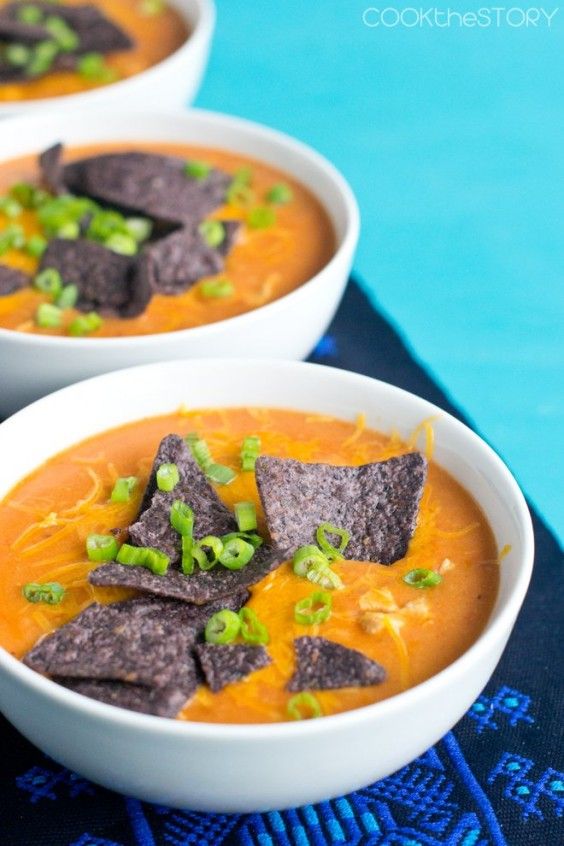 Why wait an hour for chicken enchiladas to bake in the oven when you can get the same flavors in minutes by turning them into soup?
Pantry items like canned tomatoes and enchilada sauce join spiced chicken and plenty of shredded cheddar for an easy Mexican-inspired dish that requires little more than a simmer before you can dig in.
Serve with tortilla chips on top to scoop up the cheesy goodness underneath.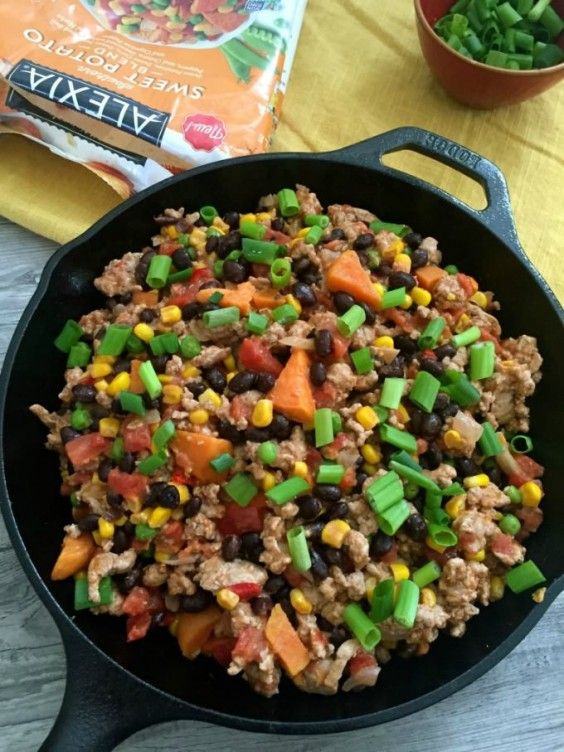 This flavorful dish comes together in just 15 minutes and is packed with nutrients.
Turkey and black beans serve up plenty of protein, and the sweet potatoes and scallions add pops of color. With minimal prep time required, this recipe gets dinner on the table quickly.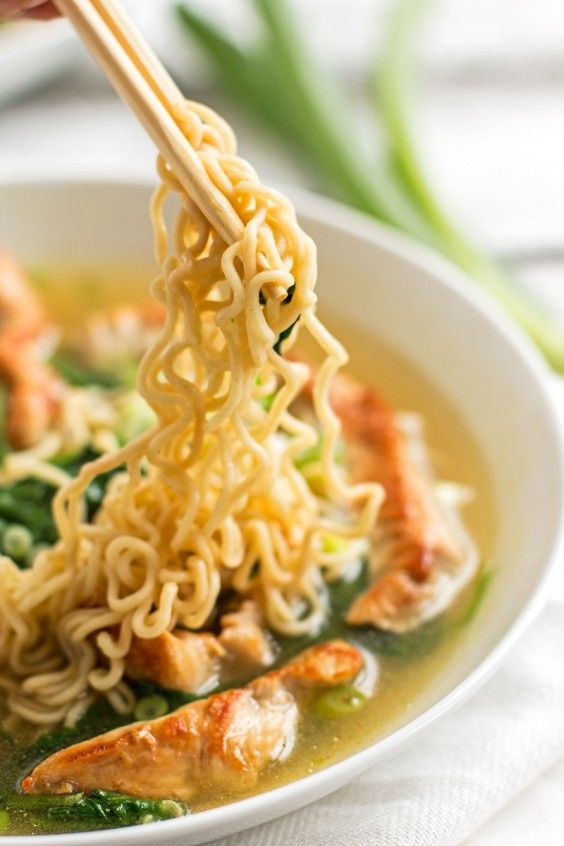 Ramen noodles have gotten a bad rap over the years, with research indicating they're linked to heart disease and metabolic syndrome.Shin HJ, et al. (2014). Instant noodle intake and dietary patterns are associated with distinct cardiometabolic risk factors in Korea. DOI: 10.3945/jn.113.188441 But we aren't talking about the sodium-saturated, pre-fried instant kind here.
Instead, this homemade version uses fresh boiled noodles (which can be found at most Asian grocery stores), turkey breast, and plenty of vegetables in a low sodium broth for a wholesome, warming soup that screams comfort.
Can't find fresh ramen noodles? Use rice noodles or leftover pasta instead.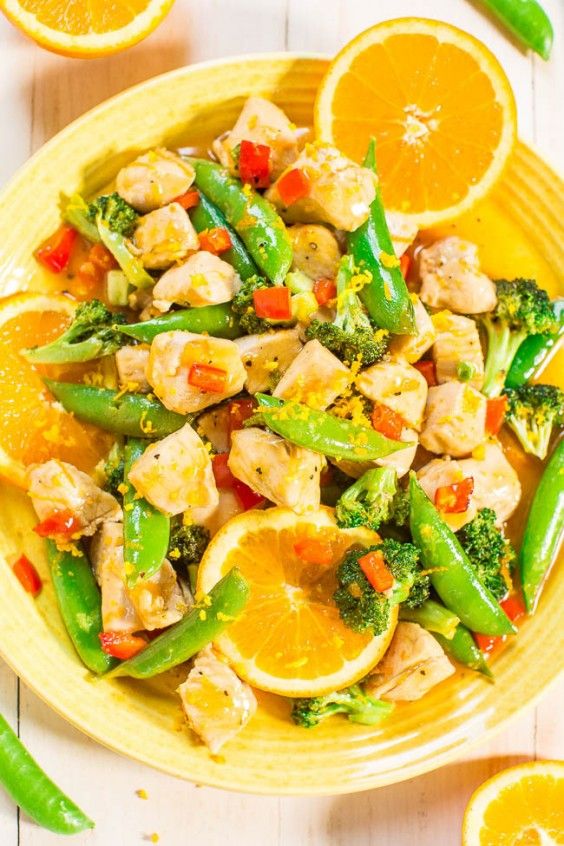 The ingredient list may look long here, but most of the items simply get tossed into a mixing bowl for a bright, citrusy sauce to pour over pan-seared chicken.
And it's a one-pot dish, so both cooking and cleanup are speedy. Who needs takeout when you can make this in less time — and load it with whichever veggies you prefer?
Chicken's typically a pretty quick meal, and this recipe packs in tons of healthy additions. Once you've got the chicken cooked, it's super simple to put together.
With just six ingredients, this dish packs in lots of flavor from pesto, basil, and fresh mozzeralla, creating a healthy but not bland dinner when you're in a hurry.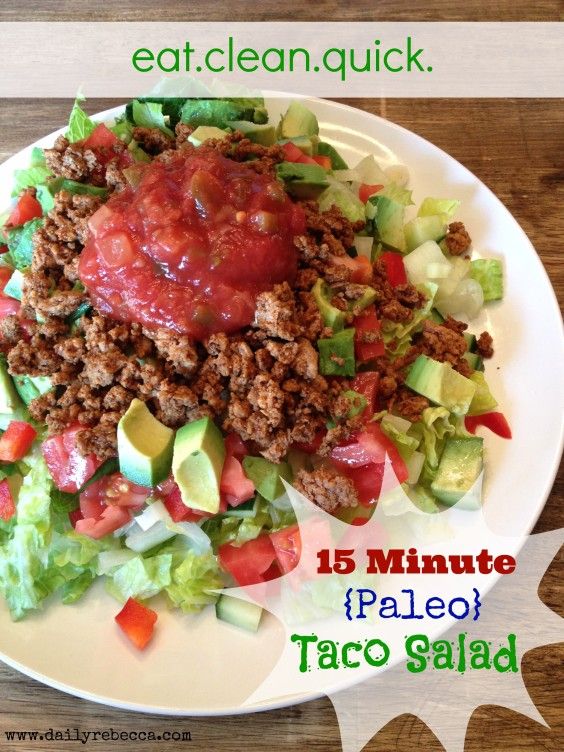 A colorful pile of romaine, avocados, and Roma tomatoes topped with seasoned ground turkey makes a quick protein- and fiber-rich meal.
Even the homemade taco seasoning is part of the 15-minute deal, though you can use packaged seasoning if you don't want to buy a ton of spices. The mixture contains metabolism-boosting spices like cayenne and chili powder.Varghese S, et al. (2017). Chili pepper as a body weight-loss food. DOI: 10.1080/09637486.2016.1258044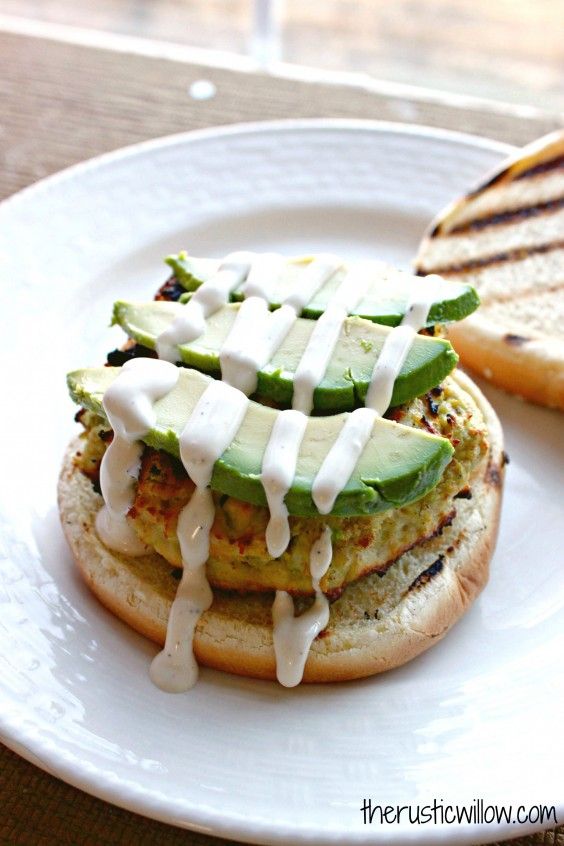 All you need to do is mix, grill, and assemble these juicy burgers. The patties have salty feta, creamy avocado, and zesty ranch throughout for loads of flavor.
Top with more avo and dressing — because it'd be a shame to douse all this flavor with ketchup or mustard.
As your pasta boils, sauté a multicolored mix of zucchini, tomatoes, spinach, and white beans alongside sausage. Garnish with a generous handful of pine nuts to not only provide a satisfying crunch but also give the 15-minute meal a simple but elegant finish.
In an Asia-meets-the-Andes fusion of sorts, a soy-and-sesame-coated ground beef mixture sits on top of fluffy quinoa, which stands in as a protein-heavy, higher-fiber alternative to the usual white rice.
Brown and marinate the meat while the quinoa cooks so that both are ready at the same time. Now you have dinner plus leftovers for lunch!
Brothy, salty, and full of vegetables, this soup recipe can easily be made into a 15-minute endeavor. The 2 full cups of kale are packed with goodness, including antioxidants and inflammation-reducing vitamin K.Shea MK, et al. (2014). Associations between vitamin K status and haemostatic and inflammatory biomarkers in community-dwelling adults: The Multi-Ethnic Study of Atherosclerosis. https://www.ncbi.nlm.nih.gov/pmc/articles/PMC4152396/
You can pick and choose which flavors and ingredients are most important to you and reduce your time in the kitchen that way too. (Ha — that rhymes!)
Soba is a great option to get in a quick noodle fix — it cooks in less than half the time of regular pasta and contains more resistant starch. In this dish, the noodles are topped with medium-rare steak and a simple dressing
This recipe is made even more convenient by the blogger's tips for substitutions if you can't find some of the more traditional Asian ingredients.
If you're trying to sneak some extra veggies into your cooking, you need to try this recipe. In just minutes, the pork soaks up the simple but strong flavors of ginger, soy, and chili sauce. You'll barely even taste the cabbage.
Be efficient with this one-pot meal. Don't toss the water after making the pasta — instead, use it to cook the shrimp while the orzo soaks in olive oil and lemon juice.
With this simple but tasty dish, you'll end up with a presentation that looks elegant but is practically effortless.
Who knew a dish that tastes so gourmet could be made so quickly? In three easy steps, a gluten-free, vitamin E-packed almond meal coating turns tilapia into a dinner you'd expect from a top restaurant.
The crust takes just a few minutes per side, leaving you just enough time to throw together a quick side salad to round out the menu.
Regular shrimp scampi is all about the seafood and pasta swimming in a bath of garlicky butter and cheese — scrumptious for sure, but not exactly everyday fare.
This lightning-fast recipe keeps all the garlic for its immunity-boosting powers, but using zucchini noodles rather than regular pasta will keep you satisfied but not stuffed.
No mayo, no cheese — in fact, no dairy at all in this twist on a diner favorite. Instead, mix tuna with avocado for that creamy goodness and add some lemon and shallot for extra oomph.
It may take only 15 minutes, but this recipe won't disappoint.
The colors in this recipe alone make us want to hop the next flight to some fabulous tropical location.
Omega-3-containing mahi-mahi takes all of 5 minutes to sear. And diced fresh mango and pineapple chunks combined with red onion and lime form an irresistibly sweet and savory salsa.
Maybe you can't take that beach vacation just yet, but in less than 15 minutes, this dinner will make sure your taste buds do.
This is a recipe for those who love to mix and match, since you can choose the suggested veggies or pick your own. But one thing is for sure: It's fast.
Shred vegetables you have on hand in a food processor, and then quick-sauté them with seasonings of your choice to make a nutritious bed for your pan-seared fish. It's a healthy and delicious meal that requires minimal time in the kitchen.
Don't get thrown off by the simple title — this awesome pasta dish is super flavorful, and the one-pot convenience majorly cuts down on cooking time.
Mushrooms, spinach, and frozen peas ensure that you get some great nutrition along with your favorite comfort food.
Give quinoa and brown rice a break and experiment with quick-cooking farro instead. This ancient grain takes about 30 minutes to cook (unless you soak it overnight), but quick-cooking varieties are ready in 10 minutes.
Once it's ready, fold in a simply seasoned vegetable sauté, adding color and more vitamins to your dinner.
Made in literally two steps and one pot, it almost takes longer to say the name of this dish than to actually make it. (OK, not really.)
All it requires is cooking a batch of couscous, which is ready in about 10 minutes, and then tossing in your vegetables and spices. The resulting meal scores high in looks, ease, and nutrition.
Chop veggies, throw 'em in a pot with chickpeas, and heat it all up. For such a straightforward recipe, this colorful stew sure has a lot going for it nutritionally.
There's the abundance of antioxidants in the kale and the folic acid in the beans. The blend of spices brings complexity to the whole dish — only you'll know the secret to how simple it was to put together.
This dish gives you a twist on a hearty but carb-filled meal. Mix riced cauliflower with tons of filling veggies, like peas, broccoli, and carrots.
Then, blend with spices and sauce to make this meal a perfect quick dinner for you or a group. Ready in just 10 minutes, it requires minimal prep but has maximum nutritional value and taste.
This dinner may require more ingredients than most other recipes on this list, but it's still a simple four-step process to prepare, and the result is more than worth it.
No need to soak the fresh udon noodles — they'll cook to crispy perfection in the pan along with plenty of spinach and carrots, which provide vision-protecting lutein and beta-carotene.Dias JS. (2014). Nutritional and health benefits of carrots and their seed extracts. https://www.researchgate.net/publication/276499931_Nutritional_and_Health_Benefits_of_Carrots_and_Their_Seed_Extracts
It's all tossed with a sweet and spicy sauce spiked with fresh ginger. It's so tasty you may want to put it on just about everything you eat.
A dish that usually requires lengthy simmering or hours in a slow cooker turns into a 15-minute weeknight dinner with this recipe.
It's vegan, and there's no need to add meat — you can rely on the beans for protein and fiber. How's that for a time-saver that doesn't cut corners? Enjoy the leftovers all week.
We're all about life hacks, especially when it comes to food, because the last thing we want to do after a long day is spend the whole evening in the kitchen (or spend a cringe-worthy amount of money on delivery).
This roundup proves it's possible to tick all the boxes we love: delicious, nutritious, and done cooking in the amount of time it takes to change into our PJs and pick a show on Netflix. Dig in — it's dinner time.