You may have to give up a lot of beloved foods on a low carb diet. (RIP bread.) Thankfully, tomatoes make the keto cut 🍅. This fab fruit (yes, they really are fruit) won't ruin your low carb lifestyle.
Can you eat tomatoes on a keto or low carb diet?
Here are the deets.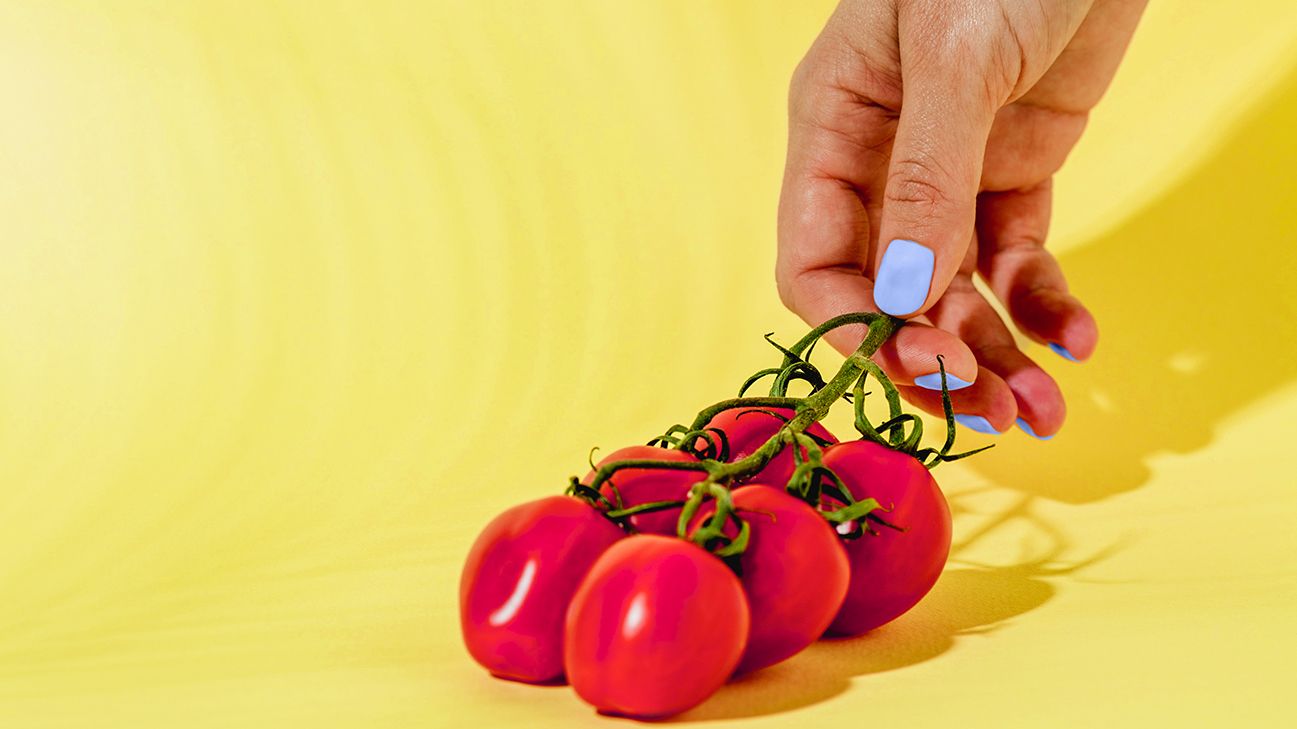 Here's how many carbs are in the top tomato varieties.
| | |
| --- | --- |
| Type of tomato, 100 grams (g) | Carbs (g) |
| Roma tomato | 4.73 |
| Grape tomato | 5.51 |
| Green tomato | 5.1 |
| Cherry tomato | 4.96 |
| San Marzano tomato | 4.35 |
| Plum (aka Italian) tomato 🇮🇹 | 4.13 |
Tomatoes have a low carb count compared to other types of fruit. To put it in perspective, a single small banana has about 23 grams of carbs. Dang 🍌.
Other nutrients
Here's a rundown of the extra nutritional benefits tomatoes bring to the table (on top of a low carb count).
Antioxidants
Tomatoes contain lycopene. This is an antioxidant compound that can help fight free radicals.
A 2020 study found that eating cooked and canned tomatoes might reduce a person's risk of prostate cancer (as these provide more lycopene than fresh tomatoes).
Another test tube study found that lycopene suppressed breast cancer cell growth. That's some promising-ass news for the tomato squad (even though it's not definite that the effect would be the same in the human body).
Research has also shown that lycopene might increase levels of good cholesterol (HDL) in your bod and lower bad cholesterol (LDL) levels.
Fiber
An average-sized tomato provides about 1.5 grams of fiber. Fiber can help control your blood pressure and might make you have more regular 💩.
And who doesn't love a happy poop time?
Vitamin C
Tomatoes are chock-full of this essential nutrient, with 17.1 milligrams in a whole tomato.
Vitamin C can help regulate cholesterol, control inflammation, and pump up your immune system.
Potassium
Bananas aren't the only potassium pros in town. An 8-ounce glass of tomato juice has about 461 milligrams — that's about 10 percent of your daily recommended intake (RDI).
Potassium can help you manage your blood pressure and lower the risk of heart disease.
Folate (aka vitamin B9)
Tomatoes are a solid source of folate, providing 19 micrograms of the good stuff, or 5 percent or your daily value. This B vitamin assists cell function and tissue growth. It's also uber important for pregnant peeps.
As much as we stan tomatoes, variety is vital to any healthy diet. Here are some other low carb options to add to your plate.
Fruitfest
We'll start with fruit. Because why not?
PSA: Dried fruit can be a total sugar bomb. You might be better off with whole fruit — it's more filling and has less sweet stuff. Also, if you're following a keto diet, you should really cut fruit intake to a really small portion of the lowest carb fruits you can find.
Also, the American Diabetes Association (ADA) suggests avoiding canned fruits that are stored in syrup. It adds a lot of extra sugar to the mix.
A veggie-table
Don't forget the veggies!
GI, yo: Beware Glycemic Index
Glycemic Index (GI) is measured on a scale from 0 to 100. Foods with a low GI score are less likely to cause blood sugar spikes and are more diabetes-friendly.
A 100 gram serving of tomatoes has a GI of 15. This is low.
Just keep in mind, not all tomato-based foods have a low GI. Look out for products with added sugar like:
tomato juice
tomato paste
tomato puree
Here's four of our fave low carb tomato recipes. And don't worry. You don't need to be Gordon Ramsay to make them hap'n, Cap'n. (You also don't need him in the room swearing at you — we checked.)
1. Caprese salad
This classic app is a yummy addition to any family meal or gathering.
Ingredients:
How to:
Arrange the tomatoes and mozzarella on a serving tray.
Scatter the basil leaves on top.
Drizzle with the olive oil and balsamic glaze.
Sprinkle with salt and pepper to taste.
Buon appetito!
Pro tip: Add some sliced avocado for a creamy hit of omega-3 fatty acids.
2. Stuffed tomatoes
These little buddies are fab for low carb meal prep.
Ingredients:
How to:
Preheat the oven to 350°F (176°C).
Slice the tops off each tomato and scoop out the insides.
Spread them out on a lightly greased cooking tray.
Cook the garlic and onion in olive oil until tender.
Add the ground meat or vegan mince. Cook until browned.
Drain the extra fat (optional).
Fill the tomatoes with the meat mixture.
Top with the cheeses.
Bake for 8 to 12 minutes (or until the cheese is bubbly).
Pro tip: Vegan cheese is just as tasty if you're a dairy dodger!
3. Low carb bruschetta
This dish screams summer. But help yourself to this low carb snack year-round.
Ingredients:
How to:
Lightly cook the garlic and olive oil in a medium-size skillet.
Let it cool for a few minutes.
In a large bowl, add the garlic and olive oil with the rest of the ingredients.
Let it marinate in the fridge for an hour or serve immediately.
Pro tip: Put it on low carb bread or use it to make bruschetta chicken 😋.
4. Keto marinara sauce
We all know the "keto" someone's heart is a killer marinara sauce. This is way better than the jarred stuff — and super easy to make!
Ingredients:
How to:
Puree the canned tomatoes, olive oil, and red wine together. A stick blender or magic bullet will do the trick.
Pour into a large pot.
Stir in the remaining ingredients.
Cover and simmer on low heat for 2 to 3 hours. Stir every 20 to 30 minutes so the sauce doesn't stick.
Taste and adjust the seasoning.
Simmer on a medium heat for 15 minutes.
Pro tip: Serve over spaghetti squash or zucchini noodles (aka zoodles) for a fab Italian feast 🍝.
Still hungry? (Same.) Here are some more low carb recipe ideas.
Tomatoes are a delicious and nutritious low carb fruit. They're super versatile and have a low glycemic index. That means everyday can be tomato time.
Reminder: Talk with your doc before you make any major changes to your diet or lifestyle.